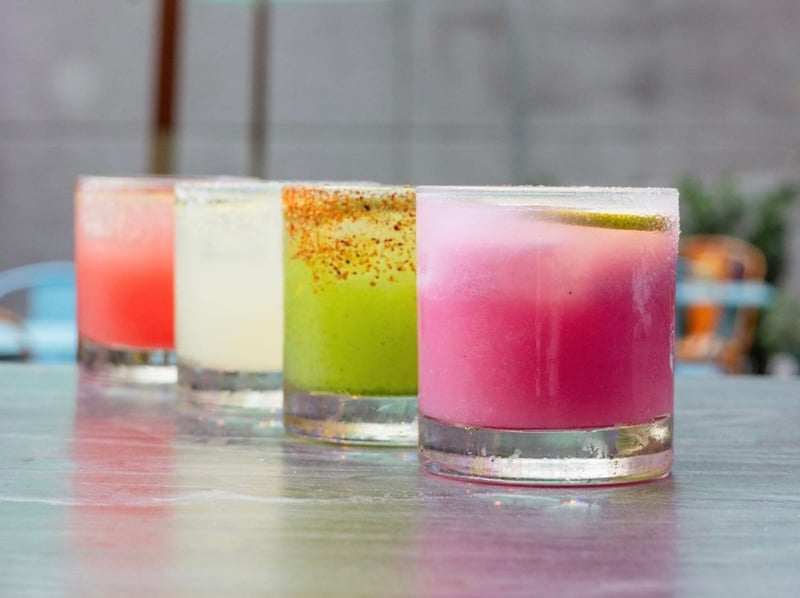 Central Park is one of the few New York City attractions that NYC locals and visitors from out-of-town equally love. Its forested paths and open green lawns invite weary New Yorkers to find peace amid the city's bustle.
The family and I find ourselves there several times a week for walks through the North Woods, birding in The Ramble, or tiring out the kids at one of many playgrounds on the park's perimeter. These forays into the park have given us ample opportunity to sample the variety of Happy Hour options in Central Manhattan.
Below is a list of our favorite happy hour spots near the park. Remember that prices may change, and offers come and go. We'll do our best to update this guide whenever we revisit any of these establishments.
Best Happy Hour Near Central Park
#1 Tiki Chick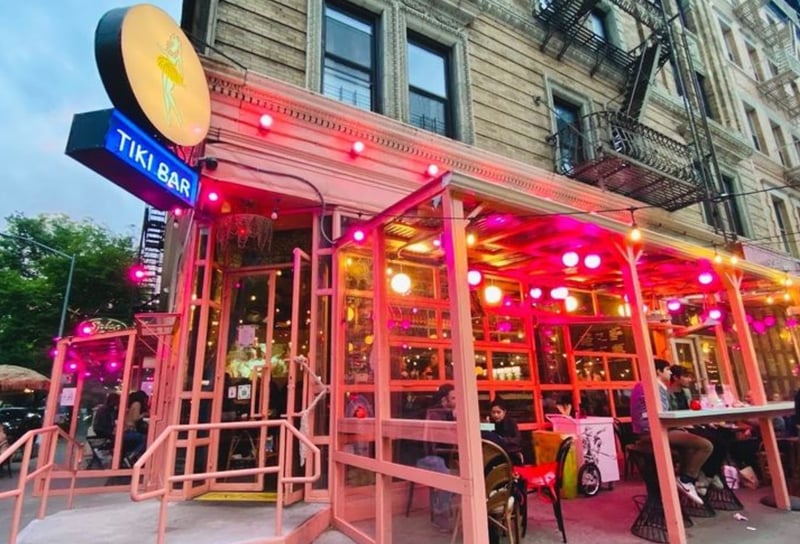 My wife and I love Jacob Hadjigeorgis's delightful collection of eateries, so we were eager to check out Tiki Chick, his newest addition to the UWS scene, just a stone's throw from Central Park. And boy, it did not disappoint!
The atmosphere at Tiki Chick is like being transported to a tropical paradise filled with cute and kitschy tiki-inspired decor. The trendy ambiance sets the mood for an evening of fun without the formal feeling of its siblings – Jacob's Pickles and Maison Pickle. It's a great addition to UWS and an easy walk from the Jacqueline Kennedy Onassis Reservoir and surrounding Central Park attractions.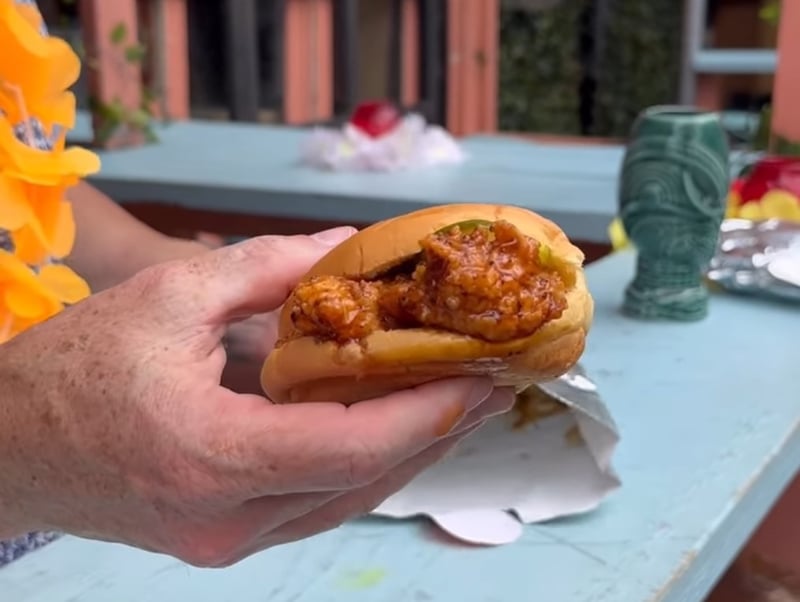 Food options are simple. Tiki Chick offers five sandwiches, which are all priced at $5. As a lover of chicken sandwiches, I found the Hot Honey variant hit the spot. Crispy, flavorful, and spicy, it was just what I needed when paired with a Pickle Painkiller cocktail.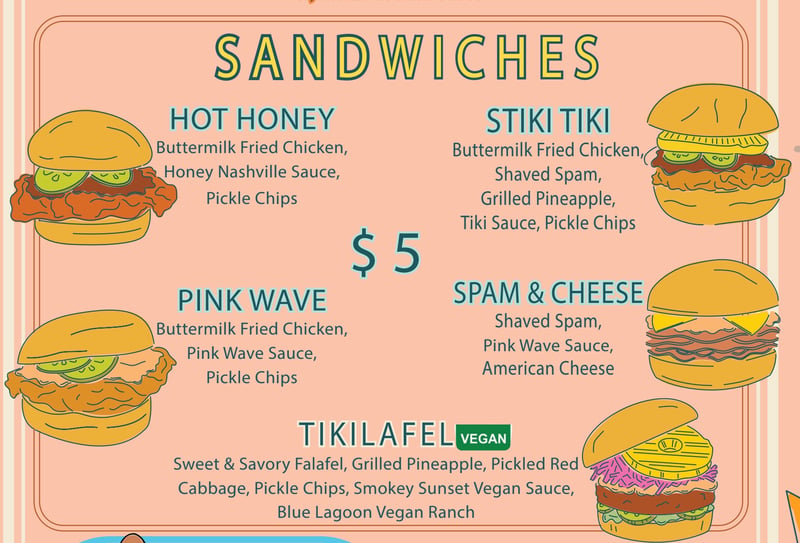 I enjoyed the aforementioned Pickle Painkiller while my wife tried the Chicks Sail to Carnival, and I heard no complaints. Both drinks were unique and fun and captured the essence of a tropical retreat.
Happy hour on the day we visited consisted of a $1 sandwich when purchasing a frozen Cocktail. While limited, this offer will make perfect sense once you're holding a menu in your hand.
One word of warning is that this venue can get jam-packed. We were seated within twenty minutes the day we stopped in, but we've heard friends complain that waits have lasted up to two hours.
Tiki Chick is a brilliant addition to the UWS and Jacob Hadjigeorgis's portfolio. It's the place that makes you feel like you're on vacation without ever leaving the city. I'll certainly be back; you're missing out if you haven't been!
Address: 517 Amsterdam Ave, New York, NY
Happy Hours: Sunday through Thursday, from 3pm to 5pm
#2 Bodega 88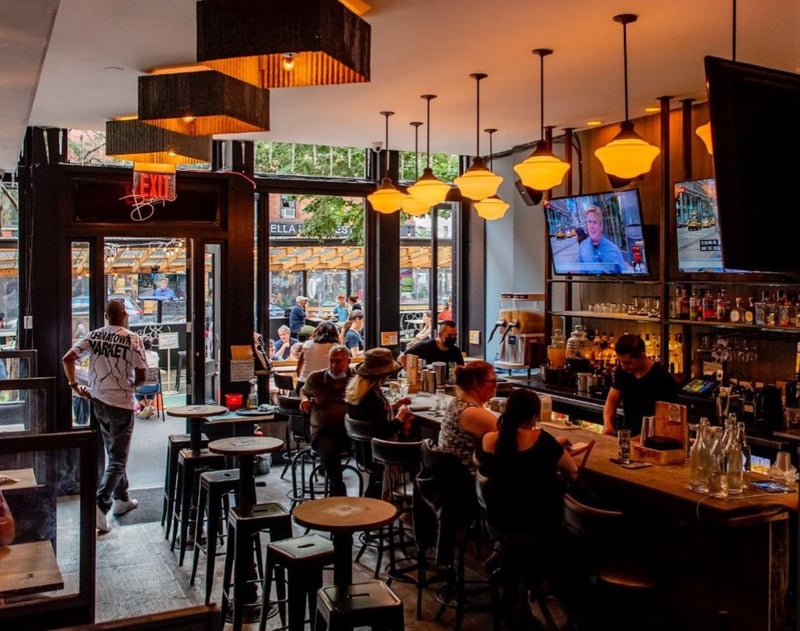 Bodega 88 is an excellent option for happy hour on the Upper West Side. No, it's not the best ambiance. Yes, there are a million screens playing sports from every direction. But, honestly, how can you beat $5.5 beers and $8 cocktails?
Bodega 88 was founded by owner David Arias when he sensed business at his 88th Street bodega was declining. The outcome is a lively, diverse, and comfortable atmosphere where you'll feel welcome, whether a local or tourist.
We've often stopped for an afternoon fix of chips and guacamole accompanied by a $5 draft. And, on many occasions, we stay through the evening to snack on Pernil tacos and Camarones al Ajillo, a grilled shrimp dish we enjoy. A close friend has recommended the chimichurri fries, which we hope to sample on our next visit.
Our only complaint with Bodega 88 is that service can sometimes be slow. Since this is often the case at smaller restaurants and bars, we return with the knowledge that, understaffed as they are, the bartenders and servers are trying their hardest to please.
Address: 573 Columbus Ave, New York, NY
Happy Hours: Thursday through Sunday, from 11am - 7pm!!
#3 Vida Verde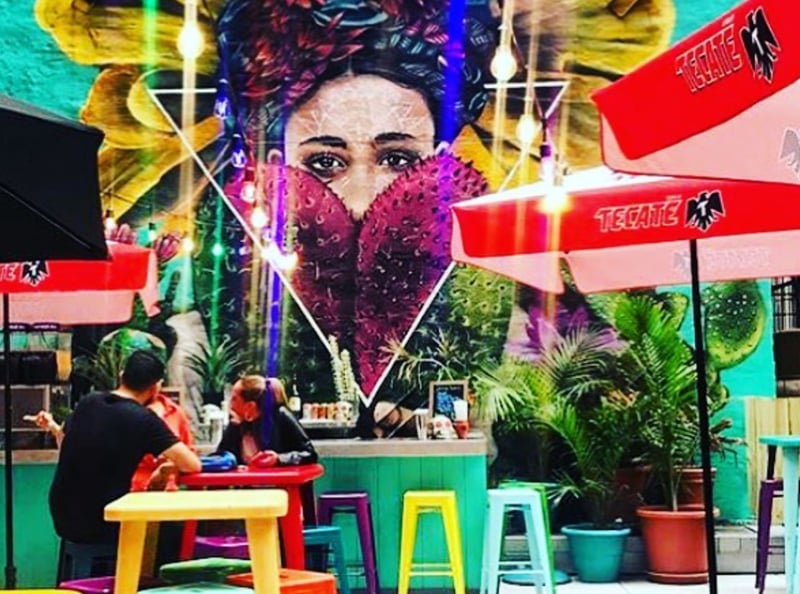 Vida Verde is worth a visit for the happy hour vibe if you're looking for refreshment near the south end of Central Park. The multi-level arrangement, complete with a DJ and a lively crowd, offers patrons varied experiences based on their moods. Although closing a tad early, the rooftop provides a decent, if not spectacular, view of the city.
Tucked away in Midtown, the restaurant paints a modest picture from the outside. Still, it comes to life with vibrant colors, neon lights, and eclectic Mexican-style decor once you step inside, making it a delightful surprise for first-timers. The ambiance has a touch of Instagram flair with its rainbow-colored umbrellas, disco balls, and artsy wall hangings.
Food-wise, the menu is diverse, with the chorizo and egg sliders being a personal favorite. Their variety ranges from chicken tacos to exotic Mexican french toast. That said, we've found consistency to be lacking during busy times.
Vida Verde does better with beverages at happy hour with $10 frozen Drinks and $7 draft beer. We've enjoyed watermelon and mango-habanero margaritas on the rooftop bar on hot days. During winter months, we've snuggled into a booth with a round of $8 tequila shots.
Service at Vida Verde oscillates between attentive and slightly sluggish, especially during their busy hours. Despite this, we highly recommend giving their happy hours a try.
Address: 248 W 55th St, New York, NY
Happy Hours: Monday-Friday until 7pm; Sunday-Thursday, from 11pm-Close
#4 The Lexington Social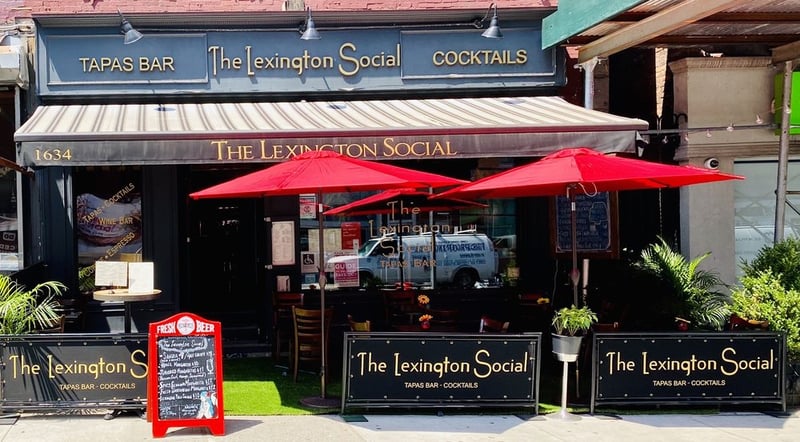 If you're leaving Central Park from the NE end near the Harlem Meer, the Lexington Social is a good option for happy hour refreshments.
The tamarindo and mango margaritas come out swinging with full-bodied flavors, and the prices are reasonable compared to many NYC options. Flavored Margaritas are $9 per glass, while a pint of draft beer runs $7. The Anderson Valley Gose sour beer is tart and refreshing for those with a penchant for craft beers. It's one of those drinks that becomes a conversation starter, reminding me of the Goose Island Sofie.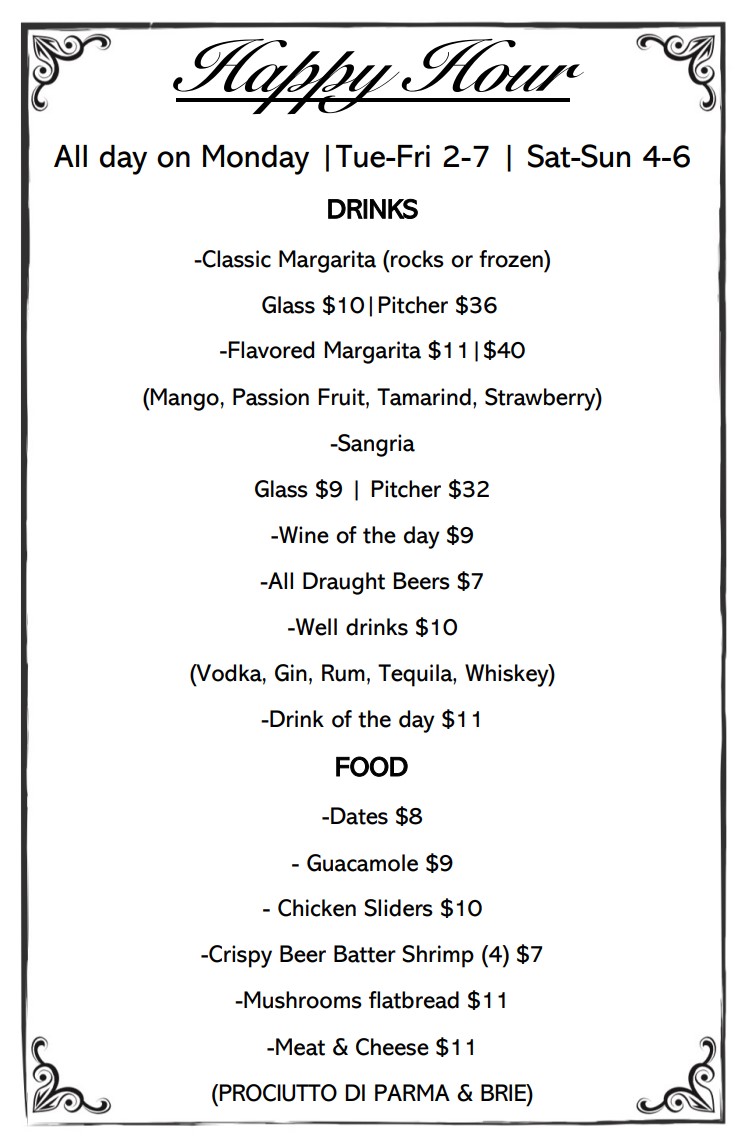 The happy hour food menu includes a decent Meet & Cheese plate for $11, Beer-Battered Shrimp for $7, and Mushroom Flatbread for $11. While not our favorite East Harlem vittles, the prices secure its spot in our list of happy hour haunts. Beyond the happy hour menu, the Pesto Margherita Pizza is worth a try, as are the Malfatis and Albondigas.
The ambiance is eclectic but welcoming. A no-frills environment where you can relax without pretense.
At times, we find the mood and lighting are a little dark. And the table service we've received has been spotty. Our solution has been to sit at the bar, where we've had excellent, attentive service.
As mentioned, the location is convenient if you're near the park's north end or in East Harlem. It's also across the street from the 103 Street Station, so it's a handy stop if you're on your way in or out of the neighborhood.
Address: 1634 LEXINGTON AVE. NEW YORK, NY 10029
Happy Hours: Monday - Friday, 2pm - 7pm; Saturday & Sunday, 4pm - 6pm
#5 Bar Goyana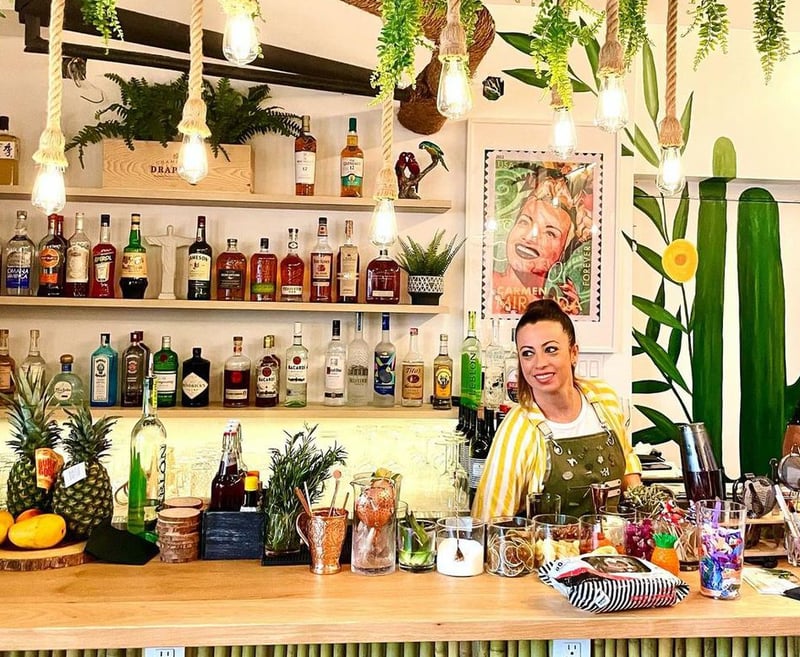 Another happy hour option near the park is East Harlem's Bar Goyana, which blends the magnetic vibes of NY's hustle with the laid-back flair of a Brazilian beach bar.
The Classic Lime Caipirinha is refreshing, well-balanced, and strong. The vivid cocktail flavors and generous pours guarantee a merry time. Look out for their Happy Hour exclusive: "Sunset in Rio" – a tantalizing mix that captures the essence of a Brazilian beach sunset. And yes, that playful parrot in the drink – pure genius!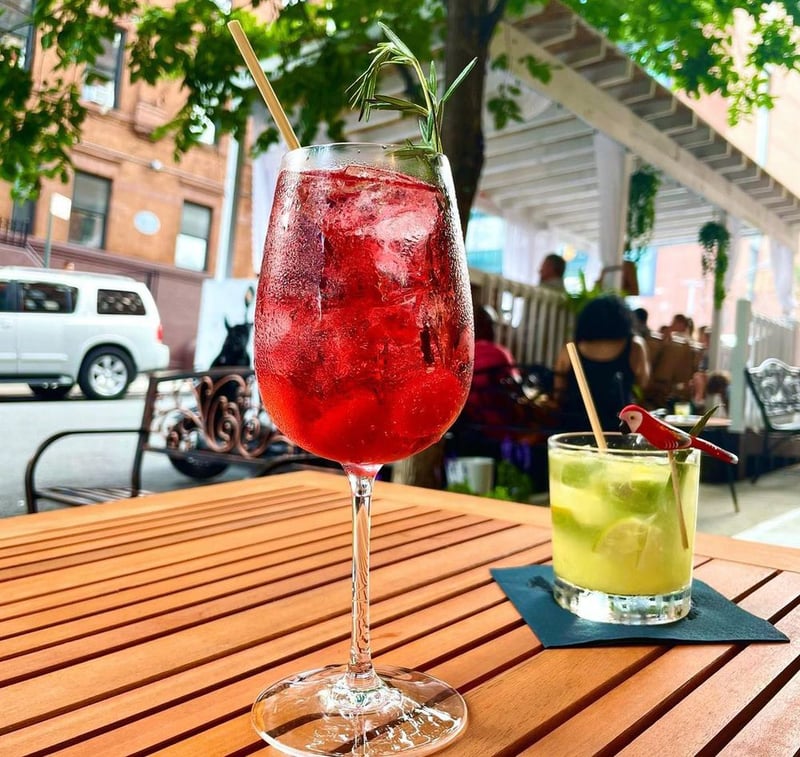 During Happy Hour, the Pão de Queijo and Queijo Coelho stand out. If you want something more substantial, we strongly suggest trying the Feijoada. And yes, the adjacent Mojo Mousse Bar's offerings - the dark chocolate, white chocolate, and matcha mousse flavors are a dessert lover's dream.
Happy Hour tends to get bustling, but in our experience, the service remains attentive, and the servers helped us non-Portuguese speakers feel right at home by interpreting the menu.
Arrive early to secure the best spots. Happy Hour is a hit!
Address: 177 East 100th Street, New York, NY
Happy Hours: Noon until 7pm
Best Central Park Area Happy Hours (Post Summary)
Tiki Chick
Bodega 88
Vida Verde
The Lexington Social
Bar Goyana
And that, my friends, is our current list of the best happy hours around Central Park. We'll add to it over time and subtract if the need arises. Thanks for visiting, and enjoy that well-earned happy hour refreshment!