Central Park, an oasis in the bustling city of New York, is a vast and expansive urban park with diverse attractions and features. Central Park spans 843 acres (341 hectares) and is 2.5 miles (4 kilometers) long and 0.5 miles (0.8 kilometers) wide making it 1.317 square miles in total. This article will delve into the park's dimensions, layout, and various features, providing a comprehensive guide to understanding the magnitude and scope of this iconic green space.

The Size of Central Park
Dimensions and Area
The sheer size of Central Park is a remarkable feat of urban planning, especially considering its location in the heart of Manhattan, one of the busiest and most densely populated areas in the world. Central Park's impressive dimensions contribute to its ability to accommodate millions of visitors annually.
Length and Width
Central Park spans 2.5 miles (4 kilometers) in length, stretching from 59th Street (Central Park South) in the south to 110th Street (Central Park North) in the north. The park's width measures 0.5 miles (0.8 kilometers), extending from Fifth Avenue in the east to Eighth Avenue (Central Park West) in the west. These dimensions allow the park to seamlessly integrate with the city grid while providing a massive green oasis for New Yorkers and tourists alike.
Total Area
Covering a vast 843 acres (341 hectares), Central Park's total area is larger than some countries, such as Monaco and Vatican City. This expansive area enables the park to accommodate various landscapes, including meadows, woodlands, lakes, and ponds. The park's vastness includes numerous attractions, including playgrounds, sports facilities, and cultural landmarks.
Comparison to Other Parks and Locations
Central Park's size is exceptional compared to other city parks in the United States and worldwide. For instance, it is more than five times the size of London's Hyde Park, which covers 350 acres (142 hectares), and approximately 1.5 times San Francisco's Golden Gate Park, which spans 1,017 acres (412 hectares). Central Park's size is a testament to the vision and foresight of its creators, Frederick Law Olmsted and Calvert Vaux, who understood the importance of preserving a significant green space for the public in the heart of a rapidly growing city.
Relative Size to NYC Boroughs
By comparing Central Park's size to that of Manhattan, Brooklyn, Queens, The Bronx, and Staten Island, we can better understand the park's role in providing essential recreational and natural spaces for the city's residents and visitors.
Central Park's 843 acres (341 hectares) account for approximately 5% of Manhattan's total land area, which covers roughly 14,600 acres (5,900 hectares). This is a considerable portion of Manhattan, considering the borough's high density and the premium placed on real estate. The park's presence in the heart of Manhattan contributes to residents' overall quality of life and enhances the urban experience for millions of visitors each year.
Brooklyn, the most populous of the five boroughs, covers approximately 58,000 acres (23,500 hectares), and Central Park represents about 1.45% of Brooklyn's total land area. Although Brooklyn boasts other significant parks, such as Prospect Park and Brooklyn Bridge Park, Central Park's size still stands out as an impressive green space within the larger context of New York City.
Queens, the largest of the five boroughs in land area, encompasses approximately 69,000 acres (28,000 hectares). Central Park represents a mere 1.22% of Queens' total area. Despite its smaller size than Queens' other parks, such as Flushing Meadows-Corona Park, Central Park remains a vital green space for the entire city.
The Bronx, home to the renowned Bronx Zoo and New York Botanical Garden, has a total land area of approximately 42,000 acres (17,000 hectares). Central Park makes up roughly 2% of The Bronx's area, showcasing its importance as a significant green space in New York City's green spaces.
Staten Island, known for its suburban charm and vast parks, is the third-largest borough in land area, covering around 37,000 acres (15,000 hectares). Central Park constitutes about 2.28% of Staten Island's total area. While Staten Island boasts the expansive Greenbelt and numerous parks, Central Park remains a critical natural space in the city.
Overall, Central Park's size is substantial compared to each of the five boroughs of New York City. This vast green oasis is vital to the city's landscape and is a much-needed natural retreat for residents and visitors.
Exploring Central Park's Features
Central Park is a treasure trove of diverse features and attractions, making it an ideal destination for locals and tourists. From picturesque gardens and cultural institutions to recreational facilities and hidden gems, there's something for everyone to explore and enjoy.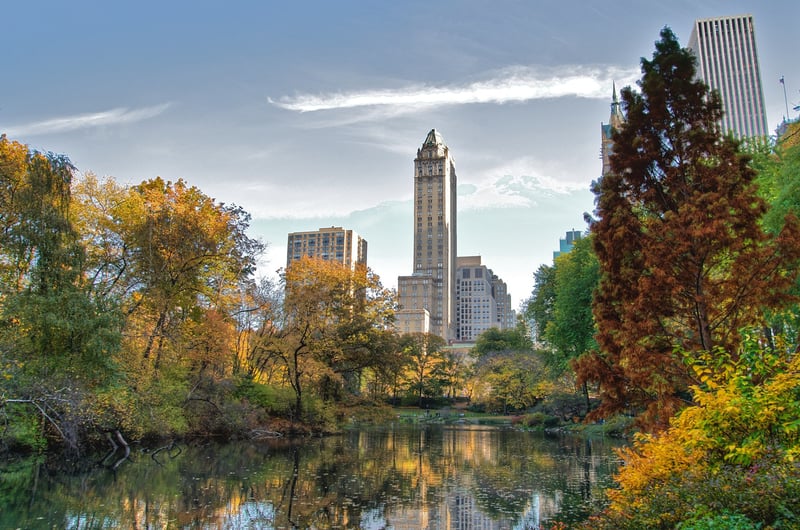 Natural Features
The park's designers, Frederick Law Olmsted and Calvert Vaux, aimed to create a harmonious blend of natural and manufactured features to offer urban dwellers a much-needed respite. Central Park's natural features, from its lakes and ponds to woodlands and meadows, contribute significantly to its serene atmosphere and unique charm.
Lakes and Ponds: Central Park boasts several bodies of water, each with its distinctive character. The largest, the 18-acre Jacqueline Kennedy Onassis Reservoir, is encircled by a popular jogging track and offers stunning skyline views. Smaller bodies of water, such as the serene Turtle Pond or the picturesque Conservatory Water, provide tranquil settings for relaxation and wildlife watching. Central Park's various lakes and ponds offer seasonal activities like rowboating, model sailboating, and ice skating.

Woodlands: Central Park's woodlands, which include the North Woods, the Ramble, and Hallett Nature Sanctuary, offer a more secluded experience for visitors seeking solace in nature. These wooded areas are designed to resemble natural forests, with winding paths, rustic bridges, and various native trees and plants. They are also home to diverse wildlife, including birds, squirrels, and raccoons, making them popular destinations for birdwatching and nature walks.

Meadows and Lawns: The park's expansive meadows and lawns, such as the Great Lawn, Sheep Meadow, and East Green, provide open spaces for picnicking, sunbathing, or simply enjoying the outdoors. These lush, green areas are meticulously maintained and serve as ideal spots for gatherings, sports activities, and special events.

Wildlife and Flora: Central Park is a haven for various wildlife species and an array of flora. Over 230 species of birds have been spotted within the park, making it a popular birdwatching destination. Moreover, the park's diverse plant life, including thousands of trees and numerous flower species, creates a vibrant and ever-changing tapestry of colors and textures throughout the year.
The natural features of Central Park offer visitors a chance to escape the concrete jungle and immerse themselves in nature without leaving the city. This harmonious blend of natural beauty and urban convenience makes Central Park a truly exceptional urban park.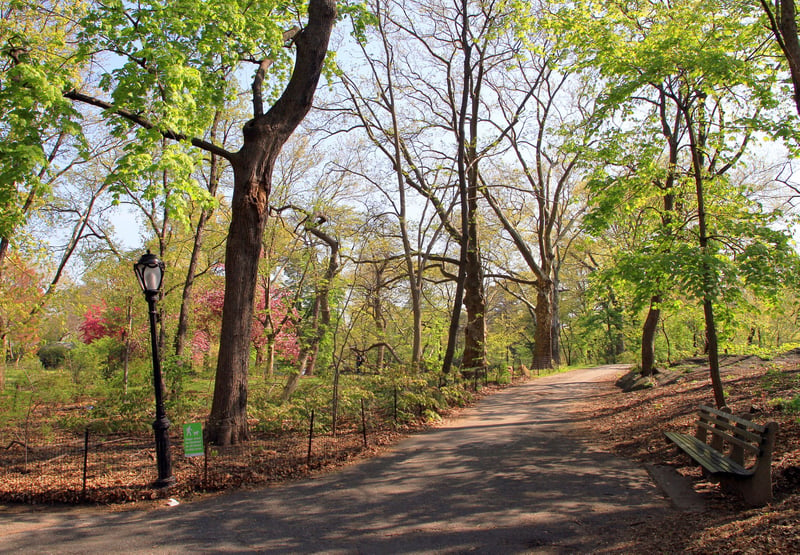 Trails and Paths
Central Park offers an extensive network of trails and paths. These pathways meander through the park's diverse landscapes, providing visitors with countless opportunities to experience the beauty and tranquility of the park. Whether you're looking for a stroll, a vigorous workout, or a scenic route to admire the park's landmarks, Central Park's trails, and paths have something for everyone.
Scenic Loops: The park features several scenic loops that allow visitors to take in its highlights and natural beauty at their own pace. The most famous is the 6.1-mile Central Park Loop, which winds around the park's perimeter and offers stunning views of the park and the city skyline. Other shorter loops, such as the Bridle Path Loop and the North Meadow Loop, provide alternative options for those seeking a less challenging route or a more focused exploration of specific areas.

Nature Trails: For those looking to immerse themselves in the park's woodlands and natural habitats, Central Park boasts a variety of nature trails. The Ramble, North Woods, and Hallett Nature Sanctuary each offer a network of paths that weave through lush vegetation, providing a sense of seclusion and tranquility. These trails are ideal for birdwatching, wildlife spotting, and escaping the hustle and bustle of the city.

Paved Paths and Promenades: Central Park's paved paths and promenades cater to cyclists, runners, and walkers seeking a smooth surface for their activities. The iconic Central Park Drive, divided into separate lanes for pedestrians, cyclists, and vehicles, offers a well-maintained route through the park. The park's picturesque promenades, such as the Mall and Literary Walk, provide a more leisurely experience, lined with benches and shaded by a canopy of stately trees.

Accessible Trails: The park's designers, Frederick Law Olmsted and Calvert Vaux, aimed to create an inclusive space that could be enjoyed by everyone, regardless of their abilities. To this end, Central Park features numerous accessible trails and paths compliant with the Americans with Disabilities Act (ADA). These routes are designed with gentle slopes and broader widths, making them suitable for wheelchairs, mobility scooters, and strollers.
No matter your interests or abilities, the park's pathways provide an inviting and accessible means to connect with nature and experience the magic of this beloved urban sanctuary.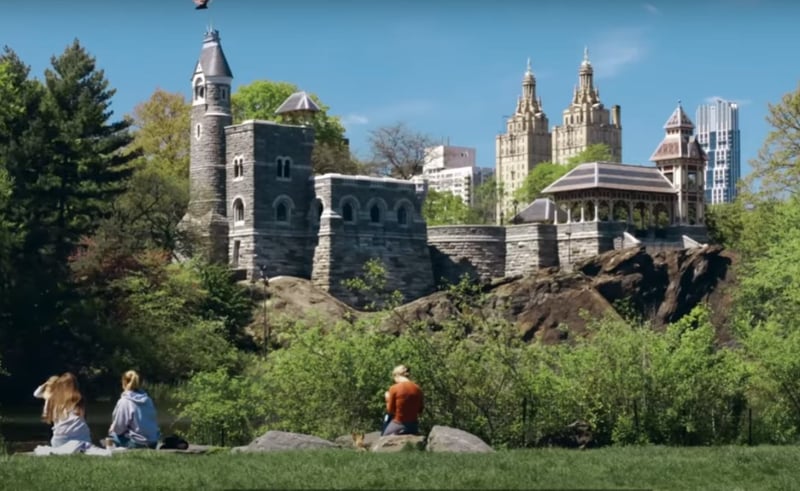 Architectural Features and Attractions
Central Park is home to a wealth of architectural features and attractions that showcase the talents of renowned designers and architects. These structures serve as functional amenities and add charm and historical significance to the park. From iconic bridges and arches to unique landmarks, Central Park's architectural wonders are a testament to the creativity and vision of its designers.
Bridges and Arches: The park boasts more than 30 unique bridges and arches, each with its distinct design and character. Crafted from various materials, such as cast iron, stone, and brick, these structures seamlessly blend into the park's natural surroundings. Notable examples include Bow Bridge, a graceful cast-iron bridge with a distinctive design, and the Gothic Bridge, featuring intricate stonework and stunning vistas.

Bethesda Terrace and Fountain: One of the most iconic architectural features in Central Park, Bethesda Terrace, and Fountain serves as a central gathering spot for park visitors. Designed by Calvert Vaux, the two-level terrace features intricate carvings, grand staircases, and ornate railings. The lower level houses the impressive Minton tile ceiling, while the upper level provides a stunning view of the park and the city skyline. At the heart of the terrace lies the Angel of the Waters Fountain, an elegant statue created by sculptor Emma Stebbins.

Belvedere Castle Perched atop Vista Rock: Belvedere Castle offers breathtaking panoramic views of the park and its surroundings. Designed by Calvert Vaux in a combination of Gothic and Romanesque styles, the castle features lookout towers, an observation deck, and a visitor center. The castle also serves as a weather station, collecting meteorological data since 1919.

The Dairy: A charming Victorian Gothic building designed by Calvert Vaux, the Dairy once functioned as a milk dispensary for children in the 19th century. Today, it serves as the Central Park Conservancy's Visitor Center and Gift Shop, where visitors can learn about the park's history, events, and attractions. The Dairy's unique architectural style, complete with decorative wooden trim and steeply pitched roofs, adds to its appeal.

Alice in Wonderland Statue: A whimsical tribute to Lewis Carroll's classic tale, the Alice in Wonderland statue has delighted visitors since 1959. Sculpted by José de Creeft, the bronze statue features Alice seated on a mushroom, surrounded by various characters from the story. The interactive nature of the statue, with its climbable figures and hidden details, has made it a popular attraction for children and adults alike.
These architectural features and attractions enhance Central Park's visual appeal and give visitors a fascinating glimpse into the park's history and the creative minds behind its design. With each structure offering a unique experience, Central Park's architectural wonders continue to enchant and inspire those who explore its grounds.
The Impact of Central Park's Size
The impressive size of Central Park has far-reaching effects on various aspects of New York City life, as well as the overall experience of both residents and visitors. From promoting physical and mental well-being to enhancing the urban environment, Central Park's vast expanse offers numerous benefits contributing to the city's vibrancy and charm.
Green Space and Mental Health: Central Park's vast green space offers a much-needed respite from the hustle and bustle of the urban jungle. Research has shown that exposure to nature and green spaces can improve mental health by reducing stress, anxiety, and depression.

Recreation and Physical Activity: The sheer size of Central Park offers ample opportunities for recreation and physical activity, contributing to the overall health and fitness of its visitors. This accessibility to various outdoor activities encourages a more active and healthy lifestyle for those who frequent the park.

Biodiversity and Wildlife: Central Park's large size and diverse range of habitats make it an essential refuge for a remarkable array of flora and fauna. The park's ecosystems support numerous species of plants, animals, and insects, enriching the natural environment and providing valuable ecological services for the city. The various habitats within the park contribute to its biodiversity, enabling it to function as a critical green space in an urban setting.

Flora: Central Park has over 20,000 trees and numerous plant species, including native and introduced varieties. The park's woodlands, meadows, and gardens showcase a rich assortment of vegetation, offering valuable food sources and shelter for various wildlife species. Some notable trees in the park include American elms, London planes, and black cherry trees. The park's vibrant flora contributes to its aesthetic appeal and is vital in supporting local wildlife.

Birdlife: As a crucial stopover along the Atlantic Flyway, Central Park serves as a temporary home to over 200 species of migratory birds each year. The park's mix of habitats, food sources, and water bodies make it an attractive resting and feeding ground for these birds on their journeys. Additionally, Central Park is home to many resident bird species, including the red-tailed hawk, American robin, and northern cardinal. Birdwatching is a popular activity in the park, attracting both amateur and experienced enthusiasts.

Mammals: Central Park is inhabited by various mammals, including gray squirrels, raccoons, and eastern chipmunks. These animals are well-adapted to urban environments and can often be seen foraging for food or scampering through the trees.

Reptiles and Amphibians: Central Park's water bodies and wetlands provide suitable habitats for various reptiles and amphibians. Snapping, painted turtles, and red-eared sliders can be found in the park's ponds and lakes. Additionally, the park is home to several amphibian species, including American bullfrogs, green frogs, and spring peepers. These creatures are crucial in maintaining the ecological balance by controlling insect populations and serving as prey for other animals.

Insects and Invertebrates: Central Park supports various insects and invertebrates, including butterflies, bees, ants, and spiders. These tiny creatures play a significant role in pollination, decomposition and as a food source for other wildlife. The park's gardens and meadows provide essential habitats for these vital members of the ecosystem, helping to maintain the health and diversity of the park's flora and fauna.

Urban Heat Island Mitigation: The vast expanse of Central Park also helps mitigate the urban heat island effect. In this phenomenon, built-up urban areas experience higher temperatures than surrounding rural areas due to heat absorption by buildings and pavement. The park's abundant vegetation and water bodies help lower temperatures in the surrounding areas by providing shade and promoting evaporative cooling, improving the overall air quality and making the city more comfortable and livable.

Community and Social Interaction: Central Park's size enables it to host various events and activities that foster community and social interaction among New Yorkers. From concerts and theater performances to sports leagues and educational programs, the park brings people together from all walks of life, encouraging social connections and creating shared experiences.
Conclusion
Central Park is a massive urban park that offers a unique combination of natural beauty, recreational opportunities, and architectural attractions. Spanning 843 acres, the park's dimensions are approximately 2.5 miles long and 0.5 miles wide. Its large size allows it to support a diverse range of flora and fauna, providing a vital green space in the heart of New York City. The park's careful design and layout contribute to its appeal, making it a beloved destination for locals and tourists alike. The multitude of trails, paths, and features within Central Park showcases its impressive scale and invites visitors to explore and appreciate the vastness of this iconic public space.