The John Lennon Memorial in Central Park is a place of remembrance for the legendary musician and peace icon. Located in the Strawberry Fields section of the park, it offers visitors a chance to pay their respects and learn more about Lennon's life and legacy. In this article, we will explore the history and significance of this iconic location and provide a comprehensive guide to visiting Strawberry Fields and delving into Lennon's lasting impact on music and culture.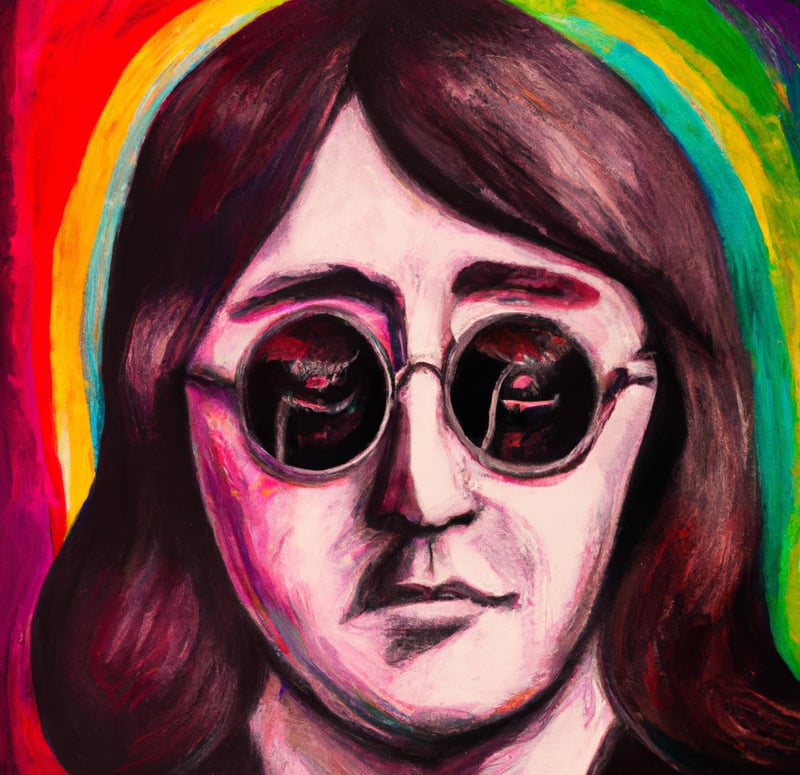 Exploring Strawberry Fields
The John Lennon Memorial in Central Park is a living tribute to the late musician, celebrating his life, work, and commitment to peace. This memorial, situated in the aptly named Strawberry Fields section of the park, was officially dedicated on October 9, 1985, which would have been Lennon's 45th birthday. It was created through the collaborative efforts of Lennon's widow, Yoko Ono, the Central Park Conservancy, and landscape architect Bruce Kelly.
Strawberry Fields is a 2.5-acre landscaped section of Central Park, named after the Beatles' song "Strawberry Fields Forever." This area was chosen because of its proximity to the Dakota Apartments, where Lennon lived with Ono and where he was tragically killed. The memorial serves as a space for reflection and remembrance, where fans worldwide can gather to honor Lennon's memory and message of peace.
The History of Strawberry Fields
After Lennon died in 1980, Yoko Ono sought to create a lasting memorial. She chose Central Park due to its significance in Lennon's life and its accessibility to the public. Ono worked closely with the Central Park Conservancy and landscape architect Bruce Kelly to design and create Strawberry Fields. Ono donated $1 million to the project, supported by contributions from fans and admirers worldwide.
Design and Features of the Memorial
The design of Strawberry Fields reflects Lennon's love of nature and his commitment to peace. The memorial features a serene, circular garden with winding pathways, lush plantings, and benches for quiet contemplation. At the heart of the memorial is the iconic Imagine Mosaic, a black-and-white circular design crafted from Italian marble. The mosaic features the word "Imagine" at its center, in honor of Lennon's famous song that envisions a world without borders, division, or conflict.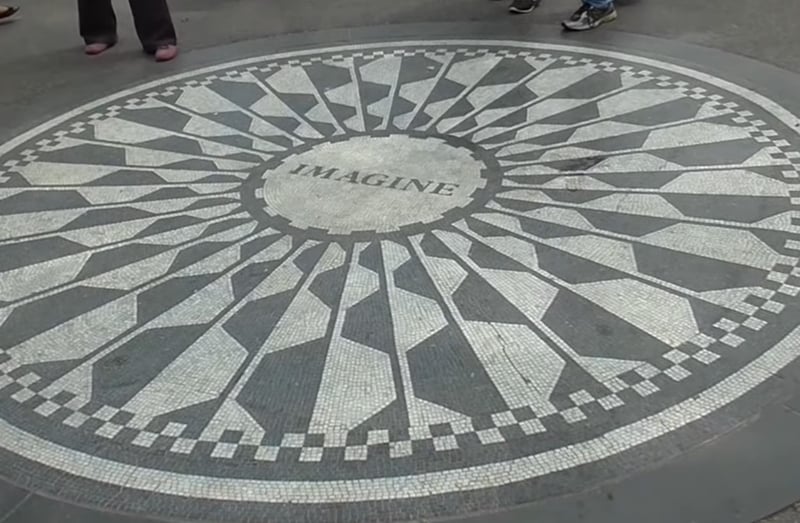 In keeping with the theme of peace, the memorial also includes the designation of Strawberry Fields as a "Garden of Peace." A series of bronze plaques placed along the pathways features the word "Imagine" in different languages, emphasizing the universal nature of Lennon's message. The John Lennon Memorial is a testament to his art's enduring power and vision of a more peaceful world.
Things to Do in Strawberry Fields
As the John Lennon Memorial, Strawberry Fields offers visitors various activities and experiences that pay homage to the iconic musician and his ideals. Here are some of the critical things to do while visiting this serene oasis in Central Park:
The Imagine Mosaic
The centerpiece of Strawberry Fields is the Imagine Mosaic, a tribute to Lennon's timeless song "Imagine." This beautiful, black-and-white marble mosaic features the word "Imagine" at its center and has become a symbol of peace and hope. Visitors often pause at the mosaic to reflect, take photographs, and leave flowers or other mementos in honor of Lennon.
The Annual John Lennon Tribute
Every year on December 8th, the anniversary of Lennon's death, fans gather at Strawberry Fields to pay tribute to the musician with an informal gathering of music and memories. Visitors worldwide come together to sing Lennon's songs, share stories, and remember his life and legacy. This heartfelt event is a testament to Lennon's enduring impact on countless lives.
Music and Art in the Park
Strawberry Fields has become a popular spot for musicians, artists, and performers to showcase their talents in a setting that celebrates peace, love, and creativity. It's not uncommon to encounter musicians playing Beatles' tunes or Lennon's solo works and artists creating beautiful pieces inspired by the memorial's surroundings. The atmosphere in Strawberry Fields is one of unity and inspiration, offering a unique experience for visitors to enjoy while honoring Lennon's spirit.
Reflect and Relax
The tranquil setting of Strawberry Fields, with its lush greenery, winding pathways, and shaded benches, provides an ideal space for visitors to reflect on Lennon's life and message or relax and enjoy the natural beauty of Central Park. The peaceful atmosphere encourages contemplation and introspection, making it a perfect spot to escape the bustle of the city and reconnect with nature.
Strawberry Fields is more than just a memorial to John Lennon; it's a living testament to the power of music, art, and the human spirit. Its serene setting and poignant tributes invite visitors to immerse themselves in Lennon's world, experience the transformative power of his work, and carry on his message of peace and love.
Tips for Visiting Strawberry Fields
To make the most of your visit to Strawberry Fields, the John Lennon Memorial in Central Park, consider these helpful tips to ensure a memorable and enjoyable experience:
Best Times to Visit
While Strawberry Fields is open year-round, the best times to visit are generally during spring and fall when the weather is mild and the park is particularly picturesque. These seasons offer comfortable temperatures, fewer crowds, and beautiful foliage. However, the memorial can be visited any time of the year, each season offering its unique charm. If you want to join the annual John Lennon Tribute, plan your visit on December 8th.
What to Bring
Make sure to bring a camera or smartphone to capture the beauty of Strawberry Fields and the Imagine Mosaic. You should also carry a small notepad or journal to record your thoughts and impressions during your visit. If you plan on spending some time at the memorial, consider bringing a blanket to sit on the grass or a folding chair for added comfort. Snacks and drinks are also good, but please remember to clean up and respect the park's rules.
Nearby Attractions and Landmarks
While visiting Strawberry Fields, take the time to explore other nearby attractions in Central Park. The Central Park West entrance, just across from the Dakota Building where John Lennon lived, provides convenient access to other park landmarks, such as the Great Lawn, Bow Bridge, and Bethesda Terrace. The American Museum of Natural History, The New York Historical Society, and the Children's Museum of Manhattan are also within walking distance.
Transportation and Accessibility
Strawberry Fields is easily accessible by public transportation, with multiple subway and bus lines stopping nearby. The closest subway stations are the B/C train at 72nd Street and Central Park West or the 1/2/3 train at 72nd Street and Broadway. If you prefer traveling by bus, the M10, M72, and M7 lines all have stops close to the park. Central Park is also an excellent place for walking or biking, so consider renting a bike to explore the park's numerous paths and attractions.
Respect the Memorial
When visiting Strawberry Fields, please remember that it is a memorial dedicated to the memory of John Lennon and a place for reflection and appreciation of his life and work. Be respectful of other visitors and maintain a peaceful atmosphere at the site.
With these tips in mind, your visit to Strawberry Fields will be a unique and unforgettable experience, allowing you to connect with the spirit of John Lennon and the lasting impact he had on the world.
Lennon's Legacy and Impact
John Lennon's profound impact on the world of music and his advocacy for peace and activism left an indelible mark on society. As a member of The Beatles and a solo artist, Lennon's influence extended far beyond music, shaping the cultural landscape of his time. Let's look at the various aspects of his life and legacy.
Early Years and Beatle's Success
Born on October 9, 1940, in Liverpool, England, John Lennon showed a strong interest in music from an early age. In 1957, he formed the band that would eventually become The Beatles, with Paul McCartney, George Harrison, and later, Ringo Starr. The Beatles' extraordinary success transformed the music industry and popular culture, and they quickly became a global phenomenon. Their innovative approach to songwriting, recording techniques, and performance style left an indelible mark on the history of music.
Solo Career and Activism
After The Beatles disbanded in 1970, Lennon embarked on a successful solo career. His first solo album, "John Lennon/Plastic Ono Band," showcased his raw, introspective songwriting. In 1971, he released "Imagine," one of his most iconic songs, promoting peace and unity. Lennon was also an outspoken activist, using his platform to raise awareness of social and political issues, such as the Vietnam War, racial equality, and women's rights. His advocacy for peace and activism would become integral to his legacy.
Lennon's Influence on Music and Culture
Lennon's innovative songwriting and commitment to artistic experimentation inspired countless musicians and artists in various genres. His fearlessness in tackling controversial subjects and addressing personal experiences in his music made him a trailblazer in the industry. Even today, his songs and messages continue to resonate with new generations.