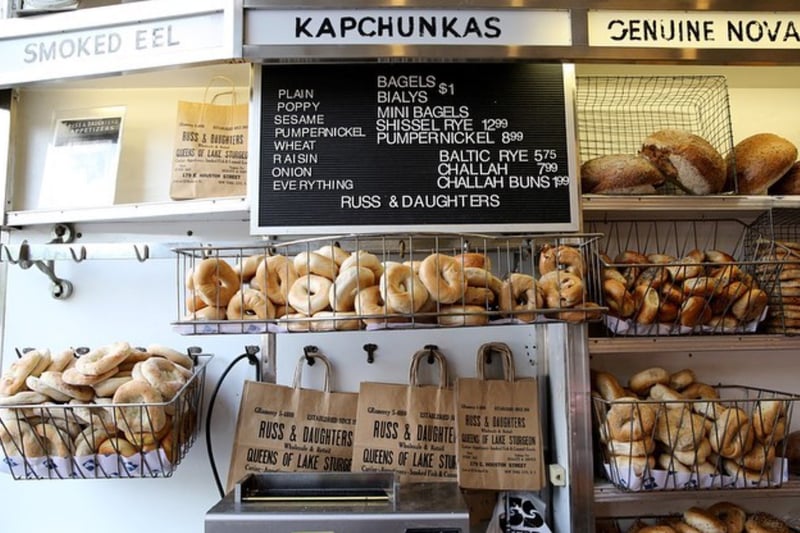 There's something incomparable about biting into a New York City bagel. Whether you opt for a classic plain with cream cheese or sesame studded with lox and capers, these doughy delights are a culinary hallmark of the city's diverse food scene. Known for their glossy exterior and chewy interior, NYC bagels are more than just fast food—they're a bite of the city's vibrant culture and history.
But what is it about New York City bagels that sets them apart from the rest? Is it the traditional recipe passed down through generations, or is the city's distinctive water-making the magic? Perhaps it's a combination of both. These delicious dough circles aren't just a quick breakfast or a snack on the run; they represent a city's ever-thriving culture and history.
Whether you're a lifelong New Yorker or planning a visit, join us as we journey through the streets of New York City, experiencing the gastronomic delight of the city's best bagels.
Best Bagels in New York City
Tal Bagels
Tal Bagels pulses with the unmistakable rhythm of New York City yet sets itself apart with a singular charm. The bagels are delightfully fresh, always toasted to perfection.
Their Whole Wheat Everything bagel, paired with Vegetable Cream Cheese, is delicious, and the Tal Special offers hand-sliced Nova, cream cheese, capers, and onions for a unique option. Despite the high price, it's a worthy splurge. Though some may find their elaborate toppings a bit too much, remember, the beauty of our city lies in diverse tastes. What might be overwhelming for one could be a gastronomic delight for another.
The shop's ambiance has a unique rhythm despite its age, reflecting the timeless spirit of New York. With ample indoor and outdoor seating, it's an ideal spot for dining. Despite some minor issues, I endorse Tal Bagels as a significant facet of New York's bagel landscape. It's about navigating the crowd, finding a seat, and uncovering your favorite dish, all while relishing the city's vibrant ambiance.
Address: 2446 Broadway, New York, NY 10024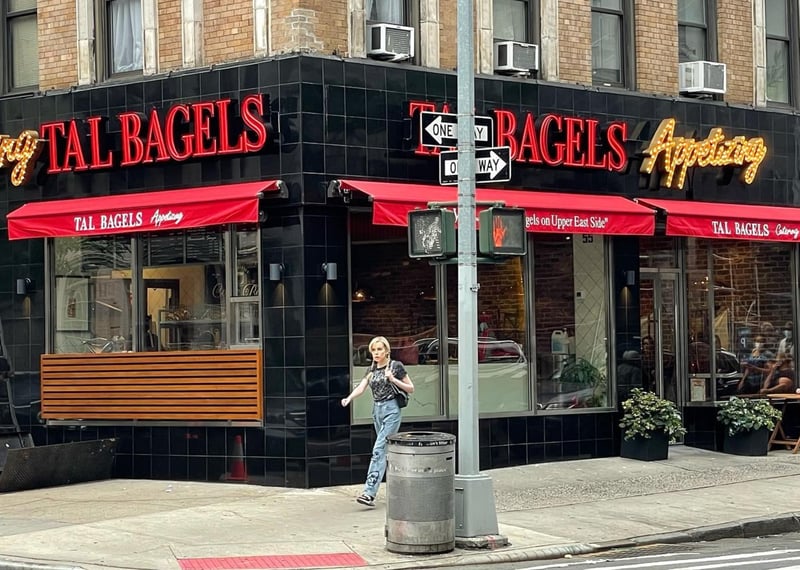 BO's Bagels
Bo's Bagels is a significant player in the city's vibrant bagel scene. On my first visit, the shop charmed me with its inventive bagels and local Harlem art. The blueberry bagel, layered with tofu cream cheese, and cucumber, stood out.
Some may find the bagels dense, but I relish their nostalgic chew. My go-to is the 'everything bagel,' warm, toasted, and laden with scallion cream cheese. Both the quality and variety of spreads hit the mark.
The menu shines with unique sandwiches like 'The Ashley,' a spicy mix of egg whites, avocado, and sriracha, and the 'Sushi Bagel,' an audacious blend of wasabi cream cheese and smoked salmon.
Address: 235 W 116th St, New York, NY 10026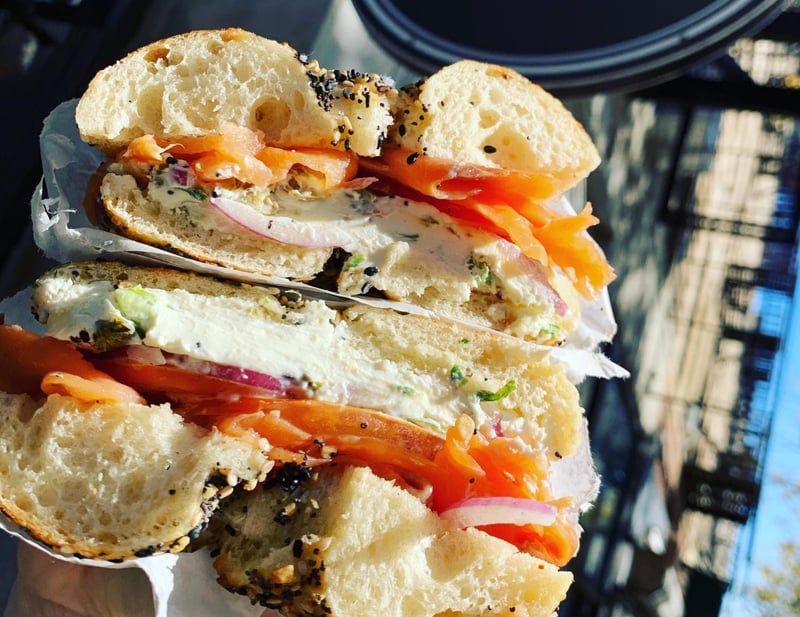 Absolute Bagels
Located in the heart of Morningside Heights, Absolute Bagels is a bastion of old New York charm. Its inviting aroma spills onto Broadway, promising fresh, top-quality bagels. The shop operates as a no-frills, grab-and-go service but captivates with its local allure.
The bagels here impress not just for their quality but also for their variety. From a classic 'everything' bagel teeming with sesame to a distinct 'egg bagel,' choices abound. While occasional missteps occur, like a dry onion bagel we received once, they're exceptions to an otherwise stellar lineup.
The spreads, equally remarkable, suit diverse tastes. The scallion cream cheese pairs perfectly with a sesame bagel, maintaining its richness even when chilled. For those seeking zest, the jalapeno cream cheese hits the mark. A dairy-free tofu spread stands as a welcome alternative.
Service is swift and friendly, even during weekend peaks. Note that the shop only accepts cash, which can catch the unprepared by surprise.
Address: 2788 Broadway, New York, NY 10025
Orwashers Bakery
Nestled in the heart of New York City, Orwashers Bakery has been a go-to for top-notch breads since its inception. Its sourdough and olive baguette are standout offerings, consistently delivering on taste and freshness. The live-action view of sourdough in the making adds a touch of authenticity. The multigrain loaf, a staple in my home, remains fresh throughout the week and elevates any meal.
The open-kitchen layout adds transparency but lacks seating, a minor drawback given the quality. While pricing can skew high—take the NY Bagel as an example—the caliber of their goods, from croissants to strawberry shortcakes, justifies the cost.
Customer service is a strong suit at Orwashers. Responsive staff go above and beyond. And, while not every offering is flawless, Orwashers gets far more right than wrong. Any establishment that pleases both palate and pocket is a rare find indeed.
Address: 377 Willis Ave, Roslyn Heights, NY 11577
Mike's Bagels
For many New Yorkers, bagels are a breakfast staple, and a top choice is Mike's Bagels. Their offerings range from the classic 'Everything Bagel' to unique flavors like 'Whole Wheat Everything' and 'Onion.' Each bite confirms its unmatched quality, featuring a crisp exterior and chewy center.
What elevates Mike's is their inventive sandwiches. The 'Moireen Special' and 'Chipotle Chicken on Onion' redefine the bagel sandwich, harmonizing flavors and textures.
Despite its popularity, service at Mike's is efficient and accurate, even during morning rushes. The staff are friendly and informed, enhancing each visit with their recommendations.
The array of spreads—especially the scallion cream cheese—adds another layer to the bagel experience. They even offer a lox spread for traditionalists and a tofu option for the adventurous.
The shop mainly operates as a grab-and-go due to its limited space. But customers don't seem to mind; nearby spots like Haven Plaza offer a pleasant backdrop for bagel enjoyment. While a larger venue could boost its appeal, Mike's Bagels primarily shines through its superior product.
Address: 4003 Broadway, New York, NY 10032
Bagel Oasis
Located in Fresh Meadows, Bagel Oasis—affectionately known as Bagel-O—offers top-notch bagels around the clock. My go-to is their classic bacon, egg, and cheese roll, but their cheddar jalapeño bagel with veggie cream cheese is an adventurous delight.
While some prefer Long Island bagels, Bagel Oasis nails its chewy, seed-filled versions that pair well with an array of unique cream cheeses, from scallion to walnut raisin. They even offer a tofu cream cheese for the dairy-averse, accommodating various dietary needs.
Customer service is generally strong, although I've noticed occasional lapses, such as staff distracted by smartphones. Still, these are rare blips in an otherwise dependable and cozy environment, perfect for a quick dozen or a hearty chicken salad sandwich on an everything bagel.
Despite minor hiccups, Bagel-O has cemented its status as a must-visit for NYC bagel enthusiasts. Although pricing may be a point of contention, the quality and portion sizes make it worthwhile. When in Fresh Meadows, try their standout egg bagel with a Tangerine Topo Chico—you won't regret it.
Address: 18312 Horace Harding Expy, Fresh Meadows, NY 11365
Zabar's
The inviting aroma of roasted coffee beans welcomes you before entering this haven of rare gourmet treats. Their Nova bagels and cinnamon babka are unforgettable, and their iconic black and white cookies transport me back to childhood.
Zabar's is a microcosm of the city's vibrant energy. Even on the busiest Saturdays, there's a sense of community warmth. The attentive staff adds to the welcoming atmosphere, embodying the spirit of New York in every interaction.
Conveniently located at Broadway and 80th, near Central Park, Zabar appeals to tourists and locals. Whether you're craving their famed rugelach or your daily coffee, this spot captures the city's eclectic and energetic essence.
Address: 2245 Broadway, New York, NY 10024
Bagel Nest
Bagel Nest, known for its diverse menu ranging from bagels to breakfast burritos, offers a mixed experience. The BananaNut smoothie, a blend of bananas, peanut butter, and almond milk with a hint of kale, made a delightful start to my day. Their breakfast burrito evoked college nostalgia, while chicken over rice pleased the palate. However, their turkey bacon and egg bagel fell flat, a disappointing note in an otherwise varied menu.
While the quality generally justifies the cost at Bagel Nest, occasional items felt overpriced. Operational glitches like irregular hours and computer issues further complicate the customer experience.
Address: 1237 Fulton St, Brooklyn, NY 11216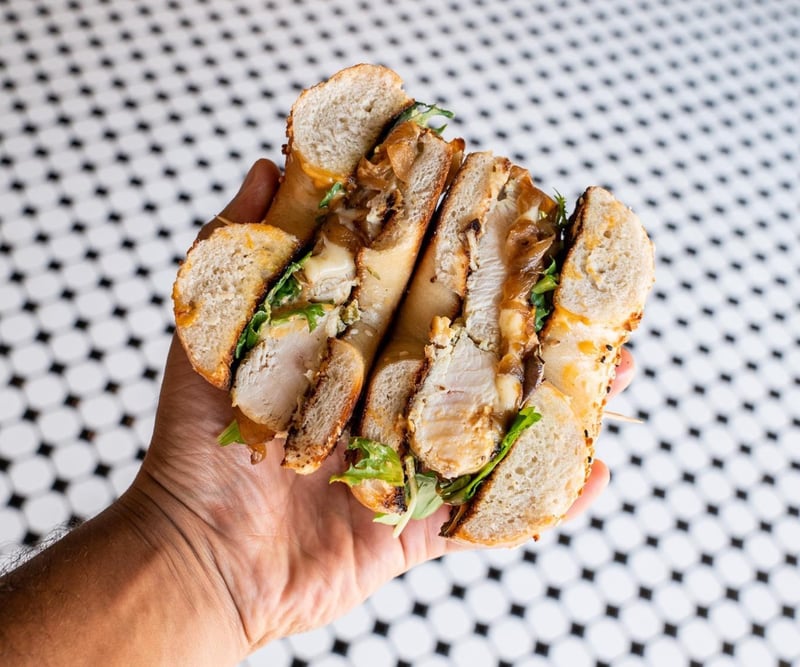 Bagels For You
"Bagels for You" has evolved from a hidden gem to a neighborhood go-to, noted for its diverse and delectable breakfast fare. Even during morning rushes, the staff efficiently delivers customer favorites with skill.
We find it's the bagels that genuinely shine here, especially the garlic and sesame options, which offer an uncommon freshness. The scallion cream cheese is another crowd-pleaser. Also deserving attention are the wheat germ rice with meatballs and the smoked salmon sandwich.
"Bagels for You" remains a charming, albeit imperfect, space. A table wipe-down here and a thermostat tweak there could improve things, but the quirks add to its city character.
Address: 11329 Queens Blvd, Forest Hills, NY 11375
Russ & Daughters
A quintessential New York spot, Russ & Daughters shines with its wide bagel selection and old-school service. The wait, accentuated by a ticket-number system, only heightens the culinary anticipation.
Their smoked salmon stands apart, offering a rich, authentic flavor that honors its European roots. The cream cheese selection pleases diverse palates, from scallion to caviar-infused varieties. The "Daughter's Bagel," brimming with salmon, salmon eggs, and caviar cream cheese, was my favorite.
Though prices lean upscale, the value stands up, especially given the generous toppings. Recommended picks include the Norwegian Cold-Smoked Salmon Bagel and the Wholewheat Lox Bagel with Vegetable Cream Cheese. Whether you opt for a Classic Sesame Bagel with Lox and Scallion Cream Cheese or the Everything Egg Bagel, you're in for an authentic New York treat.
Address: 179 E Houston St, New York, NY 10002
Forest Hills Bagels
Forest Hills Bagels is a neighborhood staple, well-deserving of its local gem status. The bagel selection, ranging from seed-laden everything bagels to comforting onion and blueberry varieties, rarely disappoints. As someone always scouting for novel flavors, their strawberry cream cheese—brimming with real fruit—was a delightful discovery.
The atmosphere skews energetic, sometimes verging on 'club-like,' making it less suited for those seeking tranquility but not inhibiting conversation.
In short, Forest Hills Bagels delivers reliable, delectable fare, making it an enduring community favorite.
Address: 10441 Queens Blvd, Forest Hills, NY 11375
Bagel Point
Bagel Point holds a special place as a New Yorker with a penchant for bagels. Its whole wheat everything bagel offers a hearty bite and robust flavors, while its whimsical rainbow bagel delights both kids and adults alike.
Cream cheese is pivotal to any bagel experience, and Bagel Point delivers a range of options. My go-to is the apple cinnamon variant, which perfectly balances sweetness, while my wife favors the rich blueberry flavor. Vegan? Their tofu cream cheese ensures inclusivity.
The electronic kiosks, quick service, and pleasant ambiance contribute to the experience, justifying the higher-than-average cost to some extent.
Address: 699 Manhattan Ave, Brooklyn, NY 11222
Tompkins Square Bagels
A visit to Tompkins Square Bagels on Avenue A reveals why it's an NYC favorite. The Everything Jalapeno and French Toast Bagels are standout choices, especially when topped with peanut butter Nutella cream cheese. While we generally appreciate the freshness and texture of bagels at Tomkins, we have experienced a few inconsistencies around toasting and cream cheese spread, particularly during busy times.
Tompkins sets itself apart with limitless customization. Its expansive cream cheese menu includes unique flavors like Birthday Cake and Jalapeno Cheddar. Try the excellent sandwiches, such as the meat-packed Weezer or my favorite, the 'Garrett Jones.'
The eatery captures the vibrancy of its Manhattan locale and remains an integral part of the city's texture. Despite long lines, the staff efficiently juggles speed and friendly service.
Address: 165 Avenue A, New York, NY 10009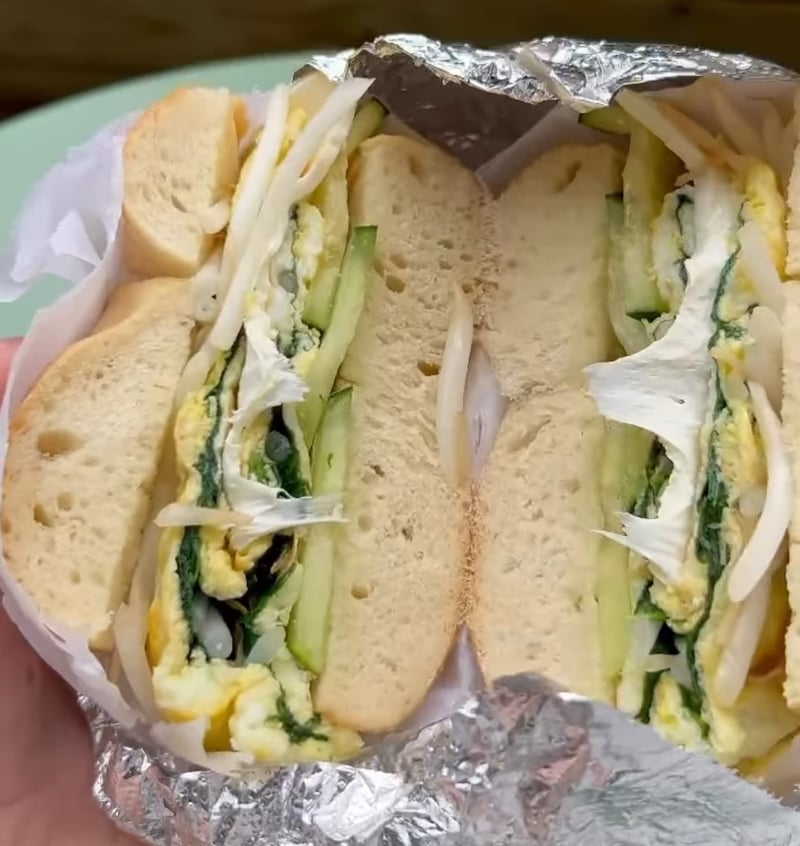 Bakeri
TuBakeri is a pastry lover's dream tucked away in Brooklyn with highlights like raspberry pistachio muffins and strawberry peach lemon poppy seed muffins. While their chocolate-chip pumpkin bread skews dry, the bakery still tantalizes with a medley of flavors.
As a coffee lover, I found their cappuccino and Americano soul-soothing.
The bakery exudes European charm, its tranquil backyard offering an inviting respite. However, the café's compact space and dim lighting felt more cramped than cozy.
Bakeri excels in pastries and solid beverages set against a charming backdrop.
Address: 150 Wythe Ave, Brooklyn, NY 11211
Hudson Bagel
After multiple trips to Hudson Bagel, their Everything bagel has earned a permanent place on my favorites list. With a golden, satisfying crunch, it's as delectable as any I've tried citywide.
Hudson Bagel impresses with a diverse menu that merges tradition and trends. Choices like jalapeño cheddar and honey walnut cream cheese are ingenious, and my go-to is scallion cream cheese on an everything bagel. Their avocado and bacon egg cheese sandwich also won praise from my wife, especially for the ample cream cheese.
Service is generally prompt and warm, with minor hiccups offset by inviting indoor and outdoor seating.
Address: 691 9th Ave, New York, NY 10036
Murray's Bagels
Whether you're a native New Yorker or a tourist, stopping at Murray's Bagels near Union Square is a must. Living up to New York's high bagel standards, Murray's offers an array of flavors like Everything and Sesame, each a showcase of quality. Their bagels feature a delightful crust, soft interior, and robust flavors.
The Rivington sandwich, a blend of lox, sable, cream cheese, capers, tomatoes, and onions, is a highlight. The Oy Vey sandwich adds a twist with a potato latke. Expect to wait; quality takes time.
While not the cheapest option, Murray's delivers value through top-tier ingredients and craftsmanship. It's a bit pricier than other city spots, but it's worth every penny.
The location is easily accessible. Though the interior can get crowded, it only adds to the venue's charm. Clear signage and efficient ordering make for a smooth experience, whether you eat in or take away.
Address: 500 Ave Of The Americas, New York, NY 10011
Brooklyn Bagel & Coffee Company
Brooklyn Bagel & Coffee Company serves irresistible bagels that consistently hit the mark on quality. From the classic "everything" bagel with its perfect crunch to the innovative rainbow bagel, each option delivers value in size and taste.
Their spread selection is equally compelling. Favorites include the honey bacon scallion spread and the sundried tomato variety, especially when paired with an onion bagel. Their Jalapeño Asiago cream cheese and vegan-friendly tofu spreads round out a menu with broad appeal.
Try the Nova-Sliced Salmon bagel with scallion cream cheese or the white fish on a poppy seed bagel.
My only minor criticism: the multi-seeded whole wheat bagel can be heavy on poppy seeds. Yet, this minor quibble is quickly overshadowed by the excellence Brooklyn Bagel & Coffee Company consistently delivers.
Address: 286 8th Ave, New York, NY 10001
Modern Bread and Bagel
Modern Bread and Bagel stands out as a haven for gluten-free diners and as a venue elevating gluten-free bakery standards.
Their menu spans from the Football Breakfast Burrito to the Cinnamon Raisin Bagel with Cream Cheese, each dish carefully prepared. While their vegan bacon could improve, it's a reasonable, healthy alternative.
The ambiance enhances the experience, with bright interiors ideal for leisurely brunches. Their Chelsea location adds indoor seating, although it can get cramped during peak hours.
While prices lean on the higher side, the culinary quality makes it worth the cost. Whether it's the 'Everything Bagel' with chive cream cheese or a gluten-free yeast donut, I consider the premium justified. Special touches, like National Donut Day deliveries, affirm their commitment to gluten-free patrons. Overall, Modern Bread and Bagel excels in catering to diverse dietary needs without compromising taste.
Address: 139 W 14th St, New York, NY 10011
Lot's-O-Bagels
I'm a sucker for a quality New York City bagel, and LOB consistently delivers. Their bagels marry a crisp exterior with a soft center, and although I favor traditional flavors, their unique options like asiago-spinach and savory French Toast garner rave reviews. They even offer a one-of-a-kind rainbow bagel.
Beyond bagels, LOB excels with its surprising Philly Cheesesteak and a solid bacon, egg, and cheese sandwich—especially when served on an asiago bagel. For lighter fare, don't overlook their acai bowls and overnight oats.
Service at LOB varies. While generally efficient, we've bumped into inconsistent staff behavior.
As for pricing, LOB remains affordable by city standards, even offering day-old bagels at a discount and a buy-six-get-one-free deal. Overall, LOB has nailed the NYC bagel while branching into other culinary territories with remarkable success.
Address: 3005 Broadway, Astoria, NY 11106
Bagels & Schmear
These bagels at Bagels & Schmear are as good as their reputation suggests—crusty outside, soft inside, and generously sized. While I found the seasoning on their Everything Bagel a tad mild, their Italian Bagel Sandwich packed a flavorful punch.
The eatery's wide selection sets it apart. Alongside classics like Salmon or Strawberry cream cheese, they offer myriad customizations. The bacon, egg, and cheese on a sesame bagel are spot-on, but the pastrami and egg-topped bagel stole the show for me.
Service here is top-notch. Even during the morning rush, the efficient staff keeps the line moving and offers helpful suggestions. The venue's nostalgic vibe, though compact, feels quintessentially New York. Seating is limited but available.
Address: 116 E 28th St, New York, NY 10016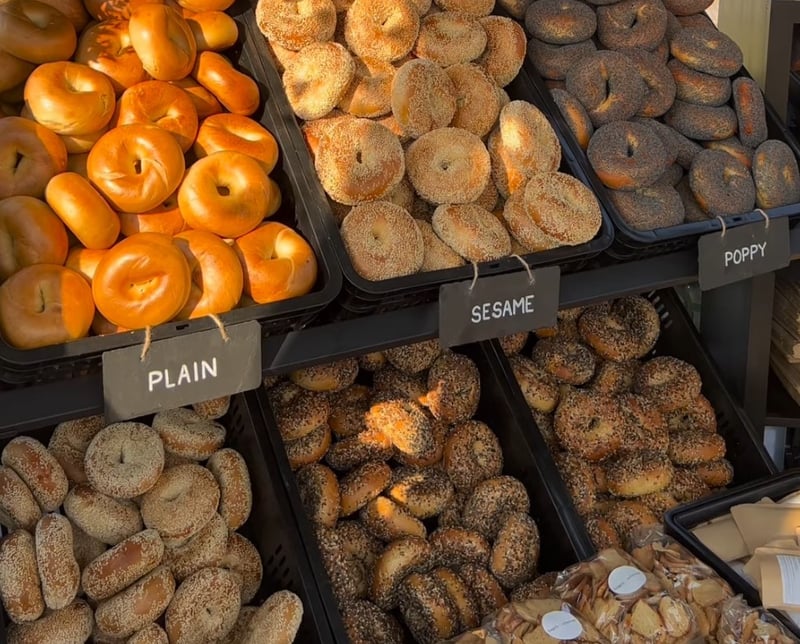 Bagel Talk
This unpretentious spot serves up honest bagels and an enticing range of toppings. The Everything Bagel was satisfyingly fresh, though some might find it a bit hard. It's a treat paired with Scallion Cream Cheese and Lox Spread.
Though it may look like a takeaway joint due to limited seating, Bagel Talk's efficient service fits New York's fast pace. Don't expect a five-course meal but a swift, satisfying breakfast. Their diverse menu goes beyond Everything and Sesame Bagels, including inventive breakfast sandwiches. Their $18 chicken, avocado, egg, and cream cheese combo reflects the quality of the ingredients.
Price may be a sticking point for some, but the bagels' high quality justifies the cost. I'm eager to try their $18 Ultimate Nova Bagel, which comes highly recommended.
Address: 368 Amsterdam Ave New York, NY 10024
Ess-A-Bagel
With options like cinnamon raisin, garlic, and the iconic Everything bagel, Ess-a-Bagel has won over my family's palates. Unlike other shops that skimp on ingredients, Ess-a-Bagel delivers full-bodied flavors consistently. Each bagel offers a crunchy exterior and a tender, flavorful core.
The cream cheese selection is impressive. A well-toasted everything bagel spread with maple bacon cream cheese defines my Sundays. While the maple can sometimes be subtle, it's a long-standing family favorite. Paired with coffee and the weekend paper, it's a perfect morning. Their range of spreads, including my top pick of lox flavor, attests to their commitment to quality and variety.
Their sandwiches also deserve praise. The Bev Special, packed with nova lox, whitefish salad, and scallion cream cheese, turns lunch breaks into feasts. My son swears by their sausage, egg, and cheese sandwich—and he's hard to impress.
Be prepared for long lines and premium pricing on some items.
The staff navigates the bustling environment with a calm, efficient demeanor, capturing that quintessential New York energy, but be prepared for long lines and premium pricing on some items.
Address: 324 1st Ave New York, NY 10009
Between the Bagel
In the heart of bagel-dense New York City, Between the Bagel offers a unique twist, blending classic New York-style bagels with Korean influences. The 'SMB' or "Seoul Meets Bagel" provides an irresistible mix of bulgogi beef, egg, kimchi, gochujang mayo, and cheese—a feast that leads straight to Seoul right from Manhattan. Note to vegetarians: owner Ben will whip up a tasty version with avocado and hash browns instead of beef.
Ben's engaging personality enhances the experience at Between the Bagel. On occasion, lucky customers receive complimentary 'Ben's Balls,' savory kimchi-stuffed Aracini—an unexpected treat!
The menu extends beyond novelty to broad family appeal. The Spicy Pork Bagel Sandwich pleases my spice-loving daughter; my cheese-fanatic son savors the Asiago Bagel. My wife endorses the heavenly SOY Peeps Bagel Sandwich, while I'm hooked on the Nova with Bacon Scallion Cream Cheese Bagel Sandwich. Although a tad more expensive, the ample portions and robust flavors are worth it.
Admittedly, not every offering is a hit. The Egg and Cheese Bagel Sandwich is underwhelming compared to its other excellent dishes. Yet, one can easily forgive such minor missteps given the wealth of options—take the Jalapeno Cheddar Bagel, a flavorful blend of heat and sharp cheese. In short, Between the Bagel is more than a bagel shop; it's a culinary bridge between cultures.
Address: 31-13 30th Ave Astoria, NY 11102
Utopia Bagels
Despite long lines at peak hours, Utopia Bagels' ambiance is inviting for newcomers and regulars alike. Its eye-catching array of bagels, from red velvet to pineapple-infused Pina Colada, made an impression. I opted for the Everything Egg Bagel, a satisfying blend of zest and sweetness with a soft yet crispy texture.
Equally commendable is their array of cream cheese spreads. The Scallion Cream Cheese added a sharp tang to my bagel, while other inventive options like Bacon and Tofu-Based garnered rave reviews from the family despite some calls for a fluffier texture.
Don't leave without trying their signature bagel sandwiches. Options like 'The Worth It' and 'The Yankee Clipper' boast inventive, well-balanced flavors. The staff maintained efficiency and courtesy, even during busy mornings.
I ended my visit with their freshly squeezed orange juice, a tangy finale to a vibrant breakfast experience. Utopia Bagels innovates within the New York bagel tradition, making it a must-visit for anyone seeking an authentic yet contemporary NYC bagel experience.
Address: 1909 Utopia Pkwy Whitestone, NY 11357
H&H Bagels
Conveniently located en route to Central Park or LaGuardia Airport, H&H offers a comforting retreat amid the city's relentless hustle. This is a go-to spot when the desire for a dense, chewy bagel hits.
The Everything Bagel delivers immediate freshness and a blend of seasonings that speak to culinary tradition. First-timers should try the Nova Scotia Salmon bagel or the classic sausage, egg, and cheese (SEC) sandwich, which perfectly balances savory and sweet. The Egg with Avocado and Pepperjack Bagel is another standout, and if you're up for a bit of heat, the spicy Italian Egg and Cheese Bagel delivers.
Service is generally fast, suiting the city's rapid tempo, though the venue leans more toward "grab-and-go" than a leisurely café. While seating and cleanliness could improve, the place retains an unpretentious charm.
Though their Asiago Bagel could offer a more pronounced cheese flavor, and the Jalapeño Cheddar is hit-or-miss, the shop maintains a loyal customer base. They come for substantial bagel portions at reasonable prices.
Address: 1551 2nd Ave New York, NY 10028
Barney Greengrass
Stepping into Barney Greengrass (BGG) is like stepping into a scene from a Coen Brothers film. With its Art-Deco flair and Formica tables, this Upper West Side deli has been a New York staple since 1908. Amid murals and displayed sturgeon, the staff's brusque manner adds to the city's authentic vibe.
The menu stars smoked fish dishes, with the lean-cut sturgeon taking the top spot. Another highlight is the Nova Scotia salmon, served on scrambled eggs with caramelized onions. Their lox, best enjoyed on a cream cheese-slathered bialy, holds its own against city rivals like Zabar's and Russ & Daughters.
The pricing reflects New York City standards, but the cost is justifiable given BGG's unique offerings. Service is prompt, even during busy hours. And while bagels and smoked fish may be the main attraction, take notice of the side dishes. My kids swear by their latkes, and the pastrami scramble has its own fan club at our table.
While not Michelin-star material, BGG embodies the soul of New York City. It's a culinary landmark steeped in history, making it a must-visit for anyone seeking the real Big Apple experience.
Address: 541 Amsterdam Ave New York, NY 10024
Best Bagel Spots in NYC (Post Summary)
Tal Bagels
BO's Bagels
Absolute Bagels
Orwashers Bakery
Mike's Bagels
Bagel Oasis
Zabar's
Bagel Nest
Bagels For You
Russ & Daughters
Forest Hills Bagels
Bagel Point
Tompkins Square Bagels
Bakeri
Hudson Bagel
Murray's Bagels
Brooklyn Bagel & Coffee Company
Modern Bread and Bagel
Lot's-O-Bagels
Bagels & Schmear
Bagel Talk
Ess-A-Bagel
Between the Bagel
Utopia Bagels
H&H Bagels
Barney Greengrass