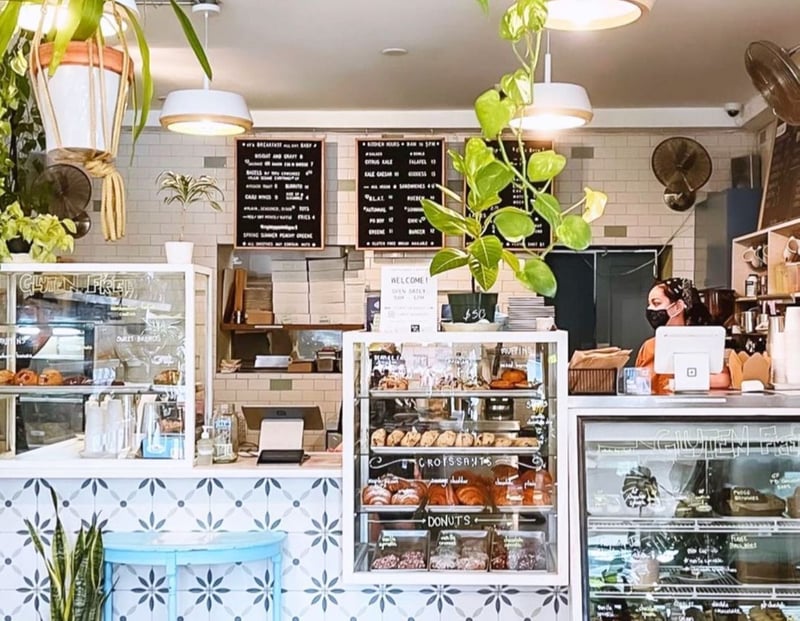 From the classic Italian pastry shops to cutting-edge vegan spots, Brooklyn's bakery scene is as diverse as the borough. Whether you're a die-hard dessert enthusiast, a pastry purist, or someone simply looking to satisfy a sweet tooth, you'll find what you're looking for in Brooklyn's best bakeries. Let me guide you through a journey of sugar and flour, butter and chocolate, as we explore my top picks for must-visit bakeries in Brooklyn. Grab a cup of coffee and settle in—this ride through a dessert-filled neighborhood is bound to leave you craving something sweet.
Best Bakeries in Brooklyn
#1 Ladybird Bakery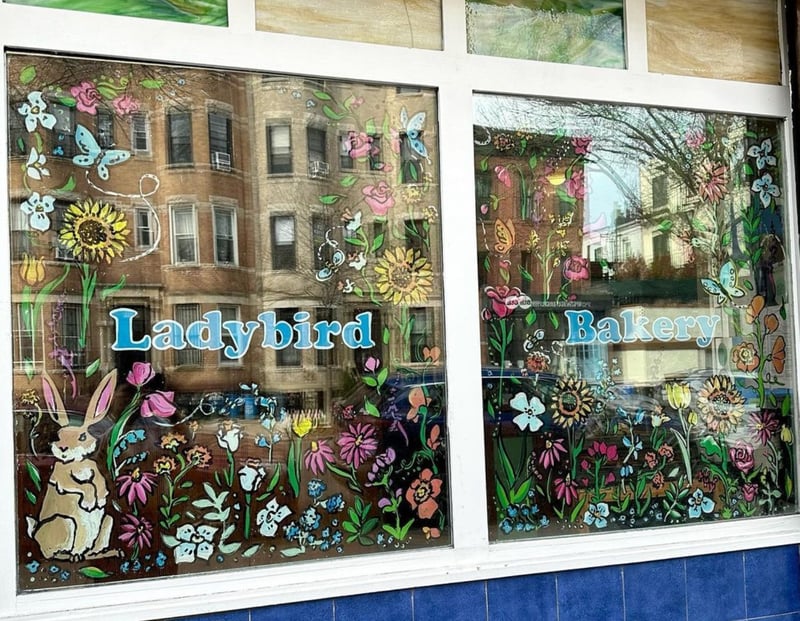 Ladybird Bakery in Brooklyn is one of my go-to spots when I'm in the mood for some quality cake or cupcakes. Their Brooklyn Blackout is hands down one of the best I've had. It's chocolatey, moist, and hits the right spot every time. If you're into chocolate, this one's for you. On the other side of the spectrum, the lemon cake has fantastic buttercream icing. However, a heads-up on the lemon cupcake: while the filling was great, the frosting was a bit sweet for me.
For those who've been around New York for a while, you might remember 'Two Little Red Hens.' Ladybird brings back a bit of that nostalgia. They've got some classic treats like the apple tart, which I highly recommend. And if you're thinking of trying out their pies, go for it.
So, if you're in Brooklyn and looking for a solid bakery, give Ladybird a shot. Their baked goods are excellent for the most part, and even with the occasional hiccup, I keep coming back. It's local, it's genuine, and it's worth the visit. Safe eats!
Address: 1112 8th Ave, Brooklyn, NY
#2 Villabate Alba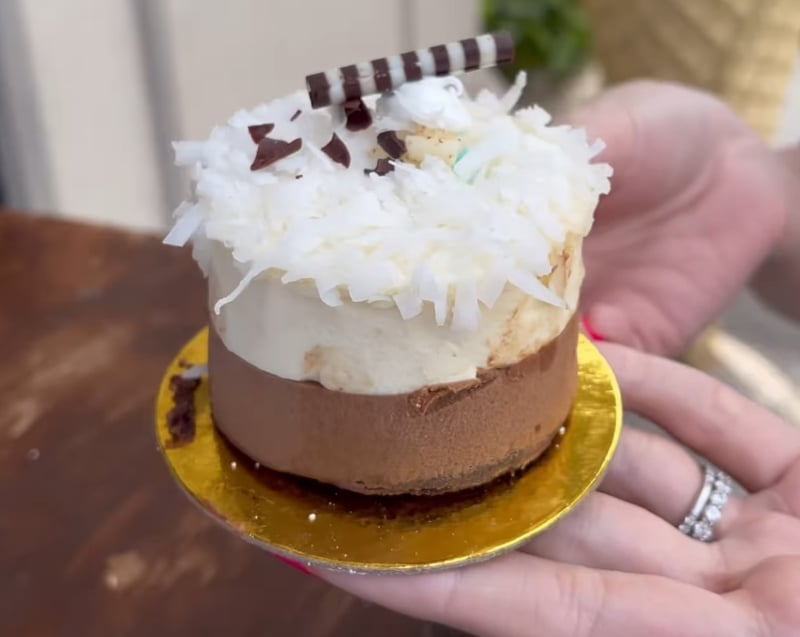 Villabate Alba in Brooklyn is solid. We've been going there for years, and it's consistently good. The variety keeps us coming back. Their cannolis, filled with frothy ricotta, are top-notch, probably some of the best we have found in the neighborhood. Every time I visit, I usually pick up a cartocci. If you haven't tried it yet, definitely give it a shot.
It's always busy there, which says a lot about the place, but the staff stays on top of things. They've got a system down, even when lines stretch out the door. That said, it's not always perfect. Once in a while, I'll get something that's not up to their usual standards. Like the Baba cake, it was a bit soggy the last time I had it. But for the most part, their stuff is consistent, which is hard to come by in the city.
I appreciate their long-standing presence in the neighborhood. It's been around for over 40 years, and it's clear why. Even with all the other Italian bakeries around, Villabate Alba holds its own. Their gelato, especially in the summer, is a hit. And if you're there, don't skip the tiramisu.
Bottom line: If you're in Brooklyn and in the mood for some good Italian pastries, Villabate Alba is worth checking out. Sure, there might be a miss here and there, but overall, it's a reliable bakery that's stood the test of time. And in New York, that's saying something.
Address: 7001 18 Ave, Brooklyn, NY
#3 Mia's Bakery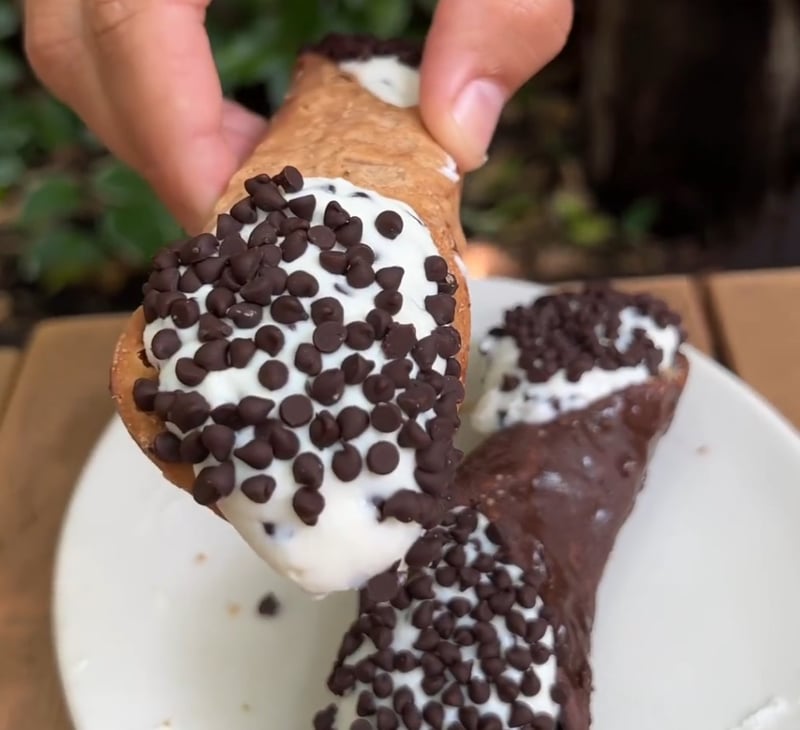 It's hard to find a good cake in the city nowadays, but Mia's, well, they've nailed it. My kids went bananas over the Banana Cheesecake and the Oreo Cake. Seriously, moist yet fluffy - just like how we remembered cakes when we were kids. And the variety? My wife and I felt like children in a candy store. Everything from the Rainbow Cookies to that delightful Tres Leches cupcake, which, by the way, was a treat.
The staff is mostly friendly and on their game. Occasionally we've bumped into a barista having an off day. We all have our moments, and there must be something about the relentless demand of pulling espresso that sends folks into an occasional dark mood. What matters is that most of our visits have been smooth, and they always made us feel at home.
The atmosphere? It's Brooklyn at its best - welcoming, no frills, just genuine vibes. It reminds me of the old days, yet has that contemporary touch. It's become our go-to for celebrations, especially since we're always satisfied with their cake game.
I found the ordering a tad chaotic once or twice, especially when it's packed. And yes, it can be a little pricey, but it's worth every penny for the quality and flavors. Next time you're around, give it a shot. Oh, and grab that Brooklyn Blackout cake – it's something else.
Address: 139 Smith St Brooklyn, NY
#4 Martha's Country Bakery
I took the kids to Martha's last weekend, and it felt like we'd entered dessert heaven. They've got every sweet treat you can imagine: cakes, pies, pastries - you name it. We sat down, took in the spacious area, and enjoyed a solid spread of their offerings. My personal favorite? The almond horn dipped in chocolate. It's simple, but it hits the spot every time.
My wife and I were particularly taken by the Yelp discount. Check-in on Yelp, and you get 10% off. Now, that's a good deal. The place has plenty of seating, and while it can get a tad busy, service has always been more friendly and quick for us. It's become one of those places we visit in Williamsburg when we're out and about.
Now, I've heard a couple of rumblings about some cleanliness concerns. And while that's something the management ought to stay on top of, we've never had an issue. Every place has its growing pains. I think it was worth mentioning so that you're in the loop. Anyway, in the countless times we've been there, it's always been a good time.
In short, if you're ever in the neighborhood and have a sweet tooth, give Martha's a go. Good folks, good food, and right in the heart of Brooklyn. How can you go wrong?
Address: 263 Bedford Ave, Brooklyn, NY
#5 Tasty Pastry Shoppe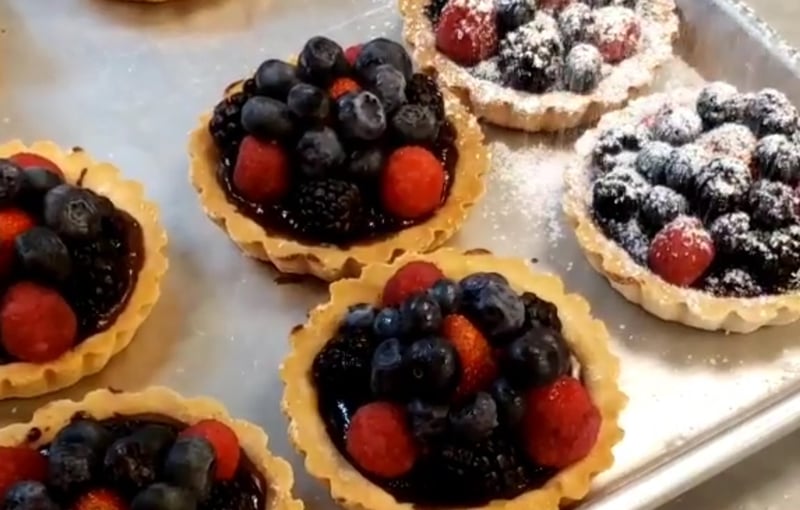 I've seen Brooklyn change over the years, but some things stay golden. Tasty Pastry Shoppe is one of those places. When I was younger, we'd pop in for a quick treat. Nowadays? I'm taking my kids there. The Italian cookies - take me straight back to my childhood. And let me tell you, that blackout cake? Out of this world. I even got a friend from out of state who swears by their Napoleon pastry. You know something's good when someone from Pennsylvania is singing its praises.
The folks working there are solid. Jerry helped me last time - he took his time and ensured I got what I wanted. And the sugar-free options? Top-notch. I've got an aunt who can't have too much sugar, and she was over the moon with the sugar-free pastries. I've heard some chatter about them needing to expand their options. Maybe throw in some almond flour cakes for those watching their carbs.
I've heard a few gripes here and there. A buddy of mine wasn't too thrilled with the red velvet cake and said the icing was a bit much. I haven't tried it, but I figured it's worth mentioning. But honestly? With all their hits, a miss here or there isn't the end of the world.
Tasty Pastry Shoppe is classic Brooklyn. It has that feel of the good old days, with most pastries hitting the sweet spot just right. If you're around, or heck, even if you're not, make the trip. Just be ready for a walk; parking's a bit of a challenge around there. But a few extra steps before a treat? Sounds like a win-win to me.
Address: 8216-18 13th Ave, Brooklyn, NY
#6 Le Petit Monstre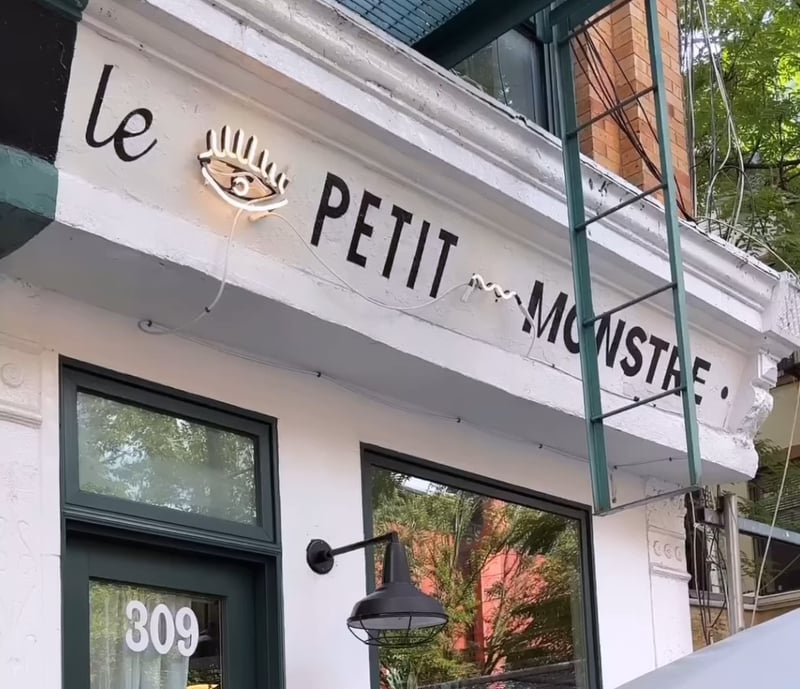 Used to be, you'd be hard-pressed to find a vegan spot that felt like something other than a health food store from the '70s. Now? We've got places like Le Petit Monstre. I took the family there, and vegan or not, those pastries? Real good. I had this "sausage & cheese" croissant, which was spot on. Flaky, savory, and didn't taste "vegan," if you know what I mean. The kids devoured the PB&J blondie, and my better half couldn't stop raving about the tiramisu croissant.
The place has that old-school Brooklyn vibe – think refurbished warehouses and classic brickwork. Plus, with indoor and outdoor seating, it has options for any weather. It feels lovely and homely. On a Saturday, if you're not too busy, it's the kind of place you'd want to sit in and enjoy a pastry and a cup of joe.
The seating is a little sparse, which is too bad since you'd think they'd want you to sit a while with food this good. Price-wise, it's a tad steeper than what I'm used to spending on pastries, and the location's a bit out of the way, primarily if you're relying on the subway. I had to do a bit of a walk, but it burned off some of those pastry calories.
If you're in the mood for some quality vegan pastries and don't mind the trek, I'd give Le Petit Monstre a shot. We'll be heading back for sure – but maybe next time I'll drive.
Address: 309 Tompkins Ave Brooklyn, NY
#7 Mille-Feuille Bakery
If there's one thing I appreciate, it's a spot that feels familiar and fresh. That's what I got from Mille-Feuille Bakery. Right next to the Bellclaire Hotel, this family-owned spot feels like a quick trip to France, minus the transatlantic flight. Over the years, I've come to know their pastries well. Those macarons? Fantastic. Especially the pistachio. My kids, they can't get enough of them. And don't even get me started on that raspberry croissant. Though, I wish it was a bit less on the dry side between you and me.
The folks working there are charming. And while the space is tight (quintessentially New York, if you ask me), it's never stopped us from returning. My wife's a fan of their La Colombe coffee. To me, it's a bit strong.
If you're in the area craving some French treats, try Mille-Feuille. Sure, it's got its quirks, but don't we all? Stay safe out there, and maybe I'll see you at the bakery. Say hi if you see a middle-aged guy with a mischievous grin trying to sneak in an extra macaron for the road.
Address: 622 Vanderbilt Ave Brooklyn, NY
#8 Clementine Bakery and Provision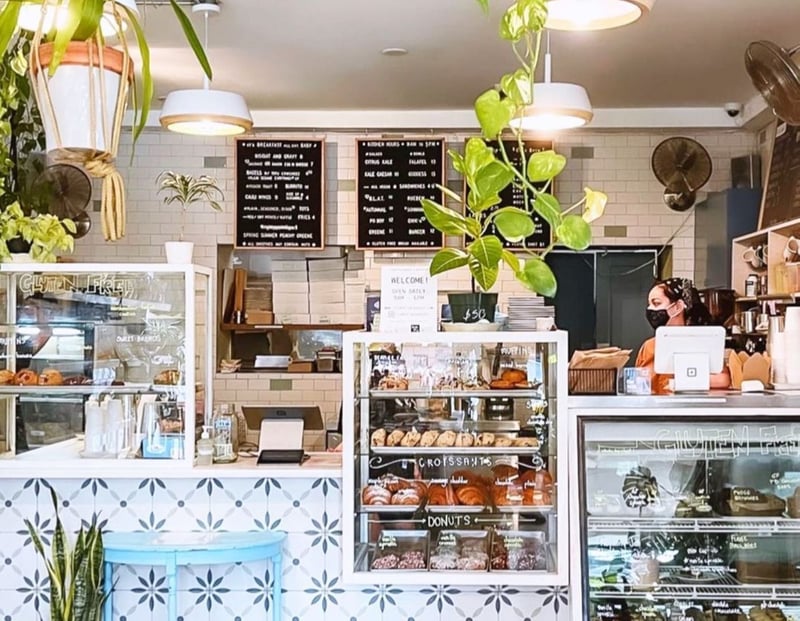 My family and I decided to give Clementine Bakery a shot a couple of weeks ago. We thought their vegan offerings were spot on. Finding a place in the city with vegan pastries that taste like the real deal is rare. It took me back to the old days when my wife and I explored little bakeries in every nook of Brooklyn. My kids loved their cupcakes, and I found their Monkey Bread pretty solid. This place should be on your list if you're trying to satisfy your vegan cravings.
The day we went, the service was decent, but overall, the atmosphere was cozy, reminding me of the old Brooklyn vibes with a touch of modern appeal. The outdoor seating is a nice touch, especially with the weather getting better.
It gets a bit busy, so I suggest you head there early if you want the full range of their baked goods. I went there around mid-day once, and the choices were limited, but what was available was good. Prices? Fair for what you get. The vegan croissant? Delicious. But if you're heading there later in the day, you should be ready for a smaller selection.
If you're in the mood for some solid vegan baked goods and that old Brooklyn charm with a modern touch, Clementine Bakery is worth a visit. I'd go back, and I've seen a lot of places come and go in this city. Just remember to keep it real and enjoy the simple pleasures of life.
Address: 395 Classon Ave Brooklyn, NY
#9 Bonjour Brooklyn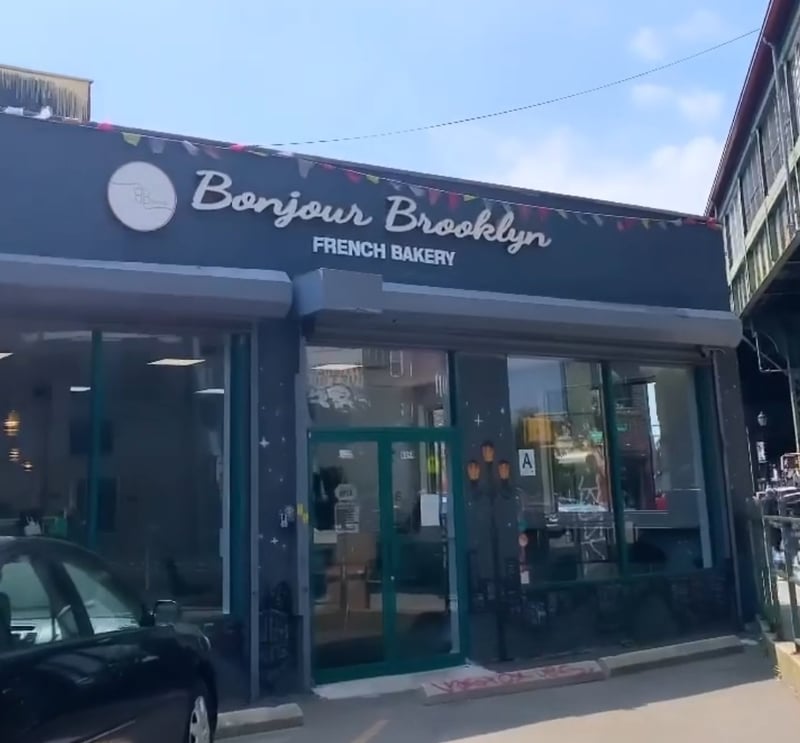 Remember the kind of bakery where they take their pastries seriously? That's this place. Their croissants remind me of the good old times when food was simple but packed with flavor. I tried the almond chocolate one, and it was spot-on. And the kids raved about the tarts and a guava-filled bread.
I'm a sucker for places where you can see the kitchen? Watching those bakers do their thing was priceless, especially with my kiddos looking on.
Their coffee hit the right notes for me, though a lady sitting near us wasn't thrilled about her hot chocolate. She felt it lacked the rich, chocolatey punch she was looking for.
All in all, Bonjour Brooklyn is a welcome addition to our ever-evolving Brooklyn.
Address: 1154 Broadway Brooklyn, NY
#10 Otway Bakery
The Otway Bakery is the real deal. The first time I walked in, I had a savory bun with caramelized onion inside. Pure genius. Reminded me of the bakeries back in the day, just honest-to-goodness flavor without all the unnecessary frills. The kids like the mini babka and strawberry Danish, while the wife and I have a soft spot for the cardamom bun.
The coffee is decent, so it's an excellent drop-in spot for mornings when you want to get something quick and get on with your day. And if you're like me and occasionally like to whisk your spouse away for a spontaneous picnic in the park, they've got you covered with some cheese and a baguette. It makes for a good afternoon, let me tell you.
Otway Bakery is a spot that captures that old Brooklyn charm while serving up some delicious treats. If you ever find yourself in the neighborhood, give it a shot. It's worth the trip.
Address: 920 Fulton St Brooklyn, NY
#11 Chez Alex
I've been around the NYC block for a while, and Chez Alex has become one of those neighborhood joints my family and I find ourselves returning to. The range on the menu? Fantastic. We've had everything from Goldie Lox sandwiches to vegan pastries my kids can't get enough of. Even their ginger mint lemonade caught me off guard – it's different but in a good way.
I've seen the city change and evolve, and I appreciate how Chez Alex seems to be in sync with the times. They've got a cozy feel to the place, reminding me of those classic New York diners but with a touch of modernity. It's a great spot to catch up on work or to grab a quick bite with the family. The AC can pack a punch, so keep a jacket handy.
I've heard a few mixed experiences about the service, and while I can't say I've faced anything negative, it's worth noting. Every place has its off days. Most of my visits have been marked by warm hellos and friendly chit-chat. You know, that classic New Yorker warmth we're known for.
To wrap it up, Chez Alex is one of those spots that feels like it's grown with the city. Sure, it's got its quirks and a hiccup here and there, but so does New York. Worth a visit if you're around. After all, places like these give our city its unique flavor.
Address: 72 Ralph Ave Brooklyn, NY
#12 DOC D's Southern Desserts
There's something universally comforting about Southern desserts. And though miles away from the South, DOC D's Southern Desserts in Brooklyn transported me right back.
The bakery's décor is reminiscent of a cozy homestead, with varied tablecloths, mason jar lights, and wooden beams. And as for the desserts? Oh, they're the stars that light up this Southern sky.
The pecan pie is laden with nuts and dripping with a caramelized filling. The red velvet cake, lush and tangy, is a testament to the delicate balance of flavors that Southern desserts often champion. And then there's the banana pudding, creamy and rich.
Each dessert feels like a tale, a slice of history, a nod to the richness of Southern culture and hospitality. The staff adds to the bakery's charm with their welcoming smiles and friendly personalities.
Address: 214 Bainbridge St Brooklyn, NY
#13 Buttermilk Bakeshop
I've been around the city for quite a while and seen my fair share of bakeries, but Buttermilk Bakeshop has caught my attention lately. When my youngest turned 10, we decided to try them. Their team's dedication reminded me of the good ol' days when customer service meant something. They were incredibly accommodating, especially when my kid wanted a very "specific" type of cake – they didn't miss a beat.
On another occasion, I swung by late in the evening, and you wouldn't believe it, they had a sale - cookies and bars at buy one get one free. I tried a chocolate brownie, and it was good :)
We've found the cakes a tad dry a couple of times, but Buttermilk Bakeshop is worth visiting if you're in the mood for some good old-fashioned baked goods with a sprinkle of that New York spirit.
Address: 260 5th Ave Brooklyn, NY
#14 Radio Bakery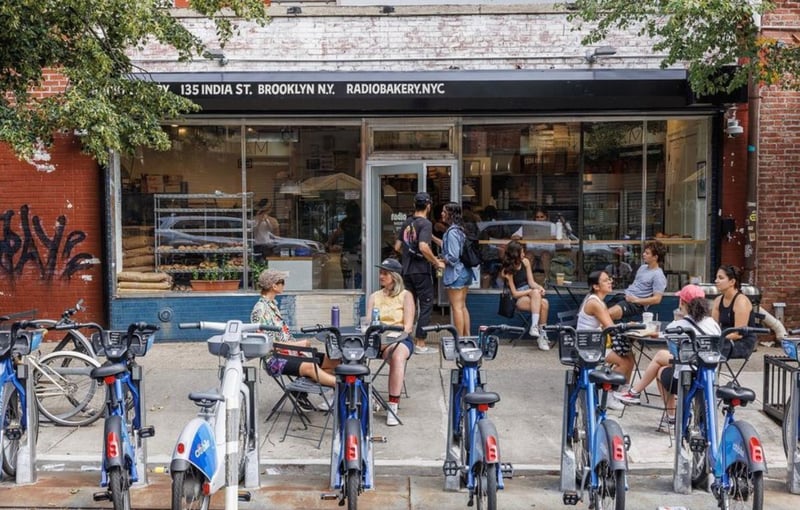 I heard a lot of buzz about the pastries at Radio Bakery and saw some impressive lines when I drove past, so I made sure to drop by early—and ended up trying a tasty cauliflower sandwich. My eldest went for the bear claw pretzel - an interesting mix of pretzel and croissant. I washed mine down with some Stumptown coffee.
I've heard folks talk about the price - and yeah, it's a bit on the higher side, but given the quality, I can't complain much. It's worth the price for the quality.
All in all, Radio Bakery is a refreshing addition to the city's culinary scene. Would I go back? Absolutely.
Address: 135 India St Brooklyn, NY
#15 Saraghina Bakery
The first thing that hit me when I walked into Saraghina Bakery was the scent of fresh bread. They've got everything from fresh pasta to pastries; if you've got a sweet tooth, that sea salt chocolate chip cookie is something else. It's like if a cookie and a brownie had a baby. It's a bit on the pricey side, but hey, it's a treat.
I've seen plenty of Italian joints in my time, and while I got more of a hipster vibe here than the old-school Italian feel, the quality is spot on. The bread? Fabulous. I tried the Filone, and it was hearty and lasted a couple of days at home; I even whipped up some garlic bread with the leftovers.
Saraghina Bakery has charm. A blend of the past with the present. It has room for improvement, but we'll return to try that almond croissant that sold out just before we reached the counter! :)
Address: 433 Halsey St, Brooklyn, NY
Best Bakeries in Brooklyn (Post Summary)
Ladybird Bakery
Villabate Alba
Mia's Bakery
Martha's Country Bakery
Tasty Pastry Shoppe
Le Petit Monstre
Mille-Feuille Bakery
Clementine Bakery and Provision
Bonjour Brooklyn
Otway Bakery
Chez Alex
DOC D's Southern Desserts
Buttermilk Bakeshop
Radio Bakery
Saraghina Bakery