New York City's Lower East Side (LES) encapsulates the city's vibrant nightlife with eclectic bars reflecting its mix of history, arts, and different cultures. This neighborhood, rich in immigration history and characterized by tenement buildings and a thriving art scene, offers a distinct drinking experience to locals and visitors alike.
This piece guides you through some of the highlight bars in LES. It features venues steeped in history and the newest hotspots, all appealing to a wide range of preferences. Whether you're a craft cocktail enthusiast or looking for a fun spot with friends, LES bars promise a memorable nightlife experience. Delve into LES, where history and modernity blend in a celebration of spirited indulgence.
Best Bars in the Lower East Side, NYC
Attaboy
Attaboy's charm is hidden beneath an unassuming entrance in the Lower East Side. Its welcoming is restricted to walk-ins, sometimes with waits stretching up to 2.5 hours, particularly on busy weekends. However, to balance that, the busy vicinity offers a variety of eateries and bars to explore while you wait.
The inside of Attaboy offers a hushed setting with subdued lighting, exposed brick walls, strategically placed barstools, and a handful of booths. The compact space effectively evokes a speakeasy vibe, perfect for intimate meetups or small gatherings. Larger parties might find it limiting, though.
Attaboy's unique feature is its inventive no-menu cocktail scheme. Rather than offering a traditional menu, customers can share their preferences or inspirations, allowing bartenders to create customized drinks. This leads to an impressive gamut of flavors, from a strawberry milkshake to a tiramisu or something more innovative like the Penumbra or the Gin Pepino, all catered to the customer's exclusive taste.
Rooted in the legacy of Sasha Petraske's Milk & Honey, Attaboy carries forward the baton under Sam Ross and Michael McIlroy. It's more than a place to have a drink—it's a place to be part of a narrative that has significantly influenced modern cocktail culture. With a renowned reputation and ranking, it presents high-end prices, justified by exceptional quality and creativity.
Address: 134 Eldridge St, New York, NY 10002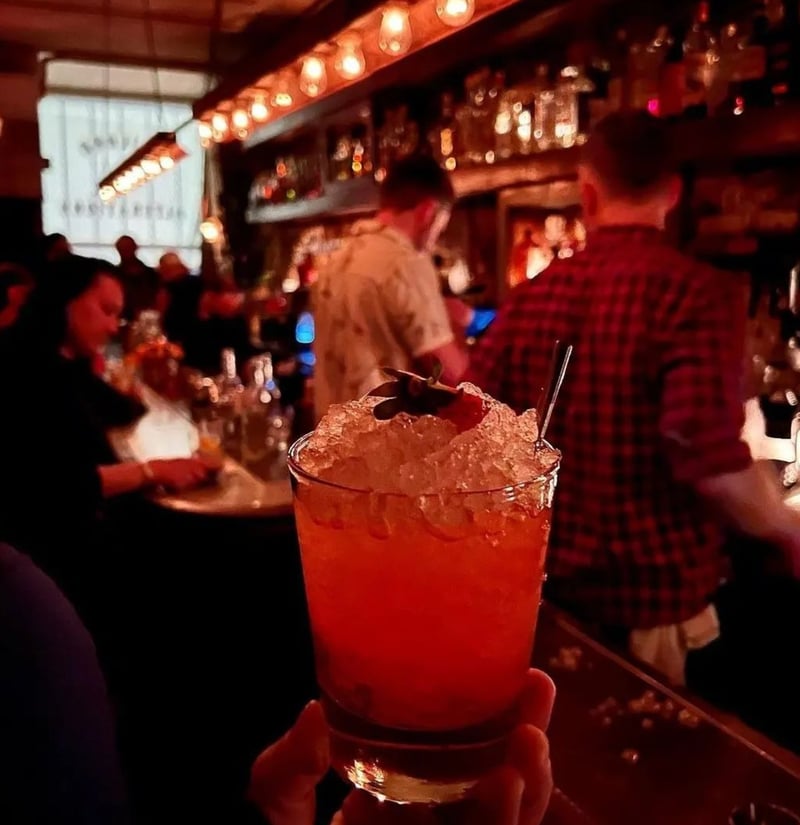 ,
The Library
Located in the vibrant Lower East Side, The Library Bar offers a unique mix of energy, artsy music, and eclectic films. The venue is spirited and engrossing with its novel décor, accentuated by random plastic dinosaurs scattered across the space.
The Library Bar provides an economical escape in the Lower East Side, thanks to a 'buy-one-get-one-free' happy hour offer till 8 p.m. However, their required $20 minimum for card transactions may not sit well with some customers, a caveat to bear in mind.
Their impressive selection of drinks, featuring beers, ciders, and enticing canned seltzer cocktails, enhances the bar's reputation. These offerings might be slightly more expensive than other places, but their high performance on taste and variety justifies the cost.
Address: 7 Ave A New York, NY 10009
Paper Planes
Paper Planes, a speakeasy-style bar, immediately captures your attention. Its location, concealed behind a restaurant, adds to its allure, reminiscent of Prohibition Era secret bars. The atmosphere is warm, made inviting by the travel-themed decor.
Unusually quiet for its chic neighborhood, Paper Planes provides a calm retreat. Despite being a newcomer, it's the ideal go-to for locals eager for a refreshing change.
The star of the show here, however, are the drinks. From the spicy Molotov Cocktail to the subtly sweet Banana Bread beverage, the bar masterfully mixes complex, original flavors in their cocktails. Even standard concoctions get a unique twist, like Ricky's Rickey—a gimlet infused with rhubarb liqueur, ginger, and basil. Adventurous patrons might enjoy the House of the Rising Sun, a potent combination of egg whites, whiskey, and scotch. Yet, their signature Paper Plane cocktail, served with a small origami accessory, tantalizes with a fruity, herbal blend.
Though the service could sometimes disappoint, as a wait for drinks might dampen the spirits, it is generally pleasant. These brief instances of inattention slightly mar the enjoyment of their top-notch cocktails.
Overall, Paper Planes stands as a gem in the vibrant Lower East Side nightlife. It presents a unique story with its thoughtful drinks, element of mystique, and homage to the past. A visit to Paper Planes isn't a regular night out—it's a journey of artisanal exploration and a quiet ode to superb mixology.
Address: 154 Orchard St Ground Floor New York, NY 10002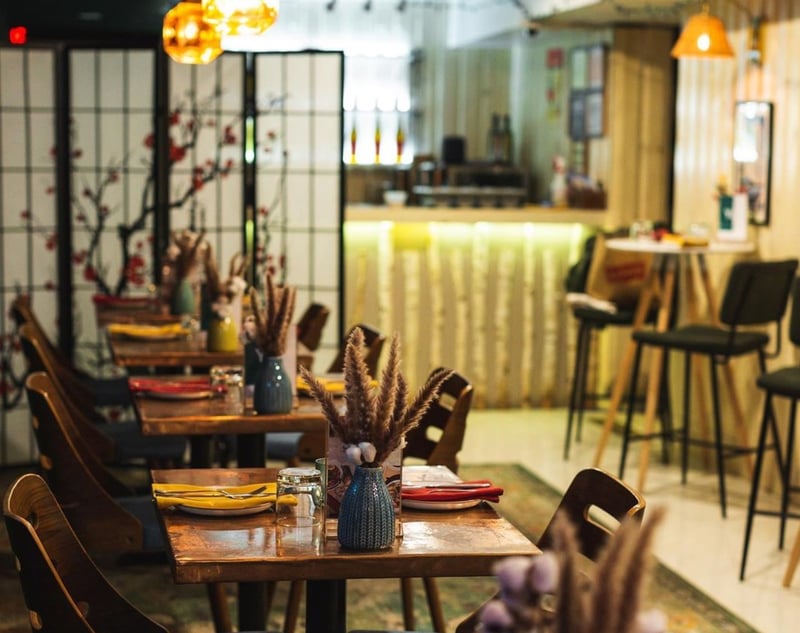 Double Chicken Please
Upon entering Double Chicken Please, I was charmed by the lively Front Room, bustling with customers enjoying innovative cocktails. If you prefer quiet sophistication, 'The Coop,' their serene back room, offers an intimate setting with a dedicated menu.
What truly stands out in the culinary spread, is the Hot Honey Chicken Sandwich, whose delectable crispiness and Thai basil sauce made a lasting impression. The Popcorn Chicken, delicately seasoned with five-spice and served with a salted egg yolk sauce, also presented an enjoyable crunch. Although slightly expensive, the satisfaction derived is worth every penny.
The beverage offerings are tantalizingly exotic. The unusual flavor combinations were refreshing, such as the Japanese Cold Noodle cocktail, with its unique blend of cucumber and sesame oil. The Key Lime Pie cocktail tastes remarkably like its namesake, while the NY Beet Salad presented a unique flavor palette. However, the Mango Sticky Rice Cocktail's artificial coconut flavor was a step too far.
Securing a reservation was not without challenges and walk-in customers may experience significant waits. Yet, one could see this as a testament to the bar's popularity. Nevertheless, the entire experience makes up for the wait.
We ended our visit with the Mochi Donut Sandwich, a striking combination of pineapple and hot sauce — the perfect closing act. Double Chicken Please bravely combines contrasts, making for interesting culinary partnerships. This Lower East Side gem skillfully brings together vibrancy and tranquility, daringness and tastefulness.
Address: 115 Allen St New York, NY 10002
Verlaine
As an enthusiast of vibrant nightlife, I had the chance to discover Verlaine, a popular Lower East Side hangout in NYC known for its affordable happy hour and exceptional cuisine. The cozy atmosphere was immediate, enhanced by a great music mix and the energetic chatter of patrons — a captivating scene indeed.
An $8 happy hour in NYC is a rare find, and with Verlaine, it's not just the price that appeals, but the quality too. Their signature Lychee Martini, highlighted at their acclaimed happy hour, is not only sweet and strong but also served with a couple of lychees. Their happy hour runs till 10 pm, later than many other venues, allowing your night to stretch comfortably into the late hours.
I was surprised by the exceptional food quality considering the prices. The deep-fried wings were delightful, and the chicken satay skewers were top-notch. Shared among friends and family, the generous portion of fries, complemented with a tasty garlic aioli, struck the perfect balance between crunchy and soft — truly elevating the dish.
Beyond the food and drinks, Verlaine stands out for its excellent service. Despite the busy environment, the staff was remarkably thoughtful and polite. However, the tight table arrangements contribute to a close-knit atmosphere which might not suit those craving more seclusion.
In conclusion, Verlaine, located in the lively Lower East Side, offers a comprehensive bar experience with delicious food and quality drinks without breaking the bank. The music, ambiance, and culinary treats all blend to create a refreshing, captivating, and memorable experience. If you're in the area and the phrase 'happy hour' sparks joy, Verlaine is just the place for an authentic Lower East Side experience.
Address: 110 Rivington St New York, NY 10002
Copper & Oak
Copper & Oak, located in New York's Lower East Side, features an extensive selection of top-shelf spirits, including Bain's from Africa's only commercial distillery. Their menu, on iPad, encompasses a range of whiskeys, bourbons, tequilas, and mezcals, catering to all palates. The scotch offering is particularly notable with a comprehensive selection adaptable to various budgets.
The knowledgeable staff exceeds expectations, especially bartender Tomo. He effortlessly navigates the menu, making recommendations tailored to individual preferences. Whether you're drawn to bespoke bourbon or Japanese whiskey, Tomo's service ensures a memorable experience that goes beyond traditional spirits tasting.
The establishment's atmosphere evokes warm charm with its snug wooden interiors and warm orange hues. Copper-plated tables add a whimsical touch that resonates with the place's name. Although it can feel crowded during peak times, the unique layout and cozy décor compensate for the limited space.
The seating area is compact, matching the intimate ambiance they aim to create. Travelling light is advisable due to restricted storage for personal belongings. For some, the tight space might feel restrictive, but it adds to the venue's overall charm.
Despite occasional complaints about health code violations and customer discomfort, my experience at Copper & Oak was entirely positive. Their wide variety of drinks, experienced staff, warm ambiance, and unique setting make it a must-visit for spirit enthusiasts. Copper & Oak's authenticity and diversity distinguish it as a standout gem in the heart of the Lower East Side.
Address: 157 Allen St, New York, NY 10002
Lobby Lounge
In Manhattan's incessant motion, finding a tranquil refuge like the Lobby Lounge at Hilton Midtown is a treat. Its nostalgic allure reminds one of bygone times when hotel lounges were buzzing social centers.
Beverage offerings at this Lounge make it stand out. The variety ranges from a blend of crème de menthe and Bailey's to a simple gin with club soda and lime. Admittedly, their signature cocktail seemed disproportionately heavy on crème de menthe and light on Bailey's. However, the house wine and easy-to-drink rum and diet cola were superb. A standard service charge was added to the bill without inconvenience.
Despite minor service issues, the Lounge offers a convenient and pleasant experience. The staff are commendably balanced between helpfulness and discretion.
The Lounge's comfort-style dishes deserve a trial: patrons often praise their pizza, and their chips are surprisingly delightful. I didn't get to try the Buffalo chicken wings, which ended up at a neighboring table, but they looked tantalizing.
The Lobby Lounge may not top your food adventure list, with mostly traditional fare and high prices. Yet, it's a comforting place to relax post a frantic Manhattan day. If you choose not to repeat, the hotel also features the alternative Bridge Bar.
Address: 1335 Ave Of The Americas, New York, NY 10019
Parcelle
Upon entering Parcelle, the green entrance and distinct interior, which fused decoration with botanic walls, caught my attention. The soft lighting amplified the comfortable seating, making it an ideal spot for my wife and I's date night or her routine girls' outings.
Parcelle's wide-ranging wine list quickly commanded our attention. The selection was extensive, with house wines that notably stood out. Despite feeling overwhelmed, the knowledgeable staff helped us select an excellent vintage that complemented our evening.
The staff was generally friendly and diligent, offering skilled suggestions. However, we encountered one unattentive server, distinguished by his glasses and tattoo, who removed our wine prematurely and made an inappropriate comment. Yet, overall, the service was exceptional.
We chose local asparagus with fiddlehead ferns and crab fried rice for our meal. The crab fried rice was forgettable, but the freshness of the ingredients in all dishes was invigorating.
A surprising scallop dish came in a distinctive white sauce. While the taste paring was initially confusing, we found the scallops delightful and recognized this unique combination as part of the Parcelle experience. Despite minor setbacks, the relaxing ambiance, impressive wine list, and fresh ingredients make Parcelle a must-visit spot in New York.
Address: 135 Division St New York, NY 10002
Reception Bar
Reception Bar, a quaint Korean venue in New York's Lower East Side, skillfully blends traditional and contemporary styles. Its warm decor invites patrons into a cozy space that's made even more inviting with heated outdoor seating. The intimate setting can get lively during peak hours, adding to its charm.
The staff, especially Larry and Lydia, go above and beyond to provide an amiable dining experience. Some might experience the occasional delay in service, but the friendly ambiance they create casts a memorable spell on customers.
The bar sets itself apart with a variety of Soju-based cocktails. Unique blends of matcha, oat milk, chrysanthemum, and their signature white lotus flavor, have made a mark among locals. Whether you're enjoying the Melon Dew with its subtle sweetness, or the flavorful White Lotus Soju, the bar's commitment to superior quality cocktails is clear.
The Melon Dew tempts with its honeydew hint while the White Lotus Flavor Soju might prove to be an introduction to soju for many. The Matcha Meadow, a treat for matcha enthusiasts, beautifully blends matcha with a light touch of jasmine.
Delving deeper into their cocktail assortment, each drink tells a unique tale. The Yuja 88 provides a refreshing balance of sweet honey and tangy lemon. The standout, however, is the Korean Putgochu Infused Soju with its memorable touch of green chili pepper flavor.
Though sometimes busy and service could be slow, Reception Bar stands out in Lower East Side for its magnificent cocktails, welcoming atmosphere, and friendly staff. Its exceptional drinks and warm setting keep its patrons returning.
Address: 45 Orchard St New York, NY 10002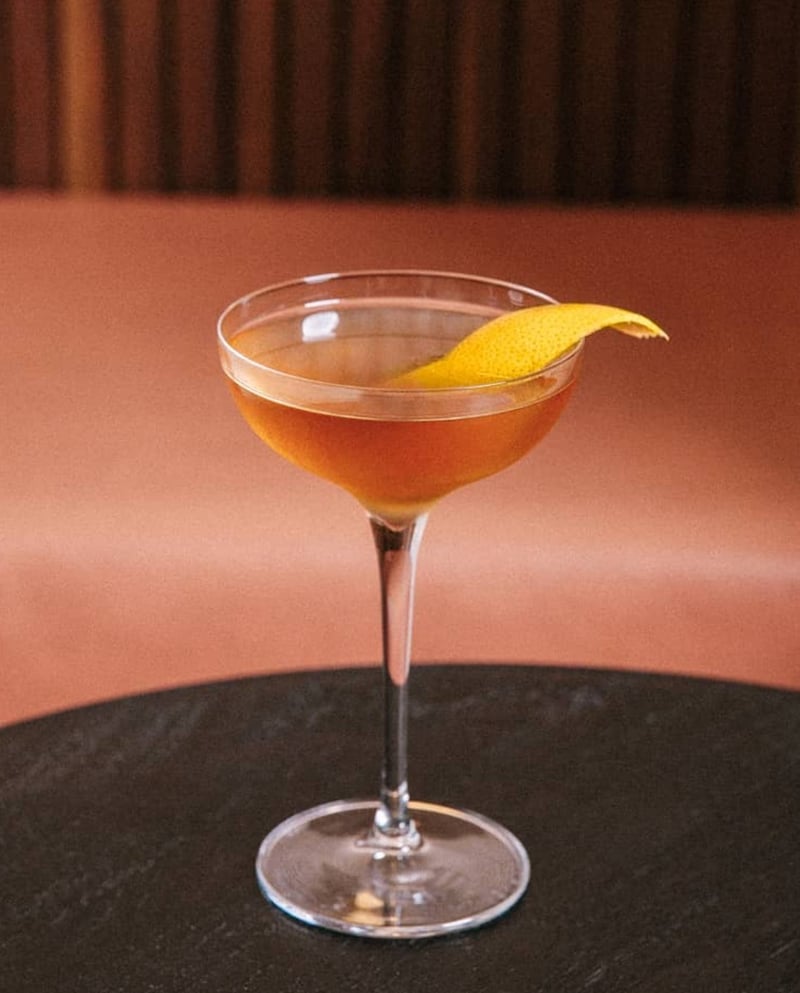 Clandestino
Nestled in an artsy neighborhood, Clandestino is a charming local bar loved by a diverse mix of seasoned creatives. The vibe is relaxed, bolstered by eclectic music that sets a creative and inviting atmosphere.
While the absence of a standard cocktail menu might confuse newcomers, it hardly fazes regulars who value the broad selection of drinks. Clandestino's beverage offerings strike an impressive balance between simplicity and spontaneity, embodying the bar's modest yet spirited charm.
Despite competition from establishments like Casino bar and Compagnie wine bar, Clandestino maintains a good rapport with nearby culinary treasures like Greek restaurant Kiki's and Italian hotspot Bacaro. Food-lovers can satisfy their cravings at either restaurant before enjoying a drink at Clandestino.
Customer service, however, poses challenges for the bar. Inadequate staffing at busy times, outdoor seating issues, and strict ID requirements possibly disadvantage non-local or Asian customers.
Yet even with these minor issues, Clandestino's unique clientele and ideal location keep its appeal. The bar has responded to the pandemic with stringent seating restrictions, setting a six customers per table limit. While Compagnie or Casino may entice after a mediocre experience at Clandestino, the bar's charm consistently beckons its patrons back.
Address: 35 Canal St New York, NY 10002
Bar Belly
Bar Belly is my go-to for vibrant nightlife. Step in and instantly get captured by its unique, dimly-lit atmosphere, offering a mysterious New York appeal. The energetic buzz in peak hours only adds to the charm instead of diminishing it. The outdoor seating during summer amplifies its allure.
However, an evening at Bar Belly isn't complete without sampling its culinary fares. You must try their $1 oysters guaranteed to be fresh and tasty. They also treat you to a complimentary serving of truffle popcorn setting the tone for the culinary adventure ahead. Don't miss out on their belly tots and fries, remarkably well-prepared.
Their cocktails demand a taste too. The Casanova, Jackalope Spritz, and Espresso Martini stand out in particular. No matter the rumors of diluted drinks, I've always found them delightful.
Their service is typically exemplary, though it can sometimes slip during peak hours. Small tables and periodic inattentiveness may annoy but usually get promptly corrected once the rush tapers off. The management team's swift response to customer feedback is refreshing in today's hospitality industry.
They've recently implemented a flat 20% tipping system, which has sparked varied reactions. I think it's a fair move designed to eliminate tipping inequities. To sum it up, Bar Belly serves tantalizing seafood and expertly-made drinks in a lively atmosphere that sparks anticipation and routinely offers pleasant surprises. It's authentically alluring and magnetic.
Address: 14 B Orchard St, New York, NY 10002
Lullaby
Located in the Lower East Side, Lullaby, formerly Nightcap, offers a relaxing setting reminiscent of a speakeasy. Its dimly-lit, tasteful decor provides a respite from the city's bustle. However, as the evening progresses, the bar fills up quickly.
Lullaby excels in its distinct cocktails. Each offers a unique taste that's always well-received. Notably, the Dole Whip cocktail and the creamy corn-infused whiskey drink are crowd favorites. Others, like the Pandan Express, Mezcal, and Martini, leave a lasting impression. The Vertigogo and Champagne Service are also must-tries.
The staff is typically professional and pleasant, although there have been occasional service hiccups. Overall, whether meeting friends, starting a fun night, or seeking a romantic ambiance, Lullaby fits the bill. However, it may not suit those desiring brighter lights and quieter setting for longer chats. For me, Lullaby consistently impresses with its innovative cocktail selection.
Address: 151 Rivington St New York, NY 10002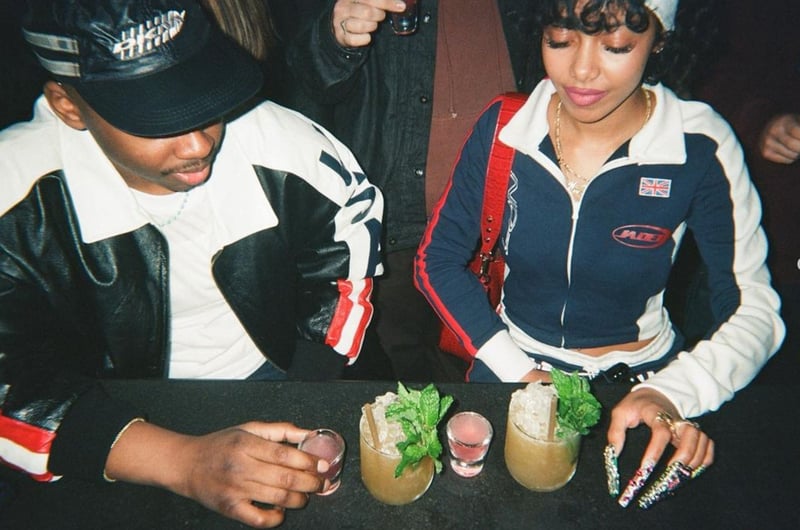 The Flower Shop
New York's Lower East Side (LES) is a captivating neighborhood teeming with diverse establishments. I particularly enjoy the inventive cocktails at Plymouth Rock, a local bar known for its unique drink menu.
Each cocktail, such as the Sour Cherry Smash or the Whiskey Tango Foxtrot, boasts intriguing flavors. They offer a novel twist on traditional drinks, making every sip an interesting gastronomic journey.
Nearby, Edith's offers some of New York's best bagels paired with fresh cream cheese. Simple but exceptional, this morning treat is a hit amongst breakfast lovers.
Surprisingly, one place for a satisfying bowl of Miso Ramen is Tiny's Giant Sandwich Shop. The aroma of the broth exudes warmth, making anyone feel instantly at ease.
Like any urban neighborhood, LES has its drawbacks like heavy foot traffic and occasional noise. These minor inconveniences, though, are overshadowed by the overall charm of the area. Integral to its charm, the local flower shop consistently offers delightful experiences, making LES a neighborhood worth multiple visits.
Address: 107 Eldridge St New York, NY 10002
169 Bar
169 Bar on East Broadway in Manhattan is a favorite for many, including my wife and me. Notable features include a quirky
cheetah-themed pool table and legendary canned beers. The vibrant decor and lively patrons ensure a good time, regardless
of the weather.
Even when the bar gets loud late at night, it remains inviting. Their hearty mac and cheese is a hit, and their tequila shots, unusually, come with flavorful lime slices. However, one time, their hurricane drink disappointed, as the excessive amount of liqueur overpowered the other ingredients.
The bar staff, including Sean, Ian, Tati, and Modesto, add to 169 Bar's welcoming atmosphere. However, we once ran into an issue with a bartender asking for an unduly large tip.
Despite these minor setbacks, 169 Bar's relaxing vibe and affordable prices make it an enjoyable place to unwind. The dimly lit interiors and cheetah-print pool table increase the charm. But beware of the occasionally overpriced $18 Jack and Coke.
Overall, 169 Bar, with its eccentric decor, friendly staff, and well-stocked bar, is a top spot for me in NYC. Though their happy hours could be promoted more, they still offer affordable prices for beer lovers. If you're a Manhattan bar-hopper, be sure to visit 169 Bar. Just remember there's a $10 card minimum, and the pool table closes at 9 pm. Here, like in life, fair play is crucial.
Address: 169 E Broadway New York, NY 10002
Black Crescent
In my bar-hopping journey, Black Crescent, nestled in the Lower East Side, stands out. It feels like a relaxing refuge from the city's bustling pace, with a welcoming ambiance seemingly borrowed from a good friend's living room. Its red lighting and wooden fittings encourage lively interaction among patrons, while the soundtrack—a blend of 80s, 90s, rock, and hip-hop—fuels the atmosphere's vitality.
Black Crescent's drink menu signals both expertise and creativity. Particularly striking is their Rabbit Key, a unique cocktail of green bell pepper gin, fresh lemon, yellow chartreuse, and honey. Their Mint Lemonade, however, was disappointingly more lemon than mint. Despite this marginal detraction, the overall experience remained gratifying.
The food at Black Crescent is equally commendable. The empanadas, waffle fries, and $2 happy hour oysters are standout offerings. Here, the food isn't a mere accompaniment but shares center stage with the excellent cocktail selection.
Their generous Happy Hour kickstarts the evening and offers a calm reprieve from the day's hustle. Moreover, the reasonable pricing commands appreciation, particularly for someone with a family—superior service and quality without breaking the budget.
Owner Reynolds deserves recognition for his talent in crafting potent cocktails, and more notably, fostering a hospitable atmosphere absent in many nearby bars. Even with Caveat, a well-known comedy venue, in proximity, an evening at Black Crescent already promises laughter, camaraderie, superb food and drinks. Here's to it continuing to embody the Lower East Side spirit.
Address: 76 Clinton St New York, NY 10002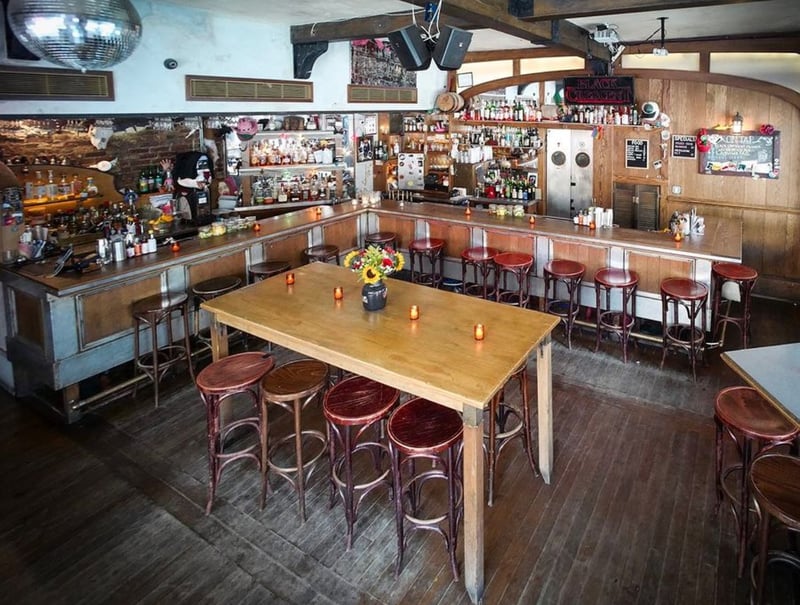 The Crown
If you want a taste of Lower East Side, NYC, consider a trip to The Crown. Located at the peak of the 50 Bowery Hotel, this upscale bar offers unhampered views of the stunning city skyline. The Crown attracts both New Yorkers and tourists, teeming with lively chatter and the click of cameras capturing the breathtaking views.
The Crown's reputation hinges on its diverse and superbly crafted cocktails. Suitable for cocktail experts and novices alike, there's a drink for every taste. Highlights include the 'Some Like it Hot', the indulgent Espresso Martini, and a praised mezcal drink from the seasonal menu. Take note, the prices may seem steep, a sentiment shared by several guests.
A shift from the bustling bar leads to The Crown's more tranquil lounge areas. These spaces merge style and coziness, offering respite from the rooftop festivities. The arresting city view, quirky mirror balls, and the pulse of the live DJ contribute to an irresistible ambiance that guarantees an unforgettable visit.
Staff service at The Crown can fall anywhere between commendable and subpar. Generally, the bartenders are cordial, serving with cheer, and the management strives to enhance the guest experience. However, service can be slow during busy times, and staff friendliness can vary.
Despite occasional service hiccups, The Crown remains a highlight in NYC nightlife thanks to its spectacular views and inspired drinks. Offering a mix of animated and relaxed atmospheres, it appeals to everyone. The anticipation builds for the city's energy to rekindle this rooftop, and for The Crown to glitter against the New York skyline once more.
Address: 50 Bowery New York, NY 10013
Las' Lap
Stepping into Las Lap transports you to the Caribbean, a quaint getaway from regular life. With its relaxed, playful atmosphere, comfortable seating, and energetic soundtrack of diverse music genres, it sets the stage for a pleasurable evening. The seating might be tight, but it's a minor detail in the overall charm of this venue.
I recommend the Jerk Chicken Egg Rolls whenever dining here. They're an explosion of flavor. The shrimp jerk slider, though scant on shrimp, will impress you. Beef and chickpea patties are consistent crowd-pullers. I'd suggest avoiding sweet chili wings unless you crave sweetness.
The service is good, with Alex, the bartender, as a standout. His cocktails are amazing. 'Spice Up Ya Life' is a wonderful surprise, closely followed by the Old Fashioned. Be advised, during peak times or special events, service may slow.
The rates are fair by New York standards, and you'll concur once you taste the careful balance of taste, potency, and novelty in each cocktail. Don't miss their Passion Fruit Lemonade—an ideal summer refresher.
Las Lap makes for an exceptional date night or a casual meet. Be aware of prices to avoid bill surprises. But the top-notch Caribbean food, ambiance, drinks, and music make for an irresistible experience. Slightly more space between tables would perfect this Caribbean gem in New York.
Address: 74 Orchard St New York, NY 10002
Fools Gold NYC
Why cram into an uptown venue when you can discover downtown's Fools Gold on the Lower East Side? Bar experts Ashley and Jay make your visit worthwhile. Their excellent service sets them apart from the customary inattentive hospitality. Joining them is Roger, the congenial bartender.
Roger's expertise shines through in the Mango Margarita on Tap—balanced, not overly sweet, and enjoyable. For beer lovers unafraid to break the mold, Gunhill, the #12 Void of Light Beer, offers a deeply gratifying tasting experience.
Fools Gold isn't just about drinks—they champion classic American cuisine. The menu includes NYC's potentially best wings, tasty fried chicken sandwiches, along with noteworthy duck poutine and smoked gouda and fontina mac & cheese.
The right atmosphere plays a vital role here. Comfortable and familiar, it reminds you of a favorite resting spot at home. The outdoor seating adds a refreshing touch amid NYC's hustle and bustle, while the backroom caters to your private functions.
As it gains popularity, Fools Gold can get busy on peak nights. Still, it's a comforting find—a true recipe for authentic hospitality. It's not merely a venue; instead, it's a place that opens its heart, creating memorable experiences one guest at a time.
Address: 145 E Houston St New York, NY 10002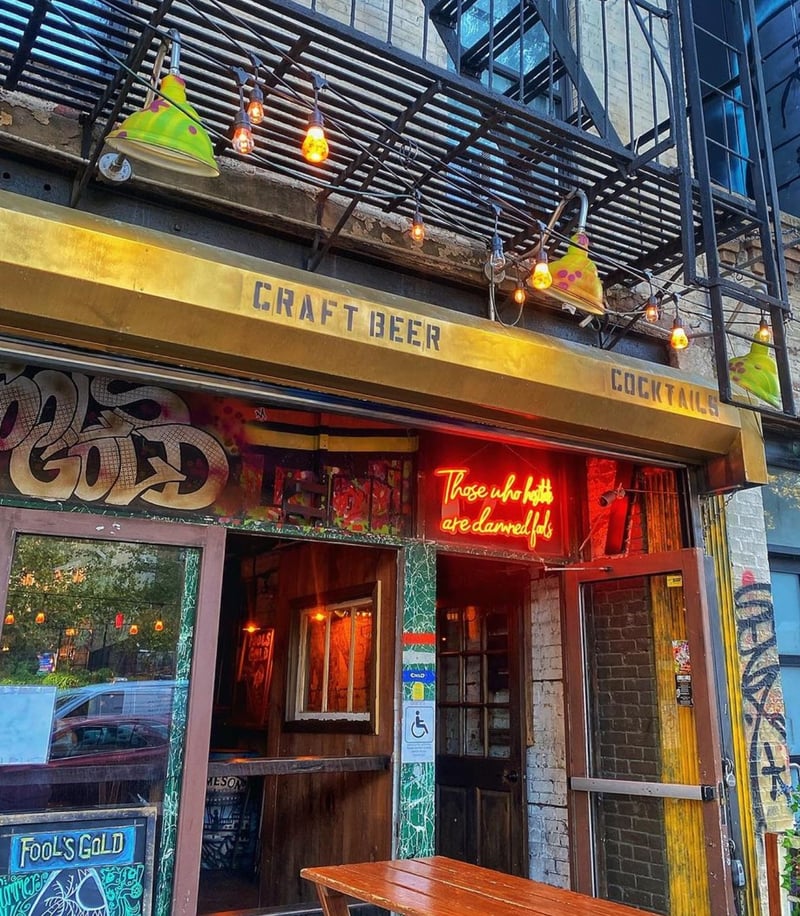 Gugu Room
I recently visited Gugu Room, well-known for its craft beer, unique cocktails, and excellent food pairings.
Being familiar with NYC's craft beer offerings, I found Gugu Room's selection impressive, notably a superior Brooklyn ale. With an approach reminiscent of Taproom49, Gugu Room excels in showcasing the city's finest brews.
But Gugu Room doesn't stop at craft beers. Reflecting places like Evil Twin and Attaboy, it offers a range of creatively named cocktails. Despite not finding 'The Privilege of a Lifetime' IPA or 'The Penicillin', their 'Meet the Fockers' cocktail nicely hit the mark.
Echoing the Lower East Side's essence, Gugu Room shines in pairing drinks with mouthwatering food, giving Fools Gold NYC a run for its money. Their 'Lazy Afternoon' sliders, with juicy meat and tangy sauce, paired perfectly with my beer.
Still, Gugu Room was not flawless. The acoustics could be disruptive due to the noise from patrons, though this was a minor downside to an otherwise remarkable experience. To conclude, Gugu Room offers a distinctive and vibrant food and drink scene emblematic of the Lower East Side. I look forward to my next visit.
Address: 143 Orchard St New York, NY 10002
The Back Room
As I stepped into The Back Room, nostalgia washed over me. This old-fashioned New York bar, with its soft lighting and polished mahogany stools, poises patrons for relaxation. The novelty of cocktails served in teacups, a prohibition-era nod, always sparks laughter. Beyond its calm facade, the place pulses with the unmistakable energy that only New York City emits.
The drinks are the highlight at The Back Room. Whether you fancy a classic Old Fashioned or adventure towards a Blackberry Julep, expect quality. The skilled bartenders here deliver each beverage masterfully, turning imbibing into an artform of storytelling.
Though the food menu is brief, it's satisfying, with offerings from Angus Beef Sliders to Grilled Cheese. It echoes comfortable home cooking, especially the Ava Gardner sandwich, a pastrami and coleslaw ensemble that enhances any evening.
The music is arguably a minor flaw of The Back Room, as the volume occasionally disrupts the dialogue. However, the diverse mix, from hoppy jazz to electrifying beats, aligns with New York's vibrant energy.
In short, The Back Room combines antiquated allure and present-day appeal. It's a place for forging connections or sinking into a gripping novel. The bar illuminates that every cocktail narrates a tale as do all bars. These stories are encoded into cherished memories, like the taste of my first cocktail from a teacup. It's an enduring remembrance that still lingers.
Address: 102 Norfolk St New York, NY 10002
Garfunkel's
My wife and I recently enjoyed a memorable evening at Garfunkel's, a speakeasy tucked above The Burgary. Stepping into Garfunkel's feels like stepping into the Prohibition era, giving living in New York's Lower East Side a surprising twist.
Our night kicked off with excellent whiskey sours served by Tito, a friendly bartender at The Burgary. The warm ambience was the perfect prelude to the speakeasy mood upstairs.
At Garfunkel's, the finely crafted cocktails are standout. I had the Vested Interest, a delightfully surprising blend of elderflower and pineapple. My wife loved the Blood Diamond cocktail with its unique sweetness, complimented by ginger hints. We also tried the highly-rated Smoked Cigar cocktail, which added warmth to the evening. Despite their high prices, the drinks' superior quality justifies the cost.
However, Garfunkel's could improve in service delivery. There were some delays and confusion with our seating and order. Also, we mildly melancholic about missing the well-reviewed live Jazz nights. Nonetheless, these minor setbacks didn't dampen the overall unique appeal.
In conclusion, Garfunkel's is a highly recommended cocktail haven. The blend of The Burgary's warm atmosphere and Garfunkel's outstanding drinks make them standout in the bustling Lower East Side. Come for the cocktails, stay for the vintage vibe.
Address: 67 Clinton St New York, NY 10002
Bar Goto
Bar Goto, in New York City's Lower East Side, blends traditional Japanese flavors with adventurous mixology. I'm partial to its Hojicha Old Fashioned - a unique blend of cognac, aged rum, Kyoto roasted green tea, and chocolate bitters. Other standout drinks include the light and zesty Far East Side cocktail and the Bar Goto Martini, which introduces an aged sake twist to the classic.
The atmosphere here is as appealing as the beverages. Its interior combines modern aesthetics with a Victorian library vibe, creating a warm and comfortable environment. The soft lighting and cozy furnishings encourage lively conversation, adding another dimension to the Bar Goto experience.
The bar doesn't skimp on food either. The Okonomiyaki, a savory Japanese pancake, is a crowd favorite. The vegetarian version is exceptionally satisfying for non-meat eaters like myself. Pair it with their tangy Miso Chicken Wings for a balanced dining experience. While the cocktails get most of the attention, the food is not an afterthought.
Its Lower East Side location, near the second-avenue F train stop, makes it both accessible and a hidden gem. Despite its bustling surroundings, it maintains a calm and inviting environment, making it a preferred spot for regular patrons.
There's only one drawback - sometimes drink orders take a little longer. But patience pays off at Bar Goto. Their cherry-blossom-infused Sakura Martini and a well-crafted food menu ensure that a slight wait is worth it for a memorable night out.
Address: 245 Eldridge St New York, NY 10002
The Ten Bells
Recently, my wife and I visited The Ten Bells, a well-reviewed Lower East Side locale. Lured by a Happy Hour that extended until 7pm, uncommon in New York, we found the offerings worth the journey particularly the $1 oysters and the wine specials.
DaThe cheese croquettes and mac and cheese were comforting and received approval, but the surprising standout was the shrimp "nachos" which quickly became our favorite.
The Ten Bells impressed us with its cozy ambiance, ideal for quiet conversations. The snug decor, dim lighting, and comfortable seating made us feel like we'd discovered a hidden spot, an experience we enjoyed.
However, the service was a slight letdown, with the friendly staff seemingly disorganized and our orders showing up late. Yet, it did not quite mar the overall enjoyable experience, largely attributable to the enticing Happy Hour deals, appetizing food, and inviting atmosphere.
Still, our time at The Ten Bells was enjoyable. Apart from the regular fare, the Raclette Tartine was delicious and the sweet burrata with dried figs and honey a real indulgence. We look forward to our return visit where we'll try the spicy salmon tartare and homemade meatballs with tomato soup. Paired with wine from their extensive selection, it's an East Side experience we don't intend to miss.
Address: 247 Broome St, New York, NY 10002
Amor y Amargo
Visiting Amor y Amargo feels like stepping into a live cocktail magazine. Its rustic style provides a perfect backdrop for its unique cocktail list characterized by a deep love for bitters. As a fan of unique drinks, I found exploring their menu thrilling.
What sets this bar apart is its broad range of simple but intricate cocktails, each offering a balance of flavors. The taste of every drink is harmonized by homemade Amaro's bitterness. My personal top choice, the BB Gun, delivers a robust orange hint as inviting as its playful name, without overwhelming the taste buds.
The bartenders at Amor y Amargo are masters of their craft. Sampling the Sharpie Mustache's robust balance or the dry taste of Arms Full of Flowers, I appreciated their skill in fine-tuning selections. The bold, zesty Mr. Sharpie cocktail stood out in particular; their ability to tailor it to my preferences was impressive.
The alluring atmosphere of Amor y Amargo enhances the experience. The snug design works well with bold, bitter drinks. Its homey yet sophisticated decor makes it an excellent destination for newcomers exploring bitters.
Among the selections, the Stranger Cocktail held a unique charm. Its mix of lemon and orange contrasted beautifully with the intense bitters, leaving a lasting impression and lingering aftertaste. The Farewell to Hell cocktail was slightly disappointing with its overpowering anise flavor. Yet this minor misstep did not overshadow my overall delight with this bar, a brilliant tribute to the allure of bitters—a skill clearly mastered by Amor y Amargo. I will certainly return, eager to discover more favorites in its enticing spirit selection.
Address: 443 E 6th St New York, NY 10009
Banzarbar
Banzarbar, a cozy speakeasy-style bar, is tucked away in the same lane as the popular Freeman restaurant. It accommodates less than twenty people, with each light casting a warm glow on the nautical-themed interior — an ideal setting for dates or casual gatherings.
What distinguishes Banzarbar is its array of carefully crafted cocktails. Drinks like The High Alps and The Polynesian Triangle offer unique taste combinations, while From Prussia with Love and Shackleton's Urn impress with their innovative presentations. Each cocktail tells a story, taking you on a global odyssey. Their skilled mixologists also accommodate off-menu requests.
One mixologist, Beatrice, is as vibrant as her concoctions, adept at crafting the Moonraker Sail, one of NYC's best martinis. Server Chelsea goes the extra mile to educate customers, personalizing recommendations to suit individual tastes.
Banzarbar's food menu is modest - the gourmet Duck Confit Dumplings or Lamb Skewers pack a punch, but the limited choice of just two main dishes might not appeal to all.
Despite these limitations, Banzarbar is a charming hideaway. It's a place for engaging talks and expertly made cocktails, not just a bar. For those who crave an experience rather than just a drink, this inconspicuous spot above The Freeman is ready to enchant you with its allure.
Address: End Of Freemans Aly Fl 2 New York, NY 10002
The Dancer
Upon entering The Dancer in Lower East Side, you're welcomed by a tranquil atmosphere that offers a breather from the city hustle. Near Dime Square, it's an ideal spot for a relaxed gathering with friends or a casual date. Unlike crowded hotspots like Jajaja, The Dancer prioritizes offering a top-notch experience over attracting large crowds.
The Dancer is known for its diverse drinks menu. Its skilled mixologists, led by Carlos and Rene, are known for crafting excellent cocktails like the Paper Plane and my favorite, a perfectly balanced Negroni. Even if cocktails don't entice you, their unique choices, such as Japanese green tea-infused beer or Downeaster unfiltered cider, along with a fantastic wine selection, leave you spoilt for choice.
Its close proximity to Dime Square adds to The Dancer's appeal, presenting the gritty appeal of traditional New York. The owners' other establishments, including Eastwood and East Harlem Bottle Co., are in local neighborhoods, amplifying their unique charm.
The Dancer is distinguished by its excellent customer service. The staff is attentive, the drink mixers efficient, and the music adapts to suit the atmosphere, assuring a personalized experience each time. Carlos and Rene's commendable service beautifully compliments the venue's overall enchantment.
In terms of cons, the aftertaste of the Japanese green tea-infused beer was not to my liking. However, personal taste varies and others may find it intriguing. Despite this small drawback, overall, The Dancer offers an immensely rewarding experience. It's the perfect refuge for enjoying an evening with a Caipirinha or Singapore Sling, amidst the vibrant yet comforting backdrop of Lower East Side. Here's to future memorable visits!
Address: 202 Clinton St New York, NY 10002
Double Chicken Please
Double Chicken Please is a distinctive, slightly eccentric gastronomic experience nestled in the Lower East Side. With its vibrant front room and the more intimate backroom known as "The Coop", the place seamlessly merges the delightfully strange with inviting charm.
Navigating through the rush of city living, it's rare to stumble upon something that consistently intrigues. However, Double Chicken Please continually delivers unique food-inspired cocktails like Key Lime Pie, Mango Sticky Rice, and Cold Pizza. Each sip challenges your own preconceptions about what a drink can be.
When transitioning to their savory offerings, the Hot Honey Chicken Sandwich, with its crunch and succulent meat paired with a Thai basil pesto pretzel bun, is a revelation. While other items like the Popcorn Chicken and Salted Egg Yolk Sandwich deliver, a mild grumble around pricing is the only misstep for this thriving establishment.
Despite its somewhat hidden location in the bustling Lower East Side, Double Chicken Please has carved its niche as a destination for those seeking culinary innovation. The location adds to the charm, nestled in a neighborhood known for its culture and a diverse food scene.
While traditionalists may scoff, when it comes to lively atmosphere and top-notch service, Double Chicken Please is a standout. One can overlook the long wait times and seating restrictions when engulfed in the elegant charm of The Coop, juxtaposed with the energy of its front room. This unique venue, with its unceasing innovation, mirrors the enduring allure of New York City, beckoning you back again and again.
Address: 115 Allen St New York, NY 10002
Best Bars in the Lower East Side (Post Summary)
Attaboy
The Library
Paper Planes
Double Chicken Please
Verlaine
Copper & Oak
Lobby Lounge
Parcelle
Reception Bar
Clandestino
Bar Belly
Lullaby
The Flower Shop
169 Bar
Black Crescent
The Crown
Las' Lap
Fools Gold NYC
Gugu Room
The Back Room
Garfunkel's
Bar Goto
The Ten Bells
Amor y Amargo
Banzarbar
The Dancer
Double Chicken Please