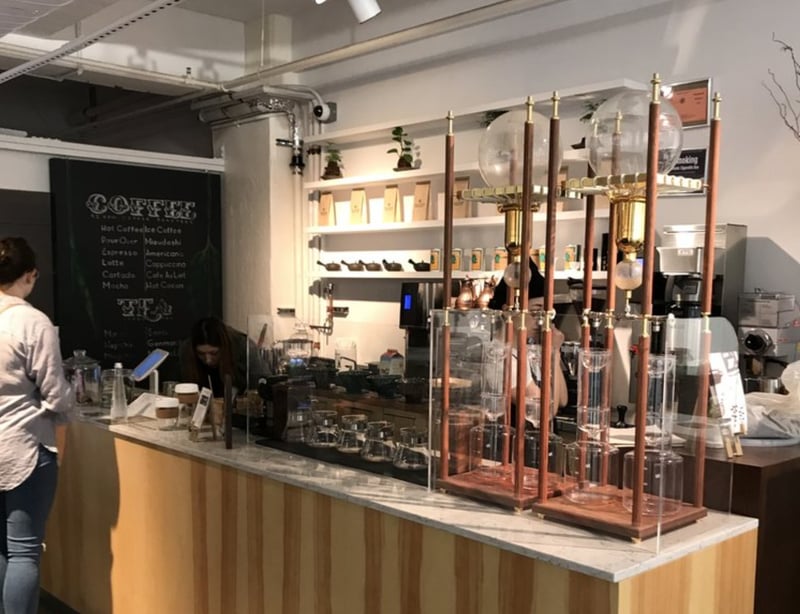 Modern tech hubs and art galleries coexist with lush parks in the DUMBO neighborhood, located under the shadows of the Brooklyn and Manhattan bridges. Among DUMBO's hidden gems are its quirky, welcoming coffee shops that reflect its creative and diverse spirit.
Many of these coffee shops offer the intoxicating scent of coffee and delicious pastries but also stunning views of the historic and contemporary architecture, the East River, the Manhattan skyline, and city bridges. They're a great place to soak in the vibe of DUMBO while sipping on a cup of Joe.
The following list includes ten notable coffee shops in DUMBO that I have enjoyed and continue to frequent whenever I'm in the neighborhood.
Best Coffee Shops in DUMBO
Butler
Butler, my preferred coffee haven in DUMBO, always impresses me with its quality brews and authentic charm. Butler rivals other upscale coffee shops, featuring unique options like the Pistachio Milk Flat White and a partnership with the respected Intelligentsia brand. Their matcha lattes have particularly won critical acclaim.
Butler's food menu is equally inventive. Highlights include the Cruffin—a blend of muffins and croissants—and a standout avocado toast with feta and pumpkin seeds. Both have inspired me to try my hand at home cooking.
The staff maintains a balance of efficiency and warmth, even during peak hours. Their authentic service contributes to the welcoming atmosphere. However, the level of service can occasionally fluctuate, likely due to individual temperaments.
The café boasts a prime location with captivating Brooklyn Bridge views and a cozy interior. Though the tight table arrangement can feel cramped, and the outdoor area needs more upkeep, these are minor drawbacks. Other perks include homemade dog treats and an array of unique pastries, like the Mixed Berry and Yogurt Muffin.
Overall, Butler offers a well-rounded coffee shop experience that keeps me returning despite minor hiccups.
Address: 40 Water St, Brooklyn, NY 11201
Usagi NY
Usagi NY is a multifaceted space in DUMBO that serves as a café, bookstore, and art gallery. Despite nearby construction, the venue's tranquil ambiance felt like a sanctuary in busy Brooklyn.
Conveniently located near the Brooklyn Bridge, the café is an excellent tourist stop. It impressively combines written, visual, and culinary arts for an immersive experience.
The menu features a range of Japanese staples like bento boxes and onigiri. While the Gyudon was somewhat mushy, the Hojicha Latte was a standout. The café's partnership with authentic Japanese providers like Obento also adds credibility.
Their matcha-based drinks deserve special mention. There's something for every palate, from the subtly sweet brown sugar matcha to the refreshing Mizudashi.
Address: 163 Plymouth St, Dumbo, NY 11201
Zaruma Gold Coffee
Zaruma, concealed in the bustling Dumbo Market, offers a tranquil escape from the mundane. Despite its unexpected location, the coffee shop retains a distinctive character amidst a supermarket, and its Ecuadorian coffee is memorable, with a rich, satisfying taste that leaves one longing for more.
The in-house baked Empanadas stand out in Spinach, Cheese, Beef, and Ham and Cheese. Each carries a unique stamp indicative of their flavors, lending a touch of home. Complement your empanada with a multigrain croissant and brownie for a satiating meal. Zaruma's coffee is highly regarded for its authenticity, quality, and affordability. Favorites include their Medium Iced Coffee and the Iced Rose Latte, creamy and warm for New York's winter.
The decor channels a nostalgic Ecuadorian aura. Grabbing a table might be a task, courtesy of the popularity, but it is worth the patience.
Address: 66 Front St, Brooklyn, NY 11201
Dawn's 'Til Dusk
Dawn's 'Til Dusk in DUMBO offers a sunlit, spacious interior conducive to relaxation and remote work. A popular spot, it combines a chill atmosphere with an expansive view of the neighborhood.
The café's beverage menu is a strong suit, ranging from rich coffee to iced lattes featuring house-made vanilla syrup. My standout pick is a vanilla-laced cappuccino that's flavorful without being overwhelming. For those looking to sidestep caffeine, the rooibos latte provides a tasty alternative with hints of cinnamon and vanilla. Also noteworthy is the use of coffee ice cubes to avoid dilution.
Pastries like pumpkin whoopie pies and lemon scones are moist and flavorful. The café even makes a vegan cookie, the Judith, that punches above its weight. However, their sea salt focaccia was underwhelming the day I tried it; it arrived somewhat oily and lukewarm.
In summary, Dawn's 'Til Dusk offers a generally satisfying experience with room for minor improvements. Its blend of quality drinks, attentive service, and relaxed setting make it worth another visit.
Address: 33 Main St, Brooklyn, NY 11201
Beepublic
I recently visited Beepublic, a coffee shop in DUMBO, NYC, just a short walk from the subway. The place impresses with its top-notch coffee and speedy service. As a coffee lover, I tried their latte and drip coffee and found both exceptional flavors.
Beepublic's serene atmosphere enhances the experience. It features bright interiors and a balanced music selection, and the outdoor seating option is a plus.
The vegan, plant-based menu stands out for its quality and innovation, featuring unique items like the Vegan SEC sandwich and Bee Vegan burger. Including honey differentiates these dishes, so if you're a vegan who avoids honey, check the menu carefully.
The only downside? No coffee in the evenings, a drawback for late-day caffeine seekers like me. Despite this, the overall quality and ambiance make Beepublic worth revisiting. If you're in DUMBO, don't miss it.
Address: 181 Front St, Brooklyn, NY 11201
% Arabica
A visit to % Arabica in DUMBO, Brooklyn, is necessary for coffee enthusiasts. The café's expertise shines in its diverse, well-crafted lattes. The Kyoto Latte offers a satisfying balance of bitterness and smoothness, while the Spanish Latte delivers creamy indulgence without being overwhelming. Don't overlook the Matcha Latte and Dark Latte; both have unique flavors worth exploring.
The café's atmosphere blends modern design with Japanese aesthetics, achieving a high-end yet inviting ambiance. Their tasteful branding enhances the visual appeal, and the chic takeaway cups are a nice touch.
Its ideal location, between the Manhattan and Brooklyn Bridges, doubles as a coffee haven and a vantage point for panoramic views. Adjacent to the serene Brooklyn Bridge Park, it's a perfect partner for a peaceful stroll or a short break from city adventures. Amid the city's buzz, it offers an unexpected, refreshing respite.
While you'll pay a premium, the quality matches the price. Specialty lattes, an inviting atmosphere, and Manhattan skyline views justify the cost. Service can slow during peak hours, but the staff's patience and friendliness make up for it.
Beyond coffee, the Blueberry Cheese Danish stood out for its balanced flavors, though their pastry selection could expand. An unexpected perk? The bathroom, equipped with a Toto Bidet and heated seat, adds a touch of luxury. Don't miss their Single-Origin Coffee, featuring vibrant, mildly acidic Guatemalan beans. In short, % Arabica delivers a memorable experience that marries quality coffee with aesthetic appeal.
Address: 20 Old Fulton St, Brooklyn, NY 11201
Blank Street Coffee
Located in DUMBO, NYC, Blank Street Coffee has amassed a dedicated following, and I count myself among them. The café offers diverse coffees, including matcha lattes, cold brews, and a standout pistachio latte. While I enjoyed its unique taste, I would have preferred a more robust pistachio flavor.
Repeated visits allowed me to sample their bakery items, most notably the Gluten-Free Olive Oil Bundt and the straightforwardly delicious Cinnamon Sugar Amann. Both offerings piqued my curiosity for further culinary exploration on future visits.
Blank Street isn't limited to its physical space. Its user-friendly website and app make ordering a breeze, mirroring the ease of a neighborhood barista who knows your usual. The digital services complement their physical cart setup, efficiently serving the local crowd.
What sets Blank Street apart is its commitment to easy access and friendly service. You're not just a customer here; you join a community of coffee enthusiasts. The staff is consistently warm, embodying the café's welcoming spirit.
Despite my minor gripe about the pistachio latte, Blank Street's commitment to variety and community keeps me coming back. The café harmonizes diverse coffee options, authentic pastries, digital convenience, and stellar service, securing its spot as a DUMBO staple and earning my loyalty.
Address: 56 Jay St, Brooklyn, NY 11201
Burrow
Burrow is a pastry shop that fuses Japanese authenticity with Western baking. Standouts like the Gateau Basque Custard and Almond Croissant showcase the shop's skillful baking. The Gateau features a flaky tart crust filled with almond custard, while the almond croissant pairs pastry crumbs with sweet almond paste.
What distinguishes Burrow is its subtle approach to sweetness. Take the Strawberry Pistachio Cake: its lightly sweet flavor combines seamlessly with a fluffy pistachio sponge. The Chocolate Ganache Cookie strikes a balance between buttery shortbread and semi-sweet ganache.
Complementing the pastries is a diverse coffee menu that includes matcha, cold brews, and standard coffee drinks. I can personally attest to the quality of the matcha cake paired with matcha coffee.
The shop's secluded location and lack of seating may deter some, but these factors add to Burrow's allure.
The staff's friendly demeanor enhances the experience, mirroring the care evident in their pastries. If you're in DUMBO and craving something sweet, I highly recommend Burrow. Each offering is a well-crafted flavor journey, whether their Salmon Bread or Lemon Cake.
Address: 68 Jay St Ste 119, Brooklyn, NY 11201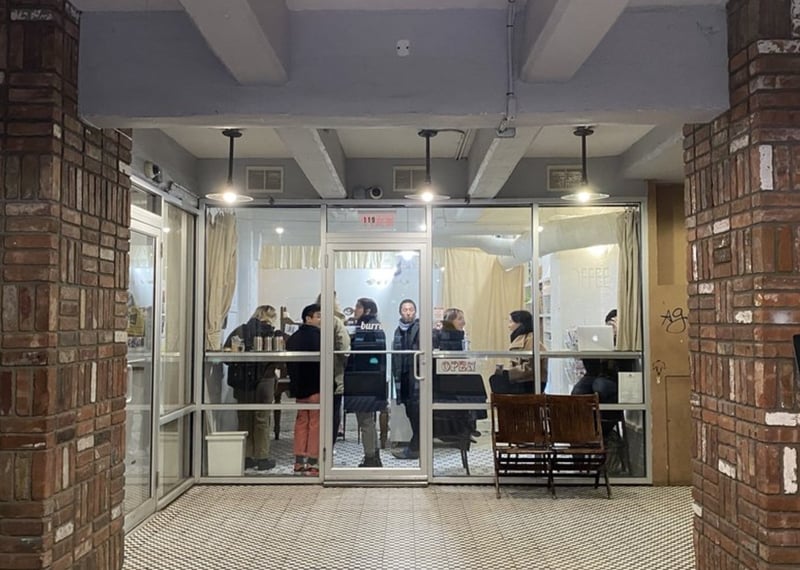 Bluestone Lane DUMBO Café
Bluestone Lane's DUMBO Café café emanates a trendy ambiance, ideal for a relaxed breakfast or brunch meeting. Its bright, inviting aesthetic enhances your coffee experience or a quick bite before commuting to work or city adventures.
Bluestone Lane is renowned for its diverse, quality food. It caters to a wide range of dietary preferences. The breakfast bowl, filled with hearty grains, cheese, and tomatoes, is a personal favorite. My wife loves the chicken and bacon sandwich on a brioche bun, which can be made with gluten-free bread for those with dietary restrictions. The Avocado Toast could be more consistent. Sometimes, it comes perfectly made, with freshly mashed avocado on perfect toast, while other times, it needs more freshness and texture.
Their coffee is outstanding. Each sip attests to their premium beans and skilled baristas. Also, their Protein PB & Blueberry Smoothie is one of my preferred smoothie choices.
Service at Bluestone Lane varies, but it's generally decent. You might encounter slightly slow service or a less-than-enthusiastic barista, but these minor shortcomings are consistent with the food quality and relaxed atmosphere. For me, Bluestone Lane DUMBO Café represents modern Brooklyn—unpretentious yet dedicated to quality. It unquestionably deserves our business and support.
Address: 55 Prospect St, Brooklyn, NY 11201
Devoción
On my first visit to Devoción in DUMBO, NYC, I was skeptical due to some mixed reviews from friends about their coffee. But one sip of their cappuccino dispelled my doubts, making me an immediate convert.
The cafe's ambiance balances modern elegance and rustic charm with lush plants and log seats. Just steps from a busy subway station, it is a tranquil oasis.
On the beverage front, the mushroom coffee was a delightful surprise. While the iced mocha and espresso leaned heavily on milk, the cold brew was delicious. The Cascara Ginger Can is a unique blend of coffee and ginger.
While their guava croissant was exceptional, Devoción could benefit from diversifying its snack menu.
During weekdays, the cafe morphs into a workspace with reliable WiFi and ample power outlets—though note that the WiFi takes weekends off. Seating is plentiful but in high demand, especially among early risers. In summary, Devoción is an ideal spot to work, relax, or catch up with friends over quality coffee.
Address: 105 York St, Brooklyn, NY 11201
Best DUMBO Coffee Shops (Post Summary)
Butler
Usagi NY
Zaruma Gold Coffee
Dawn's 'Til Dusk
Beepublic
% Arabica
Blank Street Coffee
Burrow
Bluestone Lane DUMBO Café
Devoción