The ambiance of a quality coffee shop is unmatched for digital nomads, startup enthusiasts, freelancers, and veteran remote workers. It's not just the refreshing brew but also the atmosphere, Wi-Fi dependability, and workspace flexibility that can often rival a dedicated office space. For remote workers lured by NYC's charm, finding the perfect coffee shop can be as crucial as locating suitable housing.
This article will guide you through the maze of potential coffee shops where a fantastic remote work atmosphere meets delicious coffee. This includes the less obvious considerations such as the availability of power outlets, noise levels, and other minor factors that can significantly influence your workday. Become immersed in the vibrant NYC coffee scene, a vital component of a remote worker's lifestyle.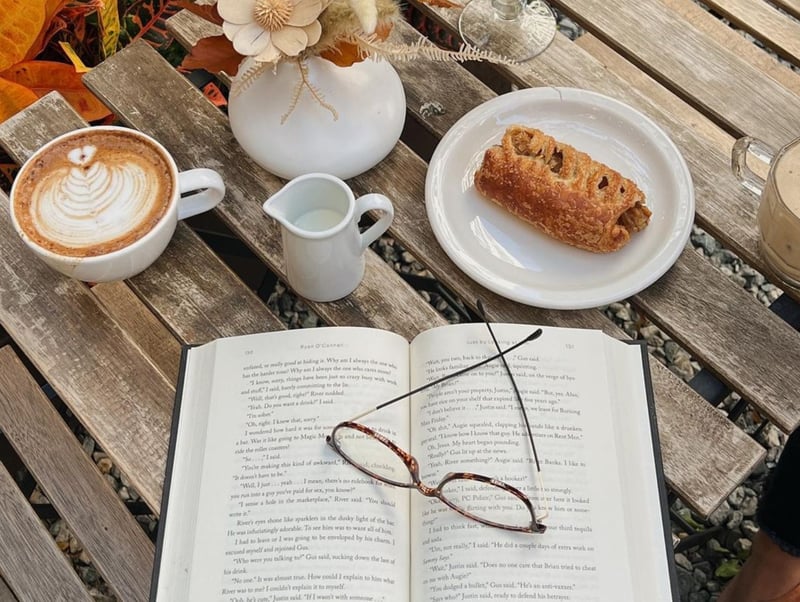 Best Coffee shops for working remotely in NYC
Perk Kafe
Ideal for casual outings or remote work, Perk Kafe's small size is never a hindrance. Conveniently located by a Target and nail salon, Perk Kafe caters to locals.
Perk Kafe stands out with its drink offerings. The Iced Latte is a solid favorite, while the red chili, brown sugar, and rose oat milk lattes provide zesty and economical options. Perk's brewed hot coffee is always reliable, and the honey almond latte is a chill day's comfort. The Mint Matcha Latte, with its refreshing hint of mint, starts mornings off right.
Beyond beverages, Perk Kafe's food is simple but delicious. The Brekkie Brioche is a light lunch, and their BAT sandwich is a tasty, cost-effective choice. Although the best-in-town avocado toast is a hit, the discontinued hot breakfast menu was missed by regulars.
Sweetening the deal, Perk Kafe serves pastries from Brooklyn's Colson Patisserie. The almond croissant and 'worth every penny' peach Danish are great for a quick bite, though one cafe-goer found the croissant hard.
As someone used to suburban life, I appreciate good service and Perk Kafe's friendly staff delivers. Their hospitality and efficient service complement the food and drink offerings. Despite an occasional pastry issue, I'd endorse Perk Kafe to anyone seeking a warm, inclusive café experience.
Address: 534 East 14th St, New York, NY 10009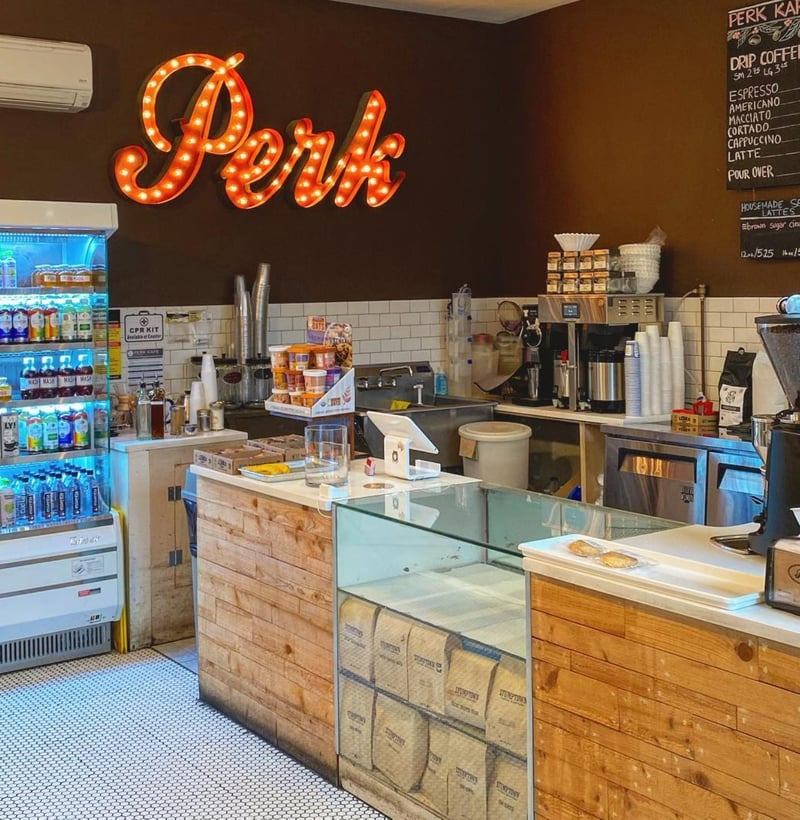 Think Coffee Bowery
Finding a haven like Think Coffee Bowery, known for its top-notch food and vibrant atmosphere, is valuable. The refreshing scent of freshly brewed coffee is a welcome respite from the city's exhaust-filled air. Their coffee and latte are superb, especially when my regular barista prepares them.
Their diverse menu never ceases to amuse me, with options ranging from a lush honey peanut butter cookie to a nutritious avocado toast for a full-featured breakfast. Try the filling yet light spinach cheddar muffin for a savory change. A tip: don't shy away from their add-ons - pesto on your toast or olive spread on your muffin enhances the flavor.
Despite peak hours, Think Coffee remains pleasantly spacious. Although it needs more charging outlets or WiFi - essentials for remote workers - its homey seating and attached bookstore bring a unique touch.
Customer service at the café can be inconsistent but is generally attentive. Despite occasional barista inconsistency, the overall experience and quality outweigh potential drawbacks.
Think Coffee, which operates until 10 p.m., is an ideal spot for late-night gatherings and is a handy respite for NYU students. It offers a diverse menu, excellent coffee, cozy decor, and flexible hours. This café more than satisfies your requirements for a delightful snack, an invigorating drink, or a refreshing break amidst the city's bustle. Despite minor shortcomings, its strong points make it an easy choice for regular visits.
Address: 1 Bleecker St, New York, NY 10012
Cafe-Flor
Cafe Flor extends beyond a coffee shop, balancing elements of a plant boutique and wine bar with its fresh coffee aroma. Its decor features a vibrant array of plants and modern art with gold accents, creating a comfortable atmosphere. Some may find the ambiance marred by loud music, suggesting a volume adjustment could be beneficial.
Targeting the remote workforce, Cafe Flor provides diverse seating options, from tables to plush sofas, offering a cozy alternative to working from home. Despite complimentary Wi-Fi, connection issues often arise, hinting at necessary improvements. It's a versatile workspace suitable for casual conversations, focused work sessions, or formal meetings.
Cafe Flor's menu caters to varied palate preferences. Highlights include the fresh ham & cheese croissant and the light, zesty lentil salad bowl. The matcha latte, though, could be a letdown, depending on personal taste.
The staff at Cafe Flor exemplify hospitality. They radiate courtesy and diligence, particularly when maintaining cleanliness. While occasional order mix-ups occur, the overall service quality is commendable.
Cafe Flor is more than a coffee shop, offering a distinctive blend of workspace, menu variety, and praiseworthy service. There are a few areas for improvement, but it emerges as an appealing hangout spot for coffee enthusiasts, remote workers, plant lovers, and casual visitors.
Address: 218 8th Ave New York, NY 10011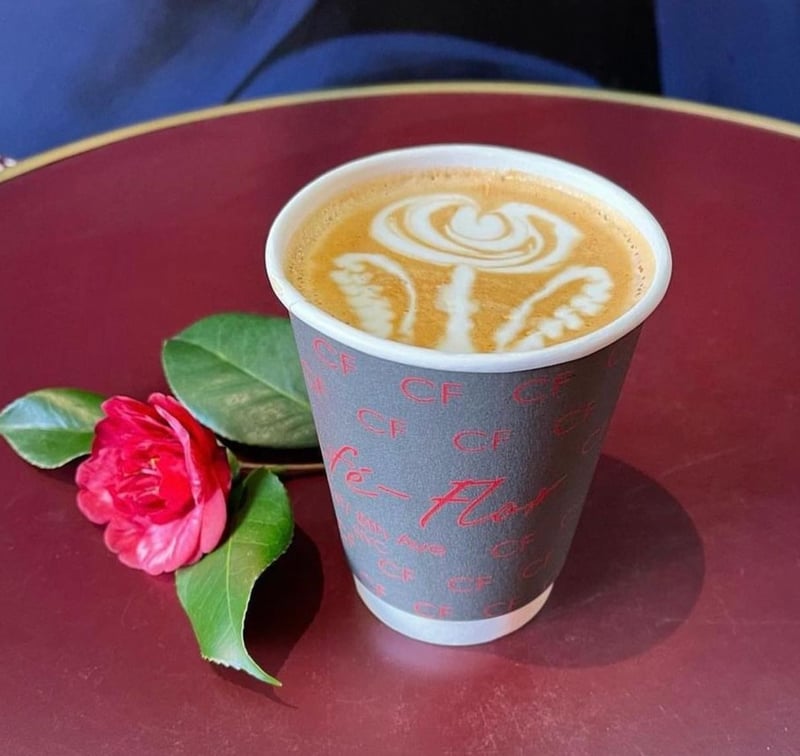 Patis Bakery
As a regular visitor to Patis Bakery near the Times Square Marriott, I appreciate their serene atmosphere. This Paris-inspired bakery provides a tranquil retreat within the busy city near major attractions. Its lively setting and bright interiors make it a popular spot for remote work in the post-COVID world.
The bakery offers a vast, impressive menu, from freshly baked bread and pastries to various hot beverages. My favorites include the almond croissant, pecan pastry, and the unique Fougasse sandwich.
Their drink menu, while diverse, could use improvement. Although their coffee and latte options are high quality, the iced matcha can sometimes feel powdery. Despite the slightly expensive dirty chai, the mango iced tea is worth trying.
The staff at Patis, such as Stephanie and Sydney, deliver excellent customer service and are always ready to assist or offer recommendations. Although the order process can occasionally feel rushed, these occurrences are exceptions at Patis.
In terms of cost and health standards, Patis achieves a solid balance. Pricing remains fair despite recent increases, such as the tomato tart. As a certified kosher café, it's a favorite among many kosher consumers for its high quality. Overall, Patis Bakery upholds an enviable standard for bakery-cafés in the city.
Address: 1311 Lexington Ave New York, NY 10128
Buunni Coffee - Inwood
On my initial visit to Buunni Coffee, I felt a sense of calm amid bustling Inwood. Famed for its Ethiopian fusion, the menu was compelling, especially the 'yellow split peas lentils' and 'red spicy lentils.' Together, they create a unique flavor — bold, satisfying, and authentic. The 'injera wrap' was another delight, filled with various ingredients, while the chickpea salad presented a delicious array of textures and tastes.
The Matcha latte provided just the right amount of sweetness. Each sip was an excellent palate cleanser. The cold brew, ideal for a sunny Manhattan day, offered a refreshing break. Commendably, Buunni supports environmental sustainability by allowing customers to bring their mugs.
The café boasts a welcoming atmosphere in a spacious, well-kept venue in cultured Inwood, near Met Cloisters. Local artwork on the walls and flyers for community events added a quaint local charm.
Generally, customer service was agreeable, with friendly and helpful staff even during busy periods. However, there was an instance when I encountered uncharacteristic rudeness.
In terms of prices, Buunni Coffee caters to a range of budgets. Though some items, like the $7 vanilla oat latte, seemed slightly expensive, the freshness and quality of the food made it worthwhile. I can vouch for their commitment to delivering fresh, delicious food after trying the Ethiopian vegan platter—'Ye Tsom Beyaynetu.' Buunni Coffee is more than a coffee shop - an enriching cultural exchange and a must-visit in Inwood, Manhattan.
Address: 4961 Broadway, New York, NY 10034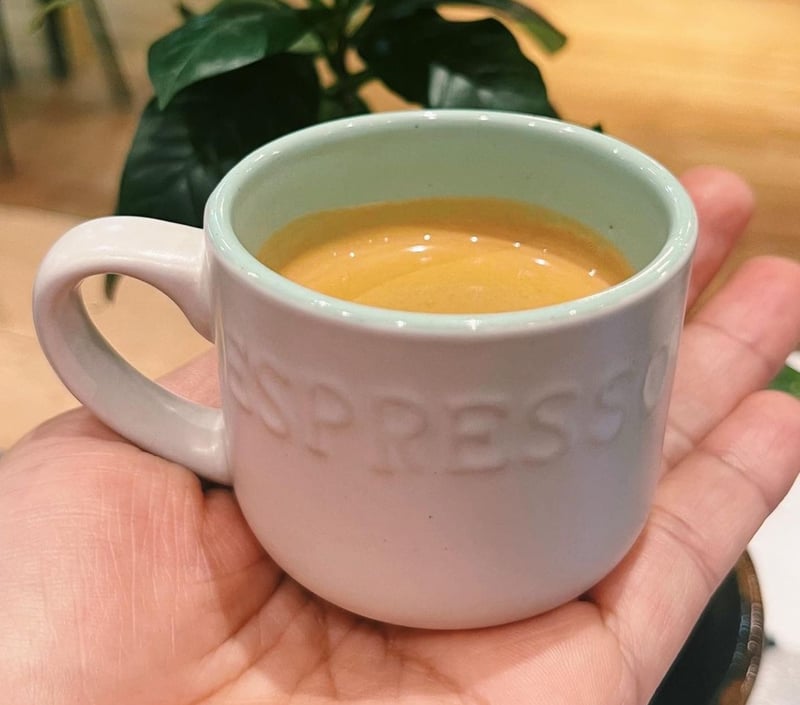 Bean & Bean
As a city-dweller who remotely works, Bean & Bean has become a work haven. Soaked in a work-friendly atmosphere, it offers extensive indoor and outdoor seating, ample power outlets, and Wi-Fi suitable for prolonged work stints. It's also ideal for social or solitary work with communal yet socially distanced tables.
The menu at Bean & Bean is commendable, with the honey latte stealing my affection. Made with oat milk, it was a creamy delight. The sweet vanilla cold brew became my go-to, and the much-praised matcha and caramel lattes are next on my to-try list.
Upon entering Bean & Bean, the staff's sincere warmth was immediate, and the food didn't disappoint either, particularly the airy honey scone and the satisfying egg, cheese, and bacon sandwich. While their dense bagels were flavorful, the Avo and almond toast weren't as enticing.
Bean & Bean provides an incredible palette of beverages, substantial food, and a conducive work environment. Despite minor issues with service and Wi-Fi, it's a balance done right, suited equally for coffee buffs, food enthusiasts, and remote workers. With certainty, I recommend this cafe.
Address: 318 8th Ave New York, NY 10001
Prince Coffee House
Recently, I discovered Prince Coffee House on Arthur Avenue, nestled within Little Italy in the Bronx. I was after a quiet workspace and untainted coffee - starkly contrasting the metallic taste often found in chain coffee shops. The welcoming atmosphere, afforded by the comfortable seating and secluded basement, was immediately engaging.
The charm of Prince Coffee House lies in its warm ambiance and thoughtfully curated menu. Natural light complemented the homely furniture, fostering both productivity and relaxed conversation. The multi-level seating design effortlessly catered to a diverse clientele, from focused remote workers to animated groups of friends sharing a coffee.
Their menu displayed a rich offering of food and beverages. I opted for the Americano Coffee, an ideal blend of espresso and water for a working afternoon. The complexity of the flavor was akin to a surprise with each sip, contrasting the initial bitterness with a rich, chocolatey aroma. The Matcha Crepe Cake and English Toffee Tea added sweetness to the experience.
A delightful mocha further enhanced the afternoon. The warm milk, cocoa powder, and espresso blend excited my taste buds. Despite the underwhelming flavor of the tiramisu, a cleansing cup of green tea characterized by a perfect balance between astringency and aroma concluded the meal.
Prince Coffee House was a delightful find. Its relaxed ambiance, dynamic neighborhood, and beverage variety make it recommendable to remote professionals. Though the customer service could use refinement, the overall experience compensates for these minor issues. My trip reminded me of the hidden gems among local coffee shops waiting to be discovered.
Address: 2306 Arthur Ave Bronx, NY 10458
Joe Coffee Company
Joe Coffee Company is a convenient oasis for commuters and tourists at the bustling Oculus World Trade Center. Situated between the PATH and Brookfield Place entrances, it's a One World Trade visitors transit hub. It's modern setting, reminiscent of "The Jetsons", features a fusion of comfort and futurism.
The coffee menu is traditional, focusing on quality rather than variety. The house drip coffee, devoid of unnecessary frills, is a crowd-pleaser. The iced latte, richly flavored and non-acidic, is another standout. The honeysuckle latte with almond milk is subtly sweet and balanced, while the spicy, dirty chai combines exotic spices with premium espresso.
The staff at Joe Coffee are typically friendly and efficient despite occasional off days that can impact service. Nevertheless, their commitment to crafting excellent beverages is evident.
The chai with oat milk is a favorite, evoking joy in its simple yet skillfully executed blend of sweet, spicy, and creamy elements. For time-conscious patrons, the Ritual App facilitates smooth pre-orders. Even though a few customers reported delay issues, the app generally receives positive reviews.
While some critics find the coffee average and its prices a tad high for its simplicity, Joe Coffee Company's balance of ambiance, convenience, and taste makes it a noteworthy microcosm within the architectural marvel of the Oculus. Ideal
for refueling during commutes or taking a respite amidst city explorations, it offers a coffee experience enriched by interaction with an eclectic crowd.
Address: 185 Greenwich St LL3110 New York, NY 10007
Burly Coffee
Brooklyn's Bed-Stuy houses Burly Coffee, a stand-out coffeehouse frequented by coffee enthusiasts and remote workers. The accommodating baristas masterfully craft delectable brews, and their iced oat latte with honey is a testament to their dedication to quality.
Burly Coffee's interior charm comes from ample sunlight flooding through windows, vivid art on display, and a generous layout supporting work and relaxation. This isn't the typical hipster coffee shop—it's cozier, inviting you to settle in and connect to reliable WiFi.
While there is some variability in staff attitudes, overall, you can expect warm hospitality. Knowledgeable about their offerings, they elevate your experience.
The pastries offered are just as impressive as the coffee, evidencing Burly's commitment to quality in all areas. The timing of the kitchen service can be a minor hiccup for those on the run, but their matcha latte is a compensating delight, showing the café's versatility.
Quirks aside, Burly Coffee is an inviting locale. A punch-card loyalty system sweetens the deal, though the superb coffee, inviting atmosphere, and work-friendly setting are temptations enough. This alluring gem, rich in Brooklyn ambiance, is a must-visit for coffee lovers and café hunters.
Address: 356 Throop Ave Brooklyn, NY 11221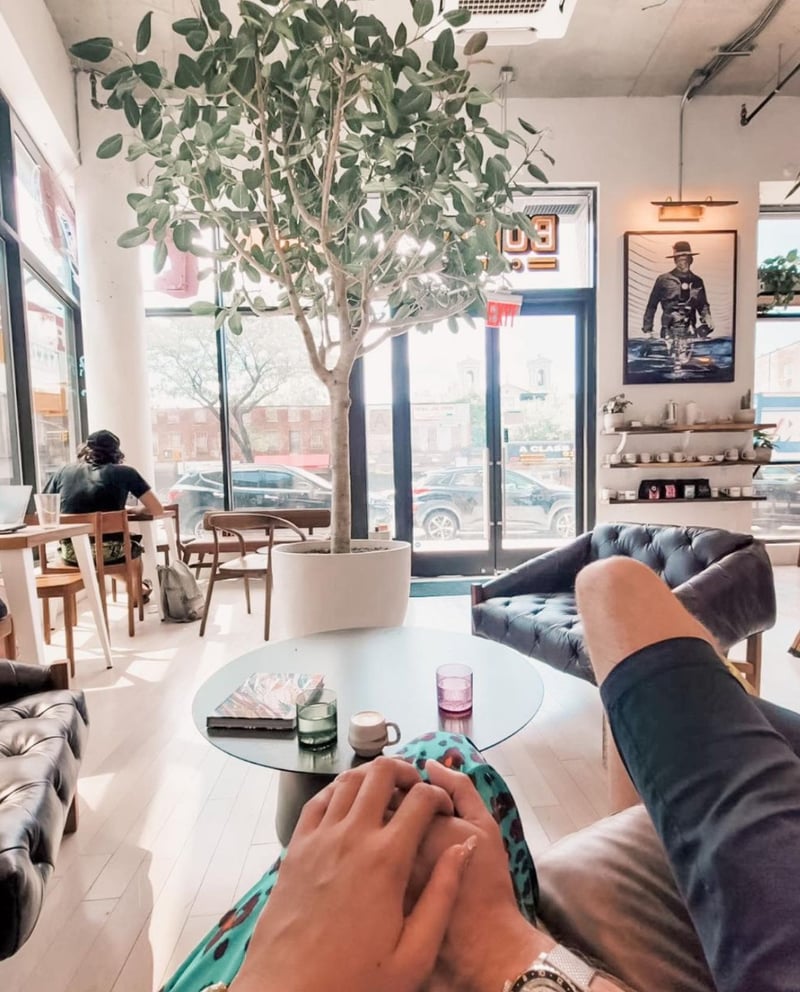 Kona Coffee Roasters - East Village
Kona Coffee Roasters in the East Village is a refreshing Hawaiian-inspired coffee hideaway. Standout offerings include the tropical Waikiki Matcha, blending pineapple puree, almond milk, matcha, coconut cream, and the creamy, nutty Hawaiian Latte.
The café lends itself well to remote work or study, thanks to ample seating, sturdy tables, plenty of power outlets, and free WiFi. However, finding a seat during peak afternoon hours can be challenging. When weather permits, the outdoor seating can be ideal for work or relaxation.
In addition to beverages, the café offers a range of snacks. While the Almond Croissant pairs delightfully with the coffee, the quality of other offerings varies. The possibility of discovering new tastes remains tantalizing.
The café's cozy ambiance, with warm, neutral décor and relaxing background music, invites repeated visits. This homely atmosphere is conducive to both work and social catch-ups.
Address: 57 2nd Ave New York, NY 10003
Daughter
Walking into Daughter, the tranquil vibe strikes you instantly. The well-lit interior features innovative storage, plush seating modeled like a stairway, and a striking Monstera plant, adding an earthy touch. While the stairway-style seating is intriguing, the concrete steps might only suit some.
The menu at Daughter is a mix. The sea salt brownie is sublime, with granular salt cutting through rich chocolate. The Yogurt Bowl, with its sweet and savory notes blend, redefines breakfast. However, dishes like the Choc Banana Bread fall short, lacking the desired banana punch.
Daughter checks off good Wi-Fi and ample laptop-friendly seats as a remote workspace but falters with higher-than-average pricing and a lack of designated tables. Decent seating eases crowd levels, making it a solid option for those desiring a calm workspace.
The beverage offerings are commendable, from creamy lattes to a small yet impressive wine selection. Their $4.50 Cold Brew offers a vibrant caffeine kick, although their Hojicha latte has a strange, seaweed-like taste that could use some sweetening.
Address: 1090 St Johns Pl Brooklyn, NY 11213
Black Cat LES
At Black Cat LES on the Lower East Side, you experience the retro charm of classic café culture. With an inviting environment that includes vintage board games, areas for quiet work, and bustling social spaces, this café offers more than a caffeine hit. Come Friday night, the place transforms into a comedy club with a free show starting at 9 pm.
The café is also an oasis for digital nomads. High-speed Wi-Fi, numerous charging outlets, and roomy tables efficiently cater to those laden with tech gear. But be mindful when choosing your seat - some spots near the air-conditioners can be chilly.
Black Cat LES's menu won't disappoint. The generous fillings in their Turkey Club Sandwich offer hearty satisfaction, while the tantalizingly sweet Dirty Kitty provides an indulgent treat.
Talking of indulgence, their Nutella Latte is more than just satisfactory. It's deliciously sweet, a nice balance to their punchy drip coffee.
Address: 172 Rivington St, New York, NY 10002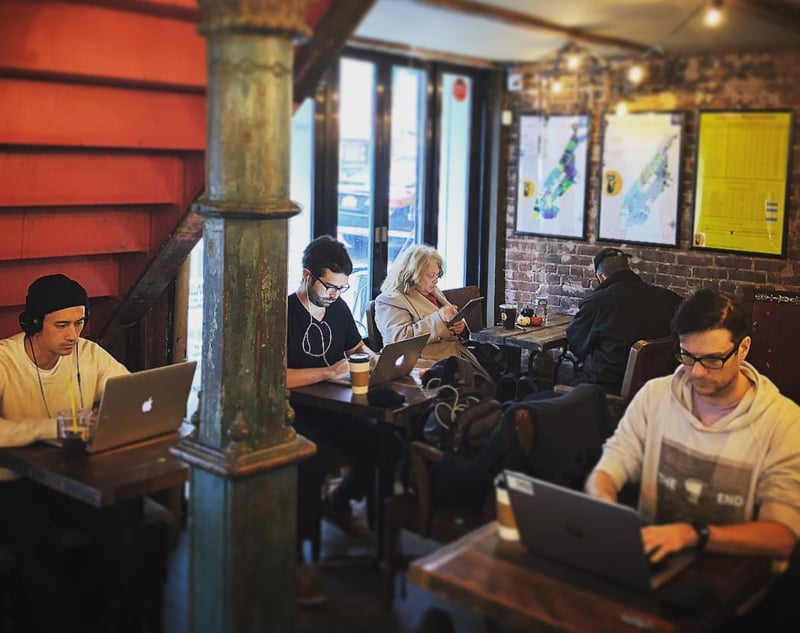 K'Far (Brooklyn)
Upon entering K'Far, nestled within Brooklyn's Hoxton Hotel, the delicious aroma of fresh pastries such as pistachio sticky buns and olive feta boreka welcomes you. This hidden culinary treasure in Williamsburg offers a warm and welcoming atmosphere, ideal for casual gatherings or quiet work.
K'Far specializes in flavorful breakfasts, including popular items like Shakshuka and Jerusalem bagels with eggs and cheese. They also offer lighter options, like fig & ricotta toast and avocado toast. But their culinary delights go beyond breakfast, from creamy mushroom hummus to juicy Zatar chicken. The real standout is their sweet and sticky apple babka.
Their diverse beverage list includes the unique Yemenite latte and creative cocktails, contributing to the multi-dimensional dining experience. However, coffee fans might find the brew not entirely up to par. Nevertheless, the restaurant's excellent service, with attentive staff managing large orders and busy periods, more than compensates.
K'Far combines a relaxed atmosphere with a varied menu and excellent service for a compelling culinary experience. A true gem in Brooklyn's dining scene, this bustling café's inviting environment and comforting fare make it a standout.
Address: 97 Wythe Ave Brooklyn, NY 11249
Book Club Bar
The Book Club Bar, a versatile spot combining a bookstore and café, offers an enticing ambiance for avid book lovers, social drinkers, and coffee enthusiasts alike. It features book-laden walls, comfortable seating, and a friendly atmosphere, making it a captivating locale for people like myself, a literature enthusiast with a taste for engaging company.
Guests are encouraged to explore their literary interests, join in dialogue, or lose themselves in riveting novels. Even without a purchase, a visit to this unique social arena leaves one with a memorable experience of relaxed exploration and reading across a broad spectrum of themes.
Indeed, one can't overlook "liquid wordsmithing." A diverse menu of beverages ranging from morning refreshments to cocktail hour curettage is another major attraction. Standouts like the Espresso Martini fuse coffee and spirits delightfully, but remember, some of these libations could challenge frugal patrons.
Though the space isn't ideal for official work, it offers adequate provisions for casual tasks like writing and mobile usage, thanks, in part, to a compelling daytime café ambiance. Due to venue restrictions, more advanced digital tasks requiring uninterrupted internet or prolonged laptop usage might be challenging.
Adding a flare to café gatherings, the location boasts spirited events like "Adult Spelling Bee Night" and trivia evenings. The lively engagement these bring adds depth to the inherently peaceful, book-centric environment, fostering a sense of community.
The Book Club Bar masterfully blends literature, drinks, and socialization. Immaterial of minor issues like workspace limitations or pricier drinks, it is a unique haven offering patrons an enthralling blend of tranquillity, convivial engagements, and a range of beverages. Whether you're a bibliophile or a casual drop-in guest, it's well worth a visit.
Address: 197 E 3rd St, New York, NY 10009
Plantshed
PlantShed is no ordinary café. It combines a coffee house and plant nursery, creating a serene ambiance. With its crisp air, it's an ideal refuge from bustling city streets. Amid its lush greenery, you'll find an array of satisfying beverages for coffee and tea lovers alike.
This place sports a rare balance between a focused workspace and a relaxation haven. The muted conversations promote concentration, while the lively view of Petrosino Park offers a pleasant distraction. If solitude is desired, multiple comfortable seating areas are scattered across its tranquil upper and lower levels.
The café's food and drink range has its appeal. The menu offers everything from Almond Milk cappuccino to Iced matcha latte, although the oat milk may sometimes seem a tad excessive. The vegan selection shines with a standout vegan peanut butter and chocolate chip cookie scoring a personal "10 out of 5". The slightly tart yet sweet Cienfuegos hibiscus tea, subtly sweetened with Stevia, is a refreshingly unique favorite.
Beyond the atmosphere and palate-pleasing options, PlantShed's staff merit commendation. This team possesses an impressive knowledge of their surrounding flora and coffee brews. They effortlessly dish out plant care advice or coffee recommendations, exhibiting comfortable finesse.
Address: 216 Lafayette St, New York, NY 10012
Devoción
Are you looking for high-quality Colombian coffee in the city? Devoción is at the top of my list, with a remarkable, full-bodied cappuccino and an intriguingly smooth iced latte. Furthermore, the coffee shop shines bright with its broad selection of pastries. Their banana bread and dulce de leche pastry are standouts, but the star is a unique guava and cheese croissant offering tropical sweetness.
Devoción's ambiance is inviting and cozy, appealing to coffee lovers and digital nomads alike. Comfortable seating, brick walls, and live greenery are perfect for relaxation and productivity. However, securing a seat during peak hours can be challenging due to its popularity.
The service quality could be more consistent. Although I encountered friendly and helpful employees, some seemed detached.
Most importantly, Devoción doubles as an excellent remote workspace. It boasts reliable Wi-Fi and a quiet atmosphere catalyzed by a mixture of locals and professionals. Teas and refreshing Cascara juice are offered as alternatives to coffee, adding variety to the workday. Devoción shines not only as a coffee shop but also as a workspace, community hub, and culinary adventure.
Address: 25 E 20th St, New York, NY 10003
Amano Café
Amano Café exudes a comforting charm despite its modest exterior. The serene environment, enhanced by music-themed décor, attracts those seeking a peaceful workspace, but beware, WiFi can be problematic, it gets crowded, and there are no restrooms.
My initial order, a French vanilla latte, demonstrated Amano's commitment to quality with its robust and pleasing flavor. Bold choices like the cortado provided a tasty balance of acidity and sweetness.
Not limited to beverages, Amano Café offers various appealing food options. The fresh and fruity açaí bowl never fails, while the vegan chocolate chip tahini cookie is soft. The almond croissant, however, had an overpowering egg flavor.
Customer service at Amano mostly deserves praise — the staff is generally friendly and polite, though not always quick or attentive.
Address: 172 W 4th St, New York, NY 10014
Odd Fox Coffee
Odd Fox swiftly elevated to a top spot among many coffee shops I've frequented. This establishment perfectly balances workspace and relaxation, providing robust and reliable WiFi, a boon for someone working remotely like me.
Discussing the coffee, Odd Fox entirely differs from SweetLeaf, Bakeri, and Eleva by avoiding overly sweet or flavored brews. Emphasizing authenticity, their coffee offers depth and robust flavors, delighting those who appreciate pure coffee. It's refreshing that they steer clear of the burnt undertones seen elsewhere.
Their food options lean savory, with almond power croissants - a fan favorite - winning me over. However, their matcha and chai lattes lack remarkable intensity and retain unusual coloring, proving some items to be a miss.
Despite a few culinary disappointments, Odd Fox compensates with a commendable atmosphere featuring a spacious interior, regular tables, high bar counters, and a cozy outdoor patio. It offers Brooklyn street views through large windows, many wall sockets for late-night work, and artistic decor enhancing its appeal.
Customer service is varied - while I've found staff primarily friendly and polite, there are reports of occasional poor experiences. Notwithstanding these sporadic setbacks, Odd Fox often draws me back. Working remotely in a pleasant environment while enjoying great coffee is irresistible. It's not without flaws, but Odd Fox remains dear to me for its remarkable coffee and conducive workspace.
Address: 984 Manhattan Ave Brooklyn, NY 11222
Ground Central
Entering Ground Central is like finding your way into a scene from a well-loved novel. This distinctive coffee shop offers a library-like appeal, comfortable armchairs, and a quiet backroom. The environment perfectly balances vibrant energy and soothing tranquility, thanks to the wall art and gentle hum of conversation.
As a key feature, Ground Central serves excellent coffee. The cold brew excels, being robust yet not overly bitter. Traditional coffee enthusiasts will value the velvety, lavish cappuccino and the delightful espresso. My personal favorite is the special hazelnut latte with its enticing nutty aroma.
With plenty of workspace at numerous tables, Ground Central adjusts to workday rhythms. Various seating options suit any preference, while the morning mood is conducive to productivity, particularly in the quieter spots. However, the music might occasionally seem too energetic for those concentrating on work.
Customer service is exceptional. The staff's recognition of regular customers by name cultivates a communal, warm atmosphere. Notwithstanding that, my chai tea latte was once too sweet. However, Ground Central effortlessly creates a community feel with a varied, delightful menu. Their unwavering dedication to top-caliber brews, a calm ambiance, and kind service make the shop a refuge for coffee lovers.
Address: 888 8th Ave New York, NY 10019
Remi Flower & Coffee
Remi Flower & Coffee, a blended venture of a flower shop and coffee bar, stands out, especially during a harsh New York winter. It's where I often immerse myself in work, accompanied by the smell of fresh flowers and their unique floral-themed coffees. The Rose Latte with Oat Milk, in particular, expertly captures the essence of spring.
The coffee at Remi is notable. Be it traditional fares like the smooth Honey Latte or unusual alternatives like the Pistachio Cream Latte; every order is well-crafted. The Cocoa Matcha Latte with Coconut Milk is a stellar blending of tastes, and their Honey Pomegranate Tea on Ice hits the spot on hot days.
While their food choices can be inconsistent, the Almond Croissant stands out with its buttery, fluffy texture. The pastries and relaxed environment make Remi an excellent workspace.
The primary distinguishing feature of Remi is its ambiance. The establishment flawlessly blends fresh flowers and coffee, offering a unique spin on the regular coffee bar atmosphere. However, the limited seating often disrupts the peaceful setting due to its popularity.
Address: 906 2nd Ave New York, NY 10017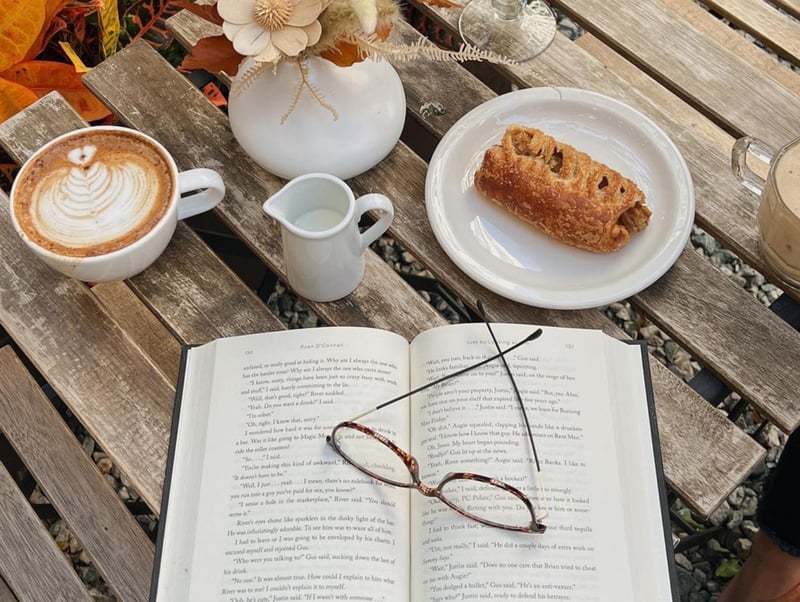 Butler
As a Williamsburg Butler café regular, I'm impressed by its quaint ambiance and modern service. A friendly Spanish woman at the counter brings warmth and familiarity despite the cafe's hectic environment.
Butler offers a culinary blend of comfort and novelty in its breakfast menu. Noteworthy dishes include a tender, buttery ham and cheese croissant and a creative avocado toast topped with surprising ingredients. The mini French toast and Everything Cronut are wonderfully indulgent among the pastries. Only the corn muffin needs more flavor and moisture to match the standard of the other offerings.
Butler's coffee is remarkable, especially the Flat White, with its balanced, robust flavor. Another intriguing feature is the pistachio milk, offering a nutty twist to regular coffee - great for those seeking a change.
Butler's aesthetic mirrors the novelty of its food and drink. Its indoor and outdoor seating, close to Domino Park, add to its allure. However, the lack of power outlets and sometimes high noise levels limit its appeal as a workspace or tranquil reading spot.
Address: 95 S 5th St, Brooklyn, NY 11249
Stumptown Coffee Roasters
Stumptown Coffee Roasters in New York City is known for its superior coffee. The Oat Milk Latte and Vanilla Latte are unforgettable with their delicious undertones. Their double-shot espresso and standard cold brew are favorites among coffee fanatics.
The café offers a comfortable atmosphere, ideal as an alternative workspace. Its cozy, wood-dipped interiors and sunny seats make it perfect for work or leisure. It caters to customers ' online needs with free WiFi and ample charging spots.
Although individual tastes in coffee vary, Stumptown's offerings are distinctive and often superior to other coffee shops. However, some might find the coffee at other shops using Stumptown's beans slightly more appealing.
In addition to their renowned coffee, they offer other enticing beverages like the pleasing 16oz Matcha Latte and the delightful Hazelnut Butter Mocha.
Stumptown's prices are higher, but the quality warrants the cost. There are exceptions, like the Cold Brew with Simple Syrup, which seems overpriced given its portion. Notwithstanding, the variety of delightful drinks often leaves patrons, myself included, satisfied and eager for return visits. In essence, Stumptown Coffee Roasters epitomizes the pleasure of a well-brewed coffee.
Address: 30 W 8th St, New York, NY 10011
All the King's Horses Cafe
Every New Yorker understands the importance of a good morning coffee. All the King's Horses Cafe takes this routine to another level with its superior brew quality. The standout flat white brings a sense of excitement each morning, and every sip is a new delight.
They maintain the consistently high-quality makeup of their brew. Their oat milk latte is fresh and flavorful. It elevates your coffee experience from ordinary to remarkable.
Robbie, the café's owner, adds a personal touch to your daily coffee ritual. He knows everybody's names and their preferred order. In bustling Manhattan, receiving a warm personal greeting at your local café is quite comforting.
The quality of the food matches the coffee. Their vegan chocolate croissant and broccoli & cheddar soup are both standout items. The rich menu caters to various diets, making everyone feel welcome.
The café's environment is conducive for remote workers. It offers a neighborhood workspace vibe with indoor and outdoor seating options. The Wifi could be stronger, but it's a cozy workspace overall.
Address: 521 E 12th St, New York, NY 10009
The Granddaddy
The Grandaddy, nestled in Chinatown's vibey district, ignited my hunt for unique coffee experiences. Its daring drink offerings, like the unusual black sesame and hojicha lattes, oscillate in taste and quality. While not constantly hitting the mark, when they do, it's remarkable—exemplified by their unsweetened hot matcha matched with oat milk, which satisfactorily combines comfort and sophistication.
Having frequently worked remotely here, I can attest to its merits as a workspace. With a practical layout, ample table space, reliable WiFi, and sufficient outlets, it shines as a workspace—the café's natural light and energy make work more appealing. However, its high traffic, though a testament to its offerings, makes scoring a seat challenging.
The charm of The Grandaddy stems from its inviting interior and atmosphere. Bright, buzzing, and home to a dynamic crowd, it caters to varied needs—whether you're a focused worker, an engrossed reader, or a group seeking to unwind. Although the bustle of the street outside sometimes seeps in, it essentially provides a tranquil and calming environment.
The staff are generally patient and receptive, offering a respite from the city's chaos. However, inconsistency is sometimes apparent, with service vacillating and tipping into rudeness in rare instances.
The primary draw of The Grandaddy, though, remains its innovative lattes. Definite standouts include the striking Halva latte and the well-priced Japanese iced coffee. While diverse, the plethora of alternative milk options tends to water down the experience. The slightly expensive chamomile tea makes a pleasing alternative for those seeking a coffee-free choice.
Address: 290 Grand St, New York, NY 10002
Kinship Coffee
My exploration of Queens led me to Kinship Coffee, a cafe quickly becoming a favorite. The staff's evident passion for coffee affirmed their commitment to quality in the captivating beverage preparation process.
The coffee here is outstanding, offering a wide variety. Each cup leaves a distinct, pleasant flavor. The almond and honey latte is particularly memorable. Despite my initial skepticism, their cold brew was surprisingly smooth and free from bitter aftertaste. For non-coffee drinkers, the Moroccan Mint tea is a refreshing alternative.
Kinship also caters to pastry lovers, although the quality could be more consistent. While the canelé caught my attention during the first visit, it didn't meet my expectations.
As a writer, I equally value the workspace environment. Kinship meets this need with its warm atmosphere, comfortable seating, and reliable Wi-Fi, creating a prime spot for remote work. The limited table count and lack of restrooms are minor drawbacks.
Address: 30-05 Steinway St Astoria, NY 11103
Best Coffee Houses in NYC for Working Remotely
Perk Kafe
Think Coffee Bowery
Cafe-Flor
Patis Bakery
Buunni Coffee - Inwood
Bean & Bean
Prince Coffee House
Joe Coffee Company
Burly Coffee
Kona Coffee Roasters - East Village
Daughter
Black Cat LES
K'Far (Brooklyn)
Book Club Bar
Plantshed
Devoción
Amano Café
Odd Fox Coffee
Ground Central
Remi Flower & Coffee
Butler
Stumptown Coffee Roasters
All the King's Horses Cafe
The Granddaddy
Kinship Coffee