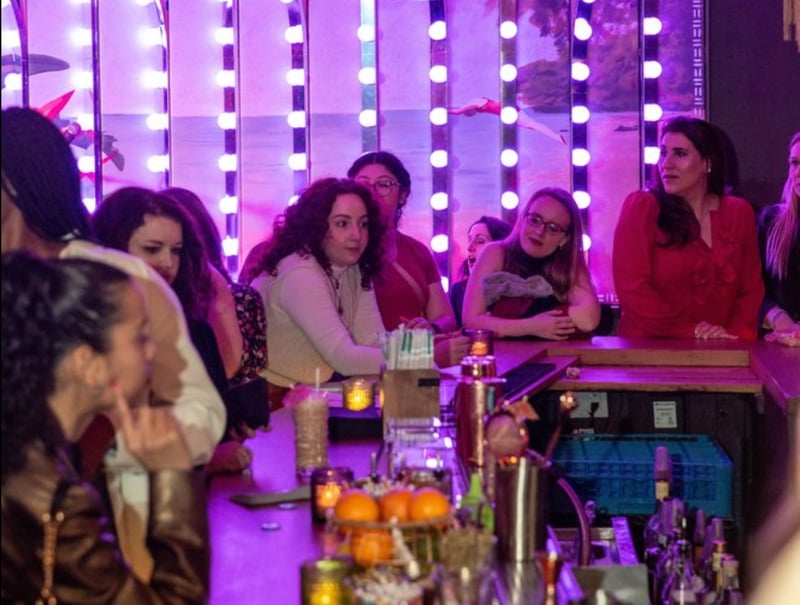 Times Square is iconic — the flashing billboards, the theaters, the swarms of tourists. But if you can navigate through the chaos, there's another narrative going on: the Happy Hour culture. It's the oasis for the locals and savvy visitors who know that even amid a commercial blitz, a good deal paired with a good drink is always within arm's reach.
The beauty of Happy Hour in Times Square is its variety. You can find anything from luxurious rooftop lounges offering signature cocktails to down-to-earth pubs where a pint of beer won't cost you an arm and a leg. And let's be honest, who doesn't enjoy that moment when you get the bill and realize you can afford another round?
So the next time you find yourself in Times Square, whether you're catching a show, meeting up with friends, or just passing through, remember that this bustling tourist hub has another, happier narrative.
Enjoy this list of our favorite happy hours within a quick jaunt from Times Square, and Cheers!
Best Happy Hour in Times Square
Castell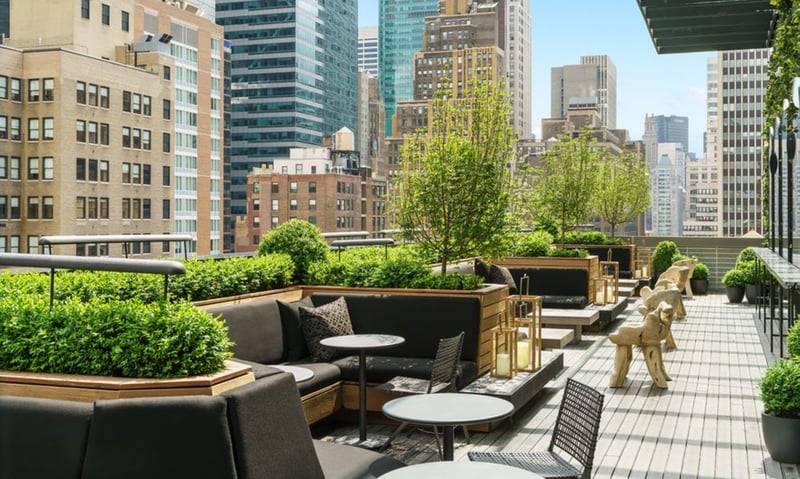 As a New York City resident, I've patronized numerous establishments. The Castell Rooftop Lounge has secured a spot among my favorites. Conveniently located near Times Square, it provides the ideal haven for those seeking respite from the city's ongoing hustle and bustle. The vista from the 21st floor of the AC Marriott Hotel is delightful, notwithstanding a few obstructions from surrounding taller structures. The view of the NYC skyline accentuates its inimitable allure.
I've enjoyed their indoor and outdoor seating with equal comfort, with the cozy fireplace being a lovely feature. The spacious seating arrangement was appealing whether I was in the company of friends or simply enjoying solitude, making it suitable for varying preferences.
Highlights from the lounge's menu include the 'Something in the Air' cocktail, the equally delightful 'Dragon Fruit Frose,' and the 'Smooth Talker.' I was also partial to their Artisanal Meat & Cheese Board, featuring a delightful assortment of prosciutto, chorizo, manchego cheese, grapes, bread, and olives.
It's worth mentioning that Castell's Happy Hour, with its reasonable pricing, draws a sizable crowd. Yet, the prices—especially for food and certain drinks—may seem a bit high at regular hours.
Address: 260 W 40th St Fl 21, New York, NY
Mermaid Oyster Bar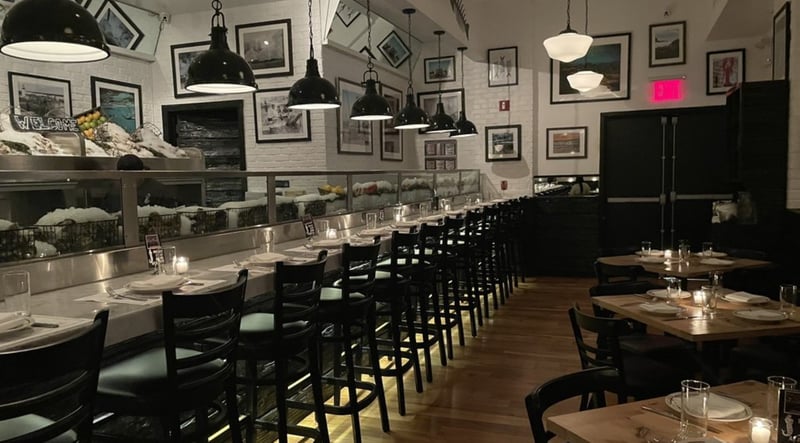 As a writer who is frequently up against deadlines and late-night writing sessions, dining out offers a delightful break from a mundane routine. Whenever I find myself near Times Square, either getting ready for a show or recovering from one, I know where to go — Mermaid Oyster Bar, a reliable seafood eatery that always impresses me.
While their oysters are a Happy Hour treat, their other offerings also impress — the delicate pan-seared skate, the flavor-packed cod, or the mushroom risotto adorned with rich duck confit. I recently had their scallops accompanied by vegetables, a simple yet beautifully presented dish that amazed my taste buds. And let's not forget, a serving of Old Bay seasoned fries is a must with each visit.
Every exceptional meal deserves a complimentary drink, and that's where Mermaid Oyster Bar's Happy Hour choices excel. Offering high quality without straining my budget, their Happy Hour attracts my partner and me, often seeking a well-deserved drink after a hard day.
Mermaid Oyster Bar offers a laid-back, unpretentious ambiance accompanied by attentive service. Compared to other tourist hotspots, you never feel rushed here, and while the seafood isn't always flawless, it's served by accommodating and exceptionally courteous staff.
In conclusion, if you are in the Times Square area and need satisfying seafood at a reasonable price, Mermaid Oyster Bar is the place to go. Be you a work-weary NYC resident requiring a brief escape or a curious visitor eager to try the city's diverse food scene, you're guaranteed to leave with a thoroughly satisfied palate and a happy heart.
Address: 127 West 43rd St, New York, NY
Valerie
Valerie, located in the heart of New York City, is a sanctuary for lovers of culinary artistry and skilled mixology. My multiple visits have led me to appreciate the flowing mixology that seamlessly blends with the engaging conversation at this establishment. The expert skill exhibited by the bartenders is truly tangible, whether through their exceptional cocktail selections or the detailed knowledge they possess.
The cuisine at Valerie gathers equally high praise, with a vast menu showcasing a talent for flavorful dishes using fresh ingredients. The unique flavor of the lobster salad adorned with caviar was unforgettable, enticing me to plan another visit. Additionally, the substantial and savory Valerie Burger warrants a recommendation.
Because of its prime positioning near key areas, including Grand Central and Times Square, Valerie is an optimal spot to decompress after a hectic city day and savor an expertly crafted cocktail. Whether you're a city native or a tourist, Valerie's location is handy and accessible. The crowds may cause occasional noise, but the live jazz band performing every Sunday mitigates this, adding to the overall allure of the restaurant.
Address: 45 W 45th St, New York, NY
The Rum House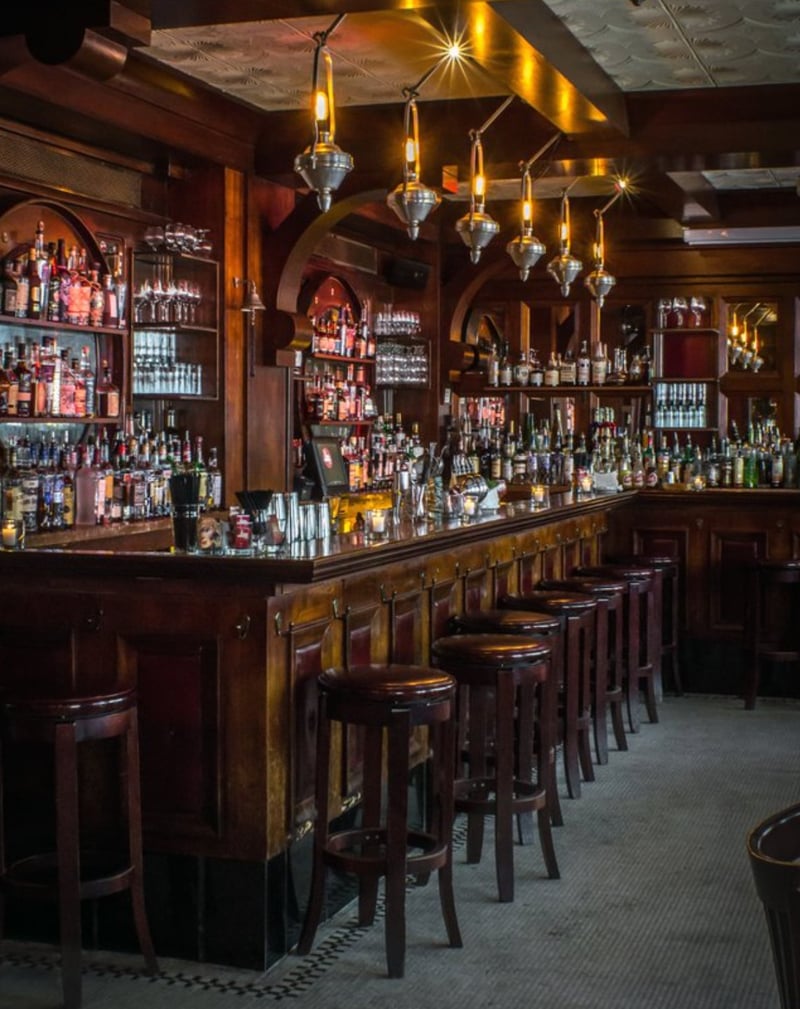 Nestled within the walls of the Edison Hotel, a stone's throw away from Times Square, lies The Rum House – an oasis of warmth and hospitality in the heart of the city. Upon entry, the unique ambiance, reminiscent of a more familiar, nostalgic time, envelops you. Wood paneling and dim, ambient lighting transport you from the bustling city streets to a more tranquil era.
The Rum House makes its namesake proud by offering an innovative selection of rum cocktails among the city's best. The Rum Old Fashioned is a perfected treat, balancing ingredients flawlessly. Their menu, however, is diverse, boasting everything from a sharp Moscow Mule to the smooth Bulleit Rye. Offered daily from 4 to 6, their happy hour provides a vast array of pleasant choices at surprisingly modest prices for this bustling district.
What distinguishes The Rum House is its live jazz performances each evening, a tribute to the city's dynamic musical roots. Performances by Kate Curran & the Rogues' Gallery add a layer of allure to the bar's enchanting atmosphere, making it perfect for a post-parade cocktail or a nightcap post-Broadway.
Impressive service is another key feature of The Rum House. The staff is attentive yet never intrusive, demonstrating the refined hospitality that separates an average bar from an exceptional one. A slight drawback is their limited food options. Despite offerings like warm pretzels with sharp mustard being delicious, more selection would be welcome to accompany their extensive drinks menu.
Address: 228 W 47th St, New York, NY
Nothing Really Matters
Within Manhattan's lively hustle and bustle lies an unexpected gem, Nothing Really Matters, an elegantly hidden speakeasy-style bar. Just a stone's throw from the vibrant energy of Times Square, its location within the one train entrance on 50th and Broadway is somewhat secretive, adding a touch of excitement to an ordinary subway commute. The open door, though, subtly reveals a hint of subway ambiance.
The skilled mixologists take center stage, crafting unique cocktails that are well-balanced and distinctive. The Electric Dreams cocktail is a delicious blend of carefully chosen ingredients, resulting in an unexpected harmony. The espresso martini, crafted with a meticulous eye for detail, gives a smooth, caffeinated delight.
The Clase Azul special, with its avant-garde composition, raises a few eyebrows before pleasantly surprising the palate. However, despite the display of creativity in the cocktail list, the bar needs a memorable wow factor usually expected in such elite establishments. Considering its prime midtown Manhattan location, relatively high prices are expected.
Guests should remember that Nothing Really Matters isn't quite a destination for foodies, with its snack-centric menu. However, the audacious combination of Caviar and Hot Cheetos is an unpredictable and wonderfully executed mix of flavors that steers the show.
Friendly staff interactions and the attention to detail by the talented mixologist Karlee Camme added warmth to the experience. Despite the regular influx of tourists, the team delivers timely service, even on bustling Saturday nights. While Nothing Really Matters might fall short of being the quintessential speakeasy, it skillfully navigates its limitations to offer patrons a charming and almost covert respite from the bustling Times Square.
Address: 1627 Broadway, New York, NY
Margaritaville
The Margaritaville near Times Square's eclectic atmosphere, featuring a giant Statue of Liberty and an indoor surf saddle set against the vibrant backdrop of New York City, is captivating. The multi-storied establishment offers a unique experience on each floor, ensuring customer diversity. It might initially seem overwhelming, but the venue becomes more delightful with time, especially during the energetic, happy hour.
Margaritaville's dining mirrors its atmosphere: delightfully assorted. The omnifarious menu caters to diverse tastes; standout dishes include the trio sampler with spinach artichoke dip, the robust southwest chicken salad, and the unforgettable fish tacos. Not every dish tastes like a tropical breeze - some dishes lean more towards hearty bar food rather than fine dining, but portions and presentations are consistently impressive.
The drinks, as expected from the venue's name, are worth noting. Favorites include the classic '5 o'clock somewhere' and the forward 'spicy mango margarita.' However, individuals seeking budget-friendly drinks might need to realign their expectations.
Given its prime Times Square location, Margaritaville's price point may be slightly higher than typical eateries - this applies to food and beverages. But the unique ambiance, top-tier service, and enthusiastically fun theme justify the venture for many patrons. Add the convenient location, and Margaritaville becomes an attractive destination for tourists and locals. While it might not be perfect, the rewarding experience encourages repeat visits.
Address: 560 7th Ave Fl 2 Town Square, New York, NY
The Stag's Head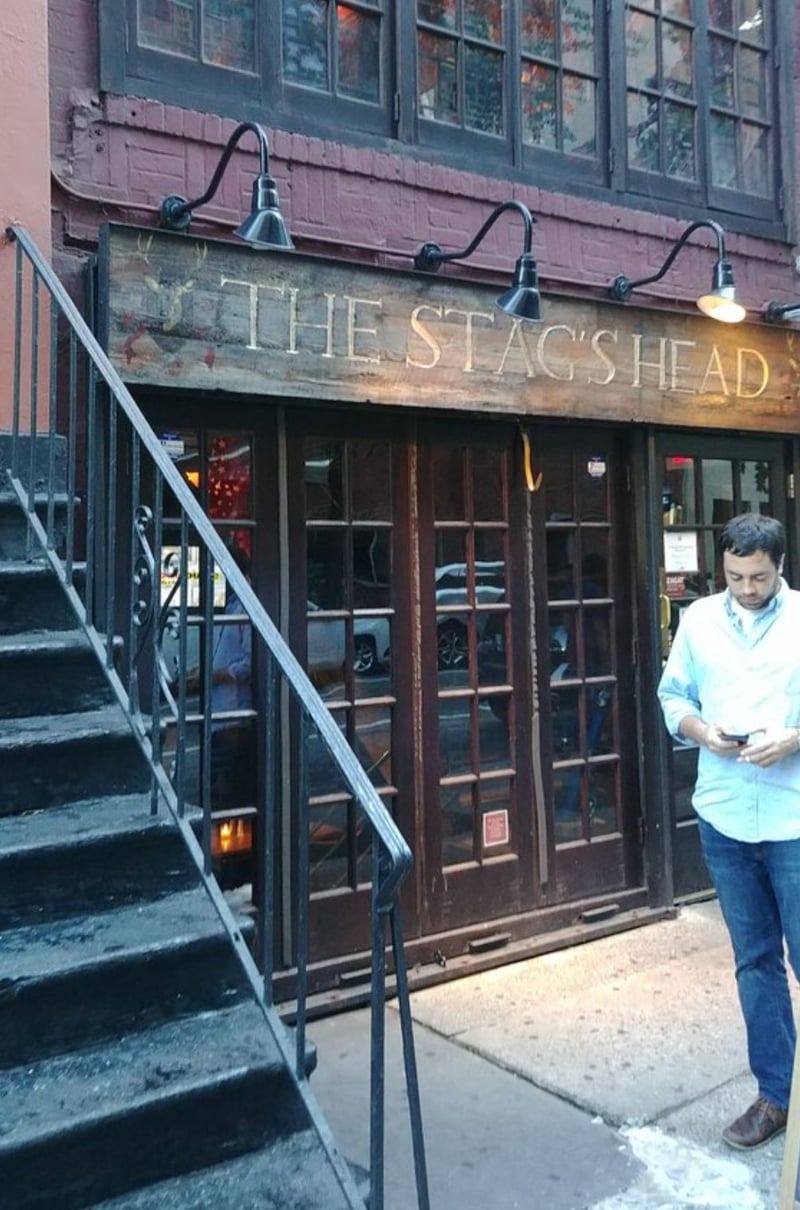 The Stag's Head, a modest basement venue in Times Square, skillfully captivates its clientele with well-regarded Happy Hour specials, exciting sports viewings, and mouth-watering cuisine.
Their brisket sliders, boasting soft buns and thin pickled onions, effortlessly meld into a tangy and succulent masterpiece that doesn't disappoint. Their fiery Buffalo Wings certainly live up to their name for spice but, importantly, retain the flavor. A surprising standout was their Cajun and Truffle fries that turn simple pub food into a gastronomic adventure.
The pub's Happy Hour is notably popular, providing varied premium beers at sensible prices and attracting experts and leisure drinkers. Noteworthy beers included the Alchemist Heady Topper and the Idyll Days Pilsner. The opportunity to enjoy a substantial beer with discounted BBQ meatballs undeniably enhances the appeal of The Stag's Happy Hour.
In short, despite some shortcomings, The Stag's Head provides a diverse and unforgettable experience. Enjoy a mixture of delectable food, remarkable beers, and the exhilarating atmosphere of sports games amidst Times Square's lively scene. Here's to a truly memorable Happy Hour!
Address: 252 E 51st St Ste 1, New York, NY
Mr. Bigg's
Exploring the area surrounding Times Square, I discovered a haven for those seeking a great experience without a hefty price tag in this lively city. Mr. Biggs Bar & Grill emerges as a sanctuary for savvy patrons. I suggest trying out their shots and beers, priced at an unbeatable $4. Margarita lovers will be satisfied with $5 frozen and jalapeno or $6 traditional margaritas. Moreover, their 2 for $5 hot dogs are excellent for budget-conscious customers.
Mr. Biggs encompasses charm and authenticity, radiating a wonderfully inclusive ethos. This welcoming establishment proudly supports diversity and inclusiveness. The music ranges from hits of the early 2000s to catchy tunes by Dua Lipa, offering the perfect balance between nostalgic and contemporary tracks - a sure hit with a millennial audience. It's not unusual to observe a diverse crowd, all at ease, engaged in conversation and laughter, creating a palpable camaraderie.
The fried chicken was flavorful but slightly on the dry side. However, the guacamole was the highlight – wonderfully seasoned and served in generous portions. Pair a vodka sour with Dua Lipa's upbeat rhythms for an extraordinary night out.
Considering all these experiences, Mr. Biggs Bar & Grill is an unpretentious establishment that offers excellent value. It achieves a decent balance between price and quality, complemented by a nostalgic ambiance and a spirit of inclusivity.
Address: 596 10th Ave, New York, NY
Peachy Keen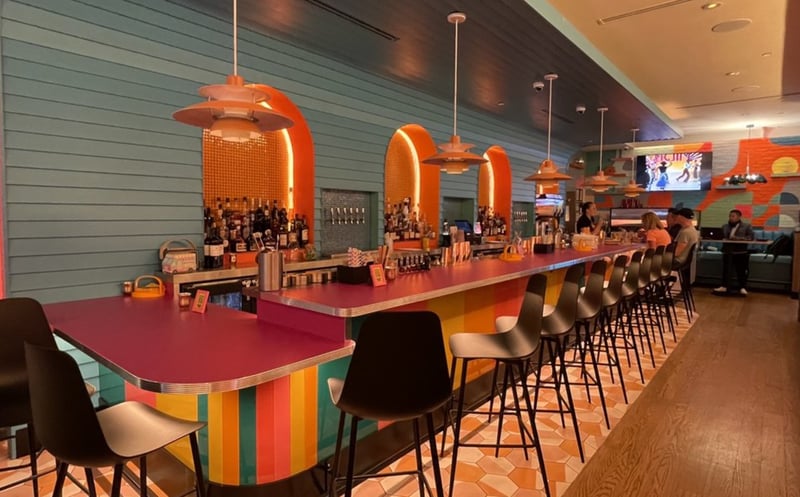 Always searching for innovative cuisine and unique dining experiences within the energetic heart of New York City, my happy hour exploration led me to Peachy Keen. Well situated near Times Square, this restaurant gains immediate attention with its striking 1970s-inspired décor. Upon entrance, the restaurant's nostalgic charm is readily apparent; its lively mixture of colorful oranges, pinks, geometric patterning, and disco balls exudes a warming ambiance even before the food arrives.
I tasted the Peachy Keen salad, highlighted with fried chicken. Their chicken and waffle appetizer - buffalo chicken wing baked into the waffle garnished with an appealing sauce and syrup - demonstrates the restaurant's astonishingly creative culinary approach.
Their distinctive interpretation of happy hour includes the playful Rhinestone Cowgirl cocktail, a refreshing blend of cucumber-mint vodka, lime, and prosecco. The imaginative names of their cocktails, coupled with the innovative addition of alcohol to milkshakes, enlivens their drink menu. Their Frozen Lemonade garnished with Passion Fruit Purée, found during happy hour, leans slightly too much towards the sweeter side. Nevertheless, this minor flaw is easily dismissed in light of the overall experience.
Peachy Keen's glamorous retro aesthetics make it an essential destination. It's a beloved haven for locals and visitors, serving as a fantastic precursor to a Broadway show. This unique hot spot expertly combines charm, nostalgia, and culinary proficiency into an experience that cannot be missed.
Address: 325 W 44th St, New York, NY
Russian Vodka Room
There's nothing like unwinding with a luxurious cocktail after a grueling work week. The Russian Vodka Room, with its extensive selection of expertly crafted drinks, has become a go-to spot. From their Apple Martini, which beautifully balances sweet and sour, to unique house-infused vodkas featuring intriguing flavors like horseradish and pineapple, it's unsurprising that the place lives up to its name. Expect nothing less than variety and excellence in each glass.
Their lively happy hour, most popular after 6 p.m., adds to the charm as Times Square starts to shimmer with lights. At this point, crowds gather, drawn by the fantastic deals on their captivating martinis and flavored vodka shots. The bar is tranquil in the bustling Theater District, where you can unwind without feeling the pinch. The atmosphere is uniquely Russian-themed, making it all the more festive. The live piano music further enriches the experience, imbuing the space with a magical vibe.
The authentic Russian cuisine is also a delight. As a food lover, the Beef Dumplings are a favorite, boasting a well-seasoned taste perfectly complemented by a dollop of sour cream. The Herring dish is also remarkable, paired with potatoes and beets and lightly flavored with fresh dill.
Although the staff are usually friendly and dependable, they can appear stretched thin during peak hours. But don't let this minor inconvenience deter you - the occasional chaos adds to the venue's unique New York character - vibrant, energetic, and at times disorderly, but it's always a memorable experience. So, cheers until we meet at the bar!
Address: 265 W 52nd St, New York, NY
Printer's Alley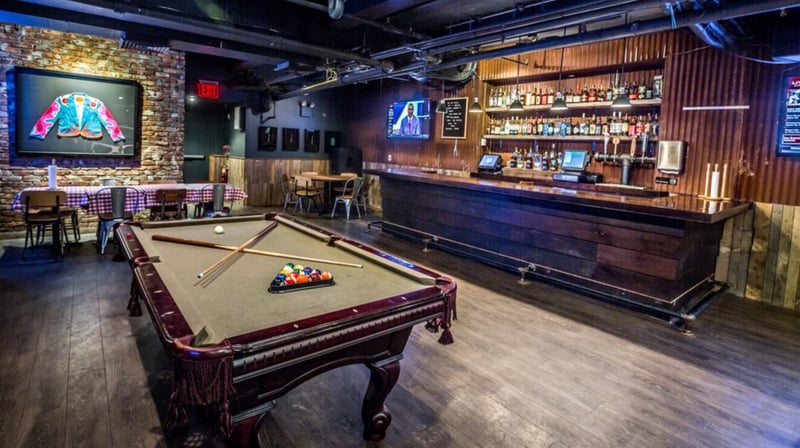 Printers Alley is a prime destination for superb happy hour cocktails. From 4 PM to 7 PM on weekdays, the bar bustles with a lively crowd, enticed by an array of delectable cocktails, from frozen margaritas to the spicy variant. They also offer a good selection of beers, including the classic, budget-friendly Miller High Life. The $15 pitchers, in particular, provide excellent value. But the attraction goes beyond refreshments—the chance to unwind after the workday tension, engaging in genuine, candid conversations with friends and colleagues that elevate the happy hour experience.
Picture game days are filled with an enthusiastic crowd, bustling energy from multiple TVs, and the pulsating vibes of talented DJs. A bonus is a basement complete with a pool table. The venue emits a friendly vibe, whether an informal evening or a post-work gathering, fostering unforgettable experiences.
In summary, Printers Alley charms with its excellent happy hour offers, event hosting capabilities, and welcoming atmosphere.
Address: 215 W 40th St, New York, NY 10018
O'Donoghue's
The atmosphere of O'Donoghues Pub harkens back to a simpler era. This narrow, welcoming neighborhood pub captures your attention with its genuine mahogany bar straight from an old Irish photograph and natural candles, adding warmth to the inviting space. Even though the lighting is low and the music selection could be more Irish, the pub has an easy-going charm that is irresistible.
Outstanding service sets O'Donoghues Pub apart. During multiple visits, the staff consistently demonstrated a professional, attentive, but never intrusive presence. Their natural courtesy added to the pub's endearing atmosphere, ensuring a delightful dining experience.
With its prime location near Times Square, this pub is the perfect refuge- whether you're a tourist needing a respite from sightseeing or a local seeking a break from a chaotic day. Amidst the noisy crowds of tourists and honking taxis, O'Donoghues Pub is a peaceful sanctuary where you can unwind, re-energize, and refuel.
Adding to the authentic Irish pub experience, O'Donoghues Pub offers a superb selection of beers. Guinness and Stella Artois are always favorites, duly recognizing traditional choices over the trend of microbrews. The beer offerings, large portions, and reasonable prices make it the perfect spot for sharing stories over a few pints.
Address: 156 W 44th St, New York, NY
Friki Tiki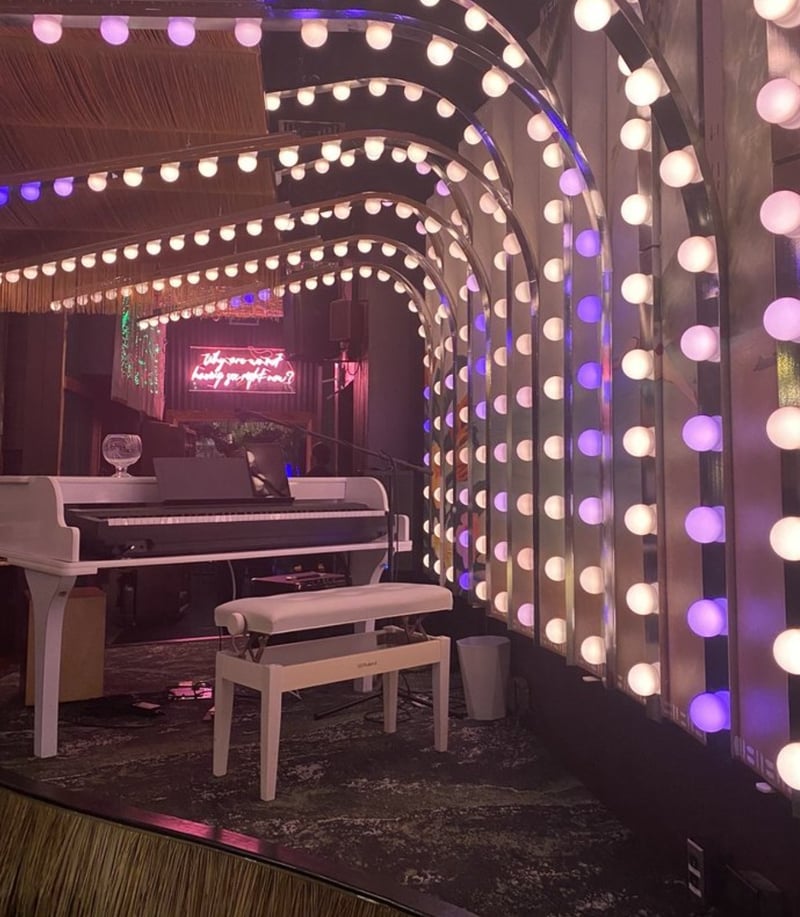 Mere blocks away from Times Square and Hell's Kitchen is the enchanting tiki-themed bar, Friki Tiki. This dynamic, modern, fun-filled bar wraps you in a kaleidoscope of tropical vibes, transporting you to an island paradise in the city's heart. A signature component of Friki Tiki is the melodic rhythm of the piano, setting a lively and festive ambiance.
A recommended delicacy is the Hawaiian Sweet Bun Cuban, a delightful surprise some aptly describe as 'insane.' The bar's eclectic menu features many mouthwatering dishes ranging from spicy vegetarian chili-laden tots to juicy variations of hot dogs. The drink menu is equally impressive, featuring options from the Zombie boozy punch to the refreshing summer-themed Aloha-Rita. The potent Painkiller cocktail is particularly noteworthy, served in a playful goldfish cup - a tribute to the bar's creativity.
The bar's daily happy hour deal is a standout feature – the well-priced, delectable cocktails and potent wines ensure a steady stream of loyal returning customers. The bar's concealed 'speakeasy' undertone is an appealing juxtaposition to its lively Times Square neighborhood, endowing it with a unique allure.
Address: 357 W 44th St, New York, NY
Dos Caminos
Dos Caminos provides a remarkable dining experience. From its diverse Mexican menu to its authentic atmosphere and strategic location, this eating spot unquestionably ticks several boxes.
The Cauliflower Tacos were packed with flavor, showing the restaurant's culinary creativity at its best. Their Mole Enchiladas may lack a dramatic flair, but they were nonetheless satisfying. The refreshing Sandia Salad and customer-adored Salmon Dish fully met their hype.
To summarize, despite occasional lagging service, Dos Caminos warrants a visit. The variety and quality of dishes impress, as does the overall dining experience. You may be torn between many fantastic choices, but it's a delightful dilemma.
Address: 1567 Broadway, New York, NY
The Mean Fiddler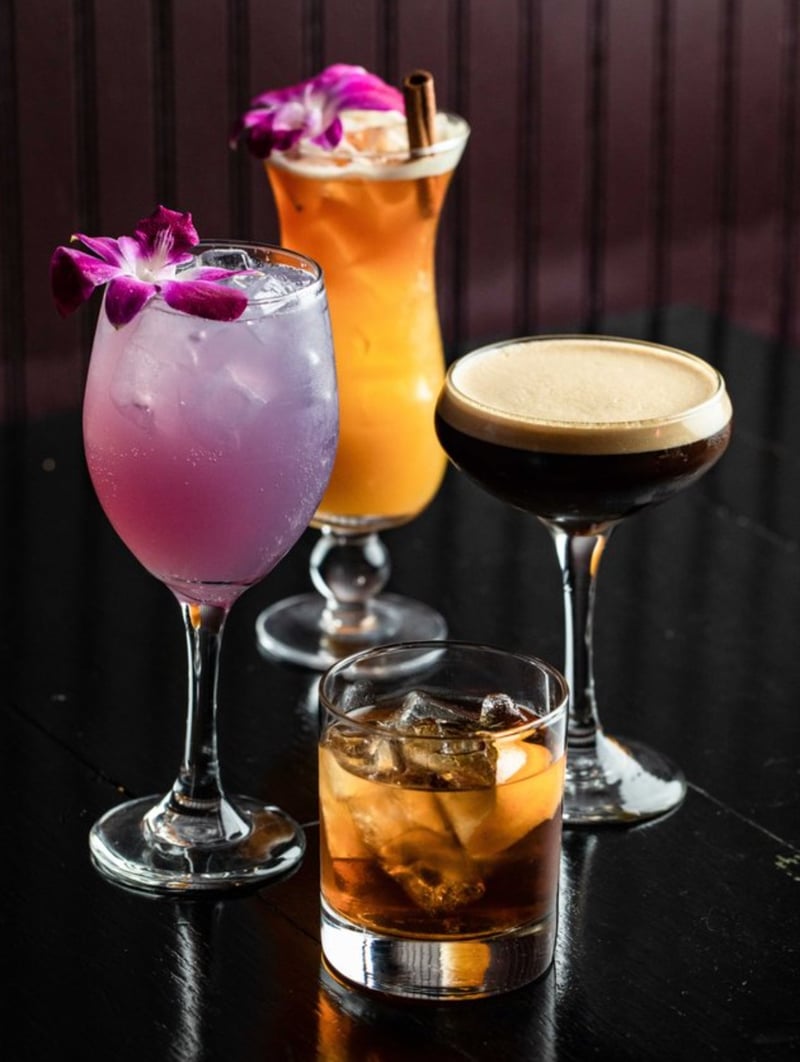 There's something delightful about stumbling upon a local treasure nestled within the bright lights of Times Square - for me, that discovery was the Mean Fiddler. This pub resonates with genuine authenticity, boasting an impressive menu to match.
The cuisine at Mean Fiddler never falls short. The French fries are flawlessly seasoned, hot, and crisp. The honey BBQ chicken sandwich more than meets expectations - it's substantial and flavorful. For brunch enthusiasts, the varied offerings cater to diverse tastes. Adding nachos and guacamole lends a dash of inventiveness to their well-curated menu, resulting in a fusion of sweet and savory dishes that leave one gratified.
At the bar, personal favorites include the mango margarita and Prosecco popsicle - yes, there is a popsicle in the Prosecco. The passionfruit Bellini and green tea shots enhance the drinking experience, allowing customers to experiment and indulge in their beverages.
As for atmosphere, Mean Fiddler encapsulates the spirited energy typical of a bustling pub. In New York, the ambiance is defined by its people, and here, you'll find a lively crowd animated by a great music selection ranging from popular hits to delightful surprises. The occasion hum from the ever-busy Times Square might filter through, but it barely detracts from the welcoming aura of the Mean Fiddler.
Address: 266 W 47th St, New York, NY
Best Times Square Happy Hour (Post Summary)
Castell
Mermaid Oyster Bar
Valerie
The Rum House
Nothing Really Matters
Margaritaville
The Stag's Head
Mr. Bigg's
Peachy Keen
Russian Vodka Room
Printer's Alley
O'Donoghue's
Friki TIki
Dos Caminos
The Mean Fiddler