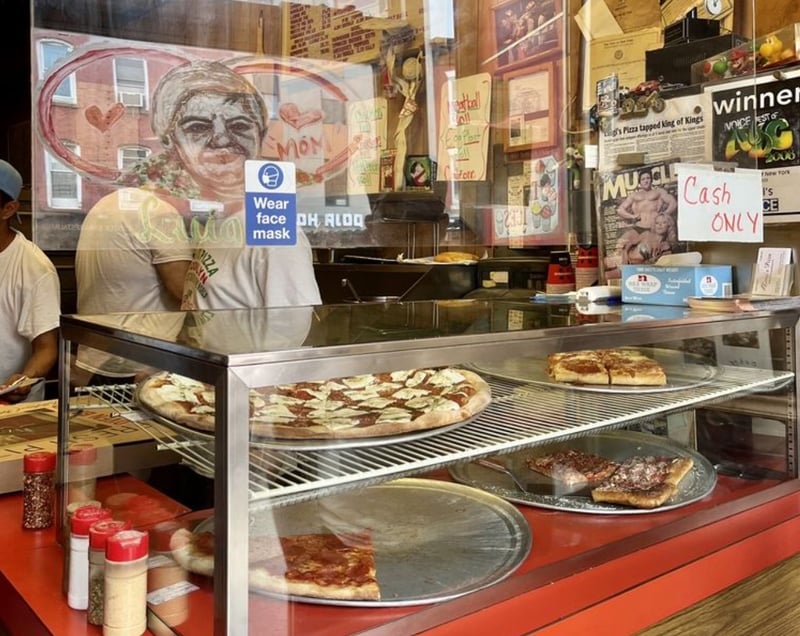 In New York City, pizza is more than just food—it's part of the cultural fabric. Whether you prefer a classic cheese slice or something more daring, the allure of this comfort food is undeniable. And for the crème de la crème, Brooklyn is the name that rolls off every tongue.
Brooklyn is a vibrant epicenter of culture and innovation; traits echoed in its gastronomy as much as in its arts. The borough is a culinary playground, home to some of the world's finest pizza joints.
In this article, we'll tour Brooklyn's pizza landscape, from iconic establishments to bold newcomers. Get ready to experience slices that elevate the genre beyond mere takeout.
Best Pizza in Brooklyn
Barboncino Pizza & Bar
Located in the heart of New York, Barboncino Pizza & Bar is a haven for wood-fired pizza aficionados. The Sopressata Picante, laced with spicy salami and Mike's Hot Honey, offers an explosion of flavors that keep customers coming back. While the Clam Pie and Eggplant & Zucchini pizzas are also worth a try, be warned: the crust can sometimes disappoint.
The garlic bread, nearly as large as the pizza, serves as a must-have appetizer. The burrata is a fine palate cleanser for a lighter option, though the portion could be larger. The Four Cheese with Pepperoni and Meatball pizzas masterfully balance cheese and toppings.
Barboncino's ambiance adds to its allure. Ideal for families or small gatherings, the restaurant's inviting atmosphere shines. The outdoor seating offers a quieter, romantic option, but be prepared for occasional service hiccups, including longer wait times.
Not just a pizzeria, Barboncino shines with its arugula salad and inventive cocktails, like the sweet alcoholic tea "All Day Everyday." Despite minor flaws, Barboncino remains a top-tier choice for pizza in New York, expertly blending rich flavors and a welcoming environment.
Address: 781 Franklin Ave, Brooklyn, NY 11238
Brooklyn's Homeslice Pizzeria
My family's weekend jaunt to Brooklyn's Homeslice Pizzeria exceeded expectations, offering a wide array of pizzas from BBQ Chicken to Jalapeño Pepperoni. The Margherita stood out, its rich sauce and crispy crust winning unanimous approval.
Though small, Homeslice packs charm into every corner. Its outdoor seating created the perfect backdrop for a laid-back family dinner. A couple of flies buzzed in, briefly detracting from the vibe, but the pop music and reality TV kept us entertained.
Customer service was strong; the staff was friendly and attentive. While we didn't meet the owner, their online engagement with customer feedback signaled commitment. Some customers have reported delivery and refund issues, but the owner's transparent online responses suggest a desire to improve.
In summary, Homeslice Pizzeria is worth a visit for its excellent pizzas alone. Its inviting atmosphere, friendly service, and delicious variety left us satisfied and contemplating our next meal—especially the standout Spinach White Pizza. Despite encountering a few minor snags, we left satisfied and satiated.
Address: 567 Vanderbilt Ave, Brooklyn, NY 11238
Paulie Gee's
Paulie Gee's in New York stands out in a city awash with pizza parlors, particularly for its famed Hellboy Pie. The hot honey, pepperoni, fresh mozzarella, and robust tomatoes strike a sublime balance. Though I initially visited for the Hellboy, I returned for the extensive menu, which caters to vegetarians and even offers vegan add-ons like spicy hot oil.
Service might lag a little during busy times, but the affable servers offset the minor flaws. The relaxed ambiance offers a welcome escape from New York's usual frenetic pace, and the rustic interior only adds to the appeal. Located off the beaten path in Greenpoint, Paulie Gee's rewards diners with a stunning Manhattan skyline view.
Don't skip dessert; the hot honey sundae is a hit with my kids, featuring vanilla ice cream and candied pecans. The dessert menu is hard to overlook, with the offerings displayed on a chalkboard near the restroom.
In summary, Paulie Gee's deserves your attention, not just for its top-tier pizzas but also for the overall dining experience. Be ready for a wait, a small price to pay for the culinary joy that awaits.
Address: 60 Greenpoint Ave, Brooklyn, NY 11222
Juliana's
Entering Juliana's Pizza in Brooklyn feels like stepping into a vintage pizza haven. The lively atmosphere reflects its popularity and years of culinary mastery. Known for impeccable pizzas, the Margherita is a standout with its thin, perfectly balanced crust and fresh toppings. While some may find the char a bit strong or the sauce scant, the offerings of drinks and salads like the egg cream and Matt's Mix Salad more than make up for it.
Service shines, especially during busy times, thanks to an attentive staff that efficiently accommodates diners. The restaurant's prime location near Brooklyn landmarks makes it a hotspot for tourists and locals alike.
Even the restrooms, surprisingly, are noteworthy for their cleanliness and practical design, adding to the venue's overall charm. With crowd-pleasers like its Large Number 1 and half white/half Margherita pizzas, Juliana's cements its status as a Brooklyn culinary mainstay. Your first visit will likely inspire many returns.
Address: 19 Old Fulton St, Brooklyn, NY 11201
L'industrie Pizzeria
The standout at L'industrie Pizzeria was the Burrata pizza, a seamless blend of creamy burrata and tangy tomato sauce on a crisp yet tender crust. Beyond classics like Margherita, the menu also tempts with adventurous options. The Fig jam and bacon pizza offers a sweet-savory balance, while the Spicy Salami adds just the right kick. A drizzle of Mike's Hot Honey, available for any pizza, elevates the experience. Though I am a traditional pizza enthusiast, their version of the New Yorker, generously layered with exceptional cheeses and meats, was truly enjoyable.
The restaurant's cozy but vibrant setting doesn't disappoint either. Despite its bustling atmosphere, service remains quick and courteous, enhanced by charming outdoor seating.
Beyond pizza, L'industrie shines with desserts like Pistachio Gelato, ingeniously seasoned with olive oil and sea salt. Their tart, bubbly Lambrusco wine perfectly paired with my pizza. The only downside might be the wait time due to its popularity, but it's well worth it. My next target: their rumored Tartufo pizza with truffle topping. In short, L'industrie Pizzeria is a city gem that masters the art of pizza.
Address: 254 S 2nd St, Brooklyn, NY 11211
Mancini's Wood-Fired Pizza
Mancini's Wood-fired Pizza, located in Brooklyn's heart, hums with an authenticity that I often crave. The pizza menu impresses with an array of delicious options like the classic Margherita or the unique Upside-Down and 'Grandma' pizzas. The Mushroom Truffle and the Prosciutto/Arugula pizzas are must-tries for those seeking a luxurious bite. However, I've found the crust on the Vodka Sauce Pizza to be, at times, disappointing, and the cheese can be inconsistent, but the irresistible charm of their wood-fired pizzas compensates for such miss-steps.
There's more to Mancini's than the pizza. Their chicken parm ala vodka is an unforgettable dish, rich and flavorful. Even their zucchini sticks - surprising as it may seem - have won approval from my children. Don't overlook their humble garlic knots. They pair well with other dishes, like the baked ziti– a favorite of my wife's, cooked to perfection every time.
Taking in Mancini's itself, it mirrors Brooklyn's spirit with a clean, comforting atmosphere adorned with homely decorations. The staff, always amiable, uplifts the dining experience. While we've endured occasional order mix-ups, our warmth for this community gem remains untouched.
Address: 8504 5th Ave, Brooklyn, NY 11209
Roberta's
One bite at Roberta's in Brooklyn is enough to make any pizza lover smile. Their Bee Sting pizza is a triumph, balancing sweet honey and spicy chili on a crisp crust. The White Pizza offers a refreshing contrast, while options like the Famous Original and Lil Stinker expand your pizza horizons.
Roberta's ambiance is as eclectic as it is inviting, with graffiti-adorned walls that evoke the feel of a laid-back '80s club. The relaxed atmosphere extends from the interior to the outdoor seating area.
Service generally hits the mark, combining attentiveness with respect for customer privacy. While there have been occasional slip-ups, they're promptly addressed. The drink menu doesn't disappoint either; try the Caribbean Breeze, a potent yet balanced cocktail that pairs well with the pies.
After sampling The Beastmaster and The Sound & The Fiore, it's clear Roberta's is a must-visit for pizza aficionados. Bursting with flavor and quality ingredients, these pizzas justify their buzz. Roberta's even offers a cookbook for home chefs eager to replicate their magic. In short, this Brooklyn spot is a pinnacle of pizza craftsmanship.
Address: 261 Moore St, Brooklyn, NY 11206
Rome To Brooklyn Pizza
Step into Rome To Brooklyn Pizza, and you're greeted by the intoxicating fresh dough and melting cheese aroma. The 'vodka slice' often steals the spotlight, its cheese under a not-too-rich sauce. The pepperoni square satisfies, though its sauce could be bolder. If you're craving heat, the 'Hellraiser Square' delivers with spicy peppers and hot honey.
The menu's real stars are the upside-down Sicilian pie and the health-conscious grandma pizza. The former is a hearty, sauce-rich meal, while the latter cleverly substitutes a cauliflower crust without sacrificing flavor.
Service is prompt and tailored for takeaway or pickup, though limited dine-in seating is available. The no-frills setting doesn't detract from the experience of devouring a slice.
Beyond pizza, their robust meatballs and popular garlic knots are worth a try. For flavor adventurers, the half Buffalo and half Truffle White pizza is a tangy treat but could use more truffle punch. The thin-crust Margherita shines with its fresh tomato sauce, yet the grandma pie truly impresses. Topped with pepperoni, parmesan, and hot honey, it confirms Rome To Brooklyn Pizza as a must-visit, regardless of its minimalist décor and limited seating.
Address: 755 Grand St, Brooklyn, NY 11211
Luigi's Pizza
In my search for authentic pizza and charm, Luigi's Pizzeria in New York City tops the list. This vibrant spot blends the energy of the city with the warmth of a neighborhood haunt. The only catch? Expect to wait, but it's worth it.
Luigi's pizza showcases fresh ingredients, balanced flavors, and a crust that's a culinary triumph. Their sauce tastes like sun-ripened tomatoes, and the mozzarella is crisp yet chewy. One bite transports you to Italy, the birthplace of pizza.
Among their offerings, the Grandma pie stands out for its vibrant sauce and crispy crust. The Sicilian is tasty but could use a flavor boost. Their Pepperoni is a classic, salty New York slice.
Though cash-only, Luigi's mitigates inconvenience with an on-site ATM. A minor hassle for pizza this good.
What really distinguishes Luigi's is its passionate staff. Owner Gio and his family infuse the place with soul, evident in their dedication to each pizza. Coupled with efficient service, Luigi's embodies the timeless New York spirit—welcoming, flavorful, and downright exceptional. It outshines even renowned competitors.
Address: 686 5th Ave, Brooklyn, NY 11215
Di Fara Pizza
Di Fara Pizza is located in Midwood, Brooklyn, and delivers a worthwhile culinary experience. From the classic cheese pie to the adventurous meatball parmesan, each pizza showcases meticulous ingredient balance. My family loves their traditional New York-style round pizza with its crispy yet foldable crust. The doughy Sicilian-style squares are a worthy option for those who prefer a heartier bite.
The venue's vintage photos and earthy tiles provide a refreshing contrast to today's trendy eateries. While service during peak hours tests your patience, it's part of the place's artisanal charm. In both service and food, Di Fara refuses to compromise on authenticity.
The pizzeria enjoys high esteem from both regulars and critics and though a few negative reviews exist, they don't overshadow the establishment's enduring allure. Each pizza tells a unique story. My kids adore the pepperoni slice, while my wife and I favor a classic pie that harmoniously blends sausage, mushrooms, peppers, and onions.
Address: 1424 Ave J, Brooklyn, NY 11230
Joe's Pizza
Nothing says New York like a slice from Joe's Pizza. Whether you choose classic mozzarella and pepperoni or a daring vegetable combo, each bite captures the city's legendary pizza essence. The pie is all about thin crust, wide slices, and zero fuss—exactly how my kids like it, distracting them from their usual cookie disputes.
Service at Joe's is both quick and precise, a New York minute in culinary form. Whether you dine in, stand up, or grab a slice to go, attentive service is a given.
The atmosphere further elevates your experience. As you step in, you're greeted by the city's characteristic hustle and iconic photos, making the visit feel like a tribute to NYC pizza culture. I have a soft spot for their Williamsburg location, a staple in our family's Brooklyn food jaunts. We usually opt for the standard cheese but sometimes risk the mushroom & spinach slice, which could use slightly less oven time.
Joe's Pizza isn't just a meal; it's a slice of New York's vibrant, unpretentious dining scene. Joe's epitomizes NYC pizza perfection, from its top-notch pizza to its unassuming locales. Grab a slice, fold it, and savor the ultimate New York moment.
Address: 216 Bedford Ave, Brooklyn, NY 11249
Tony's Pizzeria & Restaurant
At Tony's Pizzeria & Restaurant, mediocre pizza is off the menu. The pizzeria sets a high bar, offering everything from gluten-free to lavishly sauced options. Specialties like penne pasta and breakfast-themed pizzas are as inventive as they sound.
The staff's efficiency and genuine hospitality add to Tony's appeal. Whether takeout or dine-in, their service shines, setting them apart from competitors. The ambiance captures the quintessential New York pizzeria vibe, complete with ample, clean seating that offers a respite for parents.
But it's not just about pizza. Tony's excels in other Italian staples, too. Their garlic bread and lasagna receive well-deserved praise, while desserts like cheesecake and gelato provide a sweet ending. Their salads also make a solid prelude to the main event.
With generous portions at reasonable prices, Tony's won't strain your wallet. Despite some taste bud-teasing fusion options, the restaurant gets it mostly right, including vegan offerings. Tony's captures the Italian spirit of savoring each bite, reaffirming New York's love for great pizza and making any visit a rewarding experience.
Address: 443 Knickerbocker Ave, Brooklyn, NY 11237
Cuts & Slices
Cuts & Slices, a buzzworthy pizzeria in New York, thrives on culinary daring. Options like sweet chili oxtail and shrimp & lobster pizza defy tradition but delight the palate. The crust is fresh and crunchy, serving as an ideal canvas for the robust toppings.
Expect a wait—this place draws crowds. However, the extended waiting time lets you observe the staff's efficiency and hospitality. Both the team and the owner engage with customers, making the wait more tolerable.
The pricing leans toward premium, especially for specialty slices. Yet, given the inventive toppings like shrimp garlic parmesan, the cost seems justified. The venue itself is compact and better suited for takeaway, but nearby parks offer a convenient dining alternative.
In summary, despite the wait and higher prices, Cuts & Slices impresses with its culinary innovation and stellar service, making any visit well worth the time and expense.
Address: 93 Howard Ave, Brooklyn, NY 11233
Joe & Sal's Pizza
Joe & Sal's Pizza in Crown Heights, Brooklyn, distinguishes itself by committing to simple, quality pizza. Their thin-crust offerings hit the sweet spot between crunch and chew across the board—whether it's a Sicilian, Margherita, or a plain cheese slice. An unexpected treat? Their Grandma slice sprinkled with sesame seeds and the innovative burrata square with pesto.
Service generally adds to the restaurant's appeal; the staff exudes friendliness, reinforcing its role as a community hub. However, delivery can be hit-or-miss—clearly an area for potential improvement.
The ambiance captures the quintessential Crown Heights vibe—casual, lively, and filled with the aroma of fresh pizza. As for pricing, Joe & Sal's is slightly more expensive compared to local competitors like Paulie Gees and Robertas. Yet, unique offerings like the Arugula with Cherry Tomatoes slice justify the cost.
In summary, whether you're a local or just passing through Brooklyn, a visit to Joe & Sal's is time well spent.
Address: 842 Franklin Ave, Brooklyn, NY 11225
Grimaldi's Pizzeria
Grimaldi's Pizzeria, located under the Brooklyn Bridge, is a New York institution that consistently impresses locals and tourists. Their coal-fired Don pizza, loaded with sausage, meatballs, and pepperoni, is irresistible. Each slice features high-quality ingredients atop a thin, crispy crust—a testament to Grimaldi's culinary skill.
The ambiance transports you to old-world New York, complete with checkered tablecloths and Italian melodies. Each floor adds its own unique character to the dining experience. While service generally runs smoothly, it can get chaotic during peak hours, leading to some waiting and occasional lapses in attention. But these hiccups shouldn't overshadow the quality of the food.
Beyond pizza, Grimaldi's excels in other areas. Their antipasto and lemon arugula salad are worthy contenders for table space.
Expect some wait time, especially during busy hours. But any annoyance evaporates once you're seated, and the aroma of fresh pizza fills the air. Pair that with a Brooklyn Lager, and you'll quickly feel all is right with the world.
Address: 1 Front St, Brooklyn, NY 11201
Lucali
Lucalis pizzas are a symphony of thin, crispy crusts, dynamic tomato sauce, and generous toppings that never fail to delight. The calzones are no less impressive, bursting with gourmet cheese, pepperoni, garlic, and artichoke.
While Lucali may not be my top NYC pizza spot, its consistent quality keeps me returning. Note that waits can be lengthy, sometimes stretching over two hours. It's a test of endurance, offset by the exceptional quality of their food.
Lucali offers more than just good food: its rustic setting lends an inviting ambiance, and the staff strikes a commendable balance between professionalism and warmth. Watching pizza dough expertly prepared in this charming setting further enhances the visit.
Lucali's pricing reflects the high quality of their ingredients. Their cash-only policy adds nostalgia, and the Bring Your Own Beverage policy appeals to wine and beer lovers. A plethora of toppings, including basil, mushrooms, and garlic, add to their mouthwatering pizzas and calzones.
Address: 575 Henry St, Brooklyn, NY 11231
Speedy Romeo
Speedy Romeo serves up specialty pizzas that are unique. Highlights include the Kind Brother Pizza, with its charred crust and rich blend of egg and béchamel, and the pepperoni-garnished White Album. The Margherita remains a solid choice for traditionalists, while the St. Louie's pickled jalapenos and soppressata make it a flavor-packed option. Though not to everyone's taste, these culinary risks are well worth taking.
Be prepared to spend a bit; pizzas range from $21 to $25. While the flavor burst justifies the cost, others might debate the value given the portion size.
The atmosphere adds to the experience. Its industrial chic, featuring exposed brick and metal fixtures, offers a warm backdrop for dining. You can eat indoors, at the bar, or in heated outdoor spaces. Service was generally friendly in our experience, although there's room for improvement concerning order accuracy.
Beyond pizzas, don't miss dishes like the roasted cauliflower with hazelnut romesco and chili oil or the spicy yet succulent Chicken Wings Diablo. Though some argue the portions don't match the price, the culinary adventure makes it worth a visit.
Address: 376 Classon Ave, Brooklyn, NY 11238
Krispy Pizza
Krispy Pizza's magic lies in the complex flavors of its sauces—marinara, pesto, and vodka. The 'Krispy Trio' slice, melding all three, is a gastronomic tour de force. Another standout, the 'Pesto Roni,' balances Mike's Hot Honey and pepperoni, hitting the sweet-savory jackpot.
But Krispy goes beyond flavor innovation; it challenges traditional pizza geometry. Their 'Square' pizza has turned skeptics like me, who once held round pies as sacrosanct. The Sicilian pie, awash with multiple sauces and cheese, pairs a dense filling with a crispy crust.
Their garlic knots also deserve applause. Crispy on the outside and soft inside, they're a flavorful side dish worth the garlic-scented fingers.
Adding to Krispy's allure, the staff exudes professionalism and warmth, elevating their service beyond mere transactional interaction. This hospitable touch rounds off an already exceptional dining experience.
Address: 7112 13th Ave, Brooklyn, NY 11228
L & B Spumoni Gardens
L&B Spumoni Gardens is famed for its exceptional Sicilian pizza. Its crust is as airy as fresh bread, and its sauce expertly blends sweet and tart notes. While their signature Spumoni ice cream doesn't match the pizza, it offers a creamy indulgence. The pasta dishes, however, vary; the oyster pasta shines, but the chicken and basil option can lack zest.
The venue feels like a cozy family gathering, with a choice between indoor intimacy and lively outdoor seating. I recommend the latter, where Brooklyn's ambient noise enhances your meal. Be prepared: the place buzzes with fellow diners.
Service quality fluctuates, akin to Brooklyn's weather. On good days, the staff ensures prompt service; other times, slow service and uneven food preparation can occur.
The cost aligns well with the generous portions. You'll leave satiated without a financial hangover. If you're adventurous, try their unique 'reverse Sicilian' pizzas.
A word of caution: parking can be tricky during peak hours, given the limited lot space. Street parking is usually an option, but it can get congested. If you manage to dodge the crowds, L&B Spumoni Gardens provides a worthwhile culinary excursion, especially for their celebrated Sicilian pizza.
Address: 2725 86th St, Brooklyn, NY 11223
Best Pizza Options in Brooklyn (Post Summary)
Barboncino Pizza & Bar
Brooklyn's Homeslice Pizzeria
Paulie Gee's
Juliana's
L'industrie Pizzeria
Mancini's Wood-Fired Pizza
Roberta's
Rome To Brooklyn Pizza
Luigi's Pizza
Di Fara Pizza
Joe's Pizza
Tony's Pizzeria & Restaurant
Cuts & Slices
Joe & Sal's Pizza
Grimaldi's Pizzeria
Lucali
Speedy Romeo
Krispy Pizza
L & B Spumoni Gardens