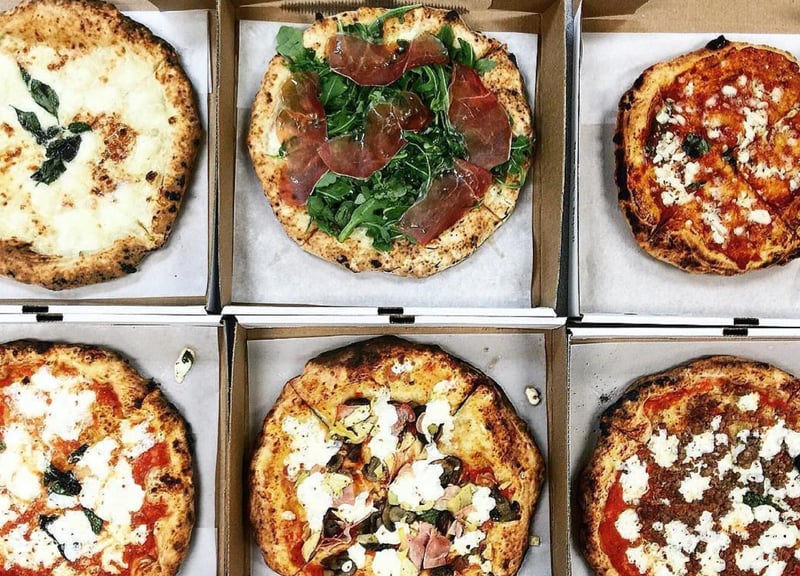 In Manhattan's heart, Hell's Kitchen, a robust neighborhood once infamous, basks in its trendy reinvention. Known for countless impressive pizzerias, the community showcases one of New York's best pizza selections, offering everything from traditional Italian types to gourmet varieties.
Are you ready to explore Hell's Kitchen's pizza spots with our go-to guide? Whether you're a local searching for a new favorite pizza joint or a tourist craving an authentic NYC pizza experience, this write-up points out the district's top pizzerias. Feeling peckish? Let's get started!
Best Pizza in Hell's Kitchen
Don Antonio
It's hard to visit Don Antonio without trying the well-praised Montanara Classica. This pizza showcases a unique elegance in flavor, pairing lightly fried dough with a superb blend of smoked buffalo mozzarella, basil, and tomato sauce. They also offer a satisfying gluten-free option, a favorite among guests with specific dietary needs.
Although Neapolitan and New York-style pizzas have appeal, Don Antonio stands out with dishes like the generously filled 'Night and Day Calzone' and the Prosciutto and Mushroom pizza. If you've got a sweet tooth, their Nutella dessert pizza is a delicious treat.
Don Antonio extends beyond pizzas and calzones with an interesting array of appetizers, including potato croquettes, frittatine, empanadas, and arancini. Complement the rich main dishes with distinct salads like beet salad and Asian Pear salad.
Address: 309 W 50th St, New York, NY 10019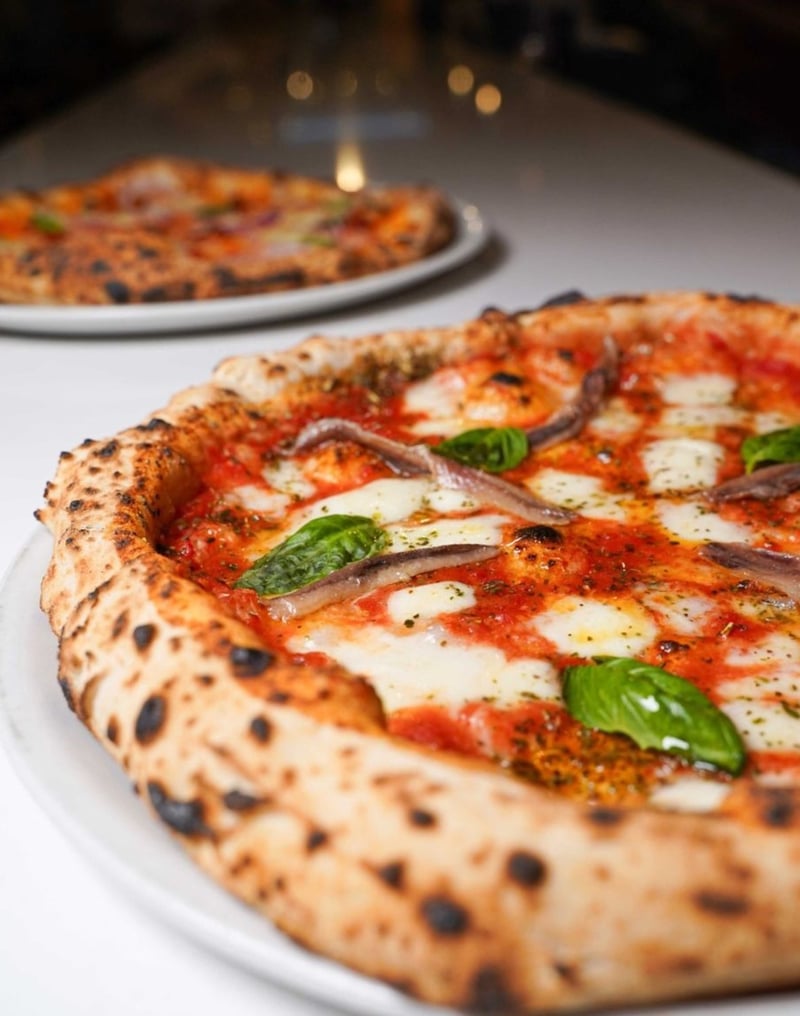 Little Italy Pizza
Little Italy Pizza is well-known for its authentic NYC pizza. The freshness of its ingredients, thin, crunchy crusts, and diverse menu make it exceptional.
Their offerings range from a warm Cheese-by-the-Slice - a blend of dough, tangy tomato sauce, and melted cheese - to unique options, such as Chicken Barbeque and Sicilian Spicy Pepperoni. Notably, their Bacon and Pepperoni Pizza remains crisp and non-greasy.
Little Italy Pizza boasts attentive service. Staff easily handle various pizza types and accommodate special requests for personalized combos. Despite using a less expensive cheese, it pairs well with the subtly spiced tomato sauce for a flavorful experience.
Located in Hell's Kitchen, it's an easy spot for a post-Broadway bite or a quick lunch amidst city visits. Prompt service and a swift pizza oven ensure a quick turnaround. The energetic ambiance is heightened by Italian-themed decor.
Seating is limited, but some chairs are tucked at the back for leisurely diners. They also offer gluten-free pizza and vegetarian options, catering to health-conscious patrons. Little Italy Pizza is a must-visit for pizza lovers and city explorers.
Address: 671 8th Ave, New York, NY 10036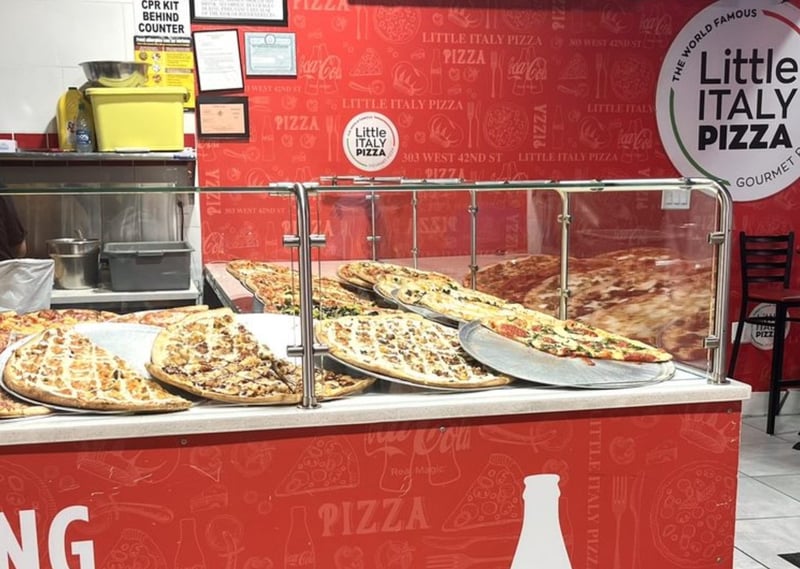 Pop's Pizzas
While wandering around Hell's Kitchen, my family and I stumbled upon Pop's Pizzas. Tucked between landmarks like Columbus Circle and the Beacon Hotel, this charming pizza joint offers a quintessential New York experience with outdoor seating and counter service. Despite its small size, the place radiates an atmosphere of authenticity and coziness.
Though compact, Pop's Pizzas makes up exceptional customer service. The cheerful and efficient staff left a strong impression, adding a personal touch to our meal with their enthusiastic menu recommendations.
The pizzas were good in quality, taste, and value. The Margherita boasted a crispy crust, garlic-infused tomato sauce, and fresh basil - an irresistible combination despite extra salt. Their Pepperoni and spicy Pepperoni Jalapeño pizzas were also excellent, fully embodying the spirit of New York pizza.
Address: 301 West 57th St, New York, NY 10019
BarDough
My family and I recently dined at Bar Dough, located conveniently on Restaurant Row near Times Square. We enjoyed the bustling, communal dining vibe. However, I would suggest that those seeking a peaceful, secluded meal consider elsewhere.
The thin-crust pizzas at Bar Dough, specifically the White Truffle and Vodka selections, sparked delightful table talk. The novel crispiness of the crust elevated the flavor profiles. The Supreme Pizza had uneven toppings, but the overall taste overshadowed this shortcoming. The Margherita pizza, while commendable, lacked the signature basil fragrance.
We were surprised by the non-pizza dishes. The Prosciutto and Burrata left us yearning for extra bread, but they were still excellent. The Caci e Pepe had an ideal level of al dente, a point we truly appreciated. Unfortunately, the Garlic Knots were inconsistent in texture but decent when paired with the pizzas.
The service was adequate. We benefited from the responsive staff. However, other customers struggled with sluggish service and a few mistakes with orders and beverage refills.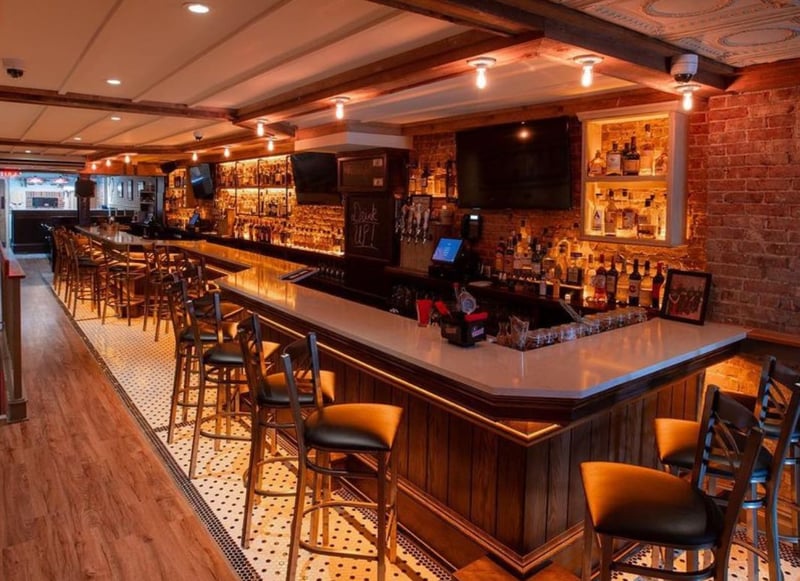 B Side Pizza & Wine Bar
B Side Pizza & Wine Bar boasts thin, crispy crusts and unique, flavor-packed toppings. Noteworthy choices include the Killer Bee pizza, with its spicy honey and soppressata, as well as the garlic-packed Shrimp Scampi. Their inventive use of ingredients like clams, shrimp, and pesto separates them from the competition despite the occasional chewiness of the clam pizza.
B Side offers more than just pizzas. Their varied menu caters to diverse tastes—I recommend their sizable, refreshing Caesar salad and the uniquely flavored Shaved Brussels Sprouts salad. While their pasta might be hit or miss, their juicy braised beef & pork meatballs compensate for it. They also frequently innovate, introducing new, impressive items beyond just pizzas.
Service at B Side is consistently good. The polite, attentive staff excels even in a lively environment. The inviting, vibrant ambiance strikes the perfect balance between cozy and cool.
The restaurant's strategic location in the heart of Midtown, just a short walk from the Theatre District, adds to its charm. It's an ideal post-Broadway show dining spot, attracting locals and tourists.
Address: 370 W 51st St, New York, NY 10019
Corner Slice
My first taste of the pizza at Corner Slice at Gotham West Market exceeded expectations. Their square slices, reminiscent of Sicilian style but lighter, differ from your typical pizza. The Margherita and Vodka Sauce Pizza were exquisitely balanced, but the crust stood out: thick like focaccia, it combined a crisp exterior with a soft, fluffy inside.
Repeated visits confirmed the initial impressions. The quality was consistent, whether the sauce-laden Upside Down Pizza or the subtly spicy Buffalo Chicken Pizza. The Meatball Parm Hero Sandwich, filled with chunky, chewy meatballs, tomato sauce, and fresh mozzarella, is a strong contender. The Half Pie option, with top-notch ingredients and fantastic crust, is perfect for those not desiring a whole pizza.
Despite occasional crowds, service remains swift, reflecting the dedication of the diligent team behind the counter.
While the price of $5-6 per slice may deter some, the superior quality justifies the cost. Deals, like a two-slice and drink combo, enhance the value. With its somewhat salty taste, the Meat Lovers Pie was a slight letdown, but the successes vastly outnumber the misses.
Address: 600 11th Ave, New York, NY 10036
Vito's Slices and Ices
Vito's Slices and Ices creates an authentic New York pizzeria atmosphere as comfortable as your favorite pair of jeans. The friendly, accommodating staff makes you feel like a local, even customizing pizza orders to meet personal preferences.
The quality of their pizzas is immediately noticeable as they serve authentic New York-style variants featuring a thin, crispy crust with a balanced greasiness. The Margherita pizza impresses with its fresh ingredients, while their Sicilian Pepperoni, with its deep-dish style and marinara on top, takes a cue from Detroit. Their Grandma slice, a garlic powerhouse, adds to their eclectic offerings.
Vito's Garlic Knots, heavy on garlic flavor and doused in garlic oil, demand attention. When teamed with warm marinara sauce, they become a comfort food necessity, drawing patrons back repeatedly.
The homemade lemonade is incredibly refreshing, and the Italian ice, particularly the raspberry and lemonade flavors, hits just the right note of sweetness. The Belgian dark chocolate mousse is a rewarding choice for dessert seekers.
Address: 464 9th Ave, New York, NY 10018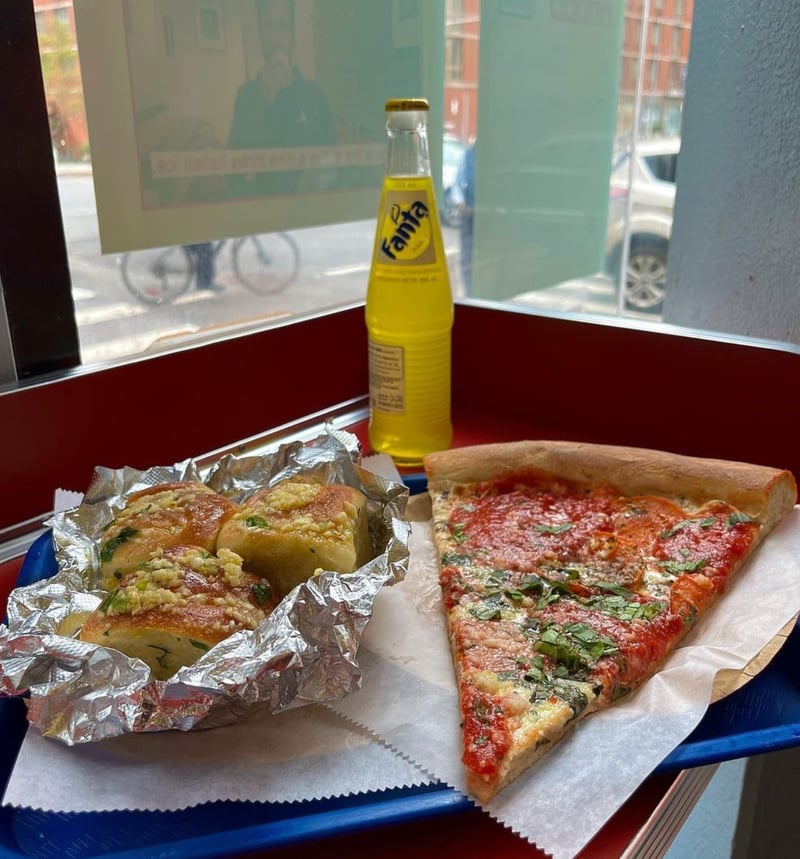 NY Pizza Suprema
Near Madison Square Garden, NY Pizza Suprema stands out among New York's pizza landscape. This simple, clean restaurant embodies the city's dynamic spirit– always energetic, occasionally chaotic, but consistently hospitable.
Whether choosing Margherita or Pepperoni, their faithful customers' devotion is understandable. Each authentic slice features a crisp, thin crust topped generously with flavorful sauce and toppings. Try their Vegan Pizza, made with the same care as their regular offerings, or the Hot Honey and Mushroom Pizza, combining sweet and earthy elements to significant effect.
However, some varieties, like 'The Suprema,' can occasionally get slightly soggy from excessive toppings. While this happens rarely, some regard it as part of this distinct New York pizza experience.
Address: 413 8th Ave, New York, NY 10001
Patzeria Perfect Pizza
I first visited Patzeria Perfect Pizza on a vibrant Saturday after a matinee at the Hamilton Theater. Upon entering this modest gem in New York City, we were welcomed by the aroma of fresh dough and melting cheese. Positioned conveniently in Hell's Kitchen, near Times Square, Patzeria provides a cozy retreat for theatergoers and tourists.
I found the sight of sizable slices behind a clean glass counter mouthwatering. Patzeria offers various pizzas, from classic thin-crust pepperoni to inventive options like broccoli or lasagna pizza. Our kids loved the entire experience, and the restaurant's kid-friendly offerings were a hit.
We sampled several dishes that afternoon. The Margherita pizza stood out, boasting a pleasing crust and a harmonious blend of garlic, basil, and tomatoes. Also impressive was the lasagna pizza, which creatively layered the traditional pasta dish onto a crispy crust.
Address: 231 W 46th St, New York, NY 10036
M & Pizza
M & Pizza's diverse menu, including options like the Spicy Honey Vodka and BBQ Chicken pizzas, consistently offers a symphony of flavors. They also introduce more creative choices like the Sicilian Extra Roni, a delicious fusion of taste and texture.
The firmament of their pizzas - the crust - merits discussion. Its New York-style character, offering an optimum balance of crispy and chewy textures, captivates me. Some may find it slightly doughy or stale, but my preference leans towards their balance.
M & Pizza's customer service generally contributes positively to the dining experience. The staff are mostly friendly and considerate.
The extensive menu at M & Pizza features highlights like the Buffalo Chicken and Pepperoni pizzas, excellently balancing crunch and taste. Other offerings like garlic knots, buffalo wings, and even the controversial Margherita pizza have received high reviews. We sampled their Penne alla Vodka and Lemon Spaghetti, courtesy of La Vela Pasta. These garnered mild applause from the family. Conversely, their adventurous Cauliflower Pizza, composed of ricotta, Alfredo sauce, and more, ultimately won our approval.
Address: 625 9th Ave, New York, NY 10036
Capizzi
With its rustic aesthetics and vintage décor, Capizzi evokes an inviting throwback vibe. Situated in Hell's Kitchen, its intimate ambiance is perfect for reunions or tranquil date nights. What captures your attention is the pizza preparation display by a wood-fired oven.
Capizzi's menu is notable, featuring a spectrum of pizzas. The Margherita and Prosciutto Funghi pizzas were standout dishes, setting the standard for gourmet pizza. The Hot Italian Sausage/Caramelized Fennel Pizza was delicious but lacked outstanding features. The Loaded Pizza was delicious, but its flimsy toppings tended to fall off. My dining partners echoed this sentiment, a minor letdown given Capizzi's general quality.
Capizzi shines in terms of service. The diligent and amicable staff contributes to the dining experience's overall appeal. Considering the excellent food and service, the slight uptick in price feels justified.
Address: 547 9th Ave, New York, NY 10018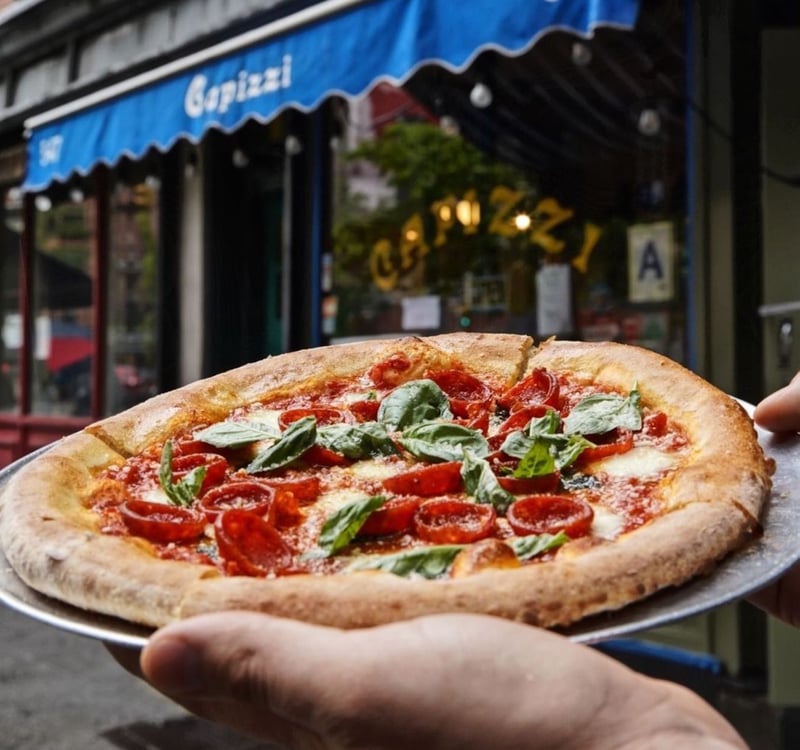 Tavola
Stepping into Tavola, you're transported directly to Sicily, thanks to its unspoiled 1937-inspired atmosphere and authentic décor. Picture an Italian painting tucked away in the countryside, add a sprinkle of dim lighting for ambiance, and you're there. The restaurant's authenticity can't help but draw attention, even from unsuspecting passersby.
Tavola's appeal extends beyond the atmosphere into its mouthwatering menu. The Margherita pizza stands out, boasting a tantalizingly sour, thin-crust dough enhanced by wood fire's smoky flavor, making it an ideal shared plate. The Sicilian menu is equally enticing, featuring gourmet dishes like Spaghetti Ai Fruti Di Mare, Eggplant Parmigiano, and the highly-praised Gnocchi, which you can personalize with a sauce of your choosing: pesto, pomodoro, or cheese.
Despite a few dishes, such as the slightly dry cacio e pepe or oversized arancini not reaching the same height as others, magnificent offerings like the Caesar Salad and the chilled Peroni beer paired with rosemary and garlic-infused focaccia makeup. The slightly higher pricing seems fair considering the high-quality ingredients and authentic cuisine.
Address: 488 9th Ave, New York, NY 10018
Emmy Squared Pizza - Hell's Kitchen
Emmy Squared, a distinctive pizzeria in Hell's Kitchen, combines Midwest charm with a Manhattan vibe. Its inviting atmosphere appeals to theatre-goers and locals. With a relaxed yet refined setting, it's a perfect spot for engaging chats and tasty meals.
The signature dish of Emmy Squared is their Detroit-style pizza, which makes it stand out. Unlike traditional thin crusts, their square, thick crust has the cheese baked into it, resulting in a slightly charred crunch. Though it's rich and greasy, it's far from sloppy.
Emmy Squared goes beyond just serving one type of pizza. They offer a variety of unusual flavors. Some top picks include "The Colony," a peppery and sweet blend of pepperoni, jalapenos, and honey, and the vegetarian-friendly "Big Hawaiian" and "Angel and MVP." However, some patrons may find the portions small and the prices high.
Emmy Squared also does more than pizzas. Their menu includes a simple yet flavorful Caesar salad, the spicy and crunchy Nashville Hot Chicken Sandwich, and the crispy Chicken Parm served with irresistible waffle fries.
Customer service at Emmy Squared varies between commendable and mediocre, leading to inconsistent experiences. Despite this, the overall culinary escapade at Emmy Squared is worth it for any pizza lover seeking a unique, enjoyable dining encounter. After all, that's what good food is all about.
Address: 311 West 48th St, New York, NY 10019
Sacco Pizza
Sacco's Pizzeria in Hells Kitchen offers a nostalgic New York experience with its welcoming walk-up window and genuine atmosphere. While the pizzeria's ambiance could use some attention, the unpretentious charm of this New York slice mecca remains intact.
Sacco's excels with its standout pizzas. The $3 Cheese Slice showcasing a crispy crust laden with ample cheese and a tasteful mix of tangy sauce defines its essential appeal, making for a satisfying lunch.
A family-friendly menu offers delectable options such as the thick, garlic-infused Grandma's Pizza and the Kid-approved Mushroom Slice, which features a perfect crust and easily foldable slice. My children fondly appreciated these options and relished the flavorful combinations and manageable portions.
Address: 819 9th Ave, New York, NY 10019
The Marshal
I recently tried Marshal's Margherita pizza, a standout among their plentiful offerings, and it was remarkably delicious. The crust offers an ideal texture - crisp but sturdy, enhancing the fresh toppings. Their white pizza, topped with savory sausage and mushrooms, also left its mark. However, their three-meat pizza fell short of expectations.
I ventured beyond their pizzas to explore the full menu. The roasted Brussels sprout salad was both tasty and generously portioned. Their farm-to-table ethos shines in this fresh dish. The fusion of burrata appetizers and breadsticks is divine; an exquisite beet salad follows it. The main course highlight was the BBQ ribs, which were tender and flavorful.
The Marshal initially attracted me because of its excellent pizza reputation and unique, welcoming atmosphere. The cozy interior exudes a distinct New York charisma, offering patrons an impressive dining experience. The option for outdoor seating, a rarity in the city, enhances its appeal.
Address: 628 10th Ave, New York, NY 10036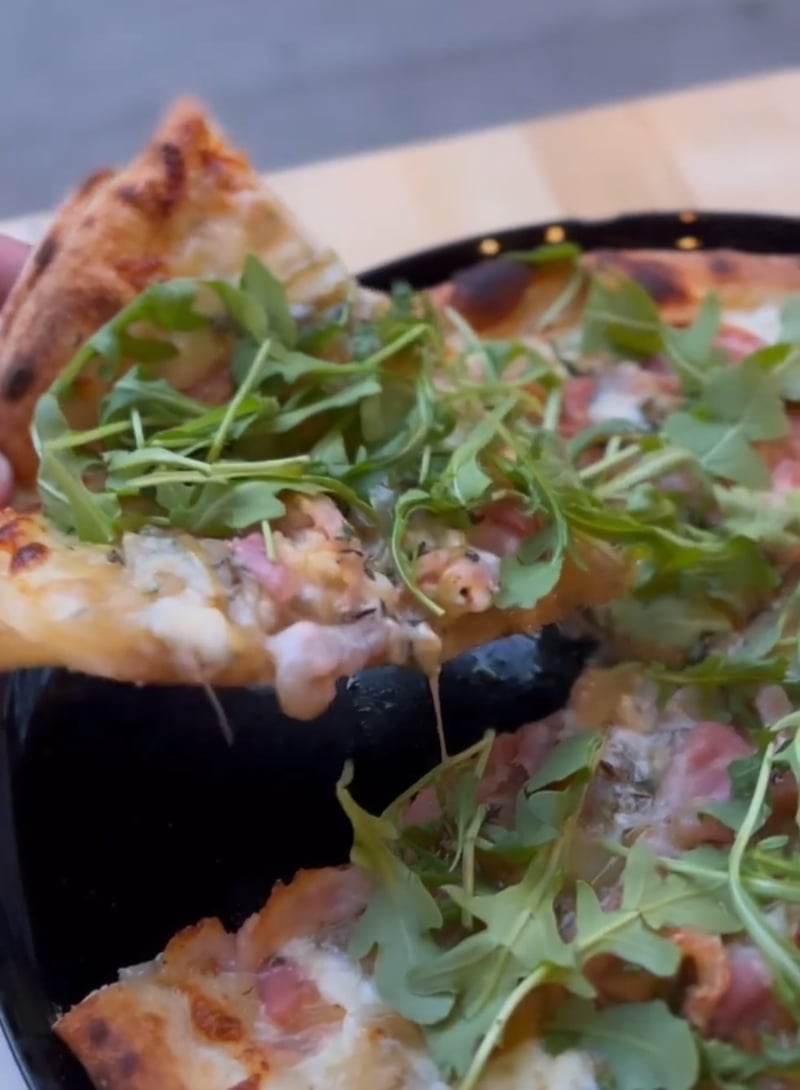 LaVista
LaVista's website showcased a menu that catered to varied tastes, including pizzas and wings with flavors ranging from sweet teriyaki to spicy buffalo.
On my inaugural visit, the contrasting flavors of pepperoni and jalapeño pizza delighted me. Since then, LaVista's BBQ chicken pizza has become a family favorite. Fresh ingredients and a superior crust give this pizzeria an edge over competitors. Their New York-style pizzas live up to their renowned reputation—fresh, crispy, and chewy.
An enticing aspect of LaVista is the diversity of pizza options— from the inviting grandma pie to the attractive chicken bruschetta pie. With an extensive range of sauces, the experience at LaVista keeps customers returning for more.
Besides quality, LaVista scores with a reasonable price-to-portion ratio. Pizzas, priced between $20-26, resonate with their quality composition and reasonably portioned size, proving to be a value-for-money deal. This factor makes LaVista a regular choice for our family's pizza nights.
Address: 730 10th Ave, New York, NY 10019
Claudio Pizzeria
Claudio Pizzeria skillfully blends atmosphere and cuisine. It's a local favorite for both dine-in and take-out. Though unpretentious, the quality of its dishes shines, showcasing culinary commitment. Although it's not the most glamorous spot, the quality of its dishes reflects its dedication to good taste and culinary craftsmanship. Its welcoming ambiance enhances every dining experience, from weekday lunches to family dinners.
Standout pizzas include the Buffalo Chicken Pizza, laden with satisfyingly rich toppings, and the classic Crust Pepperoni pizza, offering a harmonious blend of crispy crust and zesty flavors. Aside from our family's favorite – the traditional pepperoni pizza, the innovative Roman-style pizza is also intriguing due to its unique toppings and lack of greasiness.
Claudio's non-pizza offerings were a mixed bag. The Eggplant Parm and robust Corn Meal Balls were decent; however, the ham and provolone sub failed to match up. Despite acceptable bread, it fell short due to scanty ham and cheese portions and uninspired lettuce.
Address: 598 10th Ave, New York, NY 10036