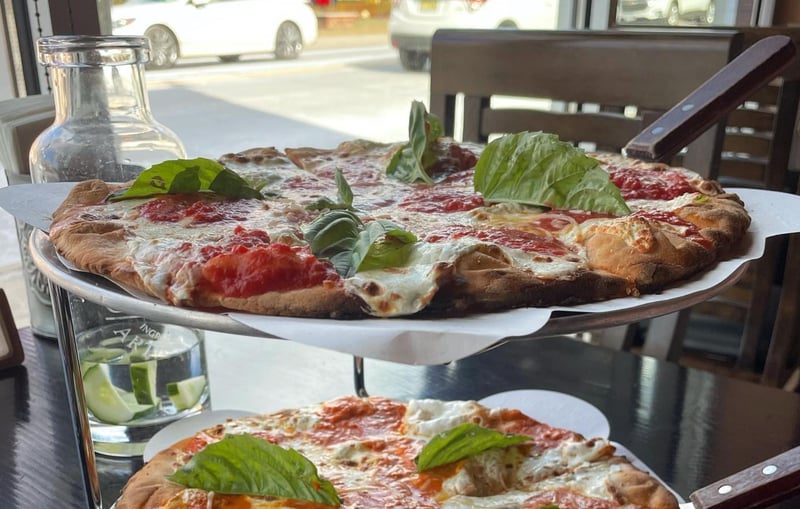 Ah, Staten Island. Often overshadowed by its flashier borough siblings—Manhattan, Brooklyn, Queens, and The Bronx—it's a place that, I've got to say, deserves more credit. I'm not talking about the ferry ride offering one of the best views of the Statue of Liberty or its many parks. Nope, I'm honing in on something near and dear to every New Yorker's heart: pizza. Staten Island is a treasure trove for high-quality, mouth-watering pies.
As a dad with his fair share of pizza outings with the kids, I've dragged them everywhere, from local joints to iconic establishments. Sometimes, we hit the classics in Manhattan or venture into Brooklyn. Staten Island holds its own in the pizza game, and it's a shame to leave it out of the conversation.
And it's not all about the food. It's about the whole experience. Many of these places offer a genuine, down-to-earth, old-school New York vibe that sometimes feels like it's slipping away from us. Some have been around for generations, each pie a testament to years of culinary tradition. The authenticity makes a meal an experience you'll want to revisit.
Whether you're a lifelong resident or just curious about what's on offer, you'll find something to love. Because at the end of the day, we all agree on pizza, and Staten Island is serving it up in spades.
Best Pizza Staten Island NYC
Denino's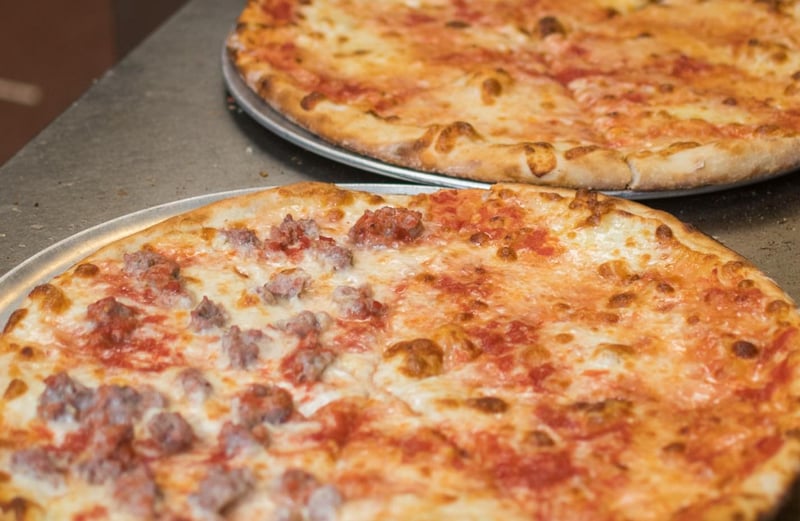 If you find yourself in Staten Island craving pizza, Denino's might be the spot for you. They offer a wide variety of pies. Their "Mor Pie" and "Vodka Pizza" caught my attention. The Mor Pie is unique and flavorful, and the Vodka Pizza was a favorite at our table.
We found the ambiance comfortably old-school with a touch of Staten Island authenticity. There are TVs for sports games, which is a plus if you want to catch a game. The lighting could be better. It's on the dim side, and combined with what some might describe as a dim atmosphere, it can feel less than inviting.
When dining in, we've generally had quick and efficient service. On one occasion, when ordering takeout, the wait was long enough for me to notice, which shouldn't happen when you're hungry for a pizza. Staff attentiveness is excellent, so dine in, or if you're considering ordering for pickup, aim for less busy hours.
Beyond pizza, Denino's offers a well-rounded menu. Their fried calamari got high marks from us, and the dessert options, like cannoli, outshone the pizza on one visit. The Mangia Salad and Stromboli were decent, with a little room for improvement. Price-wise, their "buy one get one free" deal is a huge bonus.
Despite its imperfections, I recommend trying Denino's, especially if you find yourself in Staten Island. Most of our experiences were positive, and it's easy to see why many consider it a must-visit spot for pizza lovers. They even offer an outstanding gluten-free pizza, catering to those with special dietary needs.
Address: 524 Port Richmond Ave, Staten Island, NY
Lee's Tavern
If you are on Staten Island and are in the mood for a top-notch pizza experience, look no further than Lee's Tavern. The place has garnered unanimous acclaim for its high-quality food, and rightfully so. I've been there a few times, and let me tell you, the pizza is nothing short of amazing. The thin, crispy crust strikes a perfect balance between chewy and crunchy. Toppings like white clam, anchovies, and seasonal corned beef and cabbage are unique and incredibly flavorful. While pizza is the show's star, their Buffalo calamari is worth mentioning as solid bar food.
Lee's Tavern offers a cozy, warm atmosphere that resonates with everyone, from neighborhood regulars to visitors from far-off states. It's where you can catch up with friends, watch a game, or have a laid-back family night. The decor blends the eclectic and old-fashioned, and the place is genuinely welcoming. The staff, from bartenders to servers, contribute to this vibe—they're consistently friendly, hospitable, and efficient.
You'll often find comments about the reasonable prices and good value for money at Lee's Tavern. I concur. The prices won't leave you grumbling if you order a pint of draft beer or a whole pie. Even the portion sizes, including for smaller orders, are substantial. It's one of those establishments that make you feel like you've got your money's worth, a sentiment all too rare in many New York eateries.
The local popularity of Lee's Tavern is palpable. The establishment has a cult following, not just among Staten Islanders but also among people from as far as California and Hawaii. That kind of widespread devotion speaks volumes about Lee's Tavern. And if you're worried about parking, fear not: the on-street parking is typically easy to find, which is always a relief in New York.
To summarize, Lee's Tavern offers a delightful dining experience with its top-tier pizza, warm ambiance, and friendly service. It's a hidden gem well worth the Staten Island trip. The only caveat? Because the place is so popular, you might encounter a wait, especially during peak hours. But given what's on offer, that's a minor inconvenience for a lot of enjoyment.
Address: 60 Hancock St, Staten Island, NY
Reggiano's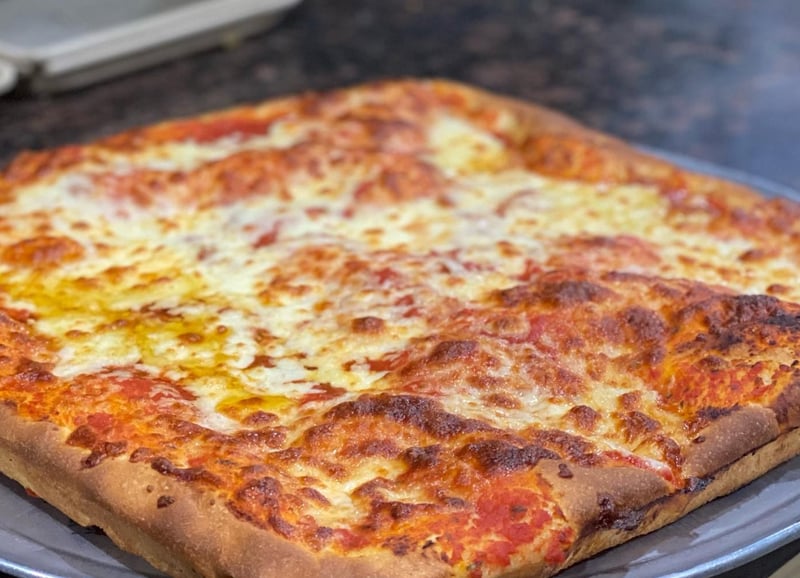 If you're looking for a dining experience that captures the essence of the community it serves, Reggiano's might be the place for you. The food quality here generally gets high marks. I can vouch for the steak with mushroom and onions—perfectly cooked and flavorful. The Father's Day package was a hit in my household, offering a variety of items that pleased everyone.
Reggiano's isn't just a pizza and pasta joint; the menu variety is commendable. They offer everything from ribs to Alfredo fettuccine and penne vodka, which came highly recommended by several friends. This makes the place versatile and suitable for individual meals or larger gatherings, like birthdays or confirmation parties.
Reggiano's stands out as a good bang for your buck. Whether it's fast delivery or the quality of the food you get for the price, you're likely to walk away feeling like you've made a good decision. Of course, there have been complaints. One issue is the online menu needs to be updated regularly, which led to a snag when we tried to order a special roasted chicken that was out of stock.
A lot of reviews highlight the restaurant's beautiful decor and updates, and I have to agree. An outdoor seating area is perfect for those summer days, and the atmosphere strikes a comfortable balance: not too fancy but far from drab. It's the sort of place you'd feel equally comfortable taking your spouse for a date night or your kids for a casual dinner.
Reggiano's has much to offer, from its diverse menu and generally high food quality to its friendly staff and inviting atmosphere. It's an establishment that leaves you satisfied and glad to be part of the neighborhood it ably represents.
Address: 7339 Amboy Rd, Staten Island, NY
Mona Lisa Pizzeria
I'd be remiss if I didn't share our family's experiences at Mona Lisa Pizzeria, a staple in our rotation of dining spots. Let's start with the pizza, which is quite the showstopper. Whether it's a simple Margherita or one of their more exotic specials, the crust and toppings always seem to hit the mark. It's a place where each slice tastes like someone in the kitchen cares about pizza. The kids usually lean toward the classic cheese, while my spouse and I have been making our way through the specialty options. The "art lover" pizza, adorned with artichokes and cheeses, is a household favorite.
Mona Lisa Pizzeria doesn't just excel in the food department; it's also a genuinely pleasant place to spend an evening. The atmosphere is cozy, with enough whimsy in the decor to keep things interesting. Wall art and murals pay homage to the pizzeria's namesake, lending an Italian feel that's neither over-the-top nor kitschy. It's an environment where you'd feel comfortable bringing a date or having a family dinner. The staff are attentive and give the impression that they're happy you chose to dine there, which always enhances a meal.
Price-wise, Mona Lisa offers good value for the quality you receive. It's not the cheapest pizza in town, but far from the most expensive. And the portions are more than generous. We've often found ourselves taking home leftovers, which, let me tell you, make for an excellent lunch the next day.
No place is perfect, and I'd be dishonest if I didn't mention that we've had occasional missteps here. For instance, the delivery can be hit or miss in terms of timeliness. And while the pasta dishes are generally good, they don't quite rise to the level of the pizzas. If you're coming here, you're primarily coming for the pie.
To wrap it up, Mona Lisa Pizzeria delivers where it counts: tasty, quality pizza in a welcoming environment. It's a dependable choice whether you're dining in or ordering out. Despite the occasional delays with delivery and pasta dishes that are good but could be better, the overall experience is positive. Mona Lisa holds its own, and then some in a city full of pizzerias.
Address: 839 Annadale Rd, Staten Island, NY
Paesano's Pizzeria
Paesano's Pizzeria is a place that makes you feel at home the moment you walk in. This establishment can deliver flavor from chicken parmigiana, garlic knots, and even the unique Vodka Pasta Pizza.
Whether you're a first-timer or have been ordering lunch there for over a year, the staff, especially the counter staff, treat you like you're the most important customer of the day. It's rare to see such consistent kindness and respect in the food industry.
Paesano's has a great ambiance, even if it's primarily a takeout place. There are a few tables, but don't expect a grand dining hall. The kind of atmosphere makes you feel comfortable quickly, primarily due to the fantastic customer service—a special shoutout to their catering services, which we tried during a family event. The food was good in large quantities, and the service was impeccable.
Their prices are generally reasonable, and the restaurant has strong community ties, appearing on the One Bite App and getting involved with events like the New York Marathon. The location can be tricky if you're unfamiliar with the neighborhood, so be sure to Google directions.
Overall, Paesano's Pizzeria is an establishment that excels in food quality and customer service. It's a local gem and well worth visiting and revisiting.
Address: 12 Bradley Ave, Staten Island, NY
Round Pie Pizza Company
If you're on the hunt for pizza with a thin, crispy crust, Round Pie Pizza Company in Staten Island should be on your radar. They've got some unique offerings that genuinely delight, such as the hot honey pepperoni slice and the Margarita pie. They also go beyond pizza with items like Stromboli, chicken parmesan, and even an eggplant parmesan hero that holds its own. However, while the food generally impresses, it's worth noting that getting your order on time can be a toss-up. We've had instances where our pizzas came out late or cold, marring an otherwise good dining experience.
When it comes to ambiance, Round Pie feels warm and friendly. Locals appreciate its convenient location and aesthetics, contributing to its popularity despite solid competition. The restaurant offers a diverse menu beyond pizzas, featuring items like rice balls, chicken wings, and garlic knots, providing a decent range for different tastes. Given the overall quality, the pricing—like a 12-inch, 6-slice pie for $8.50—offers good value.
The customer service is a mixed bag. On some visits, the staff were notably polite and attentive, but sometimes younger employees seemed dismissive or unengaged on others. If you're in for the long haul, these service lapses are minor speed bumps, but they can be annoying when dealing with late or incorrect orders.
Round Pie Pizza Company is a strong contender for quality pizza in Staten Island, particularly if you value a crisp, thin crust and some inventive toppings. Please be prepared for potential hiccups in service and delivery, especially if you're ordering through third-party apps. Despite these issues, it's a place that beckons for another visit, maybe even a few.
Address: 1957 Victory Blvd, Staten Island, NY
Rustic Pizza and Pasteria
Rustic Pizza and Pasteria: The name itself promises a blend of the casual and the refined, and it delivers. Let's begin with the food quality, which is generally a win. The pizzas are the clear stars here. The crust, sauce, and cheese hit that trifecta you look for in a good slice. We've ventured beyond pizza, too. The buffalo wings and Chicken Francese were both big hits with my family.
The menu's diversity is another strong point. This isn't just your run-of-the-mill pizza place; it's a full-blown Italian eatery. For instance, the Lobster and Shrimp Pie prove they are willing to experiment and cater to various tastes. That's great when you have kids who might want a simple slice and adults looking for something more sophisticated. The service has generally been good; staff are usually friendly and make an effort.
Affordability is a pleasant surprise. You get the sense of dining in a venue that could easily charge more for its offerings but chooses not to. The portions are often generous enough to provide leftovers for a second meal, adding to the value factor.
Online ordering and delivery are a mixed bag. We've had mostly good experiences, but there were a couple of times when extra charges appeared that needed to be clarified during the ordering process. They also offer catering, and though we have yet to try it, a friend mentioned they handled a large order quite competently, even accounting for potential delays.
In summary, Rustic Pizza and Pasteria is what I'd call a "neighborhood gem." The pizzas are stellar, the menu is diverse, and the atmosphere is welcoming. Would we go back? Absolutely.
Address: 97 Lincoln Ave, Staten Island, NY
Goodfella's Brick Oven Pizza
Goodfella's Brick Oven Pizza is a place my family and I frequent, not just for its memorable name but for a dining experience that's largely positive, with a couple of rough edges. Let's talk about the pizzas first. They're often the highlight of our visits. The Original Vodka Pizza and the Vodka Pie are absolute treats; the crust strikes that elusive balance between crispy and chewy, and the toppings are high-quality. However, not everything is a slam dunk. We found the pasta dishes like cavatelli with sausage and broccoli rabe to be hit-or-miss. The pasta was overcooked on one occasion, and the flavors needed to be clearer.
The service is praiseworthy. The staff are friendly and make you feel at home, which is a big plus when you're out with the family.
The atmosphere gets a thumbs-up from us. Whether the original location or the newer, larger venue, the settings are cozy, replete with dark wood and soft lighting that's easy on the eyes.
The drink selection is another strong suit, with numerous beers and wines that pair nicely with the menu. They've got about 20 tap beers, making it a decent spot for those who like to experiment beyond the usual lagers.
Goodfella's Brick Oven Pizza offers an enjoyable dining experience. The pizzas are the show's stars, the ambiance is inviting, and the drink selection is more than adequate. We'll keep coming back because when they get it right, they get it right.
Address: 4029 Hylan Blvd, Staten Island, NY
The Pizza Parlor
The Pizza Parlor is a spot you'll likely return to if you're a pizza enthusiast. They've got a wide range of pies that are consistently good. I'm particularly fond of the Brooklyn Boy and the traditional NY pizza. They get experimental with specials like garlic knot chicken parm sliders and a meatball appetizer, which are outstanding. While their menu spans from pizzas to pasta, salads, and appetizers, not all dishes hit the mark. For example, the Buffalo chicken salad felt like a letdown.
The Pizza Parlor has generally reasonable prices, especially with their deals. They offer half-tray deals and a Monday special for a $10 pizza. The lunch special provides an entrée, potato croquettes, and a beverage for $9, which is outstanding value.
The atmosphere of The Pizza Parlor is inviting, sporting a modern, casual look. It's a casual establishment but a comfortable spot for a meal. So, if you're looking for a reliable, mostly well-executed pizza experience, The Pizza Parlor is worth a shot.
Address: 6 Sneden Ave, Staten Island, NY
Ungaro Coal-Fired Pizza Cafe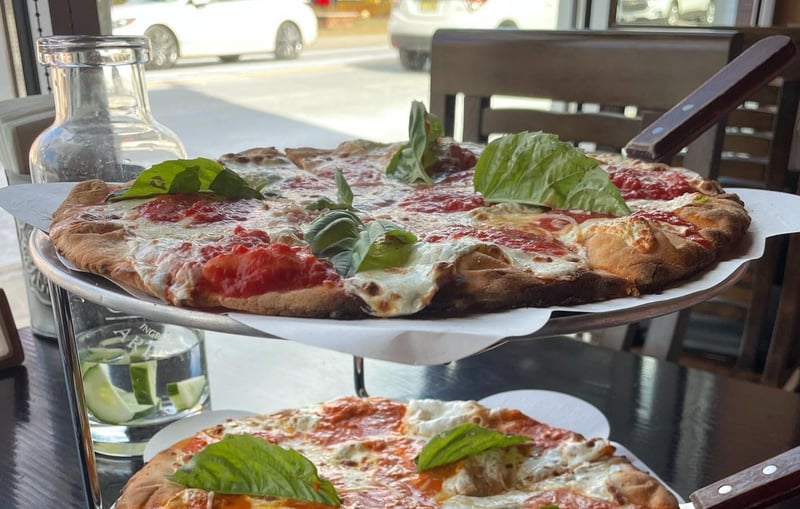 Ungaro Coal Fired Pizza Cafe offers an experience as much about the atmosphere as the food. The moment you walk in, you're greeted by the warmth of brick ovens and a cozy, intimate setting that makes you feel at home. We've been here for casual family dinners and special occasions like Galentine's Day. On all counts, the place didn't just meet our expectations; it exceeded them.
Ungaro's pies are consistently excellent. Whether you're going for their traditional vodka or Four Corners sampler pie, the coal-fired method offers a delightful smoky flavor and a thin crust that's just the right mix of crisp and chewy. The pizza is consistently done to perfection, which is a claim only some pizzeria can make. And while pizza may be the star here, pay attention to the rest of the menu. Their risotto balls and roast beef with mozzarella are more than just sidekicks; they're standouts.
Customer service is another area where Ungaro excels. The staff is attentive, always smiling, and genuinely friendly. During one visit, we even interacted with the owners, who were as welcoming as the staff. We've also had food delivered a couple of times, and in one instance where there was a minor delay, they threw in some extra food as an apology. It's little touches like these that make a big difference.
What adds to the overall dining experience are the small yet thoughtful offerings. These extras elevate your meal, whether a glass of wine or cucumber-infused water. I appreciate the direct ordering from their website, which supports local businesses instead of third-party delivery apps. It's a win-win situation for everyone involved.
If you come with a large group, the cozy space might feel tight, so plan ahead.
Ungaro Coal Fired Pizza Cafe checks all the boxes for quality food, atmosphere, and customer service. So, yes, we'll be back, and if you still need to, you're missing out.
Address: 1298 Forest Ave, Staten Island, NY
Joe & Pat's
Joe & Pat's Pizzeria is an intriguing spot. The first thing that hits you is the crust—or rather, the lack of it. It's remarkably thin, almost cracker-like, which works for me. I can pop an extra slice without feeling like I've overdone it. But I get it; the thinness isn't everyone's slice of pie. Some folks I've talked to say it's too scant for their taste.
The variety of pizzas on offer is impressive. My kids were all over the Margherita and Pepperoni Pie, while my spouse found the Royal Pie with its unique toppings a real standout. The red sauce is tangy and memorable, and the vodka sauce is a winner. If you're going for one of their pasta, like Pappardelle, do yourself a favor and try it with vodka sauce. The cheese on the pizzas isn't piled on; I appreciate the restraint; it allows the sauce and other ingredients to shine. However, the quantity might be slightly disappointing if you love cheese.
Value for money is a mixed bag. While some might find the pizza a tad pricey for its thinness, I found the "$12 cash special on Mondays" a steal. Aside from pizzas, the fried calamari and house-tossed salad received nods of approval from my family. It's worth mentioning that they have gluten-free options, making it a convenient choice for those with dietary restrictions.
Joe & Pat's Pizzeria offers a unique perspective on the NYC pizza landscape. Whether you opt for delivery or dine-in, it's a solid option when you're in the mood for something that breaks away from the norm but still feels comfortable. It may not please every palate out there, but it's got its merits.
Address: 1758 Victory Blvd, Staten Island, NY
Brother's Pizzeria
I'll admit, Brother's Pizzeria had my curiosity piqued for a while. The place has an unmistakable buzz, especially on Staten Island. It's one of those spots that seems always to have a line out the door, regardless of the time of day. Let me tell you, the pizza variety alone merits a visit. We're talking Sicilian squares that are just the right amount of chewy and cheesy, vodka sauce squares that pack a unique punch, and chicken rolls that my kids devoured in minutes. And yes, for those with simpler tastes, the plain pepperoni and mushroom slices won't disappoint.
Beyond the pies, take advantage of their other offerings. Their calamari is among the freshest I've had—soft and far from rubbery. The garlic knots made for a tasty side; if you're not in a pizza mood, the hero sandwiches are solid, too. It's not just a one-trick pony; Brother's Pizza offers a well-rounded menu that keeps people returning.
As for the atmosphere and service, it's efficient and clean. If you decide to dine in, you're lucky—they offer specials from Monday through Thursday.
Address: 750 Port Richmond Ave, Staten Island, NY
Sal & Lloyd's Pizza Place
Sal & Lloyd's Pizza Place is the establishment you stumble upon and then wonder how you ever lived without it. Its quality is a hallmark; phrases like "excellent pizza" and "consistent quality" resonate with my experience and what I've heard from other long-time patrons. This isn't a place for just pizza, though. The menu is delightfully expansive. My kids usually opt for the lasagna or meatballs, while my spouse and I are partial to their Italian Hero sandwiches and stromboli. The generous portions of fresh basil, high-quality mozzarella, and other toppings make each dish memorable.
This pizzeria doesn't just score points for quality; it's also a win when it comes to value. Special offers like a free 2-liter soda for orders over $25 or $10 items on the Slice app add to its appeal. Finding a place that serves superb food without leaving a dent in your wallet is refreshing. My family particularly appreciates the free garlic knots with orders over $20; they're addictive.
Service at Sal & Lloyd's is another strong point. Quick delivery and a courteous staff make for an overall pleasant experience.
Sal & Lloyd's Pizza Place embodies an old-school charm that's becoming increasingly rare in New York City. Despite minor shortcomings, its longevity and traditional flavors have won it a devoted following. So, if you're in the mood for excellent pizza or want to explore a menu that offers a little bit of everything, this spot should be on your radar.
Address: 3850 Richmond Ave, Staten Island, NY
DOUGH by Licastri
You should try Dough by Licastri. Their menu isn't just your run-of-the-mill pies; they've got some winners that stand out. The "grandma pie" and the "San Gennaro pie" got the thumbs-up from the whole family, including my picky kids. And let's talk about that "Italian Soppressata Focaccia" sandwich for a second: it's the kind of sandwich you'd want to introduce to your mother.
One of the cool things about this place is the specialty items. They've got these rice balls and a pie they cheekily call "G.I.L.F." that will make you rethink your relationship with Italian-American cuisine. Also, their staff is friendly and feels genuine. You know that "treat you like family" saying? Here, it's not just talk. It adds warmth to the whole experience, even if you grab a quick takeout.
Speaking of takeout, they've got that and delivery down to a fine art. The food arrives hot, and the timing is usually spot-on. The restaurant is more of a takeout joint, but they do have an outdoor patio that's beautiful in its own right. The only downside to dining outside is New York summers; al fresco eating can be a breezy experience.
If you're in the mood for some delicious, creative pizza and Italian dishes, give Dough by Licastri a shot. You won't regret it.
Address: 1456 Richmond Rd, Staten Island, NY
Best Pizzerias on Staten Island (Post Summary)
Denino's
Lee's Tavern
Reggiano's
Mona Lisa Pizzeria
Paesano's Pizzeria
Round Pie Pizza Company
Rustic Pizza and Pasteria
Goodfella's Brick Oven Pizza
The Pizza Parlor
Ungaro Coal-Fired Pizza Cafe
Joe & Pat's
Brother's Pizzeria
Sal & Lloyd's Pizza Place
DOUGH by Licastri
Thanks for visiting SKNY, and enjoy that slice!! :)