Nestled between the Financial District and SoHo, TriBeCa's coffee shops offer more than just a steaming cup of joe; they serve as mini-escapes within the city. These establishments have personalities, each one as diverse as the residents of TriBeCa themselves. Whether it's a minimalist space that lets the coffee do all the talking or a cozy nook adorned with local art, these shops make you forget you're in one of the busiest cities in the world—even if just for a moment.
I hope you enjoy my list of the best spots to find a cup of coffee in TriBeCa. Whether you're a casual coffee drinker or a full-fledged aficionado, a place in the neighborhood is calling your name. Each offers its blend of atmosphere, community, and, of course, exceptional coffee. Trust me, by the end of this list, you'll be eager to explore these caffeine havens for yourself.
Best Coffee Shop In TriBeCa
Gotan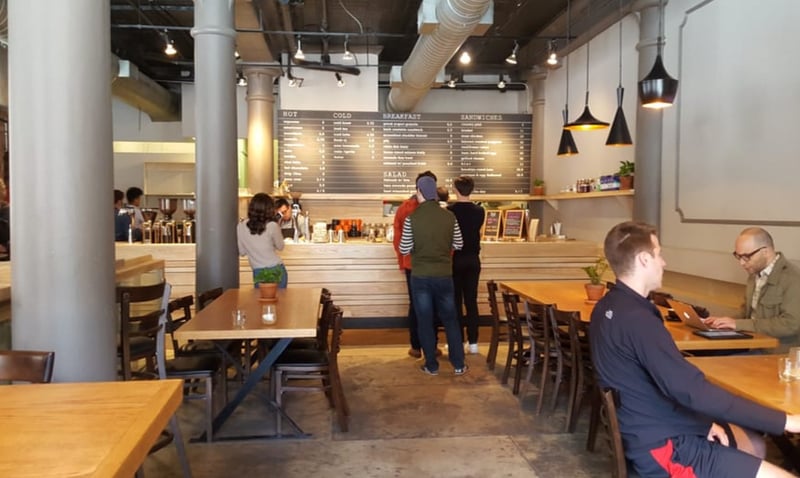 Frequenting Gotan, I can vouch that it's more than a favored neighborhood coffee spot, in my opinion, it's the best coffee shop in TriBeCa. It's a perfect spot for a swift breakfast sandwich or an intensely flavored cold brew. The industrial-style setup softens with gentle, natural lighting and sleek, modern touches, effortlessly forging a welcoming space that encourages you to savor your brew. However, a note to the tech-savvy: the absence of Wi-Fi is noticeable and might be considered a minor inconvenience by some.
Gotan keeps its beverage menu consistent. The matcha latte is a reliable pick, and the mocha here ranks amongst the top tiers, boasting a pleasing mix of coffee's bitterness with a hint of chocolate sweetness. The hot chocolate pleasantly surprises with its bittersweet layer, a refreshing switch from overly sugary alternatives. On torrid days, the mint lemonade serves as an exceptional palate soother.
Food-wise, Gotan churns out hearty meals that seldom disappoint. Their herb omelet sandwich stands out; they distinctively prepare their eggs to become fluffy and savory. Their light pita served with labneh cheese pairs excellently with their coffee selections, the Gotan deserves a special mention, and the robust shawarma flavors hit the spot.
The staff at Gotan consistently maintains a courteous and attentive demeanor, ensuring smooth operations during peak times. There have been minor glitches, like overlooking a request for a beverage correction - but these isolated instances don't tarnish the overall friendly customer service here. In conclusion, Gotan is a jewel in Tribeca, perfectly integrating aesthetics, food quality, and mindful service. Its charm lies in simplicity and a commitment to serving quality coffee and meals in a sophisticated yet cozy atmosphere.
Address: 130 Franklin St, New York, NY 10013
Birch Coffee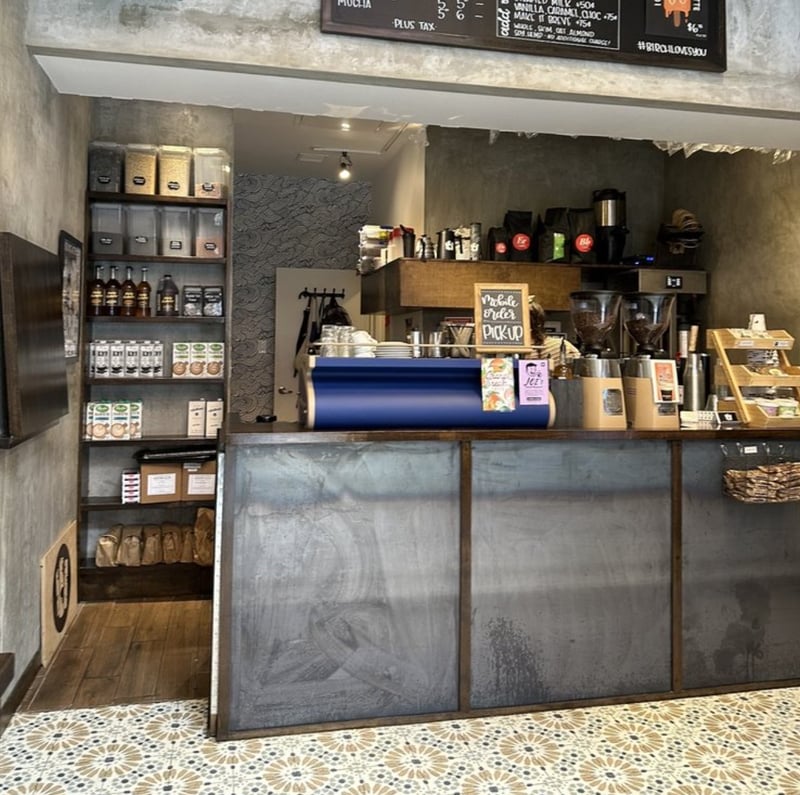 If you consider yourself a connoisseur of eclectic coffee creations and wholesome café selections, then Birch Coffee, a newcomer on the scene, is a must-visit. Tucked away in TriBeCa, this café's pleasingly stylish yet rustic ambiance is a delightful antidote to the city's surrounding steel and concrete.
You're ushered into a universe of tantalizing flavors when you walk in. Friendly staff members greet you with a menu. The choice is exciting, ranging from their seasonal Orange Cream Latte to the popular Dirty Chai. For instance, they have an undertone of nostalgia - the Orange Cream Latte artfully combines a punch of citrus with a smooth latte, topped with their exclusive homemade oat milk foam.
In this extensive collection of premium drinks, you will stumble upon the most delicious Dirty Chai you've ever had. The warm chai spice is perfectly juxtaposed with a bold shot of espresso, providing a remarkable taste explosion that will stimulate your senses. If you're health-conscious, you'll appreciate Birch Coffee's numerous non-dairy milk options, such as their healthier NuMilk, a plant-based alternative to regular milk made in-house and contains fewer preservatives.
Birch Coffee is dedicated to healthful alternatives and offers more than just coffee-based drinks. If you're into something more refreshing, a variety of chilled Kombucha drinks can be found tucked away in their refrigerated section. Offering a soft tang and a bubbly kick, this beverage is popular in the summer or whenever you're in the mood for something distinctive.
Address: 136 Church St, New York, NY 10007
Cafe Atelier
I've spent many mornings nestled into various corners in the coffee shops across our city, and one that's left a lasting impression on me is Cafe Atelier. Unlike the usual hustle of New York City, this spot offers a calming blend of coffee shop, floral store, and stationary boutique.
Stepping into Atelier, I was struck by the scent of fresh flowers and baked goods mingled with freshly brewed coffee. I've often lost track of time on their comfortable chairs, engrossed in work, conversation with friends, or catching my breath. Plus, the stylish interior has me reaching for my phone to capture an Instagram-worthy moment more often than I'd like to admit.
Their inventive range of lattes is quite the draw. The honey ginger and sweet potato lattes have been the stars for me; each sip showcases creativity in a cup. Though I've heard a few fellow patrons grumble about the pricier iced chai and underwhelming matcha latte, it's a gamble we all run when our appetite for adventure guides our menu choices. Paired with my preferred honey ginger latte, the fluffy croissants and delightful surprises hidden in their red velvet cookies become the highlight of my morning routine.
Address: 112 Hudson St, Unit 1, New York, NY
Jack's Stir Brew Coffee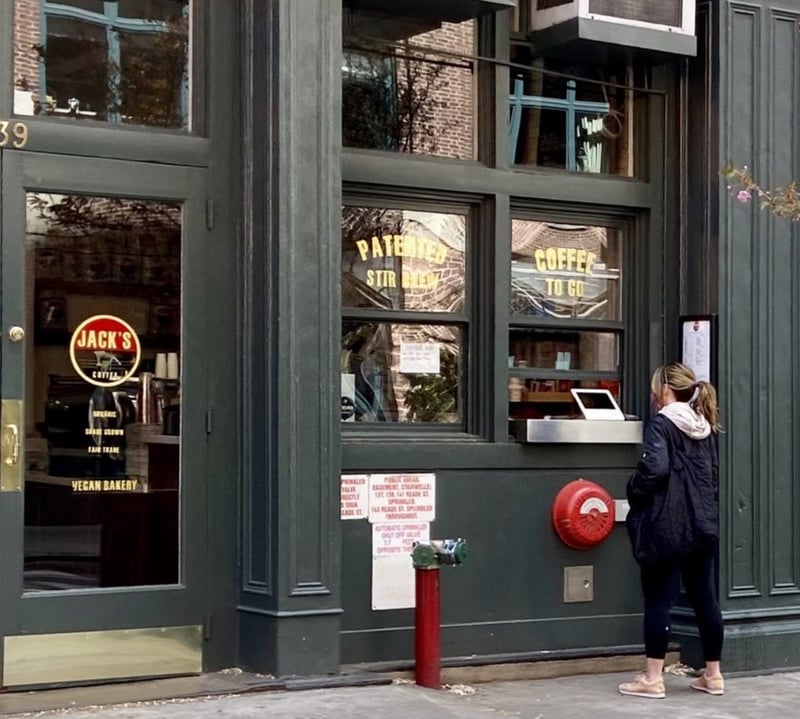 As an admirer of handcrafted coffee in the Big Apple, I consider Jack's Stir Brew Coffee among my top choices. Its lineup of exquisite brews, decidedly affordable, raises the bar for coffee shops in the city. Signature offerings such as the "Mountie," swirling with maple syrup, and the bold "Dirty Harry" more than satisfy coffee connoisseurs. But the namesake stir-brew technique resonates with visitors, bringing a rich flavor that outshines its mainstream competitors like Starbucks.
Beyond quality brews, Jack's extends its expertise to vegan-friendly baked goods. I admire their commitment to keeping a high standard of taste and quality. Budget-friendly delights after 5 p.m. are always a good option for those on dietary restrictions or seeking a healthier alternative.
The inviting warmth and roomy interiors, coupled with Jack's distinct logo, pave the way for an inviting atmosphere. Thanks to comfortable seating options, including plush couches, it's a place to get coffee, a casual meet-up spot, or a relaxation zone.
What adds significantly to the overall experience is the exceptional staff. Besides being well-versed with the menu, they bring a patient and friendly approach, appreciated by customers, especially during busy hours. Although there were a few complaints about slower service times at peak intervals, with Jack's consistency in quality service, I am confident they will swiftly address this issue.
Given its noteworthy blend of delicious coffee, warm ambiance, and committed staff, it's clear why every new Jack's store opening is a celebrated event among its patrons. The excitement remains the same from its busy city hubs in West Village and Tribeca to its intimate space in Long Island's Amagansett.
Address: 139 Reade St, New York, NY
Kaffe 1668
This quaint café, curiously adorned with a sheep theme, provides a pleasant respite from downtown Manhattan's frenetic rhythm. Its minimalist-chic interiors render an atmosphere of tranquility with subduedly lit spaces and soothing music, making it equally suited to easy-going chats with pals or intense reading and writing sessions. Kaffe 1668 manages to toe the fine line between an intimate refuge and a lively social junction with finesse.
Kaffe 1668's standout characteristic is its superb coffee, which packs succulent flavors that are delightful on the taste buds, imparting a lovely residual sweetness devoid of artificial taste. Their Mocha is particularly commendable with its delicious richness and creative latte art. However, my favorite is the Americano, a subtly sweet blend that serves as a wonderful morning or afternoon pick-me-up. It's hard to overlook Kaffe 1668's meticulous presentation of their beverages. It's not just about flavor; carefully crafting every cup of coffee enhances the overall gratifying experience. While latte art may not directly impact the taste, a skillfully prepared cup enriches the experience.
But don't mistake Kaffe 1668 as just a haven for coffee addicts. The café's vast non-coffee drink range, including a delicious Matcha Latte, ensures something for everyone. As someone who occasionally strays off the conventional drink route, I was pleasantly surprised by this mix.
It bears mentioning that Kaffe 1668 isn't easy on the wallet- a slight caution for wary spenders. That said, if you're seeking a serene, one-of-a-kind coffee expedition with high-quality offerings, it warrants the expense. Whether your visit is purposed by work or recreation, the unique theme, stellar
brews and attractive beverage choices could steal you away. The challenge lies in deciding the timing of your ensuing coffee journey at Kaffe 1668.
Address: 71-99 Beach St, New York, NY
La Colombe Tribeca
The moment you enter La Colombe Tribeca, you are welcomed by the soothing fragrance of freshly brewed coffee. It's no wonder that La Colombe is loved by locals, with their deliciously satisfying coffee that ranges from traditional drip to the exciting draft latte. Their draft latte is a delight, creamy, with a subtle hint of sweetness reminiscent of a gourmet coffee milkshake. For someone like me who values tradition, La Colombe's commitment to classic coffee-making is impressive.
Their refreshing selection of cold brews and iced coffee is perfect for a warm day. Their oat milk cold brew stands out, while the crowd-favorite is their iced decaf mocha- unrivaled in its smoothness and rich chocolatey flavor, balanced without being overly sweet. I appreciate how their iced coffee is served without ice cubes, ensuring it remains undiluted and full-bodied, a testament to their attention to detail.
One thing that impresses me during my frequent visits is their consistency in quality service, even at peak hours. Whether complicated or straightforward, every drink is presented with skill and a warm smile.
La Colombe's ambiance is a harmonious blend of minimalism and charm. The inviting calm within its pared-down, illuminating interior is accentuated by sunlight reflecting off the brick walls. This setting, alongside a hot cappuccino and something sweet from their bakery counter, forms part of my cherished Sunday routine.
Address: 319 Church St, New York, NY
787 Coffee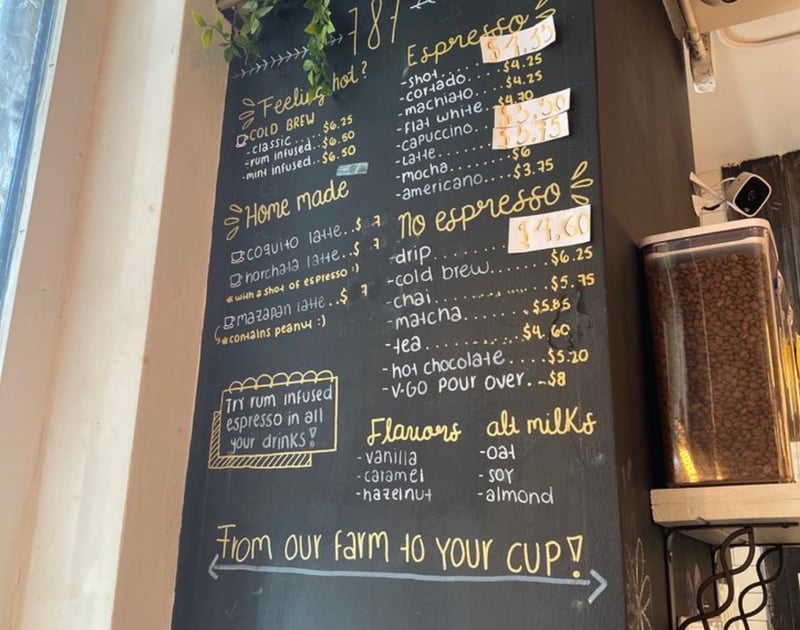 I'm forever seeking the perfect spot to spark my creativity. I recently found just the right haven at 787 Coffee, a lovely café hidden away from
the usual New York City hubbub. My visits there have always been delightful, mainly because of their exquisite range of specialty coffees. I've grown particularly fond of their horchata iced latte – a daily treat during a recent stay – and the one-of-a-kind Mazapan latte featuring a crunchy peanut twist. I'm also intrigued by customer favorites like the coquito and dulce de leche lattes, and whispers about their rum-infused coffee certainly caught my attention!
The cozy atmosphere of 787 Coffee is something to appreciate. Conjuring up an image of an ideal tranquil home, it provides a haven in this teeming city. Thoughtful décor and amusing notes scattered around bring warmth and character to the place. Even as a seasoned city resident, I must tip my hat to 787 for creating such a tranquil spot.
Beyond the tempting drinks, the food at 787 Coffee is unexpectedly satisfying. The rich empanadas added a savory note to my mornings, while the cheddar scones offered a delightful twist to my mid-morning snack breaks. Though coffee is their centerpiece, 787's team proves they're more than a one-trick show.
787 Coffee remains a place that offers unique delights, such as the iced coquito latte with a double shot of espresso, that draw me into
my morning routine. Despite minor setbacks, the experience at 787 Coffee remains a rich cup of authenticity worth exploring for every coffee lover.
Address: 93 Worth St, New York, NY
Interlude Coffee & Tea
Your first sip of a Cadenza at Interlude Coffee & Tea quickly reveals why so many early birds flock to this trendy hotspot. The spirited kick of an espresso tonic or the indulgent depth of a Cortado propels the coffee experience here to winning heights. The Cortado has a nuanced flavor profile and velvety texture, making it a pleasure to sip on.
For those who like it a bit stronger, I heartily recommend the much-celebrated Nitro Cold Brew - it's not for the faint-hearted! Tea enthusiasts should take advantage of their Matcha, even though it leans towards the subtler side of flavor. Their Matcha tonic is lovely and always leaves me wishing for larger portions.
The pastry and snack selection is also worth a try. Despite its fragrant aroma, the sesame banana loaf falls a bit short on taste compared to the rest of the impressive lineup. But the toasted sesame rice crispy and scrumptious confetti cream cheese rainbow cookies can easily be their showstoppers. After relishing a piece of the latter, I couldn't help but think that Interlude Coffee & Tea may be onto creating their very own signature dish.
One glance around Interlude Coffee & Tea will explain why it's so popular. The convivial ambiance, the courteous staff with speedy service, the modern yet inviting interiors - it's a charming little hive. Even the stunning cups and chic ice cubes add a blissful touch to the overall experience. A word to the wise: the cafe's compact size means seating might not always be available, so getting your cup of joe to go here might be a better idea.
The prices at Interlude Coffee & Tea might not suit everyone's budget, but for me, the top-notch quality and exquisite experience justify it. Indeed, like most prime city cafes, the prices here lean towards the pricier side. But whether I'm savoring a soothing almond milk latte, a hearty 12oz iced latte, or the smooth and balanced mocha latte - it's money well spent, and I can easily see myself becoming a regular here.
Address: 145 Hudson St, New York, NY
maman
The ambiance maman is inviting and relaxed, contrasting your typical run-of-the-mill coffee shops. It is like a vacation spot hidden in plain sight, offering that tranquil European charm amidst the city's constant buzz. The tastefully designed decor, which perfectly aligns with the overall aesthetic of the cafe, only adds to the appeal.
The life of any café is undoubtedly its beverages, and Maman does an excellent job there. For tea lovers, the hibiscus tea here is a must-try. Every sip transports you to a delightful flavor expedition, earning raving praises from yours truly. From the iced soy latte to the flat white and even the honey lavender oat milk latte with its delicate floral undertones, they're all a joy to savor. The only nitpick? The latter could be served a little warmer, in my opinion.
Maman boasts a vibrant menu on the food front that offers a wonderful variety. The standout? The Tartine Au Salmon. Just one bite, and you'll understand why it's a crowd favorite: perfectly toasted bread topped with cream, lox, tomatoes, pickled onions, micro greens, and sesame seeds - it's an absolute delight. The Oprah Cookie is a star with its perfect balance of crispy and chewy textures for those with a sweet craving. But the pistachio cake left me high and dry, as I found the flavor lacking.
Minor speed bumps aside, Maman stands out in the diverse New York café panorama. Not just a pit stop to grab a quick cup of coffee, it is a sanctuary that offers a delightful break from the busy city life. It imparts a sense of warmth and invites you to slow down, providing a sensory experience that lulls you into
a pleasant state of contentment, one sip, and bite at a time.
Address: 205 Hudson St, New York, NY
Blank Street Coffee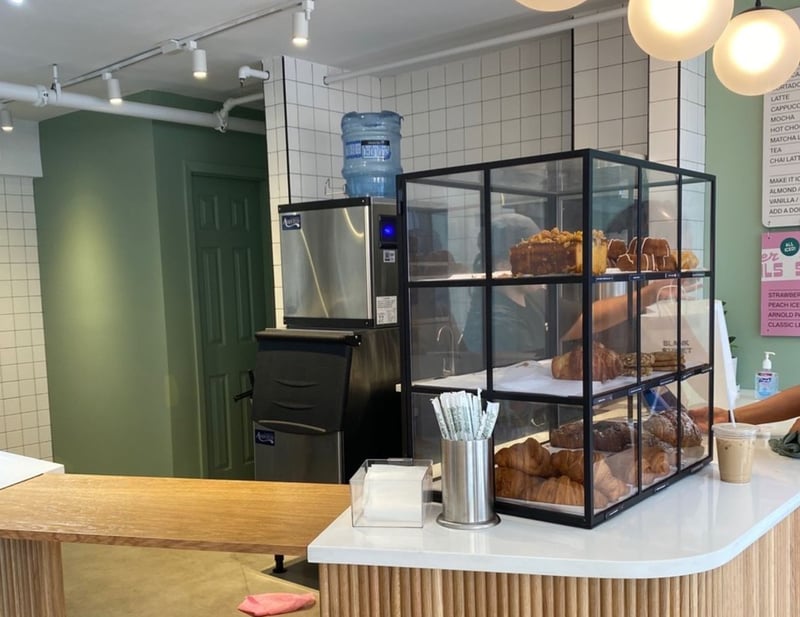 Blank Street Coffee's special drink menu, carefully curated and crafted, is what ensures my regular return. Their signature lattes, such as strawberries and cream with oat milk or their stand-out pistachio option, taste delightfully unique, balancing indulgence and refreshment. They utilize a medium roast that injects a delightful richness into every cup, making each sip a real treat.
You are instantly greeted by a friendly team who personifies the heart of New York hospitality. They swiftly learn your frequent orders and actively suggest new options based on your tastes. I fondly remember their suggestion of the blueberry oatmeal, now my regular coffee companion. Such personalized service is a breath of fresh air in the bustling city, adding a homey and tranquil interlude to my often fast-paced day. Of course, their offerings don't stop at coffee. They also provide various baked goods, including options for those with specific food sensitivities. This makes Blank Street Coffee feel like a place that serves good coffee and is considerate and inclusive.
Address: 125 Church St, New York, NY
Caffe Bene
Caffe Bene, a global coffee chain, provides a reassuring sense of predictability. I often opt for their egg and cheese croissant, which is consistently good and a satisfying start to the day. There's genuine appeal in uncomplicated yet well-made breakfast offerings. However, not every dish hits the mark. Their chicken sandwich, for instance, falls short with its stale bread and slippery chicken.
The café might not dazzle you from the outside, but within, it holds a warm, inviting ambiance. It's spacious and cozy, perfect for long work sessions or getting lost in a good book. It doesn't get too crowded during weekday afternoons, making it a decent spot to escape to from a home office.
Caffe Bene also scores brownie points for their coffee. A selection of non-dairy milk and sugar-free syrups complements their beautifully presented Americano and lattes. This points towards their focus on delivering a great coffee experience.
To sum it up, Caffe Bene is a solid choice for a quick breakfast bite or a tranquil afternoon engrossed in work or reading. Even with minor bumps along the way, they've primarily delivered an overall pleasant coffee house experience.
Address: 378 Canal St, New York, NY 10013
Laughing Man Cafe
Laughing Man Coffee Company feels like a home away from home. Tucked away in the vibrant Tribeca neighborhood, this charming coffee joint perfects the balance between outstanding coffee and irresistibly tasty snack options, all within a tastefully designed, inviting setting. It's where I would choose to be any day in New York City.
The banana muffin and raspberry pastry always leave a smile on my face. The Lavender Latte and Salted Popcorn Latte stand out for their unique taste notes — although, admittedly, I find the latter on the saltier side. Despite this, it's always served at just the right temperature.
Their Hugh Blend is delicious. On the other hand, my wife likes the Iced Cinnamon Vanilla Matcha Latte, and my son enjoys their Pink Lady smoothies.
Laughing Man is more than a conventional café. Compared to industry giants like Starbucks, quality takes precedence over mass production — their Chai Latte easily surpasses the coffee giant's equivalent. Think of Laughing Man as a cozy haven. It's a place for a caffeine fix, a conversation starter, and a bridge between communities.
Address: 184 Duane St, New York, NY 10013
Kaffe Landskap NYC (South)
During a leisurely walk through South Manhattan, I discovered Kaffe Landskap South, a vibrant café with various coffee options. I decided to try the widely acclaimed Matcha Latte that, without a doubt, matched my expectations. It had a refined and slightly bitter taste, without too much sweetness—just how I liked it. The Bourbon Vanilla Latte was decent but could have used a dash more flavor. Although some might find the cost a bit steep, I believe the superior quality coffee justifies an occasional indulgence.
While the food menu was not extensive, it was satisfying to me. The Quinoa Power Wrap is a winner for the health-conscious among us. It was light yet fulfilling and fully hit the spot. I've also heard many compliments about their breakfast BLTs. Appreciably, they even cater to those with dietary restrictions, offering options like gluten-free bread—a thumbs up for serving delicious, fresh food. Of course, a more diverse menu could be an added advantage.
The atmosphere has its unique charm. Long wooden tables decorated with floral centerpieces, a cozy lighting scheme, and a thoughtfully selected playlist helped to create the mood. Some may find the ambiance slightly dark, but it added a pleasant edge for me. The café also provides free Wi-Fi and comfy seating. Hence, it's an ideal spot for digital nomads, intimate chats, or those seeking tranquility. Yes, it might get crowded and noisy during busy hours, but popularity often comes with its challenges.
So, was my visit to Kaffe Landskap South worthwhile? Totally. I thoroughly enjoyed my Matcha Latte and Quinoa Power Wrap. The atmosphere was a welcome change from the usual city buzz, and I appreciated the staff's friendly demeanor, which set a positive tone.
Address: 275 Greenwich St, New York, NY 10007
Now or Never Coffee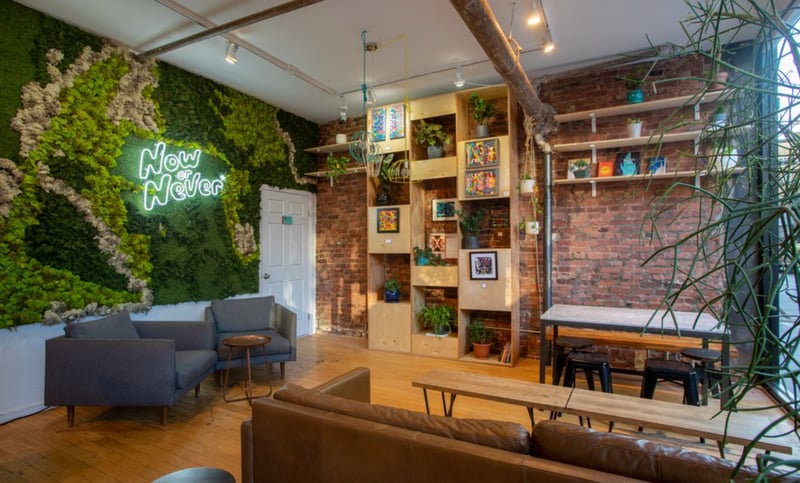 A selling point of Now or Never Coffee Shop is its ambiance. Everything persuades you to stay longer, from the inviting décor to the welcoming vibe. Even during peak times, it maintains a cozy, home-like atmosphere that's hard to match.
The bacon, egg, and cheese sandwich is noteworthy for its exceptional taste and perfectly balanced elements. The delightful crunch from the crispy bacon adds a complimentary texture to this breakfast staple, with the distinctive flavor of each ingredient discernible - a clear sign of meticulous preparation using fresh ingredients. And speaking of fresh, their strong commitment to fresh produce is evident, as one can often see them preparing avocados early in the morning! While this approach is commendable, its downside is the occasional limitations in the breakfast menu options due to staffing issues.
While not unique to Now or Never, the almond milk latte is consistently pleasing to the palate. The Hot Honey Bear Latte could use a boost in honey flavor but still offers a comforting experience. However, I found the Vietnamese Coffee rather disappointing, with its sweet condensed milk overpowering the coffee flavor. Still, most of their beverages hit the mark, and the coffee beans' quality is notably high.
In conclusion, Now or Never Coffee is a decent option. It fits the bill for a relaxed breakfast, a getaway with friends, or even to work remotely with a good Wi-Fi connection. While the noise and limited space can occasionally put a damper on things, it's not enough to drive me elsewhere. The unique character of the place more than compensates for these minor inconveniences.
Address: 30 Grand St, New York, NY 10013
Bikini Bar
Entering Bikini Bar is like being whisked away on a "mini tropical vacation.". The unexpectedly kitsch décor evoked images of a Hawaiian shoreline, complete with old movie props and vintage pinball machines humming in the corner. A nostalgic jukebox churned out soothing tunes, while the walls adorned with weathered surfboards and tropical ornaments added a genuine, laid-back beach feel that was enticing. A cockatoo and a parrot enhanced the tropical ambiance, their exotic chatter a soothing soundtrack as vintage surf movies played in the background.
The Tiki-cino - an exquisite mix of espresso, coconut milk, and bitters - took me by surprise. The presentation equaled the unique flavors, as the mugs were as pleasing to the eye as the coffee was to the palate. The baristas seem like true coffee lovers, their pour-over coffee an experience not to be diluted by cream or sugar. The cold brew is floral-topped, iced, and robust enough to be enjoyed without added sweetness.
Bikini Bar's atmosphere is invigorating, fueled by the affable and well-informed team. Their love for coffee was evident, making choosing a brew interactive and informative. And as if the tropical experience wasn't immersive enough, the restrooms even had coconut-scented soaps from Kiss My Face- a tiny yet charming touch.
Fair warning- the prices are above average. But I believe the top-notch service and excellent coffee justified the occasional indulgence. Factoring in the knowledgeable staff, exceptional brews like Tiki-cino and cold brew, and the appealing beachy throwback vibe, I left convinced the experience was worth every penny.
Address: 148 Duane St, New York, NY 10013
Bluestone Lane Tribeca Café
Bluestone Lane is a charming café that leaves a lasting mark. The drinks, whether the bold mocha or the uniquely smooth draught oat flat white, are always spot on. For those who aren't big on caffeine, their decaf coffee is worth a try. Don't miss out on their acclaimed chai latte, either. Their weekend treats include reasonably priced $5 mimosas and Aperol spritzes, making your 'just here for drinks' excursion worth the trip.
This café exudes an appealing atmosphere of comfort and feels like a second home to the locals. Some prefer to work on their laptops here, while others pop in for a quick takeaway. My first taste of their menu was their very popular spicy chicken wrap, which was tasty. The baked green eggs and soft chili scramble were a delight, offering a balanced blend of freshness and portion. Their avocado toast, boasting perfectly ripe avocados on flawlessly toasted bread, is one to savor.
The service is generally friendly and prompt. However, we had instances of confused orders during busy times, but the overall warmth and efficiency of the staff outweighed these minor hiccups.
Address: 109 W Broadway, New York, NY 10013
Blue Bottle Coffee
Blue Bottle Coffee has created a solid and loyal following among coffee connoisseurs. Their beverage menu spans from the tantalizing Iced Matcha with Almond Milk to consistently good Espresso – catering to many palates. The subtly blended almond milk with matcha resonated with me. Their premium coffee collection, while authentic in taste, didn't necessarily stand out to me. Nevertheless, I enjoyed my brew in the café's uniquely ginger yellow cup – an element distinctive to Blue Bottle.
The café is a delightful space with windows pouring in ample sunlight onto open seating areas - an ideal spot for diving into a good book or jotting down thoughts, made even more appealing by free Wi-Fi. As I casually surveyed the café, I spotted a range of their bottled beverages neatly aligned in a cooler and a tempting selection of granola and pastries. At first glance, it may appear similar to an ordinary neighborhood café, but what distinguishes Blue Bottle is its guaranteed quality and visually pleasing setup.
One aspect that may come as a surprise is the pricing. Specifically, a 12 oz drip coffee is priced at $5.44. While coffee enthusiasts might readily pay this amount for a top-notch cup amidst a pleasant ambiance, it's worth noting that its costliness may raise a few eyebrows.
Their dependable service and consistent quality resonate with their customers, as evidenced by their visible brand loyalty. Regular patrons can be spotted across different locations of Blue Bottle, enjoying their coffee, a testament to the café's ability to retain its clientele. The combination of promptly prepared drinks and a spacious and inviting setting justifies, to an extent, why many are willing to pay a premium for their coffee experience. Blue Bottle strikes an exciting balance between a corporate coffee chain and an artisan café.
Address: 408 Greenwich St, New York, NY 10013
Hungry Ghost Coffee
This small yet bustling café has made a lasting impression, standing as a vibrant cog in the diverse machine of NYC coffee shops. The bold Stumptown Coffee they serve revitalizes my senses with every morning sip. They also serve unique beverages such as the iced matcha latte. Unlike most, this one isn't bitter, so there's no need to sweeten it up.
Hungry Ghost Coffee offers a unique atmosphere, creating its own little world within the city. Stools along the window and outdoor tables invite a close-knit community feeling. Even though city life beckons and you can't stay too long, it provides a warm and friendly haven from the hustle and bustle.
There is a wide range of food and drink options. I've discovered delightful combinations like David's Tacos and the multigrain croissant. I should also mention their zucchini muffins, delightfully decadent with carrots. But be sure to get there early to enjoy their pastries.
Address: 165 Church St, New York, NY 10007
Two Hands
Two Hands offers a warm and inviting atmosphere reminiscent of a coastal café during the summertime. This pleasant setting is versatile and suitable for a relaxed brunch or even an out-of-office meeting. The music, while contributing to the lively atmosphere, did sometimes overpower the more tranquil moments, especially when I was trying to work.
I landed on their Avocado Toast. Each bite offered a symphony of flavors and textures, with the tenderness of the fresh avocado contrasting perfectly with the crunchiness of the toast. Their Banana Bread with Espresso Mascarpone is also delightful, balancing sweetness and a subtle coffee flavor. The Mushroom Bowl and Brassicas Bowl, designated as exceptional light breakfast choices, showcased the comprehensive variety on Two Hands' menu.
The matcha latte was subtly sweet, aromatic, and expertly prepared. The Taro Latte won commendations from my friends for its smooth texture and distinct flavor. The canned coffee was a surprise, while the Espresso Martini offered a gratifying bittersweet aftertaste.
Fresh elements such as pickled radish, jicama, and sweet potato in various dishes lifted the flavor profile and effectively demonstrated the restaurant's commitment to healthy ingredients. With its diverse offerings, proficient service team, inviting ambiance, and enjoyable beverage options, a visit to Two Hands is worthwhile.
Address: 251 Church St, New York, NY 10013
Think Coffee
Think Coffee offers an array of standout beverages, ranging from the uncommon Spanish Latte to the rich and silky iced vanilla oat milk latte. The comforting atmosphere of the cafe makes it a perfect spot for solitary work or sharing laughs with old buddies. The calming wash of sunlight bathing the interior couples beautifully with the inviting corners, suggesting a longer stay.
What sets this cafe apart is its admirable social responsibility. This is not just another coffee shop; it gives back to its picture-perfect coffee farms from its profits. It's about maintaining the balance that fuels the coffee industry.
Their pastries are particularly noteworthy. Whether it's the reliable yet delicious ham and Swiss croissant or unconventional delights like the pumpkin spice scone, you're in for a treat. While the latter might be a bit denser than expected, the commendable Vegan selections and locally sourced bran muffin more than make up for it. So, stop by Think Coffee next time you're in the city and need your coffee fix. It's refreshingly New York, yet distinct. It's a cosmopolitan hub where the world converges over a cup of perfectly brewed coffee.
Address: 350 Broadway, New York, NY 10013
Best Coffee Shops in TriBeCa (Post Summary)
Gotan
Birch Coffee
Cafe Atelier
Jack's Stir Brew Coffee
Kaffe 1668
La Colombe Tribeca
787 Coffee
Interlude Coffee & Tea
maman
Blank Street Coffee
Caffe Bene
Laughing Man Cafe
Kaffe Landskap NYC (South)
Now or Never Coffee
Bikini Bar
Bluestone Lane Tribeca Café
Blue Bottle Coffee
Hungry Ghost Coffee
Two Hands
Think Coffee