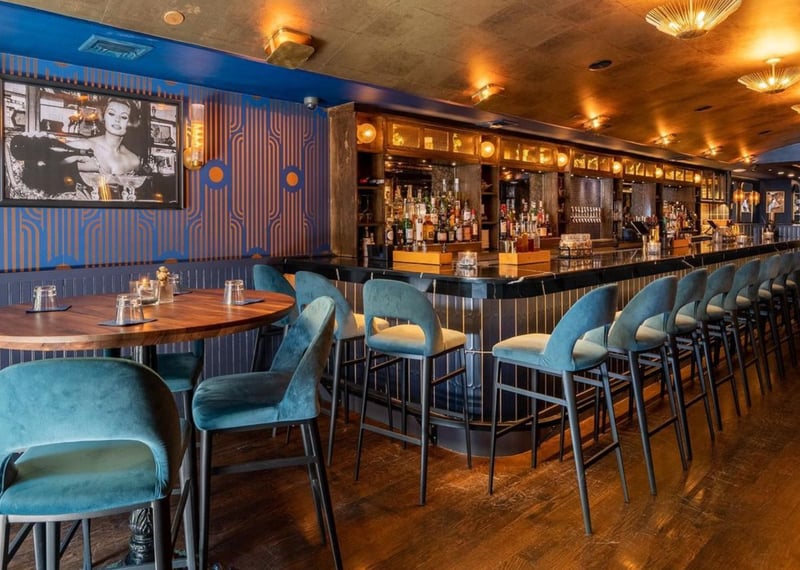 Once known for its rebellious spirit, Hell's Kitchen now symbolizes vibrant nightlife and culinary excellence in Manhattan. This transformation is especially evident during the much-loved happy hour when residents and visitors gather to enjoy a variety of meticulously crafted beverages and gourmet delicacies. It's a moment steeped in camaraderie, where the eclectic mix of sophisticated wine bars and local breweries offer something for every palate, emphasizing value, quality, and diversity in their selections.
Discover, explore, and relish every moment in this vibrant enclave of Manhattan using this list of my favorite Hell's Kitchen Happy Hour haunts as your guide.
Best Happy Hours in Hell's Kitchen
Vida Verde
Vida Verde offers a lively ambiance and incredible flavors. The vibrant setting, accentuated by colorful decorations and a fun bar area, creates a cheerful atmosphere. It's a great spot for social media enthusiasts with Instagram-worthy backdrops.
A happy hour visit isn't complete without trying their beverages. Their bartenders expertly mix pomegranate and cucumber margaritas. Themed cocktails like 'Holy Smokes it's Mezcal' and 'Penicillin' are equally impressive for their nuanced flavors. 'One for Road,' with a unique flaming skull presentation, is a unique suggestion.
Vida Verde's diverse and quality food is designed to suit various tastes. I particularly enjoyed the mushroom quesadillas, Yucca fries, and chicken nachos. The carnitas tacos, discounted on Taco Tuesdays, were succulent. No dish, however, outshined the exceptional Huitlacoche Quesadilla, a real taste sensation.
The restaurant's unique feature is its late-night kitchen service, where you can enjoy delicious food post-midnight. All items, from chicken quesadillas to vegan enchiladas, are flavorful. The Yucca fries deserve special mention and are recommended for everyone to try at least once.
Address: 248 W 55th St, New York, NY 10019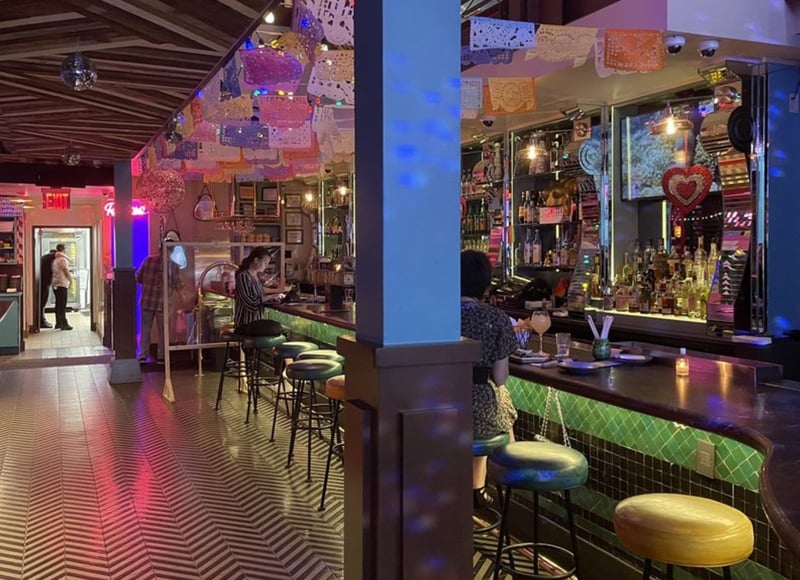 Carla
Occasionally, I stumble upon gems like Carla's in Hell's Kitchen. It deftly asserts that fine dining doesn't demand a fortune, excelling in its food, beverages, and immediately inviting ambiance.
Carla's menu savvily ranges from comforting home-style dishes to innovative culinary masterpieces. Memorable highlights include the crispy fish and chips, distinctive roasted cauliflower appetizer, and vegetarian tacos featuring a sweet potato and avocado blend. For seafood enthusiasts, the shrimp and scallop cocktail is an evocative maritime indulgence.
Impressive cocktails are Carla's hallmark. Among many options, I was captivated by the Hells Kitchen's signature - a hibiscus margarita. Expertly balanced and vibrant, it personifies a superior cocktail. Meanwhile, my wife enjoyed the whimsical adult capri sun, served in a plastic pouch, reminiscent of carefree summer days.
Despite its bustling Hell's Kitchen location, Carla's atmosphere remains relaxed and friendly. Its unique features, such as an Airstream out front and food delivery robot Bella, lend a modern edge while preserving the establishment's charm.
Address: 331 W 51st St Ground Fl, New York, NY 10019
Heno Heno
Heno Heno's décor offers an intriguing interplay of the familiar and novel with a touch of eccentricity that is as inviting as it is comforting. Amidst the city's frenetic pulse, it provided an instant sanctuary.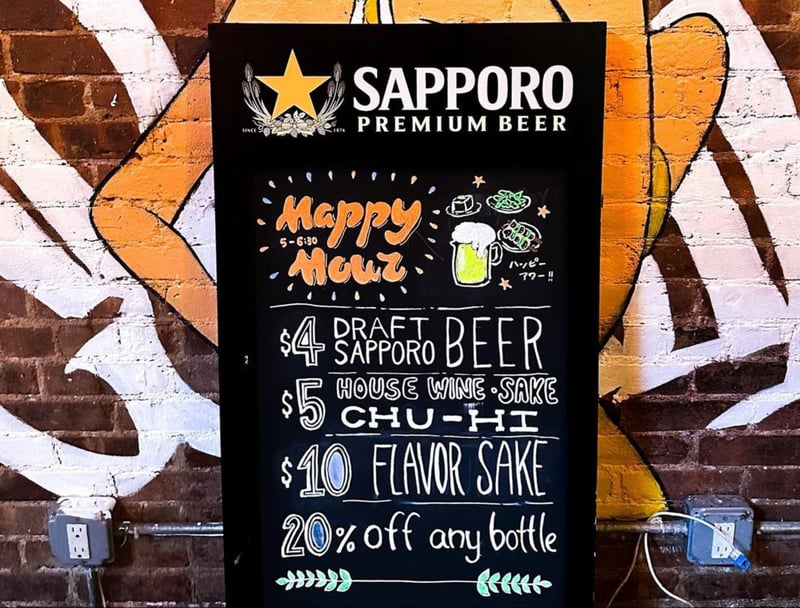 My wife and I, intrigued by the variety, ordered various dishes. Each had its own story of flavor to tell – from the succulent grilled skewers to the flavorsome chicken thigh barbecue, and who could forget the savory pork belly that managed to please even our little one? There were unexpected delights, too, such as the agedashi tofu and the beef udon, offering tantalizing combinations of taste and texture. However, the beef tongue did fall short of our expectations, but understandably, not every dish can cater to everyone's palate.
Alongside food, Heno Heno offers a splendid selection of sake, and the offer of sampling three varieties for a mere $15 was an unexpected treat.
Address: 358 W 46th St, New York, NY 10036
Peachy Keen
Peachy Keen, a retro-modern blend of '70s charm and modern futurism, is a bar and grill. Its lively atmosphere, reminiscent of Hell's Kitchen's renowned Mom's Bar and Grill, caters to those seeking a unique ambiance.
The intriguing Southern-inspired menu featuring dishes ranging from crab Rangoon nachos and truffle fries to chicken-stuffed waffles matches the exciting décor. Their enticing happy hour steals the show, starring the very creative cocktail selections.
The cocktails, including Tea-Quila Mockingbird and Clockwork Orange, are perfectly balanced, sweet, and tart, making Peachy Keen an ideal happy hour stopover. The fruit mix mocktail named Beauty School Dropout and the unique Disco Ball Drink are top recommendations for teetotalers. The Under the Sea Milkshake is a breakfast treat.
Peachy Keen, perfect for catching up with a friend or for a lively brunch, lives up to its name. I've visited multiple times, and each experience has been delightful.
Address: 325 W 44th St, New York, NY 10036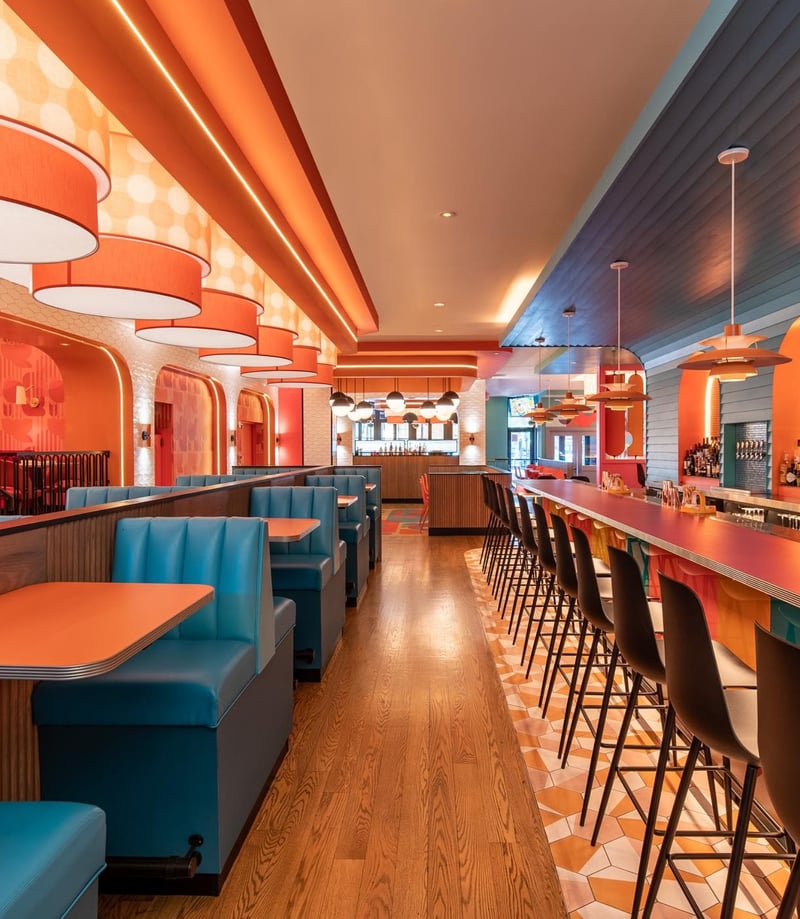 Bea
Nestled in Hell's Kitchen, near several theaters, Bea is a haven for diners pre or post-show. While bustling with patrons, its atrium boasts a serene glow. An enchanting 'lucky tree' adds to the whimsical setting. While it can get noisy, the decor contributes to the lively atmosphere, featuring brick walls, old movie projections, street signs, and album covers.
Opinions in our group about the beverage selection varied. The ratio of orange juice to champagne in the Mimosas didn't delight everyone, but most loved the cocktails. The Sparkling Rose was an unexpectedly pleasant addition with its chilled, dry crispiness. Some lauded Bea's take on the classic Bloody Mary.
Describing brunch at Bea as a mini-celebration wouldn't be an exaggeration. Its $28 pre-fix brunch menu shines with its bountiful starter, side, and main course spread. The Avocado toast, poised with a poached egg and a side salad, brims with flavor, whereas the quiche has garnered considerable favor despite its smaller serving size. The granola, fresh fruit, and yogurt are cherished brunch starters, winning the approval of even the harshest critics.
Address: 403 W 43rd St, New York, NY 10036
Nothing Really Matters
My wife and I discovered Nothing Really Matters, a hidden gem in the 1 Train subway station at 50th & Broadway. This speakeasy-style bar exudes a playful ambiance beneath quirky neon lights, ideal for a casual drink. It is as authentically New York as it gets, including the occasional whiff of subway aroma.
The drink menu at Nothing Really Matters boasts inventive, seasonal cocktails. We enjoyed the Spicy Martini and robust Fig Mezcal Cocktail. The distinctiveness and quality of the drinks make for a worthy splurge despite slightly steep prices for such a casual locale.
Live music from a DJ playing atop the pulsing city beat of the subway below sets the vibe at Nothing Really Matters. This unique blend of cool tunes and inventive cocktails gives the place an edge for an evening with friends or a date night.
Bartender attention to intricate cocktail crafting and willingness to mix off-menu requests showcase their skill and flexibility. While there's potential for quicker service, the quality of staff is undisputed.
Address: 1627 Broadway, New York, NY 10019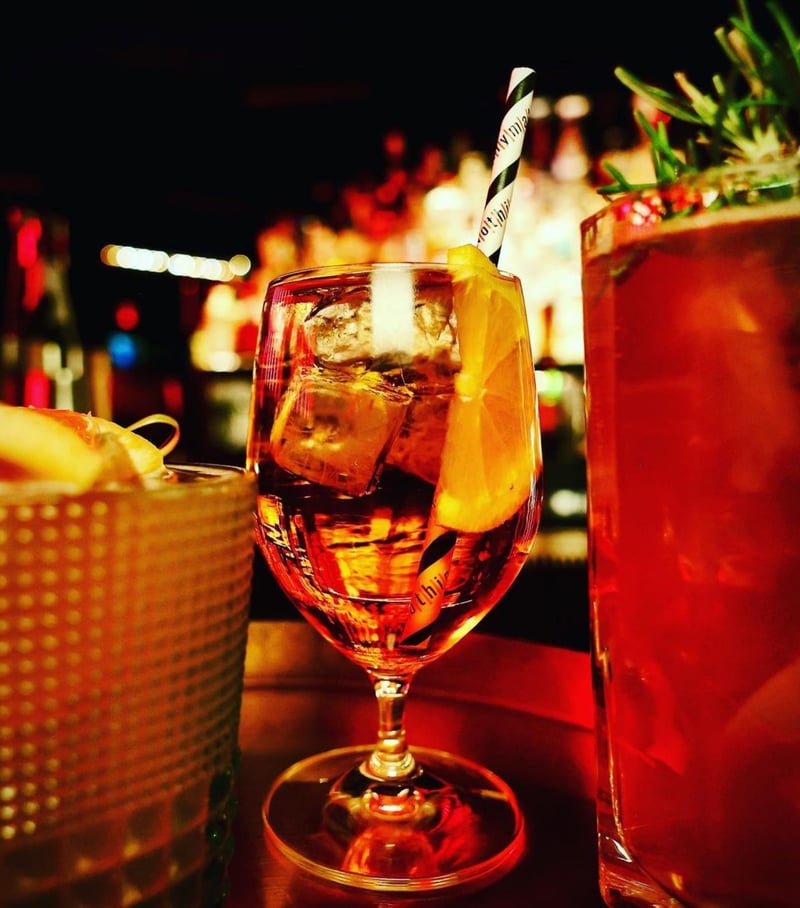 Bar 58
Bar 58 in Fairfield-Marriott, Central Park, gives locals and visitors a cozy yet spacious place to unwind. The relaxed bar ambiance, open post-pandemic, appeals to many New Yorkers.
The friendly, professional bartenders at Bar 58 embed warmth into the social atmosphere. Their competence and affable nature make all patrons feel welcome.
Bar 58's appealing happy hour deals lure in patrons. From 5 to 7 p.m., they offer $9 margaritas, $10 bar bites, and a variety of drinks under $10. These generous deals make for a standout happy hour experience.
The quality of drinks served at Bar 58 enhances its charm. With a focus on flavor, they serve beverages like margaritas made with real fruit and a delectable blueberry mojito with homemade syrup. The espresso martini, as recommended by our bartender, was a hit.
Address: 538 W 58th St, New York, NY 10019
Friki Tiki
Upon entering Friki Tiki in the lively Hell's Kitchen neighborhood of New York City, I was consumed by the bar's warm tropical vibe. It charmingly emulates a beach speakeasy. While its former life as surf bar Reunion lightly lingered, its atmospheric refinement towards its theme was admirable.
Of primary note at Friki Tiki is its unique drinks menu and compelling happy hour deals. I was impressed with the variety and quality of cocktails. Their $10 Zombie cocktail, a popular punch, was impressive and potent. The inventive Aloha-Rita caught my attention, and the Frozen Painkiller served in a unique goldfish bowl, was robust and enjoyable. The off-menu Skinny Margarita received my hearty endorsement as an unexpected find.
During our visit, a gifted pianist and singer reciprocated audience song requests, providing a unique and charming experience. This was an unexpected highlight of my visit.
Feeling a tad hungry, I tried out their food offerings, primarily light snacks. The Beef Friki Tots and Loaded Tots with Veggie Chili garnered an approving nod from me. Their Hawaiian Sweet Bun Cuban sandwich left an indelible impression – it was tasty and satiating, a real feast for the palate. It did make me ponder the excellent prospect of an expanded menu with more extensive options to choose from earlier in the day.
Address: 357 W 44th St, New York, NY 10036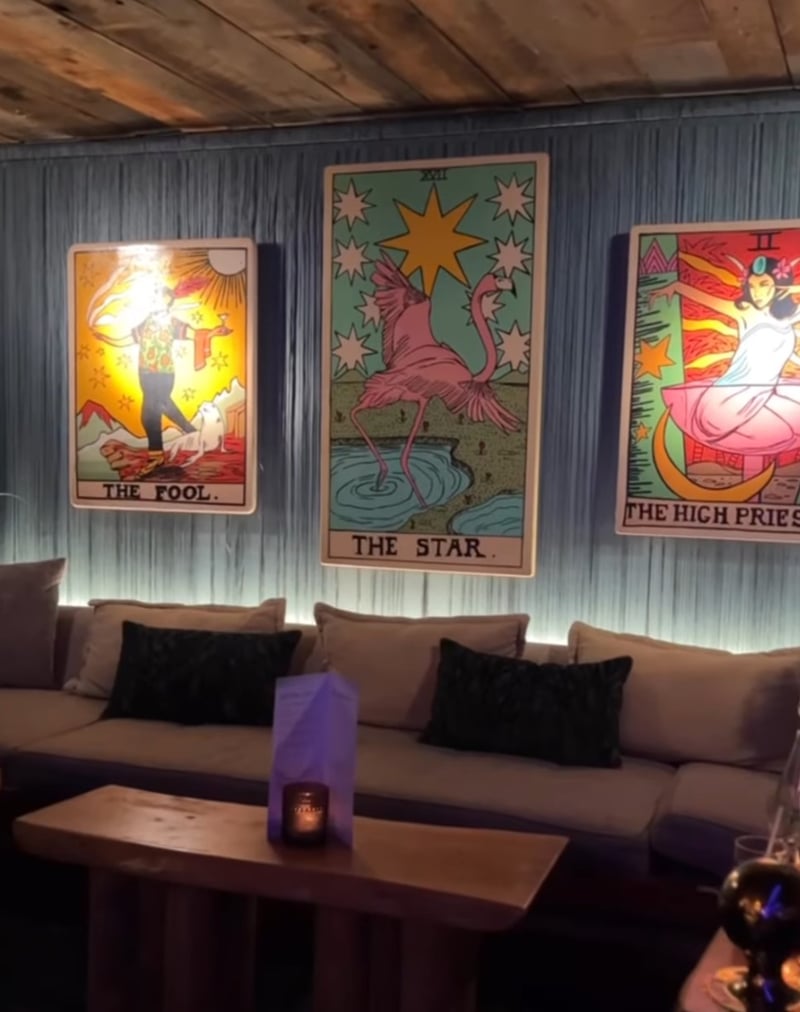 Ada's Place
Ada's Place is a charming speakeasy-style bar outside city neighborhoods and near the Lincoln Tunnel. Its inviting atmosphere caters to intimate gatherings and larger groups, with its well-lit table seating, Art Deco ambiance, and friendly staff adding to the overall experience.
This cocktail lounge appeals to happy hour drink lovers, featuring a diverse menu of spirits, wines, and craft cocktails carefully crafted by mixologist Jeff Bell. Though the prices may be high for some, the quality and taste of the drinks justify the expenditure.
Happy Hour at Ada's offers you discounted drinks and snacks, making it a budget-friendly option for a relaxed evening with friends.
While the food menu is limited, it delivers on quality. The tater-tots paired with smoked aioli are a favorite, and the crisp fries make for the perfect drink companions. However, considering the prices, more significant portions would be appreciated.
Address: 515 W 38th St, New York, NY 10018
Gossip Bar & Restaurant
Gossip Bar & Restaurant offers a happy hour menu with diverse drinks, including margaritas and white wine spritzers. Its standout is the Irish Mule cocktail, a personal favorite. The six-hour happy hour and appealing outdoor seating area make Gossip popular with locals and tourists.
Gossip exudes a relaxed and intimate atmosphere similar to a traditional Irish pub. Its understated exterior hides a spacious interior with comfortable seating and a quiet retreat at the back. With multiple TV and music selections, it's an excellent spot for enjoying a game while sampling their quirky drinks and nibbles.
Located within reach of the Theater District, Hell's Kitchen, and 9th Avenue, Gossip provides an ideal stopover before a show or after a busy workday. Fans of good company and sangria will find much to enjoy here.
Their diverse and tasty menu features everything from mozzarella sticks to a Gaelic burger. Popular dishes include the Spinach Artichoke Dip with fresh Pita chips, and Truffle Fries complemented with Gossip Aioli. My personal favorites were the shepherd's pie and Rigatoni Pasta. The Fish & Chips, though, could use more crunch.
Address: 733 9th Ave New York, NY 10019
The Three Monkeys
The Three Monkeys Bar in Hell's Kitchen pulses with energetic music and sports fans' cheers. Its electrifying yet welcoming atmosphere integrates both rustic elements and contemporary design, including a mix of sports memorabilia. The highlight is the bar's year-round beer garden, offering an intimate setting for lively conversations.
Food options range from the robust 'All American Burger' featuring alluring house sauce and tangy pickles to the delicately flavored 'Wild Mushroom Flatbread.' The 'Chicken Wings' also boasts a distinct Korean BBQ taste, and the 'Brisket Tacos' are flavorful.
A few dishes like 'Sweet Potato Fries' and 'Steak Sandwich' could use more flavor, but the expansive drinks menu redeems. The 'Three Monkeys IPA' stands out with its potent hoppy taste. The bar's beer offerings cover craft bottles and domestic drafts, and mixed-drink enthusiasts should pay attention to the 'Broadway Cocktail.'
Address: 236 W 54th St, New York, NY 10019
Chez Zou
Near Moynihan Train Hall and the NHL Store, Chez Zou offers a chic yet relaxing ambiance enriched by a rooftop patio.
The capable bartender during our visit introduced me to a couple of exceptional cocktails. The Tamarind Julab showcased her mixology skills, blending sweet and sour flavors perfectly. The Green Colada, a fusion of Guatemalan Rum, Golden Raisin, Arak, Lime, Pineapple, and Coconut, was both soothing and intriguing. And the Dirty Zou, served icy, tested my olive-knowledge. Meanwhile, the whimsical Gibson Cocktail presentation was a visual treat.
Food at Chez Zou exceeded its unpretentious descriptions on the menu. The Chicken Nuggets and burgers were as tasty as the cocktails, especially when complemented by the unique Crudites and Whipped Ricotta.
The true stars of our visit were the luxurious Bekaa Highball, adorned with frozen grapes, and the Tropoli Negroni. This flawless concoction of Italian wine, tantalized with traces of sweetness and floral undertones, was a joy to sip.
For anyone savoring the Fresh Prince cocktail on Chez Zou's rooftop, seize a moment to absorb the surroundings. Amid the urban jungle, this tranquil oasis brimming with green plants, glowing lights, and welcoming patrons is worth the effort. It's the perfect spot for happy hour in Hell's Kitchen.
Address: 385 Ninth Ave Ste 85, Fl 4 New York, NY 10001
The Waylon
The Waylon in New York's Meatpacking District uniquely blends country-western charm and city vibrancy. The live music on weekend nights, transforming popular hits into country classics, enchants country devotees and general music lovers.
Setting The Waylon apart is its identity as a haven for Packers devotees—game nights brim with a thrilling atmosphere and community spirit, culminating in the much-anticipated shotskis ritual. The bar welcomes anyone looking to enjoy sports events, regardless of their team affiliations.
The food also impresses, particularly the Buffalo chicken sandwich – a mouthwatering mix of tangy buffalo sauce and well-prepared chicken. We enjoyed the cheese curds appetizer and a robust veggie burger. While the Cobb salad has drawn mixed reviews, the overall food quality is commendable.
The Happy Hour boasts budget-friendly deals on food and drinks. Retaining its Western roots, The Waylon caters to varied drink preferences. It offers refreshing Lonestar beers and more, with the watermelon frozen margarita standing out as the star attraction, particularly during the hot summer days.
Address: 736 10th Ave New York, NY 10019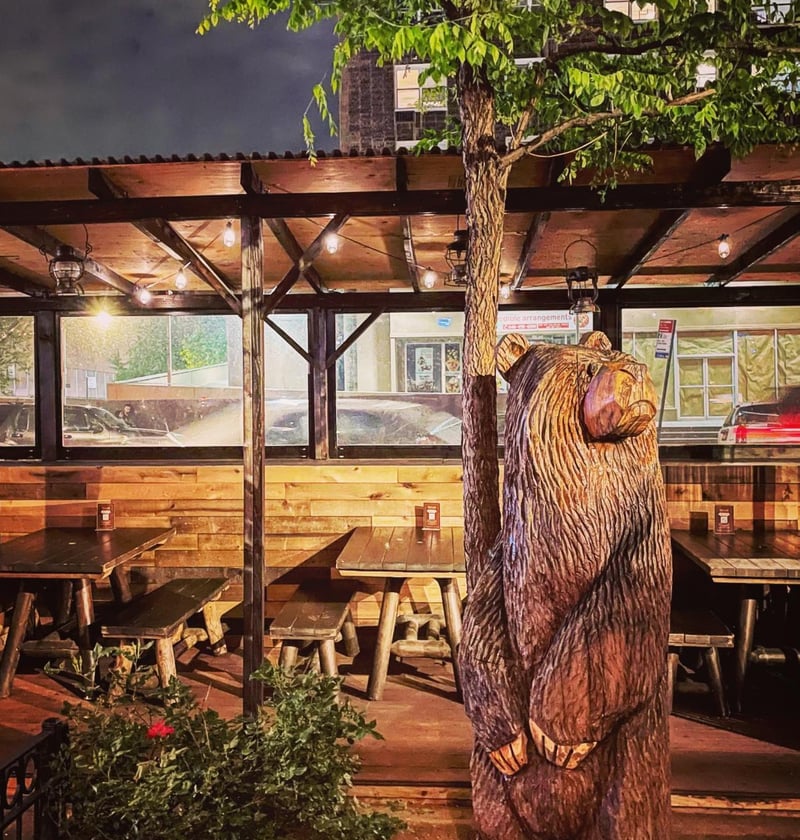 Rosevale Cocktail Room
The interior of the Rosevale Cocktail Room offers a dimly lit style, a spacious lounge, and classic Broadway motifs. The Starchild Rooftop is a true marvel with its stunning views and comfortable outdoor seating. It's a place fit for both casual dates and theater galas.
Rosevale shines in terms of food and drink. Their savory steak tips seasoned with sesame oil are particularly noteworthy. Their brunch menu, boasting a tempting selection of pancakes and pastries, is equally irresistible. Complementing the food is the team's excellent service standards, marked by keen attentiveness and intelligent suggestions.
At Rosevale, the cocktail menu steals the show. Unique concoctions like their Operatic Overdrive and Spicy Encounter delight the palate, but the Fullmoon Lullaby, with its unusual banana and bourbon mix, truly stands out.
Address: 305 W 48th St 2nd floor New York, NY 10036
On The Rocks
On The Rocks is a whiskey lover's paradise featuring an impressive array of 300 whiskies. I was particularly taken with their scotch selection, although the range extends from Japan to America and beyond, catering to a broad range of palates.
The Whiskey Tasting Flight stands out, although its premium offer does come with a higher price tag, starting at $25.
The bartenders add to the experience; they're walking whiskey guides, offering tailored recommendations. One negative is the absence of a straightforward menu.
Bourbon lovers are well catered for here, too, with plenty of Kentucky's finest offerings on the table. A slight drawback I noticed was a lack of non-alcoholic options, which may limit choices for those steering clear of alcohol.
Address: 696 10th Ave, New York, NY 10019
Lady Blue
Coming to Lady Blue for happy hour can be a complete mood changer. The bar's classy ambiance is reminiscent of the Oriental Express dining car's elegant decor drenched in blue and golden hues. Embracing casual outings and romantic date nights, the soothing background music adds a tranquil charm that keeps patrons returning for more.
Lady Blue offers unbeatable Happy Hour deals. Patrons can enjoy hearty, cost-friendly cocktails nestled in the pulse of Midtown's Hell's Kitchen. Their mix menu ranges from the Sweetie Pie Old Fashioned to my favorite, the Thai Twist Ice Tea. Also, the Mimosa Towers—a continual flow of different-flavored refreshing mimosas—is an apt pick for a laid-back Sunday brunch with friends.
Lady Blue's food menu is equally compelling. The crispy breakfast wontons and the Honey Buttermilk Battered Chicken Sandwich are sure to charm any food lover, and the cheese board, with its onion-orange jam, caramelized pecans, fresh fruits, honey, and bread, is a culinary treat.
Address: 363 W 46th St, New York, NY 10036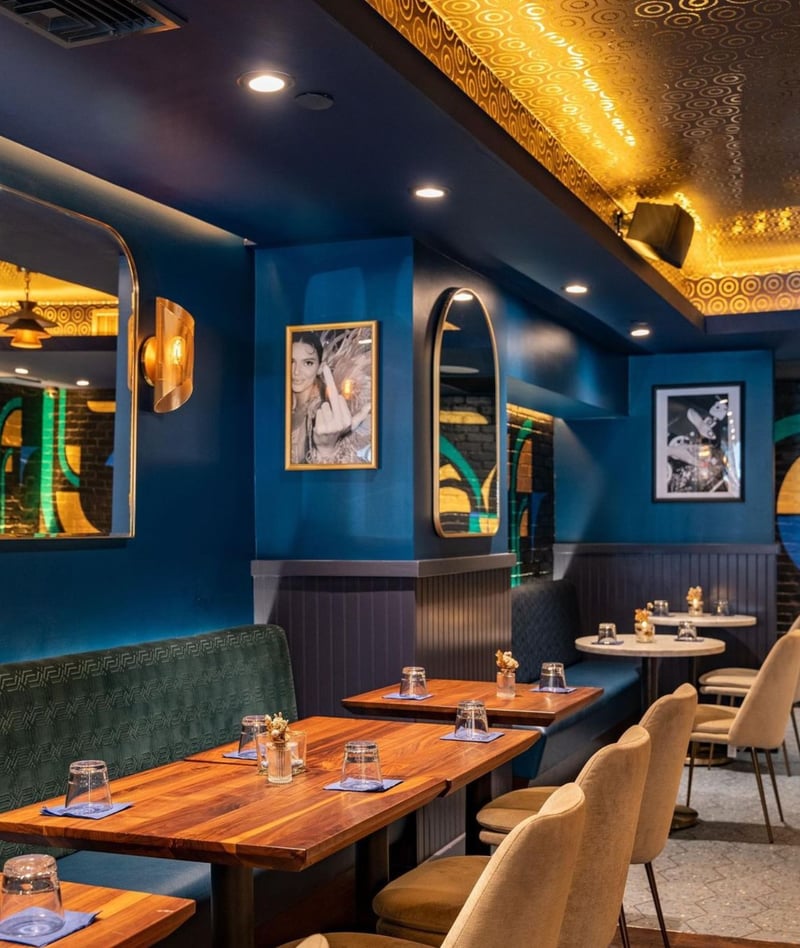 Alfie's
Hell's Kitchen residents cherish Alfie's, a charismatic neighborhood pub. Alfie's provides an inviting community atmosphere paired with signature New York energy. Charm radiates from the buzzing conversation, infectious laughter, and interspersed groovy tunes.
The French toast and crispy General Tao's cauliflower receive frequent commendation. My favorite is Alfie's Signature Burger — perfectly grilled with Gruyère and Portobello mushrooms and enclosed in a soft brioche bun.
The Parmesan truffle fries stand out: crisp, golden, topped with Parmesan and rosemary, and accompanied by tangy aioli. While some dishes could benefit from a dash more seasoning, the freshness and quality of the ingredients are undeniable.
Alfie's is also renowned for its happy hour specials, drawing an enthusiastic and buoyant crowd. The extensive drinks selection, featuring craft beers, interesting cocktails, and several versions of Old Fashioned, was designed with everyone in mind. My preferred choice? A refreshingly cool Aperol Spritz.
Address: 800 9th Ave, New York, NY 10019
Giardino 54
For an authentic Italian culinary experience in Hell's Kitchen, consider Giardino 54. It's known for delectable options, such as homemade Spaghettini Fungi e Speck, Gnocchi in Gorgonzola sauce, and Bucatini alla Norma. Handcrafted pasta and fresh preparations are standard. The Eggplant Rollettini and Octopus are recommended appetizers.
Giardino 54 has a warm atmosphere whether you dine inside or in the charming outdoor garden. Suitable for various occasions, it makes for a memorable date night venue, family dinner location, or a spot for pre and post-theatre meals.
Given its popularity and limited seating, I encourage you to reserve a table at Giardino 54. Based on numerous positive experiences, it is highly recommended for those seeking genuine Italian cuisine, superior hospitality, and a cozy happy hour in Hell's Kitchen.
Address: 400 1/2 W 54th St, New York, NY 10019
Marseille
My wife and I recently dined at Marseille, a prime spot in Times Square for workers or Broadway showgoers. The quality of food, we noticed, was outstanding. We savored their classic bouillabaisse filled with seafood and saffron-infused broth. Their duck liver mousse was balanced ideally with fruit jelly and brandied cherries, and the short ribs were perfection.
We were lucky enough to catch their happy hour - a wise choice. At $1.50 each, the oysters tasted fantastic, pairing excellently with a non-alcoholic Elderflower Spritzer. It's safe to say their happy hour accolades are well deserved.
In terms of drinks, Marseille excelled. My wife's Bellini was excellent, and they offer an unlimited brunch deal on Bellinis and various mimosas, adding a fun element to the meal with creative cocktail names.
Address: 630 9th Ave, New York, NY 10036
At Nine Restaurant & Bar
My wife and I took a needed break from our busy schedules for an evening at the At Nine Restaurant & Bar. We went in with high expectations, prompted by glowing reviews from friends who had tasted phenomenal cocktails during the happy hour there. The promise of $9 lychee martinis was just too appealing to ignore. They were as good as we had been led to believe. As we savored the flavors of the martinis and sampled the potent margaritas, we instantly understood why our friends were so eager to praise them on social media.
The vibrant decor, mirroring the verve of Hell's Kitchen, caught our attention. Wall-to-wall mirrors and a beautifully lit bar crafted a unique, artistic ambiance, a departure from the predictable restaurants we typically frequent.
The Spicy Pad Kee Mao, Pad Ka-Prow, and extremely popular chicken satay were standout dishes, providing rich flavors. Though some customers found the meals slightly salty, we appreciated every tantalizing bite. Unexpectedly, even the fried chicken dumplings - akin to bite-sized snacks - boosted our anticipation for the main course.
Address: 592 9th Ave, New York, NY 10036
Wine Escape
Monopolizing a quaint corner of the town, this spot is perfect for low-key conversations and engaging wine tastings, offering varieties like a full-bodied Australian Shiraz and a French Champagne, readily available by the glass - both pleasant surprises.
The Wine Escape's menu appealed to my culinary sense with its broad diversity. Highlights included cheese cigars with crispy salmon, a commendable vegetarian Labneh (though it could do with more seasoning), and a recommendable creamy artichoke dip. However, the eagerly anticipated beef chorizo flatbread proved disappointing with its uninspiring taste.
The romantic ambiance of Wine Escape only enhances its appeal. An intimate wine bar with inviting garden seating and melodious music, it serves as a tranquil retreat amidst the commotion of the Port Authority and Midtown areas.
Address: 405 W 44th St, New York, NY 10036