New York City, a culinary hotspot, has many diverse and impressive eateries, from award-winning establishments to hidden gems in many neighborhoods. Among these neighborhoods is DUMBO, an area in Brooklyn characterized by vintage brick buildings, cobblestone streets, and the majestic Brooklyn Bridge. With a name standing for "Down Under the Manhattan Bridge Overpass," DUMBO provides stunning views and a whole array of excellent restaurants.
In this article, I've listed 16 restaurants in the area that have caught my attention. Some are new, some are old favorites, but all offer something worth trying.
Best Restaurants in DUMBO
#16 Luke's Lobster Brooklyn Bridge Park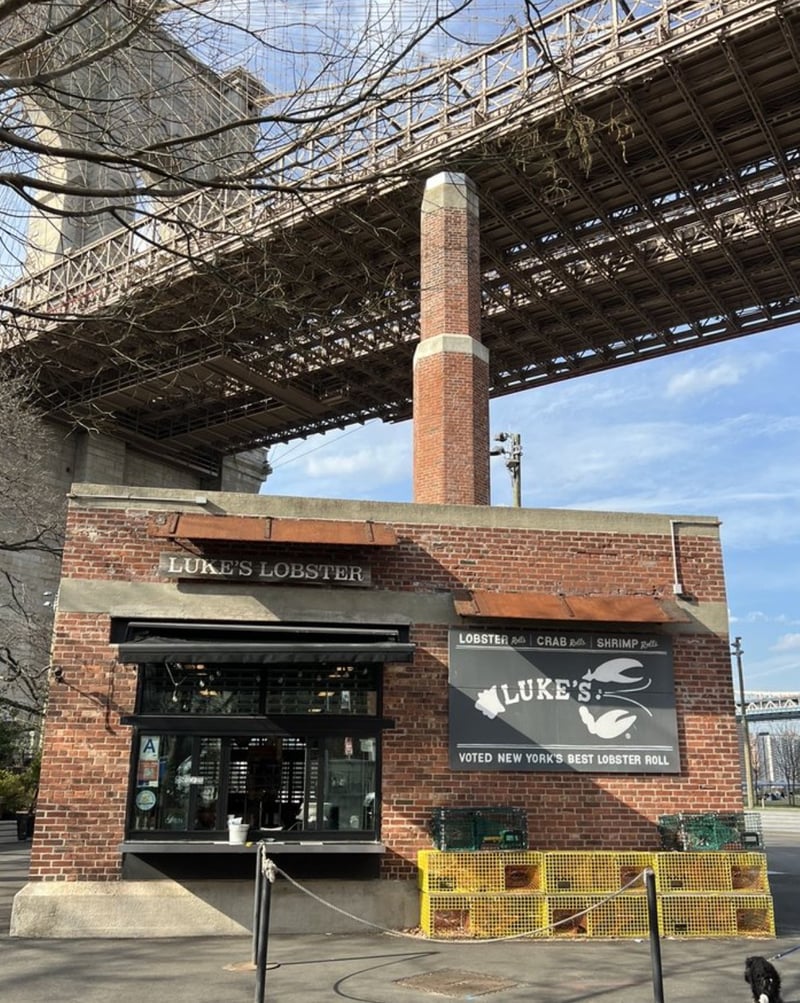 My recent visit to Luke's Lobster in Dumbo, just under the Brooklyn Bridge, was a memorable feast elevated by Manhattan's stunning skyline. The restaurant excels in lobster rolls—generous, flavorful, and oozing with charm. For variety, the Luke's Trio, a sampler featuring lobster, crab, and shrimp rolls, is superb but comes at a steep $27, reflecting the quality ingredients and the scenic location.
The experience was slightly marred by a stale roll—a bit of a letdown, given how a fresh roll enhances the lobster's flavor. The menu does offer a broad range of options, from hot rolls to ones garnished with truffle butter.
The restaurant's location under the iconic Brooklyn Bridge is part of its appeal. However, limited seating can be a drawback, albeit minor, compared to the view. Wait times can fluctuate, especially during busy hours, but the food quality justifies the wait.
Side dishes like lobster bisque and clam chowder are satisfying, though slightly salty, while the kettle chips earn universal praise. Despite minor setbacks, Luke's Lobster offers good value and remarkable views and is a must-visit spot.
Address: 11 Water St, Brooklyn, NY 11201
#15 Celestine
Just steps from the bustle of downtown Manhattan in Dumbo, Celestine serves as a serene culinary oasis. Framed by views of the Manhattan and Brooklyn bridges, its full-length windows and, weather permitting, lush outdoor space elevate the dining experience.
Service is generally adept but can falter during busy hours, an issue for management to note. Still, the staff's knowledge and the tranquil atmosphere mostly ensure an enjoyable meal.
During my visits, certain dishes stood out. The lamb skewers and fennel-roasted chicken are flavorful standouts. The duck hash and scallops are also compelling. Starting with mezze—a divine spread of dips paired with zaatar bread—prepares you for a satisfying feast.
The drink menu shines, particularly the unique orange wine and expertly mixed Espresso Martini and Spicy Mezcal Paloma.
Celestine offers a compelling mix of delightful food and stunning views, making it a must-visit for city dining.
Address: 1 John St. Brooklyn, NY 11201
#14 Grimaldi's Pizzeria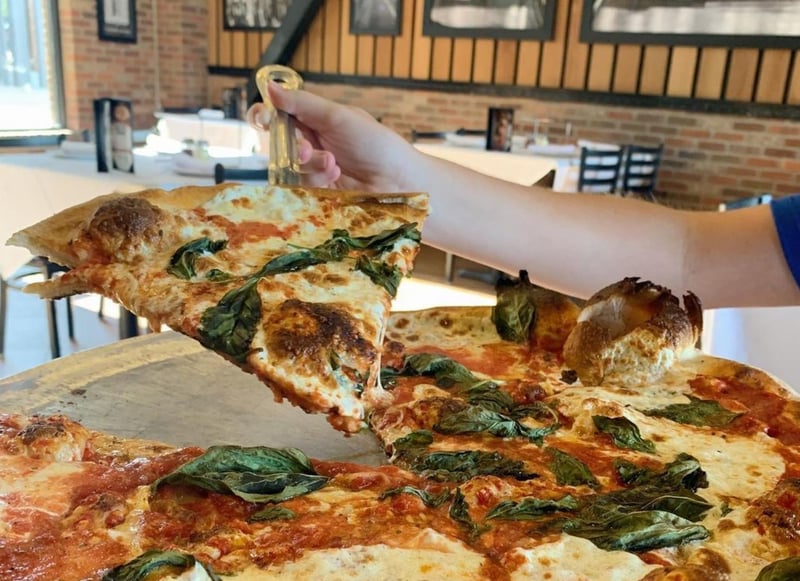 To grasp the essence of New York City, a slice of pizza from Grimaldi's is essential. Their 'Don' pizza, laden with Italian sausage, meatballs, and spicy pepperoni, epitomizes New York's culinary spirit. The accompanying antipasto—olives, mozzarella, meats, and roasted peppers—is a Mediterranean delight.
The restaurant's atmosphere, adorned with red and white checkered tablecloths, exudes vintage Italian charm. Spread across multiple levels, Grimaldi's offers various dining experiences, from kitchen views on the ground floor to sweeping cityscapes above.
Though the restaurant is always buzzing, don't be deterred by the line at the entrance. Multi-level seating and a lively bar expedite the wait. To beat the crowd, aim for off-peak hours.
Service at Grimaldi's can be hit or miss. While generally attentive, I've noticed occasional delays and lapses, areas that could improve. Yet, such minor setbacks are trivial compared to the joy of their delectable pizzas.
In Dumbo near the Brooklyn Bridge, Grimaldi's is a tourist favorite and as quintessentially New York as the skyline. Whether you opt for the 'Don,' Margherita, or a ricotta slice, you'll find each bite imbued with the city's authentic flavor. Minor imperfections aside, Grimaldi's is well worth your time and patience.
Address: 1 Front St, Brooklyn, NY 11201
#13 Jacob's Pickles Time Out Market
Nestled in Dumbo's bustling Time Out Market, Jacob's Pickles consistently lures me in with its quick service and diverse menu. The atmosphere amplifies the joy of hearty, comforting meals.
Generous portions are a hallmark here. The Hot Honey Chicken Sandwich, bursting with sweet and tangy flavors, is amply satisfying and uniquely paired with pickles. Spice lovers won't be disappointed by the Nashville Hot Chicken Sandwich—pickles perfectly mellow its heat. If lighter fare appeals, the Fried Chicken Caesar Salad delivers: it's both hearty and fresh.
You can't dine at Jacob's Pickles without sampling its namesake. The pickles—tart, sweet, and crisp—complement any dish. Though not every pickle is a home run, these minor blips hardly dent the overall experience.
One potential drawback is the size of the portions, which can lead to leftovers. But viewed in the larger context, Jacob's Pickles offers generous meals in a lively setting. Despite Time Out Market's clamor, it remains a top pick for family dining.
Address: 55 Water St, Brooklyn, NY 11201
#12 Em Vietnamese Bistro
Em Vietnamese Bistro in DUMBO is a culinary gem in Brooklyn. The restaurant pairs upscale sophistication with a warm atmosphere, promising an authentic Vietnamese dining experience.
The menu features standout dishes like Hu Tieu Kho and Ngheu Hap Xa, blending savory, sweet, and spicy notes. The steamed clams infused with lemongrass delivered a zesty punch, while the rice noodles and seafood offered a flavor explosion, elevated by soy-marinated eggs.
Moving on to the beef pho, its rich aroma was inviting but slightly salty. That said, the pho could use a better beef-to-noodle ratio, given its price. The Bun Thit Nuong—a hearty combination of noodles, greens, and grilled pork—effortlessly counterbalanced this. Each bite showcased a balance of flavors, attesting to the kitchen's expertise.
The dessert menu's Ly's Chicken Wings confirmed the restaurant's culinary range. Their crispy exterior perfectly matched the juicy meat inside, all spiced with a hint of chili. An authentic avocado smoothie rounded out my culinary tour of Vietnamese flavors.
Em adds a tasteful Vietnamese layer to New York City's cosmopolitan food scene.
Address: 57 Front St, Brooklyn, NY 11201
#11 Superfine
Nestled in the cobblestoned heart of DUMBO, Brooklyn, Superfine offers an authentic urban retreat perfect for casual outings. Its unique take on comfort food includes breakfast burritos loaded with eggs, sausage, and beans, topped with green salsa, and burgers famed for their flawless sear and crispy shoestring fries. The grilled cheese features an unexpected olive tapenade twist, but the tuna melt can be hit or miss.
Service at Superfine varies between amiable and unhurried, but that's part of its relaxed charm. From New Year's Eve parties to drag shows, special events create memorable nights fueled by a vibrant bar scene. Tito's and cucumber cocktails refresh on summer days, and the alcoholic pink lemonades nail the balance between spirit and juice.
With its authentic urban edge, Superfine boasts a welcoming, laid-back vibe that seems tailor-made for casual nights out, whether your goal is to catch up with friends or relax after a hectic day.
Address: 126 Front St, Brooklyn, NY 11201
#10 Noodle Pudding
Tucked away in DUMBO's scenic streets, Noodle Pudding offers a no-frills taste of Italy. The menu satisfies all, from traditional Tagliatelle to Seafood Ragu Fettuccine with oceanic flavor. Each dish is crafted with care and generosity.
Beyond pasta, the Focaccia and Ciabatta dipped in balsamic olive oil are a textural delight. Grilled Octopus and Tuna Steak stand out for their size and quality. The Straccetti and Risotto duo was a culinary highlight, balancing flavors expertly.
Service here is commendable and attentive even when the restaurant is full. Although they don't take reservations, the policy adds to the open, welcoming vibe. Aesthetically, the venue blends vintage charm with a cozy, communal atmosphere, enhanced by its prime DUMBO location.
Be aware it's cash-only, but that's a small trade-off for an authentic Italian experience in the heart of Brooklyn.
Address: 38 Henry St, Brooklyn, NY 11201
#9 Bluestone Lane DUMBO Café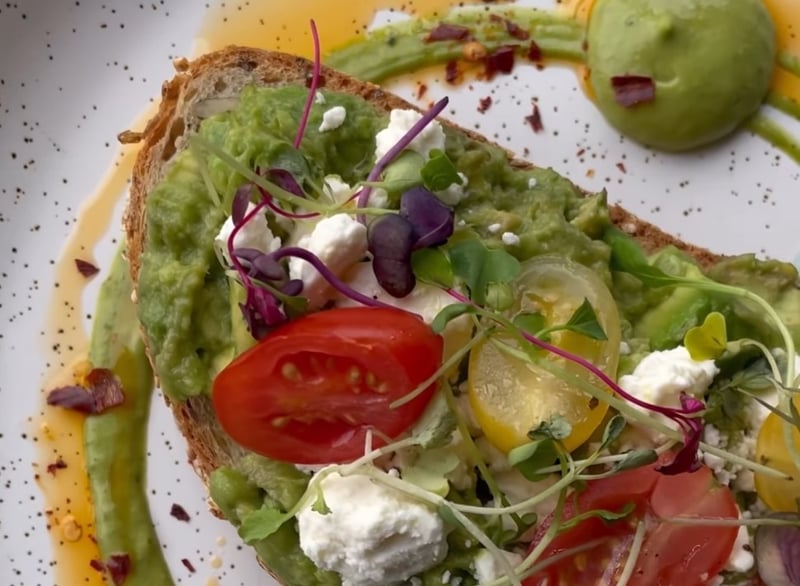 In Brooklyn's DUMBO district, Bluestone Lane DUMBO Café quickly became a staple in my morning routine, offering a stylish yet tranquil setting perfect for breakfast or as a serene workspace.
The food is worth an early rise. My favorite, the breakfast bowl, masterfully balances savory flavors with wholesome ingredients. Don't miss the almond croissant; for heartier appetites, the Chicken and Bacon Roll—available gluten-free—is a hit.
The café shines in the beverage department, too. We sampled the house coffee and cappuccino—both excellent. The cocoa-infused cappuccino makes for a deliciously decadent treat, and the Protein PB & Blueberry Smoothie stood out for its energizing, fruity kick.
The staff is generally courteous and attentive. Despite minor hiccups, the café maintains high standards for its offerings.
Bluestone Lane is perfect for your daily ritual or a leisurely afternoon. Its top-notch food and drinks set in a calming atmosphere make it a must-visit for a fulfilling breakfast or work-friendly brunch.
Address: 55 Prospect St, Brooklyn, NY 11201
#8 Gran Electrica
Finding Gran Electrica in DUMBO was a culinary delight. The menu impresses with traditional Mexican fare like tacos and guacamole and innovative takes like fish tacos and carnitas. While the mushroom quesadilla fell short, the restaurant does offer a range of vegetarian options.
Gran Electrica's true allure lies in its unpretentious, cozy, elegant ambiance. The outdoor patio, enveloped by greenery, is a tranquil escape for group gatherings and intimate dinners.
I found the quality and portion sizes justified the cost. The drink menu, featuring Mexican beers to Mezcalitas, also delivers on value, with each offering a unique flavor twist.
Gran Electrica embodies what a local eatery should be—exceptional food, an inviting atmosphere, attentive service, and reasonable pricing. While not perfect, it remains a standout in a city where perfection is elusive, but excellence is attainable.
Address: 5 Front St, Brooklyn, NY 11201
#7 Pearl Street Supper Club
Stepping into Pearl Street Supper Club in DUMBO, you immediately sense its mastery of fine dining. I found the food quality exceptional, exceeding even high expectations. Standouts include the seafood fare, a farroto entrée, and a skate dish that excels in taste. The cranberry beans provide an unexpectedly delicious twist.
Beyond the plate, the club's ambiance sets it apart from standard fine-dining spots. The place exudes authentic charm, whether it's the soothing music or the clever use of limited space.
Exceptional service elevates the experience further. From attentive servers to knowledgeable sommeliers, staff tailor each interaction, adding a layer of warmth. The kitchen team also impresses, skillfully accommodating dietary restrictions.
The wine list deserves mention, featuring thoughtfully paired selections. Speaking as a non-expert, the thoughtfully selected pairings brilliantly accompany each dish. Their skillful sommelier demonstrates expertise and poise, effectively guiding patrons through the wonderous world of wine. One highlight was a caviar and red wine combination that dazzled the taste buds.
Despite its luxury, the Supper Club offers remarkable value. At $130 per person, it competes favorably with Michelin-starred peers.
Pearl Street Supper Club is more than a dining venue; it's an upscale culinary journey. With its top-tier food, impeccable service, and welcoming atmosphere, this DUMBO gem offers an exceptional experience.
Address: 147 Front St, Brooklyn, NY 11201
#6 Bread & Spread
Bread & Spread offers more than just sandwiches—it delivers an experience. Just a pleasing walk away, there's the ever-busy Brooklyn Bridge Park. Enjoying a picnic here with sandwiches from Bread & Spread enhances the place's charm.
Sandwich enthusiasts should consider the Porchetta Sandwich, brimming with kurobuta pork belly subtly enhanced with fennel seeds. The Beef Short Rib Sandwich is another standout, accented by blackberry jam and pickled shallots. The Cast Iron Chicken is a hit for lighter fare, and the Banh Mi adds an exotic twist.
The eatery's vibe mixes casual comfort with bursts of upbeat rap music. Though the space can get warm, the ambiance remains authentic and unique. Service shines here, too. Staff member Carlos adds a personal touch, making the food more enjoyable. While the price point is a bit high, the quality and generous portions justify the cost. Pro tip: Bring cash to dodge credit card fees.
Address: 151 Front St Dumbo, NY 11201
#5 Juliana's
Juliana's Pizza is a haven for those seeking exceptional pizza, an inviting atmosphere, and efficient service. The Margherita pizza is a standout, featuring a flavorful, herb-laced profile and a perfectly thin, chewy crust. The coal-fired oven adds a distinct char, a taste some might find bold but I find appealing. The white pizza surprises with a rich, albeit slightly salty, flavor. Special number 1, loaded with mozzarella, scamorza affumicata, pancetta, and scallions, offers a smoky, savory punch.
Its top-tier service sets Juliana apart in a city full of pizzerias. Despite the bustle, the staff ensures a warm, attentive atmosphere and manages crowd flow effectively, minimizing wait times.
The eatery's familial vibe is heightened by an open kitchen, letting customers witness their pizza's journey from dough to coal-fired perfection. Although seating can be tight, the vibrant atmosphere compensates.
Address: 19 Old Fulton St, Brooklyn, NY 11201
#4 Cecconi's Dumbo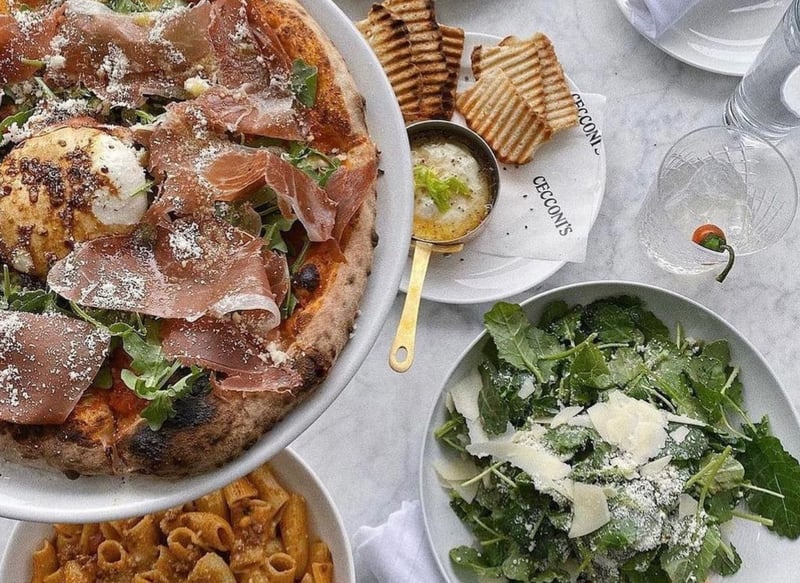 Cecconi's Dumbo offers more than just stunning views of Manhattan and its namesake bridge; it serves an atmosphere ripe for romance but less so for casual hangouts. Its extensive Italian menu leaves little room for disappointment. The Prosciutto Burrata Pizza, notable for its impeccable dough and toppings, and the al dente Lamb Ragu pasta stood out as culinary triumphs. Don't overlook the Honey Ricotta, a memorable dish that lingers on the palate.
While the food is the star, Cecconi's Primavera Spritz shouldn't be missed—its effervescent zest is invigorating.
Some may find the prices at Cecconi's on the higher end, but the setting, cuisine, and overall experience justify the expense. So, when planning a visit, be prepared to treat yourself at this high-end establishment for a thoroughly rewarding experience. In summary, Cecconi's Dumbo is an elegant fine-dining option, distinguished by its sublime setting and exceptional Italian fare.
Address: 55 Water St, Brooklyn, NY 11201
#3 Seamore's Dumbo
My family and I recently discovered Seamore's, a standout seafood spot in Dumbo. Highlights included the crunchy Baja Fish Tacos with rich chipotle sauce and a Blackened Monkfish Sandwich that even the kids loved. Dessert lovers take note: the Churro Ice Cream Sandwich was a hit. Vegetarians can opt for dishes like the sweet potato veggie omelet casserole.
The restaurant's northeast seaside-inspired decor and inviting atmosphere set the tone for a delightful meal. For a unique twist, consider their Oyster Shucking and Wine Pairing classes. Service was top-notch, particularly from Omar, who recommended excellent choices like the Lobster Benedict and the Seared Scallops with Pasta. Despite a 15-minute wait with reservations, the speedy service once seated made up for the delay.
Seamore's won us over with its simplicity and authentic flavors. Whether dining with family or sipping an Apple Pickin' cocktail with friends, Seamore's offers an experience you won't regret.
Address: 66 Water St, Brooklyn, NY 11201
#2 AlMar
Located near New York's iconic Brooklyn and Manhattan Bridges, AlMar offers a relaxing atmosphere punctuated by Italian films playing in the background. Despite a somewhat confusing menu, the restaurant has standout dishes. My spouse's spaghetti with meatballs was excellent, and family favorites, black spaghetti and spinach fettuccine with rabbit ragu, were on point. My mortadella pesto sandwich could have been better, with light focaccia slices and a pistachio pesto, which lacked flavor.
Exploring the menu further, the roasted pork tenderloin and bolognese were winners around our table - the succulent tenderloin and the tasty bolognese were extraordinary. Spritzer drinks were perfect after a lengthy stroll over the Brooklyn Bridge.
The Asian cinema backdrop at AlMar, combined with comfortable decor, offers a delightful dining experience that's uniquely its own.
Address: 111 Front St, Brooklyn, NY 11201
#1 The Osprey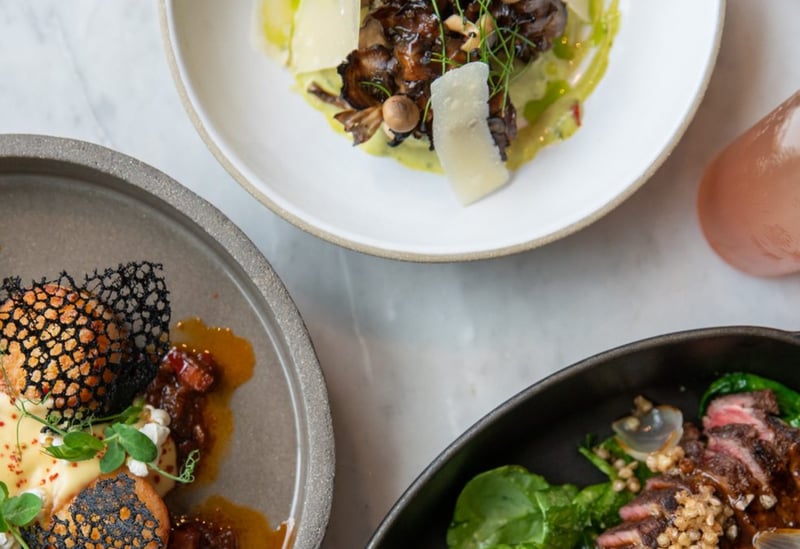 The River Cafe pairs stunning views with culinary finesse. Daylight reveals a scenic landscape, sunset brings awe, and night showcases Manhattan's glittering skyline. The ambiance, a blend of sunlight, fairy lights, and a flower-laden garden, sets a magical tone, enhanced by glowing lanterns for special occasions.
The food is excellent. Highlights include velvety Butternut Squash Soup and intricately crafted Sea Scallop and Veal Loin. The presentation elevates meals that already excel in flavor. Complementing the food, the staff provides personalized service and expert wine pairings.
However, luxury comes at a price. The café is notably more expensive than local alternatives, but the quality and setting make it a worthy splurge. And don't skip the Brooklyn Bridge Chocolate Ganache Tart; it's a sweet homage to the iconic view.
In summary, The River Cafe offers not just a meal but a memorable experience defined by delectable cuisine and a breathtaking backdrop.
Address: 1 Water St, Brooklyn, NY 11201
Best Restaurants in DUMBO (Post Summary)
Luke's Lobster Brooklyn Bridge Park
Celestine
Grimaldi's Pizzeria
Jacob's Pickles Time Out Market
Em Vietnamese Bistro
Superfine
Noodle Pudding
Bluestone Lane DUMBO Café
Gran Electrica
Pearl Street Supper Club
Bread & Spread
Juliana's
Cecconi's Dumbo
Seamore's Dumbo
AlMar
The Osprey