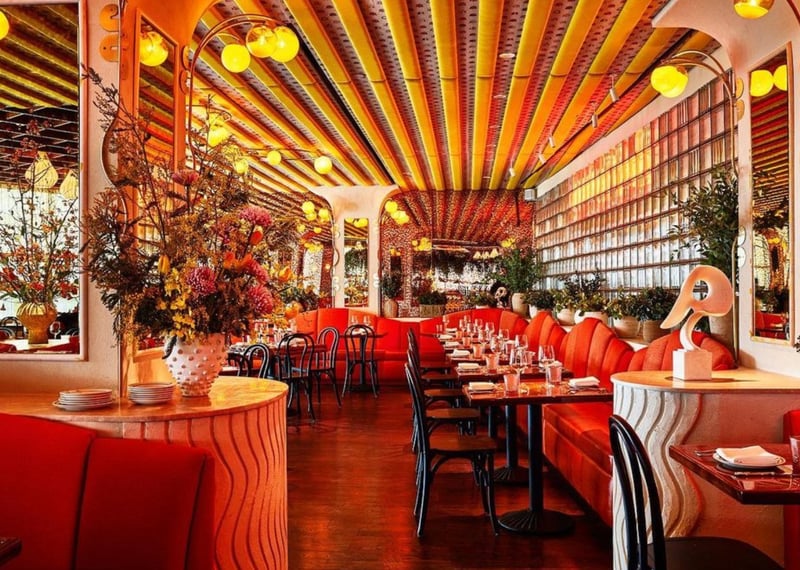 Central Park, Manhattan's 843-acre retreat, is globally recognized as an urban sanctuary amidst New York City. Besides its gardens, lakes, bridges, and unique attractions, the park is near an array of excellent restaurants that further enrich the Central Park experience, reflecting New York's vibrant food culture.
The following is a guide to my favorite eateries around this iconic park. Whether you're a seasoned New Yorker or a tourist exploring the city's authentic flavors, you'll discover the perfect dining spot for your next Central Park visit.
Best Restaurants near Central Park
Quality Meats
Near Central Park lies NYC's Quality Meats Steakhouse, known for its diverse menu and superior steak cuts. Its butcher shop aesthetic is reflected in the staff attire, while the ambiance is stylish and vibrant, which may feel intense if you're looking for a casual meal.
I appreciated the varied menu, from oysters to steak dishes and decadent desserts, and enjoyed unique items like corn crème brûlée and broccoli, which I would recommend. The beef tartare and Pavlova dessert were surprisingly remarkable, adding to the range of offerings.
The steak, however, takes center stage with varieties from tomahawk to sirloin and filet mignon to bone-in steak. I found the medium-rare tomahawk steak, Chicago style, particularly noteworthy. Pair it with a glass of Cabernet to fully appreciate Quality Meats' reputation.
The high quality of service matched the food, defined by rapid, knowledgeable staff providing friendly advice about the menu and wine and drink suggestions. Despite the upscale setting, the warm service added a comforting touch.
Address: 57 W 58th St, New York, NY 10019
Bad Roman
Bad Roman is a surprising upscale find near Central Park in Columbus Circle. Despite its location within a shopping mall, Bad Roman surprises with an electric ambiance and an engaging collection of decorations - a neon sign, hanging plants, animal statues, and a bathroom fountain. Its accessibility makes it perfect for informal gatherings.
The culinary skills at Bad Roman impressed me. I ordered the Ravenelli, both richly flavored and uniquely presented. The Short Rib Pappardelle and Cacio E Pepe Raviolo Fileto were also received well by my companions, as was the meticulously layered and tasty Garlic Babka.
Highlights from the drink menu include the light yet zingy Tequila Granita, the Strawberry Sbagliato, and the Bad Ombré cocktails, all offering unique yet complementary flavors that impressed even my discerning wife.
Address: 10 Columbus Cir, New York, NY 10019
Tavern on the Green
When in Central Park, make a point to visit the Tavern on the Green. It's conveniently located with unique interior views of the park. In the evening, outdoor lights create an enchanting atmosphere. The seating, bar areas, and live music make for a relaxing, albeit sometimes crowded, experience.
While somewhat limited, the menu is diverse enough to satiate various culinary preferences. My personal favorite is the NY strip steak with asparagus. My children enjoy the fried chicken sandwich. Several friends speak highly of the baked organic chicken and the caramelized rack of lamb. The truffle mac and cheese has a standout flavor.
Reservations are encouraged. The restaurant operates efficiently with a reservation system, but walk-ins are accommodated. I've often dropped by without notice and, while challenging, have always managed to secure seating for my family and me.
Address: 67 Central Park W, New York, NY 10023
Sarabeths - Central Park
Strolling through Central Park, you may spot Sarabeths, an elegant eatery blending into the city's rhythm. Its charm is in its park-proximate location and delightful floral decor, mixing old-world New York ambiance with comfort. Sarabeths, famous for park-goers and the nearby hotel visitors, serves from morning to night.
The menu at Sarabeths offers widely appealing choices. Options range from smoked salmon benedict for early risers to a veggie-packed omelet. The seafood selection boasts a delicious lobster roll, while the highly-rated chicken pot pie is a comfort-food staple.
The restaurant's prices may seem high, mirroring city life's cost. However, the generous portions and meal quality justify the price.
Sarabeths often buzzes with life, occasionally raising noise levels. However, this minor inconvenience is negligible considering the iconic sirloin burger, wholesome breakfast options, and inviting setting.
Address: 40 Central Park S Located In West 59th St Condominium New York, NY 10019
Nobu Fifty Seven
Nobu Fifty Seven, a highly-rated Japanese restaurant near Central Park, is a culinary delight renowned for its sushi. The standout Toro Tartar with Caviar, Yellowtail Jalapeño, and Crispy Rice with Spicy Tuna and Black Cod impressed me with their freshness and flavors.
The service at Nobu Fifty Seven varies from highly efficient to slightly inattentive, but overall, it's decent. The restaurant's interior is inviting and spacious, with a tasteful design that suits any occasion. It's lively and can get noisy, but that's part and parcel of the vibrant Nobu experience - energetic yet pleasant.
While Nobu's prices are higher than similar establishments, remember that the cost encompasses the entire dining experience, not just the food.
Address: 40 W 57th St, New York, NY 10019
La Grande Boucherie
La Grande Boucherie, a Midtown French bistro, creatively blends NYC's majesty with European café ambiance. The Parisian-inspired interiors are enhanced by warm lighting and live music. Attentive service from staff adds to the overall experience.
Highlight dishes include the Duck a la Orange and Steak Frites, elegantly crafted in flavor and presentation. The complimentary bread is a nice touch. The Provence Martini and Boucherie Sazerac, two absinthe-based cocktails, evoke the spirit of Paris with their robust taste.
Whether for a pre-theatre dinner or a milestone event, this Midtown spot's sophistication makes it worth a visit.
Address: 145 W 53rd St, New York, NY 10019
Pazza Notte
Pazza Notte is a genuine Italian restaurant near Central Park, Times Square, Quinn Hotel, and Rockefeller Center. My wife and I and our children often head over after a demanding day for our favorite dishes in this bustling sanctuary.
The menu is stellar. The Pizza Forestale is an exceptional blend of cheeses and truffle oil, and the Fusilli Del Capo, an Italian sausage and garlic broccoli entwined in a savory vodka sauce, is a family favorite. The Pappardelle Funghi with white wine mushrooms and asparagus provides a delectable alternative. Our meals are commonly paired with an Espresso Martini or a sweet Red Lantern from Pazza Notte's 2-for-1 martini deal.
Occasionally, we'll take advantage of their happy hour, enjoying flavorful cocktails as the kids favor their Chicken Parm. Their Gelati dessert is always a hit, and the energetic atmosphere ensures this restaurant fulfills our needs.
Address: 1375 6th Ave, New York, NY 10019
The Modern
The Modern's ambiance is just that—modern. It's spacious, with an expansive layout and a view of the Museum of Modern Art's courtyard. This aesthetic may not suit everyone; some prefer a more dynamic environment.
The lobster, paired with Parmesan foam and creamy spinach, was exquisite. Offerings like salmon, scallops, and a captivating roasted duck continue to make a mark. For those like me, who prefer the land to the sea, the sweet corn and peekytoe crab combination was an unexpected delight.
Guided by the passionate sommelier, the wine journey added to the dining experience. On her recommendation, I selected the Sancerre Sauvignon Blanc, and it seamlessly enhanced every dish.
Address: 9 W 53rd St, New York, NY 10019
The Smith
Positioned near Lincoln Center, The Smith affords diners picturesque views, further enhanced when dining outside pre-show. Despite being busy, the restaurant exudes a cozy, lively atmosphere, a vibe reflected in its modern interior design.
Their Jalapeño Cheddar Grits offer a delectable blend of smooth, spicy warmth. Their Shrimp and Grits and Ranchero Scramble garner praise, as do simpler dishes like the Lobster Roll and Salmon.
Their service is mostly swift and efficient, although it occasionally falters during peak times. To mitigate this, I recommend using The Smith's reservation system, particularly for weekend dining. Despite these hiccups, the staff's commitment to service is evident.
Address: 1900 Broadway, New York, NY 10023
Harvest Kitchen
A recent family visit to Central Park led us to Harvest Kitchen on the Upper West Side. The restaurant, located snugly near the park, had a welcoming atmosphere due to its well-designed decor, ample lighting, and happy patrons.
We appreciated the food at Harvest Kitchen. Its guacamole cheeseburger stood out as the best we've tasted in NYC. Also commendable were the gorgonzola flatbread filled with fig butter and arugula and the flavorful smoked salmon benedict. The huevos rancheros and lemon thyme chicken could use more zest and flavor, though. My adventurous kids loved the diverse menu, especially the caramelized banana toast and mushroom tacos. I recommend the truffle gnocchi and kimchi fried rice to those seeking novelty.
The restaurant's staff were professional and courteous, contributing to our positive experience. Enjoying good food while overlooking Central Park was an excellent way to relax. I'm looking forward to my next visit to Harvest Kitchen.
Address: 269 Columbus Ave, New York, NY 10023
Momofuku Noodle Bar - Uptown
I recently visited David Chang's Momofuku Noodle Bar uptown in the Time Warner Center, near Central Park, enjoying its lively ambiance that resembles the bustling city.
The menu offered inventive Asian fusion, transforming dining into a noteworthy gourmet escapade. The Cucumber Salad was refreshing, while the Brussels Sprouts emerged as a standout. The Crispy Potatoes was a delectable combination of Japanese taro with paprika salt and a white BBQ sauce. The Rice Cakes with Pork Belly blended spice with tender pork.
Despite its bustling atmosphere, the service kept pace. The staff was helpful, effectively guiding us through the extensive menu. There were moments when more attentiveness was needed, but it's a common issue in busy eateries.
Momofuku also excelled in beverages and desserts. The Matcha Lemonade was refreshing, and the Vietnamese Coffee Soft Serve was a crowd-pleaser, mixing eastern and western flavors. Mai Tai was a hit for the adventurous patrons.
Address: 10 Columbus Cir Third Floor New York, NY 10019
Marea
Marea offers marvelous cuisine with impeccable service. Known for its seafood and pasta dishes, it additionally boasts a fine selection of bread, served personally by a bread waiter. Among these offerings, the standout is the heavenly olive bread.
Having tried a variety of their dishes, special mention goes to Marea's Mushroom Risotto and Fusilli pasta. The risotto is cooked to perfection, imbued with intense flavors, while the Fusilli, generously layered with bone marrow seasoned in red wine and garlic, provides a rich and satisfying experience. Side dishes like mushrooms and potatoes also receive equal attention to detail.
While the restaurant's interior is chic and appealing, some may find the tables arranged too closely, affecting privacy. Nonetheless, Marea offers a delightful backdrop for dining, with a view of Columbus Circle Holiday Market adding seasonal charm.
Address: 240 Central Park S, New York, NY 10019
Jacob's Pickles
Jacob's Pickles offers a compelling Southern cuisine experience in Manhattan's Upper West Side. This bustling eatery, noted for its large portions and lively atmosphere, feels like a slice of the South near Central Park, attracting brunch enthusiasts and nightlife seekers alike.
The restaurant is known for its biscuits and pickles. The Hot Sour Pickles contrast brilliantly with the satisfyingly soft biscuits. The BBQ Smothered Pepper Jack Chicken, featuring juicy, crispy chicken in a savory gravy, was particularly impressive.
A must-try at Jacob's Pickles is the Buffalo Chicken Mac and Cheese. It may not possess traditional Buffalo flavors, but its superbly cheesy essence satisfies. Despite the constant bustle and often dim lighting, the restaurant charms with playful staff interaction, rustic decor, and cozy outdoor seating.
Address: 509 Amsterdam Ave, New York, NY 10024
The Loeb Boathouse Central Park
My wife and I recently satisfied our culinary pangs at The Loeb Boathouse in Central Park. The rustic boathouse, nestled in the bustling city's epicenter, brought a tranquil moment with its scenic backdrop of a green lake dotted with boats and turtles.
We began dining on the patio with the renowned Crab Cake appetizer, indulgently packed with crab meat. I relished the well-acclaimed Lobster Roll while my wife savored an unexpectedly gourmet Hot Dog. Both dishes were complemented by refreshing Cucumber Cocktails, adding a delightful touch to our meal. However, not everything was spot-on. My steak lacked some seasoning, and the chips needed more crispness, but these slight oversights didn't mar our overall enjoyable experience.
Address: E 72nd St And Park Dr N, New York, NY 10021