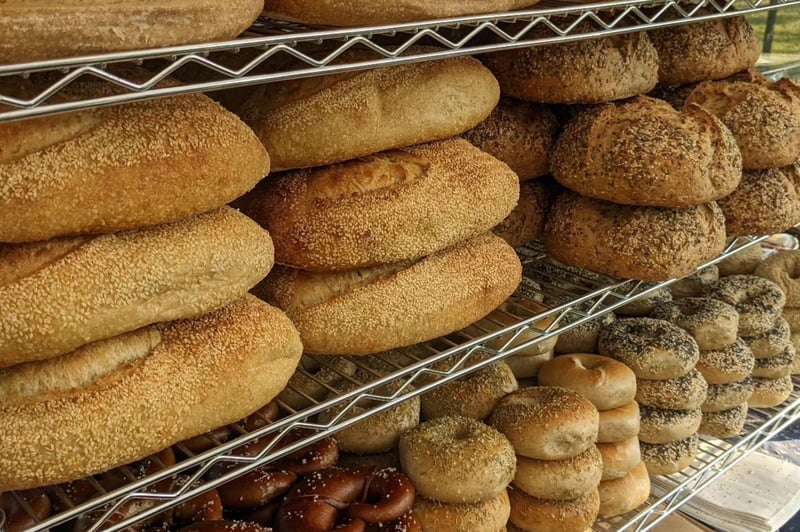 Bagels, borne out of the rich Jewish traditions of Eastern Europe, have found their home in American food culture, loved for their unique flavor and incredible versatility. For those unfamiliar, a bagel is a ring-shaped bread roll known for its chewy texture and a variety of toppings, from the traditional cream cheese to more flamboyant alternatives. Enjoyed as part of breakfast or lunch, they've become a global favorite.
In Buffalo, New York, a city acclaimed for its vibrant food scene, bagels enjoy a dedicated following. Alongside the renowned Buffalo wings and fish fries, bagels have become equally cherished. With local bakeries and shops proffering high-quality bagels, the city's residents are serious about bagel consumption.
In this city, it's easy to find a variety of bagel shops with unique recipes and baking methods. Buffalo caters to all preferences, from softly baked classics to crispier varieties with assorted toppings. The city's culinary diversity has proven fertile ground for bagel evolution.
This article, "Best Bagels in Buffalo, NY," provides a tour of the best bagel spots in Buffalo. Each has amassed a dedicated set of fans due to their consistently delicious offers and innovative combinations. Whether you're a local or a temporary guest, brace your taste buds for Buffalo's best bagels. Get ready for a tasty journey into the world of Buffalo's finest bagels.
Best Bagels in Buffalo, NY
B & D's Bagels and Locks
B & D's Bagels and Locks on Buffalo's Main Street serves homemade bagels with a unique texture, thanks to their freshly shipped dough from New York City. Their cinnamon toast bagel with blueberry cream cheese or the sun-dried tomato with a chipotle cream cheese BLT is highly recommended for a satisfying treat.
B & D's standouts include a diverse bagel menu, featuring options from the zesty Jalapeño and Cheddar to a classic cinnamon bagel. Try the Pumpernickel bagel with Lox for its sweet and dense texture.
Beyond bagels, B & D's boasts a selection of cream cheeses. The combination of chive cream cheese on a robust rye bagel earns high marks, though the cheese on the 3 Cheese Extreme Bagel with Everything Bacon could use some refinement.
Pair your meal with freshly ground coffee for a complete experience. While some have mixed opinions about their smoothies, I found them a pleasant finish to a meal. While service can be uneven, it is typically fast and friendly.
Address: 21 Main St. Lockport, NY 14094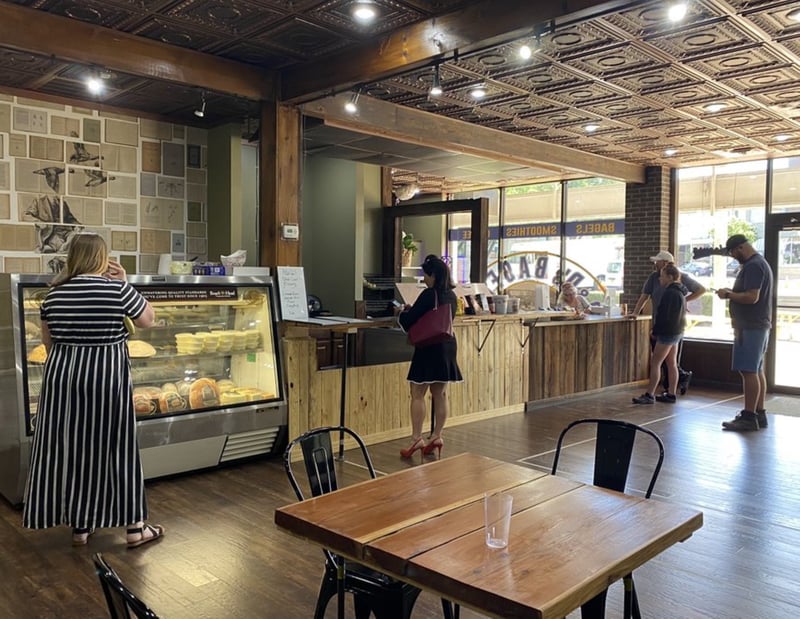 Logan's Bagels
Upon entering Logan's Bagels, the aroma of freshly baked bread envelops you. Their 'Everything' bagel, consistently high-quality with a mix of unique flavors, always brightens my day.
Logan's continually adjusts their menu to satiate all bagel connoisseurs. Their Rosemary Bagel is striking; while the robust aroma may initially catch one off guard, a first bite reveals a well-balanced taste that leaves you appreciating the skillful blend.
Their Cinnamon Raisin bagel is a delight for those with a sweet tooth. It initiates a flavorful journey, where the rich taste of raisins counterbalances the keen edge of cinnamon, leaving an enduring desire for more.
One pragmatic con is the potential for long lines during morning rush hours. However, this minor inconvenience is a trifling trade-off for the distinctive flavor of Logan's bagels.
Their reputation for fresh, delicious bagels is well-earned, as their commitment to quality is manifest in every warm, fresh-from-the-oven bagel they serve. For bagel enthusiasts seeking an extraordinary experience, Logan's Bagels is a must-visit destination.
Address: 27 Chandler St Buffalo, NY 14207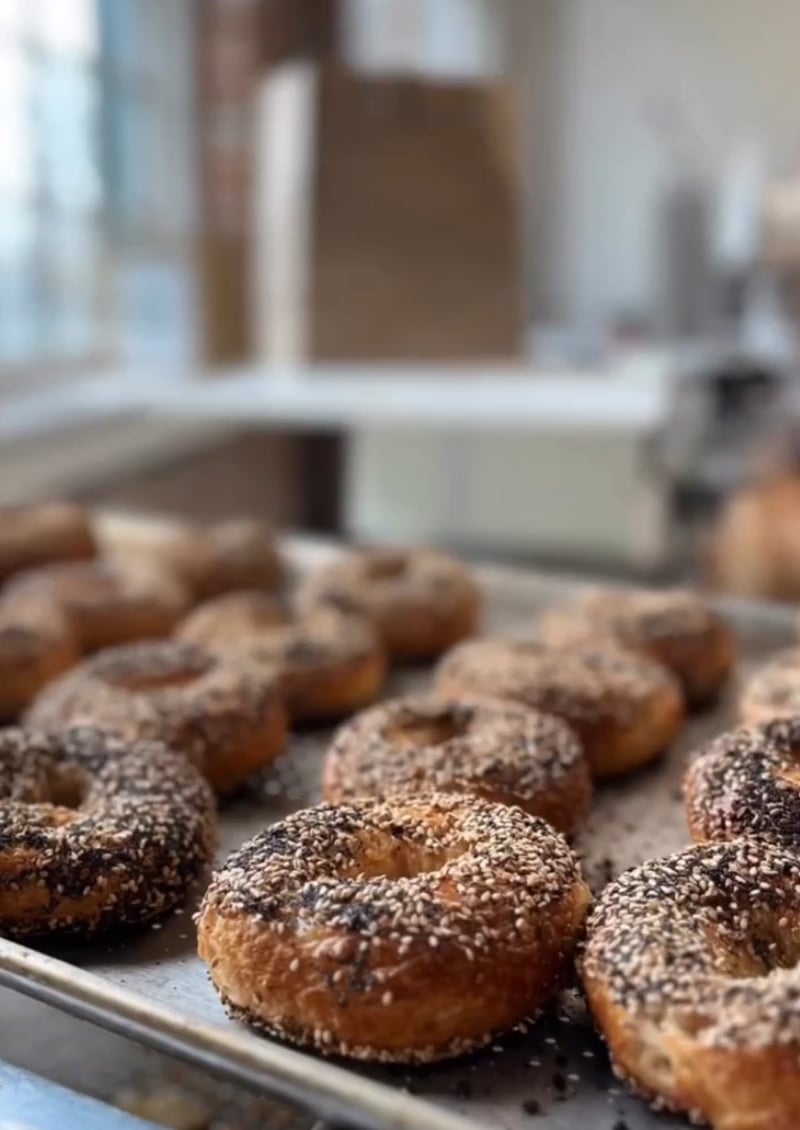 Bagel Jay's
Bagel Jay's impressed me with its expansive variety of bagel flavors. From their abundant everything bagel to the zesty jalapeno cheddar, they cater to various tastes. While not all bagel lovers find them exceptional, their selection is commendable.
The real game-changer at Bagel Jay's is their toppings. Expertly prepared and cooked, they can elevate even the simplest bagel. Their sandwiches, especially 'The Downtowner,' consistently garner praise for their remarkable preparation.
However, there's disagreement about the price at Bagel Jay's. While some find it affordable given their product's quality, others consider it relatively high, particularly for the bagels. Please keep these perspectives in mind when you place your order.
The ordering process can be burdened by staff inefficiency and misunderstandings, leading to long wait times- inconvenient for customers seeking a quick morning pick-up. However, despite these service hiccups and the variety of bagel flavors, Bagel Jay's has sustained a devoted local following. Its unique appeal distinguishes it from competitors like Tim's, Dunkin, and Bagel Brothers, drawing customers back for more.
Address: 2130 Delaware Ave Marshall's Plaza Buffalo, NY 14216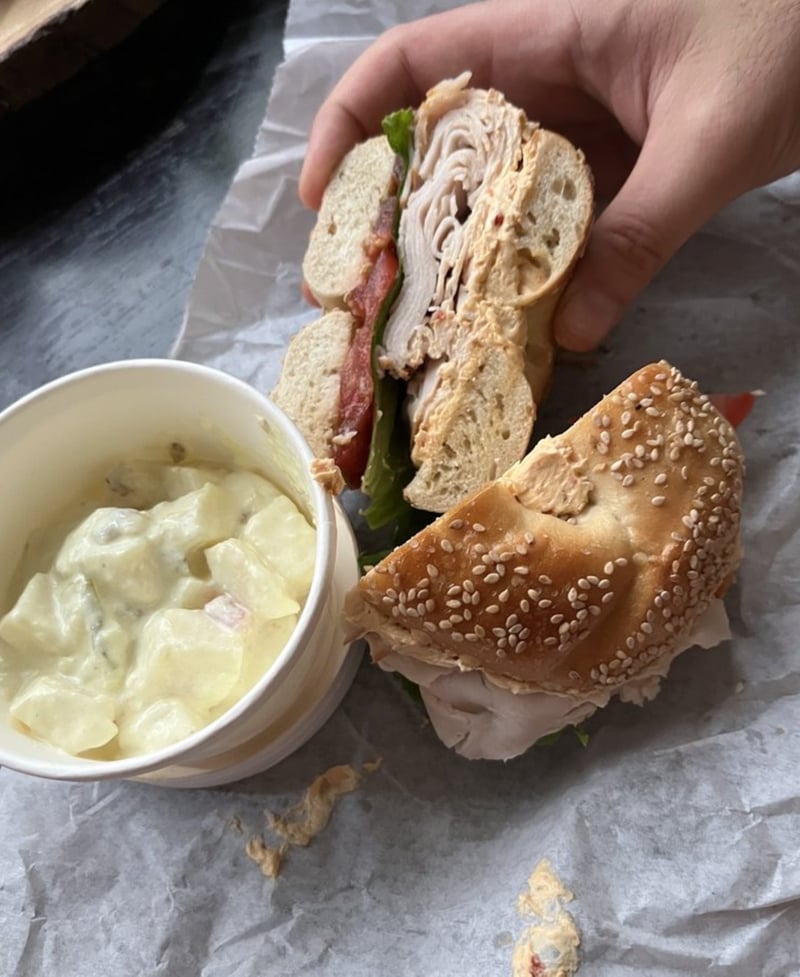 The Bagel Jar
I visit The Bagel Jar each morning for my staple bagel and coffee. Their tasty selection of bagels never disappoints; each visit leaves me satisfied.
What makes me a loyal patron, in addition to the gourmet food, is the staff. They're genuinely warm, adding to the eatery's lively ambiance. Their prompt service and keen memory of regular orders make every visit pleasant.
Located on a side street, The Bagel Jar is a warm, aesthetic haven equipped with large windows that capture morning light. Its design's fusion of history and modernity gives it a comforting appeal.
The only drawback is the morning rush and the potential waistline threat from the delectable pastries. However, the crowd attests to its well-earned reputation.
The Bagel Jar is more than your typical breakfast spot. It blends quality food, outstanding service, and an inviting atmosphere. My regular morning stop has become a cherished ritual. Whether you're a local or a passerby, I recommend trying it. Enjoying a delightful bagel in a charming location served with genuine warmth is an experience.
Address: 6940 Erie Rd Derby, NY 14047
Dopest Dough
Curious about the buzz surrounding Dopest Dough in East Aurora, my family and I ventured to experience their acclaimed bagels and sourdough. Immediately, Dopest Dough's commitment to quality and variety was clear. We encountered a range of appealing items—bagels that rival NYC's, fresh and chewy, with notable options like hot n' spicy and jalapeño cheddar. The sourdough is mentioned for its distinctive appearance, texture, and taste.
The smooth online ordering and pick-up process was convenient, addressing my family's varied preferences effectively. The owners' commitment to satisfaction was evident, and their proactive communication through social media and mailing lists facilitated seamless planning.
Dopest Dough, modest from the outside, is a beacon of flavor in the quaint atmosphere of East Aurora. The ambiance enriched our experience, making early breakfast visits particularly delightful. The locale's aesthetic is critical to the overall experience, echoing authenticity and joy.
To conclude, Dopest Dough stands out for lovers of quality baked goods. The diverse offerings, exceptional service, and inviting ambiance make it a worthy visit. The slight premium in price is a small compromise for the unmatched taste and joy it brings, making it a commendable choice for both locals and visitors.
Address: 695 Main St East Aurora, NY 14052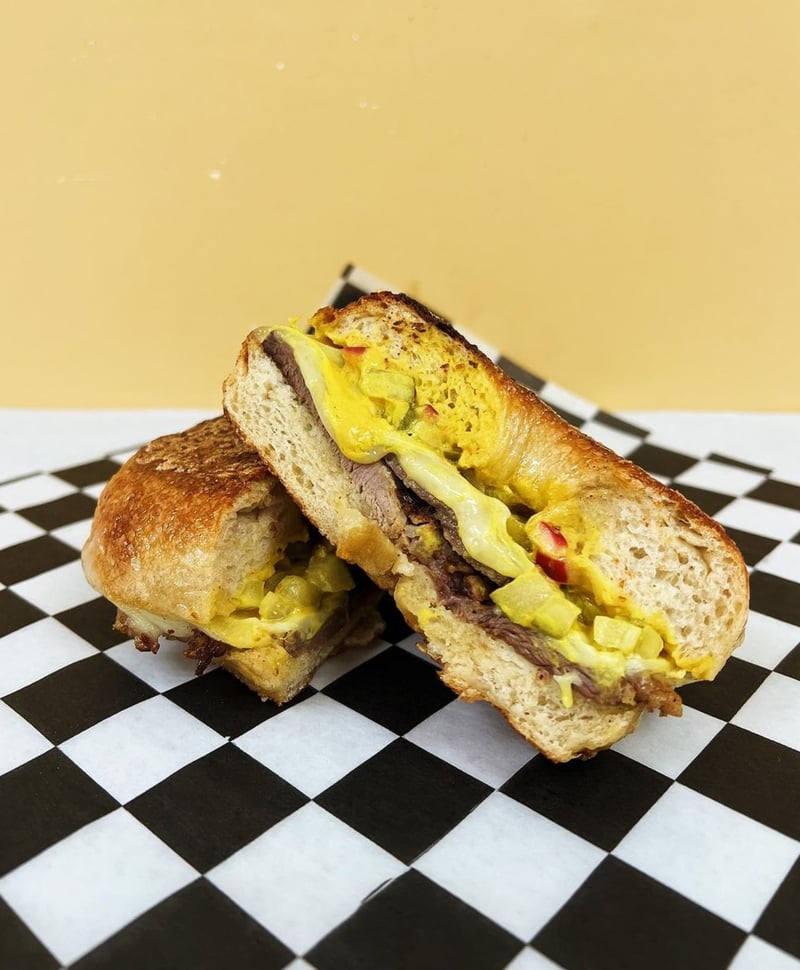 Breadhive Bakery & Cafe
Breadhive Bakery & Cafe offers a comprehensive menu, including breakfast sandwiches, bagels, soups, and cookies, all made from local produce for robust flavors. Start with their fried eggs sandwich, The Aaliyah, with homemade sausage patty in a syrup-coated bagel, or the Olivia - a sweet potato sandwich with pickled onions and zesty cheese.
Pastries, the test of a bakery, are finely crafted. Cookies, brownies, or vegan delights like vegan pie crusts and sandwiches do not disappoint. Unique pretzel bagels add a distinct flavor to their sandwich offerings.
Service is warm and efficient in a comfortable setting, indoors or outdoors. Due to its popularity, there can be a slight wait for your order.
Breadhive is known for its strong community ties. As a worker-owned bakery, they source locally, such as Barrel & Brine pickles and vegan kimchi, for the finest quality and sustainability.
Beyond a bakery, Breadhive Bakery & Cafe embodies community spirit, superior ingredients, and a passion for baking that transforms into delicious meals. It's a spot for a hearty breakfast, a snack, or a dessert delight.
Address: 402 Connecticut St., Buffalo, NY 14213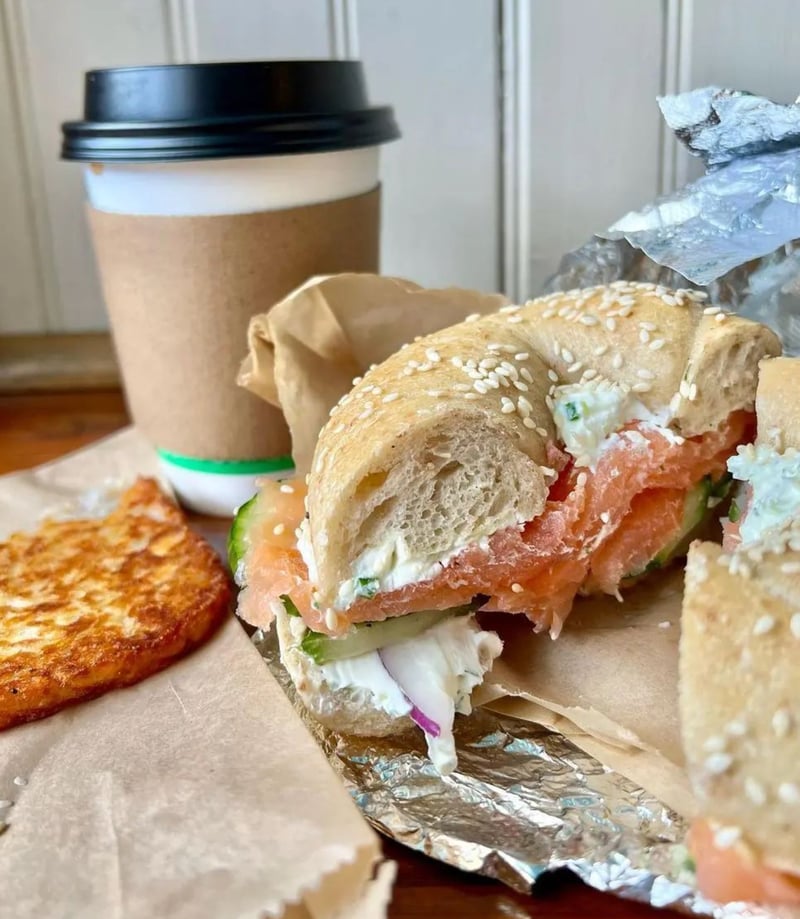 Satisfying Bagel Options in Buffalo NY (Post Summary)
B & D's Bagels and Locks
Logan's Bagels
Bagel Jay's
The Bagel Jar
Dopest Dough
Breadhive Bakery & Cafe