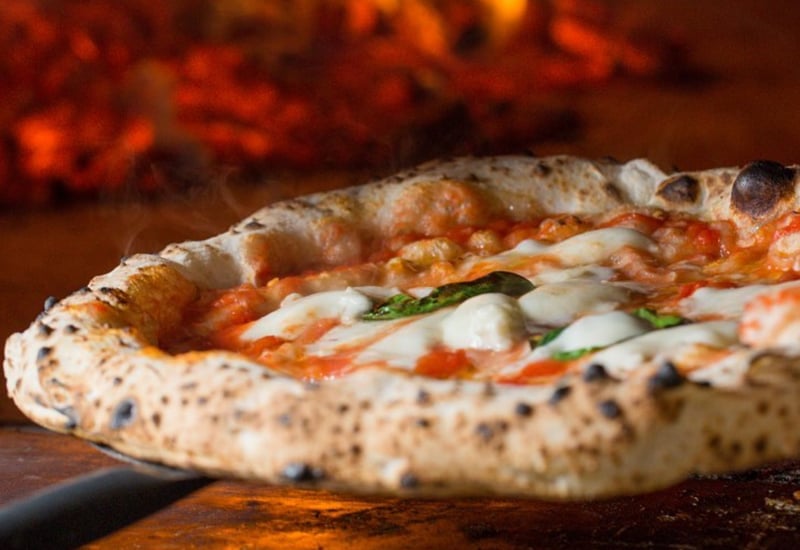 Famous for its Buffalo Wings, Buffalo, NY, also showcases a swath of pizzerias dotting the cityscape. Its pizza culture intermixes conventional establishments with a rich heritage and modern ones redefining pizza norms. A flourishing craft beer scene blends seamlessly with the crisped crusts and melted cheese, making Buffalo a pizza enthusiast's utopia.
This article will navigate Buffalo's finest pizzas, from time-honored family operations to chic neoteric joints. Prepare to awaken your taste buds and venture into the mouth-watering world of my favorite spots from Buffalo's pizza scene.
Best Pizza in Buffalo, NY
Imperial Pizza
Imperial Pizza always satisfies my pizza cravings with its signature Buffalo-style dough - a thicker, airy base that enriches every pizza's taste.
Our family's popular pick is the Cheese and pepperoni Pizza, with abundant traditional toppings. The Stuffed Hot Pepper Pizza also stands out. It combines sausage, large slices of Hungarian peppers filled with cheese, and the right level of heat that makes you crave more.
The Imperial sub, loaded with quality steak, sausage, veggies, and cheese, is like a complete meal. We also enjoy the simple, cold Ham, Turkey, and Cheese Sub, which, coupled with local Buffalo beer, makes for a tasty dinner.
Imperial's food consistently delivers on quality. However, Ken's Buffalo-Style Blue Cheese Dressing felt subpar compared to homemade ones. And be prepared for a spicy surprise with the Steak Pizza as hidden hot peppers bring unexpected heat.
Address: 1035 Abbott Rd Buffalo, NY 14220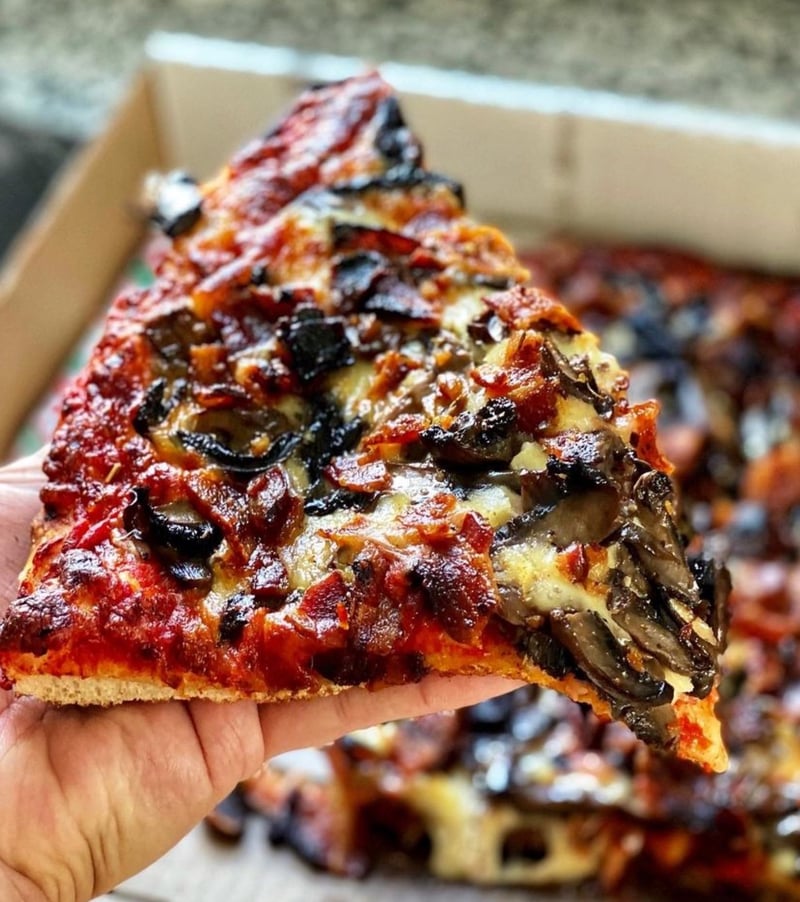 Forno Napoli Pizza & Italian Kitchen
Walking into Forno Napoli, a popular Buffalo pizzeria known for its authentic Neapolitan pizza, we were greeted with a warm and inviting atmosphere suitable for family dinners and private events. Despite the busy scene, the staff remained friendly and attentive. We had a pleasant conversation with Felix, the genial owner, a reminder of the appeal of local dining. The sight and smell of our Margherita Pizza being prepared in the traditional oven increased the anticipation.
Forno Napoli's pizzas deserve praise for their quality. We sampled various of them, each surpassing the previous one with its distinct taste. The Margherita Pizza, laden with genuine bufala mozzarella imported directly from Italy and a rich sauce, gave us a tantalizing taste of Napoli.
In contrast to the Margherita, the Lasagna Pizza offered a complex interplay of tangy sauce, sweet ricotta, and savory meatballs. Their Truffle Mushroom Pizza was slightly expensive but merited the price with its unique taste. However, the Verdura Pizza fell short, seeming slightly under-seasoned and lacking vegetable toppings.
Forno Napoli's standout pizzas owe their appeal to top-notch Sicilian and Italian ingredients and authentic bufala mozzarella, and sweet ricotta cheeses. The pizzeria also supports local charities, reinforcing our positive impression.
Address: 1280 Sweet Home Rd 105 Ste 105 Buffalo, NY 14228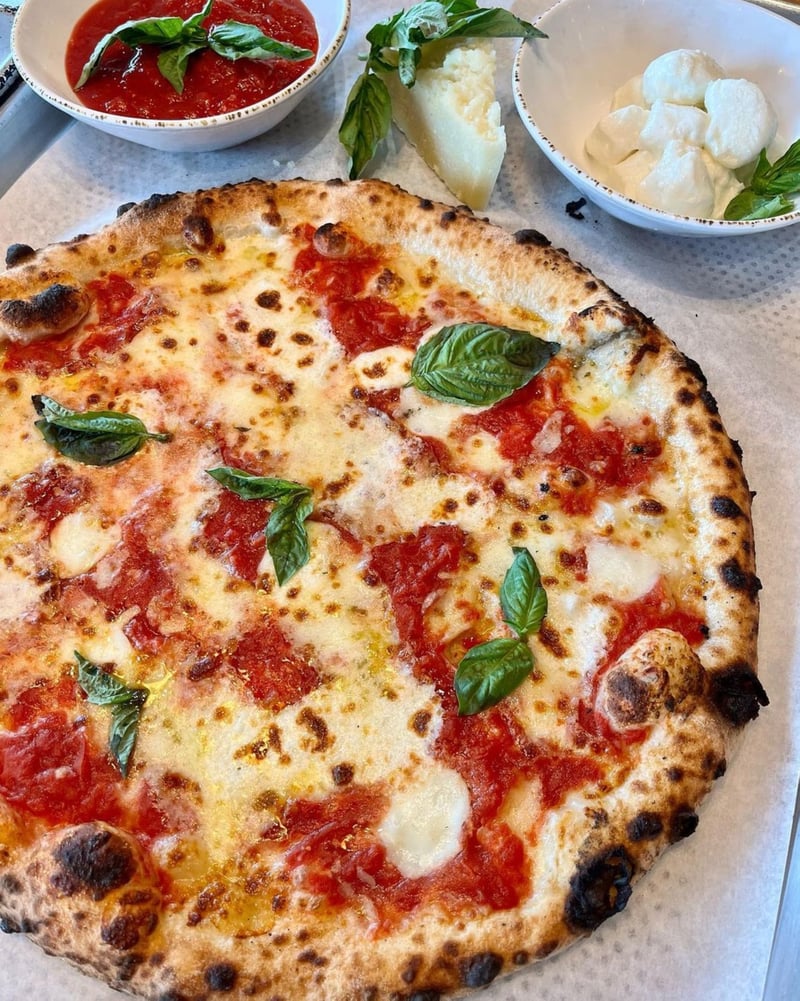 Jay's Artisan Wood Fired Pizza
My wife and I routinely take our children on pizza hunts over weekends. One such recent expedition led us to Jay's Artisan Pizzeria in Buffalo, NY, renowned for its exquisite pizzas. The crust was an ideal blend of crispy and chewy, reminiscent of New York yet unique, particularly their Detroit-style pizza squares. Personal favorites included the Ndjua Wood Fired Pizza—a flavorful blend of garlic, basil, Fontal cheese, and others—and the buzz-worthy Killer Bee Pizza.
The staff was warm and attentive, recommending choices from their broad menu. Service matters here. Although not spacious, the dining area was neat and amiable, suitable for family outings. Seeing our pizza made in real-time was an engaging touch.
Jay's provided convenience and adaptability. Online ordering was effortless, with explicit reheating instructions included. Some difficulty reaching them by phone during busy times was a slight drawback to their impressive service.
While their prices might be slightly above average, the taste adventure is worth it. The blend of unique dough and flour mixes, fresh components, and controlled flavors evidence their dedicated pizza craft. The option to add honey to our pizza was a delightful surprise that enhanced the dining experience.
Address: 2872 Delaware Ave Buffalo, NY 14217
Bocce Club Pizza
Bocce Club Pizza is a favorite in my family's dining lineup despite our infrequent visits to their Hertel or Delaware outlets. The convenience of well-packaged, warm-up-ready pizzas keeps us returning. Whether we enjoy a hearty club pizza or a thin, cheesy variant, these pizzas impress with a crunchy, fresh crust.
We have experienced minor inconsistencies like unevenly distributed toppings, but they barely tarnish our overall positive experience. Their salads are worth mentioning – particularly the chicken salad with fresh, crispy chicken contrasting against crunchy vegetables.
Other than pizzas, Bocce Club offers a tasty snack – Taco Logs, quirky in name but packed with flavor. Wrapped in egg roll sheets filled with ground beef, taco sauce, and cheese, it is worth trying. If you prefer subs, the garlic-covered Bomber is a standout.
Despite slightly higher prices, their breadsticks, served with a tangy marinara dip, are another family favorite. The quality, however, makes it well worth it.
Online reviews of Bocce service vary, but our experiences have consistently been efficient and pleasant. Thus, I comfortably propose Bocce Club Pizza as a must-try, whether for its excellent pizzas, unforgettable breadsticks, one-of-a-kind Taco Logs, or the unique Bomber Sub.
Address: 235 Delaware Ave Buffalo, NY 14202
Lovejoy Pizza
Upon entering Lovejoy Pizza, the comforting environment points to the quintessential community pizzeria. It's a local favorite in Buffalo for celebrations, casual family meals, and home deliveries.
Lovejoy Pizza's enticing menu is a testament to Buffalo-style pizza - the right blend of rich sauce and melting cheese. The Cheese & Pepperoni Pizza stars the show with its sumptuous toppings and surprisingly delightful crust.
Complementing the cheese-rich menu is Lovejoy's robust wing selection. The chicken wings, wrapped in their 'Charbeque' sauce, add an appealing tang to the cheese-dominated dishes. However, opinions on the 'Char-b-q' chicken fingers varied among diners at our table.
Address: 900 Main St Buffalo, NY 14202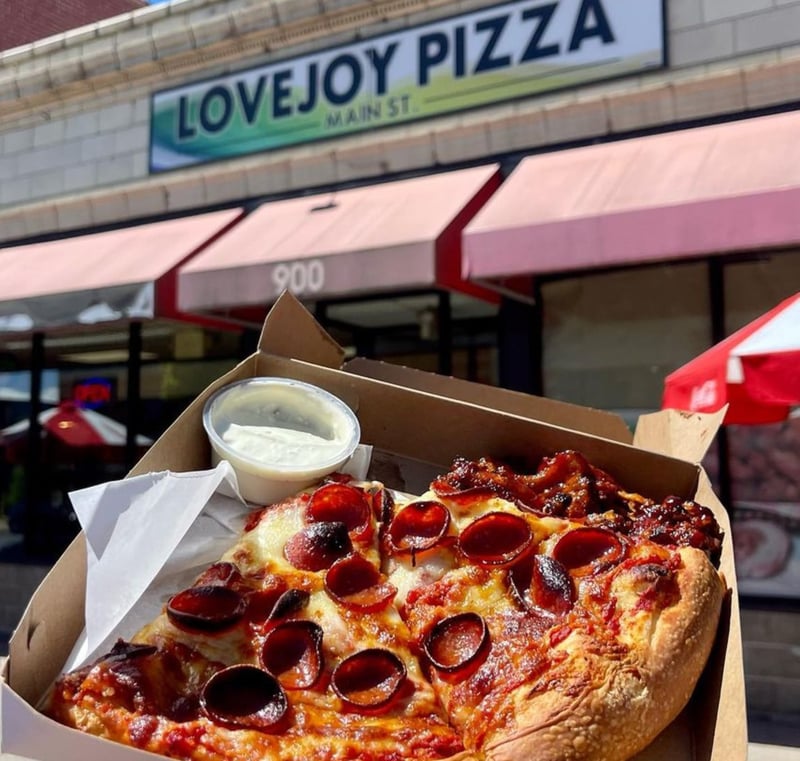 The Brick Oven
Don't let The Brick Oven's gas station locale deter you. This rustic, unexpected dining gem offers homemade pizza, freshly prepared subs, salads, and hand-carved turkey worth trying.
The Greek Salad is a standout, abundant with traditional toppings, all happily pocket-friendly. A highlight is their hand-carved turkey, adding a flavorful touch that elevates this staple dish.
My family's differing opinions revolve around the crust – too thin for some and perfectly crisp for others. Regardless of crust preference, the Margherita pizza is a flavor-packed hit. A sprinkle of fresh basil could seal the deal.
Address: 1264 Main St. Buffalo, NY 14209
Bailey Avenue Pizza
Feasting at Bailey Avenue Pizza in Buffalo, NY, always satisfies my pizza cravings, thanks to their distinct Buffalo-style pizza offering. The subtly sweet red sauce strikes a delicate balance with the savory elements. The pizza is incredibly satisfying with the creaminess and salinity of the generously spread mozzarella cheese.
The pepperoni here is crisp and emits the right amount of oil, complementing the rest of the pizza. It's distributed evenly, ensuring harmony between the cheese, sauce, and pepperoni. The fluffy yet crispy Buffalo-style crust sets Bailey Avenue Pizza apart from other places like Bozanna's, Leonardi's, or Carbone's.
Adding thinly sliced onions and sweet red peppers provides a tangy contrast. A commendable highlight is the chunky, crispy bacon—a departure from the standard finely diced or store-bought bacon bits. Their bacon amplifies the flavor, making their combo deals excellent value for money.
Aside from pizza, they offer a tantalizing super steak hoagie. If you prefer softer, doughy pizza, try their cheese and meatball variant. But the star performer remains their traditional Buffalo-style Pizza, packed with cup & char pepperoni and a crisp crust.
Address: 2916 Bailey Ave Buffalo, NY 14215
Joe's NY-Style Pizza
Joe's Pizzeria may look plain, but offers an authentic, no-nonsense pizza experience. From classic cheese to adventurous options like Buffalo Chicken and even Pickle Pizza, the unusual combination of flavors will leave you surprised but satisfied.
Their specialty is the NY-style pizza, known for its thin, foldable crust and the right amount of chewiness. The Mexican Beef Patty pizza offers an attractive familiarity, while the Buffalo Chicken pizza gives you a taste of Buffalo without ever leaving your seat.
Beyond pizza, the chicken wings also exceed expectations – crispy on the outside, tender inside, coated in just the right amount of sauce. However, the Caesar salad falls a bit short due to the use of store-bought dressing and croutons.
Address: 345 Amherst St Buffalo, NY 14207
Candyman Pizza
A visit to Candyman Pizza yields a casual mix of childhood nostalgia and distinctive pizza. My recent trip established the high quality of their unique honey-chili seasoned "Candyman style" pizza and a consistently tasty four-cheese pizza, set apart by the thin, crunchy crust. Even those on a gluten-free diet will find substantial options.
Candyman Pizza offers a distinctive and entertaining atmosphere, blending contemporary food trends with traditional touches. The wall art of Jerry Garcia enjoying pizza adds charm, while children can watch pizzas being prepared and play battleship. The airing of a Phish concert offered a refreshing alternative to typical sports broadcasts.
I indulged in the Blanton-Barrel aged imperial stout while my companions enjoyed craft beers and cocktails, including the rare Elmer T. Lee whiskey.
The diverse menu includes satisfactory meatball appetizers and popular wings like Weck Wings and Truffle Wings. Despite some lags in drink refills, the service was outstanding, with friendly staff adding personal touches such as private greetings for regulars.
With an adaptable dining-in or takeout service, Candyman Pizza competes well with similar locales, including Jay's Pizza and Caputi's Pizza Pub. If a family-friendly atmosphere, delicious food, and diverse dining experience appeal to you, Candyman's sweetly spiced experience remains worth a visit.
Address: 2347 Sheridan Dr, Tonawanda, NY 14150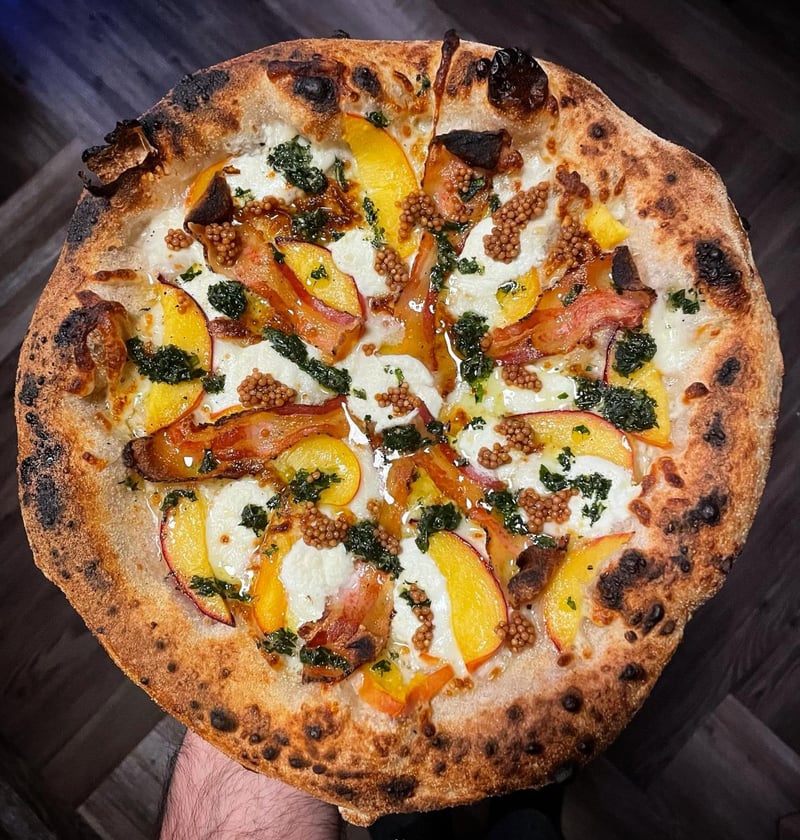 D'agostino's Pizzeria
D'Agostino's Pizzeria is an authentic and enticing dining option. Balancing a savory sesame crust and a rich white topping, the pizza is a culinary delight. Each pizza, exuding a balance of meats, vegetables, and cheeses, signals the chef's adept hand.
Buffalo's famous chicken wings take new heights at D'Agostino's. Crispy, flavorful, and generously portioned, these wings contend with renowned eateries in town. They offer a delightful crunch paired with creamy and zesty dips. Affordable prices make this treat all the more enticing.
The menu extends beyond pizza and wings, including crunchy mozzarella sticks and chicken fingers accompanied by hot sauce, bleu cheese, fries, and celery. Standouts include the cheesy garlic bread that merits its praise.
The atmosphere at D'Agostino's is friendly, and the service is efficient, always making you feel at home. The minor inconvenience of an occasionally unanswered phone pales compared to the overall excellent customer experience.
Address: 576 Dick Rd Ste 60 Depew, NY 14043
Bozzy's Pizzeria
My whole family loves Bozzy's Pizzeria, an excellent Buffalo, NY, spot serving authentic regional-style pizza. Located on Union Road, Bozzy's is now part of my family's weekend routine.
My children and I love Bozzy's pizza. Its unique crust, tangy sauce, and unusual flavor profile have become family favorites.
When you visit, take advantage of the Stinger Pizza. It mixes onions, banana peppers, chicken fingers, and steak into a delightful feast. However, online ordering on the Slice App can be tricky, so double-check your orders!
Buzzy's is our go-to after Buffalo Bills games. They manage large orders and crowds well.
The service may vary. Although the ambiance is generally enjoyable and the nearby Hilton Garden Inn staff are outstanding, long waits and the confusing app can test your patience. Regardless, the delectable food keeps us returning, especially for their warm Royal Sub, packed with meat and provolone cheese.
Address: 2990 Union Rd Cheektowaga, NY 14227
Bonetti's Pizzeria
If you're from Buffalo, you likely know Bonetti's Pizzeria. This cherished eatery, an evergreen part of our town's tradition, stands tall beneath the weight of time. Named after its owner, Peter Bonetti, the pizzeria is a nostalgic stop for many locals.
Bonetti's menu shines with its unique Taco Pizza—a classic delight that has remained popular. Their reasonably priced cheese and pepper pizza, especially on Mondays, is also a hit.
Beyond pizza, Bonetti's offers diverse food options. The lemon pepper wings, crispy and subtly spicy, the delectable ravioli, and subs served on fresh Costanzo rolls all offer a variety of flavors. Bonetti's represents a part of Buffalo's culinary legacy, intertwined with warm service and a nostalgic charm hard to replicate.
Address: 697 Walden Ave Buffalo, NY 14211
One Pie Pizza
One Pie Pizza is famed for its Buffalo-style pizza. Its crust—that delicately balances thickness and lightness—is covered with premium pepperoni and a beloved local sauce. This perfect mix of cheese and a well-cooked crust always takes me back to when I first sampled this regional treat.
The pizza's distinction largely rests on its sauce. Its sweet yet robust profile enlivens every bite, balancing the spicy pepperoni and any paired veggies. Whether it's their famous Cheese and Pepperoni or 'Three Little Pigs' pizza, the flavor is all thanks to this exclusive sauce.
We should also commend the high level of service at One Pie. The warm environment, complemented by the friendly staff, makes dining here enjoyable. While there have been instances when the service did not meet expectations, overall, One Pie values customer satisfaction.
One Pie also distinguishes itself by solely offering pizza for takeout. This choice might only suit some, but it affirms their focus on mastering Buffalo-style pizza. Moreover, their Lunch Deal—two slices, a soda, and blue cheese—is a steal.
One Pie Pizza's straightforward approach resonates with Buffalo's pizza lovers. Their signature Buffalo-style pizza and outstanding service rank them high in the city's pizza scene, even if it means occasionally pinching your purse.
Address: 2185 Clinton St. West Seneca, NY 14206
Extra Extra
Recently, my wife and I had a memorable evening at Extra Extra in Buffalo, indulging in New York-style pizzas with an array of unique toppings, from classic pepperoni to unusual garlic and ricotta. Notable was the mushroom topping, albeit the priciest. Despite occasional ingredient availability issues, the wait was worthwhile.
The authentic ingredients elevated the overall taste of the pizzas. The red sauce was notably fresh, triggering pleasant memories, while the well-proportioned cheese allowed other flavors to shine. Their blue cheese dressing, arguably, is among Buffalo's finest.
Adding Extra Extra's refined alcoholic beverages and inventive mocktails greatly enriched our dining experience.
The coziness of Extra Extra, with its charming pink decor and visible pizza oven, enhances the ambiance. The top-notch service provided by well-informed servers further adds to the whole experience.
Address: 549 W Utica St. Buffalo, NY 14213
Picasso's Pizza
The decor at Picasso's Pizza exudes a warm, old-world vibe, similar to a traditional Italian pizzeria. I highly recommend their Crisp Pepperoni Pizza, which capably captures the flavor of gourmet pizza.
The charm of Picasso's isn't confined to their pizza. The cozy atmosphere brings to mind The Left Handed Cook, a beloved eatery in Buffalo's Elmwood Strip. The warm ambiance adds to the overall experience.
Still savoring the fantastic pizza, I sampled their Hawaiian chili dog, reminiscent of the treats offered by Taylor's Truck. Picasso's innovative spirit in gastronomy was apparent in its unique take on this popular classic.
A visit to Picasso's Pizza isn't complete without trying their Hot Honey Chicken Sandwich. Fans of Bayou Billy's will find a similar excitement in this spicy, crispy delight. Its only downside is that it's too good. Picasso's ticks every foodie box: it delivers a remarkable pizza experience in Buffalo, NY, and is quickly becoming a popular haunt.
Address: 2193 Union Rd Buffalo, NY 14224
Roost
Roost offers a seasonal rotating menu that delivers a range of flavors. Its standout offerings include the Sausage Pasta and the Braised Beef Short Rib Chimichurri, providing a pleasing mix of heat and savory notes.
Seafood lovers might find interest in the Octopus and Mussel Tapas, which have garnered mixed reviews. As someone who enjoys trying new things, I found the dish refreshing.
Roost's interiors balance contemporary design with exciting details like a floral chandelier and quirky restroom signs. However, the menu's highlight, for us, has been their varied pizza types. Their Lemon Ricotta and gluten-free cauliflower crust options are excellent, with the breakfast pizza scoring exceptionally high.
Brunch at Roost is noteworthy, with favorites like the Cod BLT dish and the Rotisserie Chicken Pad Thai. On the downside, their menu could benefit from more precise descriptions. While surprises can be fun, clarity could help in making informed choices.
Address: 1502 Niagara St. Buffalo, NY 14213
Gino's NY Pizza Elmwood
I recently tried Gino's NY Pizza in Buffalo, NY, a delightful homage to authentic New York-style pizza. My large pizza, topped with pepperoni, mushrooms, and onions, was undoubtedly one of the best I've tasted in Buffalo. The chewy dough, flavorful sauce, and well-chosen toppings worked together flawlessly.
Contrary to common belief, pizza isn't the only standout at Gino's — their wings are excellent. Gino's Secret Sauce garnished the wings, offering a BBQ-esque flavor. The Garlic Parmesan Wings also stood out, boasting substantial size and perfectly balanced taste.
The meal at Gino's also featured sides of fries and onion rings in generous portions. However, they lacked the freshness expected, somewhat overshadowed by the superior pizzas and wings.
Address: 1009 Elmwood Ave Buffalo, NY 14222