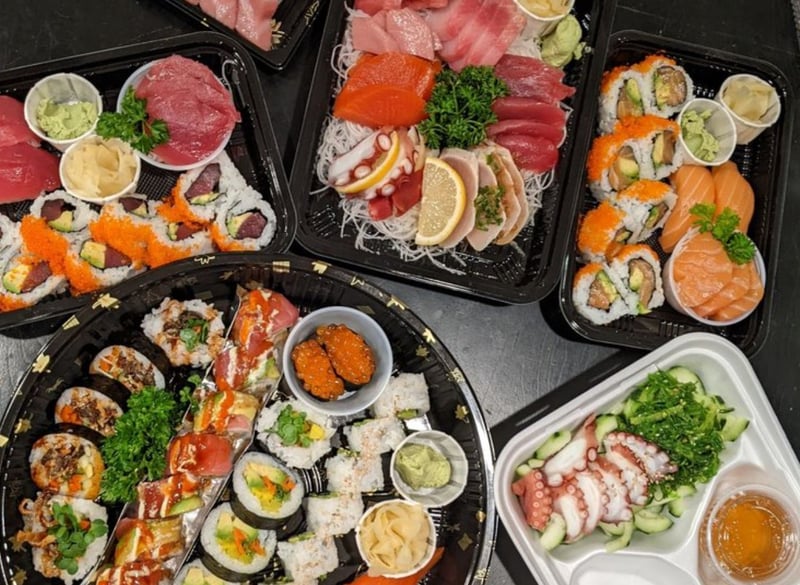 Bellingham offers a cuisine that focuses on local, fresh, vibrant Pacific Northwest ingredients, and the city's focus on seafood makes sushi a natural fit. Just as the city values local alder-smoked salmon, it welcomes sushi, leveraging fresh ingredients from its plentiful waters.
Bellingham boasts a variety of sushi bars and restaurants. From elegant sushi bars serving diverse maki, nigiri, and sashimi to homey, family-run establishments, there's a spot for every sushi lover here.
Below are my favorite sushi spots. I hope you enjoy them as much as my family and I have.
Best Sushi in Bellingham, WA
Blue Fin Sushi
Blue Fin is an unassuming sushi spot tucked away in a mini-mall. It offers a surprising range of exquisite dishes that deserve attention and has earned my vote as the best sushi restaurant in Bellingham.
Upon walking into Blue Fin, my family and I were immediately taken by the aromatic blend from the kitchen. Soon, an array of tempting dishes arrived. The standout was, predictably, the sushi. Blue Fin's offerings, from kappa maki to spider rolls, featured vibrant colors and a freshness that couldn't be beaten. The extraordinary salmon nigiri is worth noting for its succulent, melt-in-your-mouth quality.
We're also huge fans of their takeout, maintaining freshness and quality in every order, whether a colorful sashimi platter or a delightful chicken teriyaki bento box. Despite many establishments faltering in customer service during the transition to takeout, Blue Fin has remained hospitable and attentive.
In essence, Blue Fin, though unassumingly situated in a Bellingham mini-mall, is a find. It welcomes visitors with a cozy, well-managed atmosphere that never feels overcrowded. An unexpected standout was its Japanese 'Fish 'n Chips' featuring a juicy interior and a crisp exterior. So, despite the challenges of the pandemic, Blue Fin is a shining star in Bellingham, serving exemplary sushi and comforting dishes with admirable efficiency and quality.
Address: 102 S Samish Way Ste 105, Bellingham, WA 98225
Hokkai Ramen & Sushi
Hokkai Ramen & Sushi, located in a bustling strip mall, offers many traditional selections. I chose the Tonkotsu Ramen as my main course, which boasted hearty noodles and plump pork pieces in a robust broth, albeit with slightly under-flavored pork. Accompanying my Ramen was the Gyoza side, a bit overcooked, but gratifying nevertheless.
Hokkai's seafood shone brightly. The California Roll, Spider Roll, and the signature Hokkai Sushi were each a delight, proving to be the meal's highlights.
While the service was amiable and prompt, there were minor hiccups, like a tardy Miso Soup and missed refills. Nevertheless, these minor setbacks didn't detract from the pleasant dining experience.
Although Hokkai's prices may seem steep initially, they are justified considering the quality of the food, the inviting atmosphere, and the easy parking. If you're ever in Bellingham, WA, I highly recommend Hokkai Ramen & Sushi for an authentic Japanese culinary experience. Nothing quite matches the authenticity of savoring Miso Soup on a brisk day in this tucked-away town in the Pacific Northwest.
Address: 4277 Meridian St Ste 102 Bellingham, WA 98226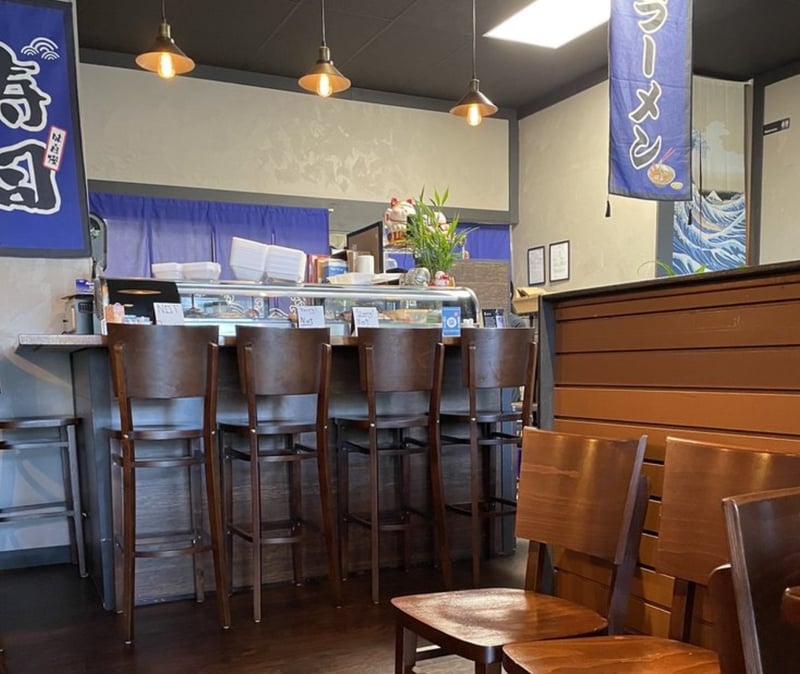 Jun Sushi and Bento
Located centrally among Bellingham's bustling shops and entertainment, Jun Sushi and Bento provides a welcoming space for respite. The hospitable owner and their team foster an inviting atmosphere, encouraging visitors to relax and enjoy the array of culinary treats available.
Jun's unique sushi stands out. I can confidently declare that their Boulevard Roll is a creative masterpiece. Their deft combination of smoked and regular salmon showcases their sushi skills. The popular Hamachi Nigiri also deserves a mention.
Jun's menu extends beyond sushi, encompassing various Asian dishes. The Vegetable Tempura, Ramen, and Udon bowls are well worth trying, although the Ramen tasted similar to packaged noodles, lacking authentic Japanese flavor.
The prices are reasonable, particularly given the exceptional food quality. The Bento Boxes represent excellent value for money, and the Family Party Sushi Platter, offering around 50 sushi pieces, is ideal for larger groups.
Address: 202 E Holly St Ste 110, Bellingham, WA 98227
Kuru Kuru Sushi
At Kuru Kuru Sushi, abundant food options and a stunning locale create a refreshing experience. As a sushi lover, I appreciated the varied menu, notably items like the torched salmon roll and deep-fried jalapeño. The novelty of selecting dishes from a conveyor belt was an enjoyable part of the experience.
Kuru Kuru's menu avoids monotony, offering everything from basic miso soup to elaborate sushi rolls. The frequent use of imitation crab may appeal to only some, potentially limiting the diversity of taste options. However, it didn't overly impact my experience.
The restaurant's waterfront location offers stunning views while you dine, and its proximity to local shops and attractions adds appeal. It's an ideal spot for family lunches or dinner after local excursions.
Kuru Kuru prioritizes cleanliness and offers a cozy environment. The style might be retro for some, but I found it charming. Large communal tables might be a tight fit for sizable parties, but they add to Kuru Kuru's unique character.
Address: 11 Bellwether Way Ste 101, Bellingham, WA 98225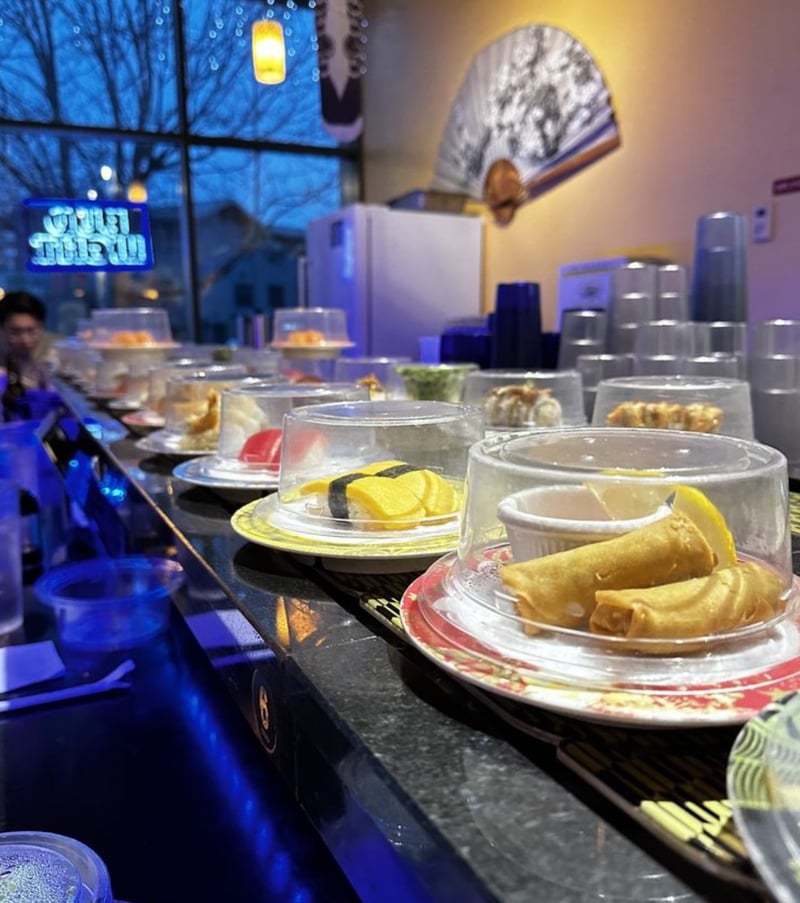 Rock & Roll Sushi
My trip to Rock & Roll Sushi in Bellingham, Washington, began as an unexpected detour to the local mall. Surprisingly, I was drawn to this humble establishment's innovative take on traditional sushi.
Each sushi roll offered something unexpected, demonstrating a creativity that transcends mere sushi-making skill. Especially notable was the rice, so flavorful it could be enjoyed without soy sauce.
Not every dish hit the mark, though. The Lemon Roll, although good, was a letdown—it tasted predominantly of mayo and offered less value than expected. On a positive note, the larger platter provided better value and was favored by my family.
Rock & Roll Sushi may not be top-of-mind for locals planning a meal out. But for mall roamers seeking a decent dining experience, it's worth dropping in. Amid the retail frenzy, it stands out for its sushi, exemplified by its flavorful rice.
Address: 1 Bellis Fair Pkwy, Bellingham, WA 98226
Fujisan Sushi
Fujisan Sushi stands for one thing: quality. During my visit, I enjoyed the satisfying salmon and eel rolls. The generous, well-presented nigiri especially impressed me with their simplicity.
Aside from sushi, Fujisan's menu features other Japanese dishes. The spicy ramen filled with flavor was a standout, as was the gyoza in the broth.
The restaurant, although popular, primarily serves takeaways. I, and other customers, hope to see Fujisan add a dine-in option. The establishment's location in downtown Fairhaven would be an excellent setting for family meals.
Staff members exhibit warmth and hospitality. The ambiance is cozy, and the inclusion of a chessboard is a thoughtful touch for waiting customers.
Address: 1216 Harris Ave, Bellingham, WA 98225
Tokyo House
Tokyo House fuses Japanese and Korean culinary traditions. It offers well-known dishes such as ramen, sushi, Korean barbecue, bibimbap, and kimbap. Although the Korean grill remains unexplored on my part, the luring scent from other tables promises a standout experience.
Despite primarily positive impressions, Tokyo House suffers from occasional quality inconsistency, particularly in its sushi. I found the rice overly sticky and raised questions about the freshness of certain ingredients.
Where Tokyo House excels is in its delivery and takeout service. Their partnership with DoorDash ensures customers can enjoy their favorite dishes at home. The quick preparation, timely delivery, and positive feedback on their packaging and portion sizes signify a customer-friendly approach. Their sundubu and dragon roll make for comforting take-out choices.
Despite minor shortcomings, Tokyo House remains a dependable destination for Japanese-Korean cuisine. Its diverse menu and convenient location make it a pleasing venue for family occasions or cozy nights. Even if not everything's perfect, the broad menu and attentive service make it a worthwhile visit.
Address: 1222 N Garden St, Bellingham, WA 98225
Goji Bistro
Roadside eateries often disappoint, but the Goji Bistro breaks the mold, offering a fusion of flavors in a vibrant, modern setting. The menu boasts popular dishes like Goji Beef, Singapore noodles, and Pad Thai with Tofu.
Upon entry, you're greeted by overextended yet proficient staff adept at maintaining a smooth flow in this bustling restaurant.
The Goji Beef became a hit with my picky son, my discerning wife loved the Tofu Pad Thai, and the Singapore noodles were satisfying. Occasional hiccups, like less protein in some dishes or subpar tempura, did occur.
Despite a noisy kitchen and soft instrumental music, the ambiance remains comforting with its clean, wide space, inviting you to relax and enjoy your meal. The Bistro's bustling chatter and a well-rounded menu featuring unique choices like Gyoza and On Fire Rice make it worthwhile.
Address: 4260 Cordata Pkwy Ste 105, Bellingham, WA 98226
B-Town Kitchen & Raw Bar
B-Town Kitchen & Raw Bar, hidden within the Four Points Sheraton, doubles as a casual dining spot and sophisticated retreat. It won me over with its charming atmosphere and lavish seafood selection.
B-Town's marine offerings are noteworthy. The eatery pushes the limits from crab cakes and green curry salmon to coconut-draped pan-seared halibut. Its sushi rolls are some of the best in town, and the raw bar offers quality oysters. But their crowning glory was the salmon sashimi - a blend of texture and flavor that I'll remember fondly.
However, not everything at B-Town hit the mark. The truffle fries and Caesar salad fell flat for me. The fries were okay, but the salad didn't match the seafood quality.
Though Bellingham is brimming with must-see attractions, stumbling into B-Town Kitchen & Raw Bar is worthwhile.
Address: 714 Lakeway Dr, Bellingham, WA 98229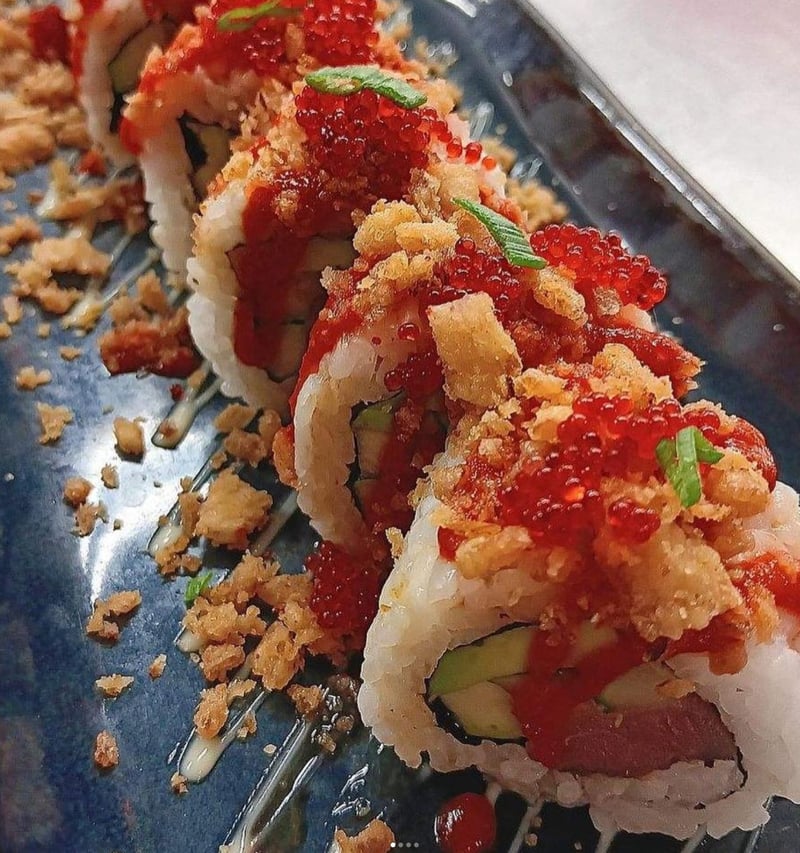 Kyoto Japanese Steak House and Sushi Bar
The sushi selection at Kyoto Japanese Steakhouse, notably the Alaskan, Las Vegas, and Firecracker Rolls, won me over immediately. The Tako Sunomono struck my palate less favorably, potentially an 'acquired taste.'
The dining experience at Kyoto capitalizes on a mix of levity and excellent service. The chef shines, performing his work skillfully despite the slightly worn aesthetics of the place.
Kyoto, centrally located, is easily reachable. And despite competition from venues like Blue Fin Sushi, Kyoto unquestionably stands its ground.
My experience with Kyoto Japanese Steakhouse revealed strengths and weaknesses. Despite a few misses like the Tako Sunomono and cleanliness concerns, the warm and competent staff, in particular, stood out. The delicious Beef Yakisoba, Chicken Teriyaki, and diverse sushi selection truly shone. It is a must for both locals and visitors alike.
Address: 115 N Samish Way, Bellingham, WA 98225
Zen Sushi
Zen Sushi & Bar in Bellingham offers a distinct Japanese-inspired sushi experience. Its conveyor belt service and Buddha statue add an exotic charm. My wife and I enjoy the Dragon and Volcano rolls; our children prefer the kid-friendly sushi platter. However, their California rolls lack the careful crafting seen in other selections.
The restaurant offers a variety of dishes but tends to use imitation crab and mayonnaise, straying from traditional sushi lightness. Yet, the Miso soup filled with tofu and seaweed stands out, providing a savory, tangy warmth worth every bite.
The service, however, is inconsistent. We've encountered both charming and aloof staff. The setting, marked by a Buddha statue and sushi conveyor, oozes charm but could use additional warmth. Despite minor hitches, Zen Sushi & Bar remains a reliable option for family dining and casual sushi outings, ensuring a satisfactory meal.
Address: 3001 Cinema Pl, Bellingham, WA 98226
Best Sushi in Bellingham (Post Summary)
Blue Fin Sushi
Hokkai Ramen & Sushi
Jun Sushi and Bento
Kuru Kuru Sushi
Rock & Roll Sushi
Fujisan Sushi
Tokyo House
Goji Bistro
B-Town Kitchen & Raw Bar
Kyoto Japanese Steak House and Sushi Bar
Zen Sushi