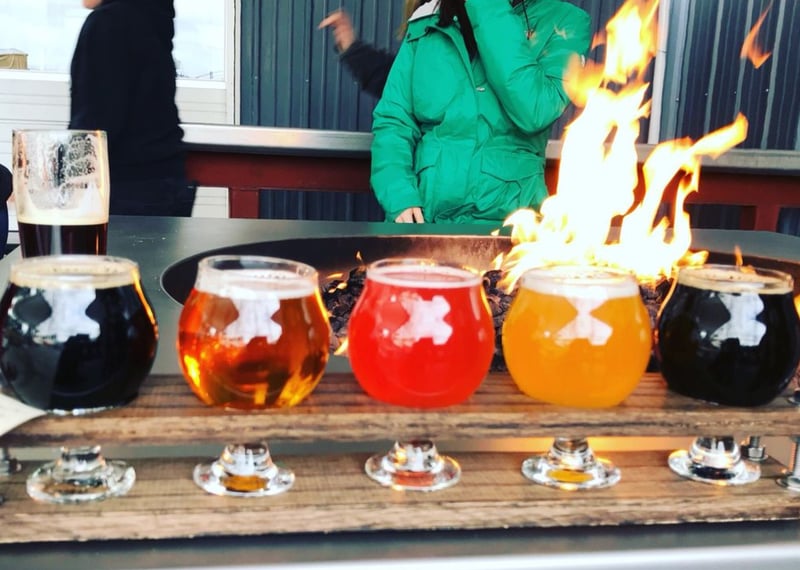 Bellingham, Washington's brewery scene, is a highlight whether you're a local Bellinghamster or just visiting our fine city. The beer selection provides a unique experience for both fans and casual drinkers. The city's breweries are doorways to wide-ranging flavors and dynamic local culture.
Experience Bellingham through its brews and the community that champions this brewing culture. Here are my favorites!
Best Breweries in Bellingham
Wander Brewing
Wander Brewing boasts a vast array of beers, including, occasionally, a variety of Belgian-style ales that I adore. These rare gems have secured Wander's position as my favorite brewery in Bellingham. The seasonal hot pick - IPA Alive, the irresistibly fruity and sour Plum Bob, and the well-liked Uncommon Common amber embody the innovative and unconventional brewing spirit nurtured here. Furthermore, the impressive variety in the area of IPAs - with choices ranging from hazy, coffee, singles, doubles, and triples - deserves admiration.
An atmosphere of relaxation permeates Wander's spacious indoor setting, where you can enjoy your beer in chilled glasses with your loved ones, including children and your pet dog. The easygoing nature of the place is also reflected in their serving sizes, which include 5 oz pours for those who prefer lighter intake. During weekends, my family and I are particularly fond of the board games available, adding to the communal spirit of the place.
The aesthetic appeal of Wander Brewing is simple but homie. Whether it's feeling the coziness of the outdoor fire pit on a nippy evening or bumping into friends at the many outdoor picnic tables - the place's ambiance certainly enhances the whole experience.
In conclusion, it's not hard to see why Wander Brewing has carved a niche for itself in the Bellingham brewing culture, with its praiseworthy beer selection, such as the Glass is Half Full and the crowd favorite Shoe Toss IPA, the inviting and interactive ambiance. It's a charming little cosmos with a loyal following of beer lovers, food truck fans, and game-night regulars.
Address: 1807 Dean Ave, Bellingham, WA 98225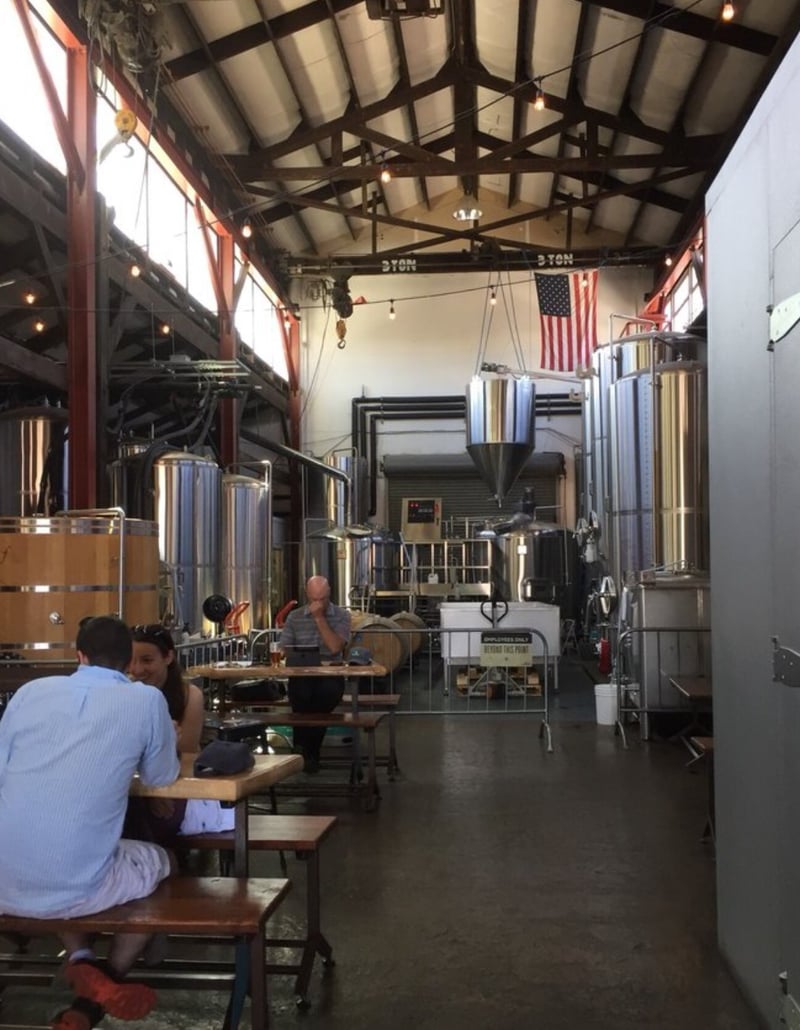 Aslan Brewing Company
Aslan Brewing consistently delivers comfort food with a unique spin and a broad selection of quality beers. The Smash Burger with Poutine, a staple on the menu, offers culinary satisfaction that outshines most of its counterparts around town. Try pairing it with the acclaimed Aslan Batch 15 IPA.
The menu at Aslan features a variety of dishes, showcasing their thoughtful and diverse approach to food. The Southwest Salad Bowl with Grilled Chicken is a simple yet refreshing choice. The Kids' Grilled Cheese with Sweet Potato Fries was a hit with my little ones. If you like unique flavors, the Yambonzo Burger with Yam Fries is a tasty and well-presented option.
The notably tart Disco Lemonade stands out among the offerings, setting the stage for various flavors. The champagne-inspired beers, Sauvage and Rosé Sauvage are undisputed crowd favorites.
The ambiance at Aslan accentuates the overall experience. The open spaces with ample natural light, serene atmosphere, lush interior greenery, and high ceilings create a sensory delight for diners. Furthermore, its family-friendly ethos ensures everyone, regardless of age, feels welcome.
Address: 1330 N Forest St, Bellingham, WA 98225
El Suenito Brewing Company
Known locally for its authentic Mexican cuisine, El Suenito certainly lived up to its reputation during my visit. The chicken tamale, a blend of tender meat and delectable masa, was my favorite. My wife and I found the portions just right, allowing us to sample more dishes from their extensive menu.
As you would expect from a brewery, El Suenito didn't disappoint in the beverage department either. I was particularly taken by their Mexican Lager Alebrijes, which paired beautifully with a tasty pork tamale. For those preferring lighter refreshments, there's a selection of tealights on offer. Even if you're not a beer enthusiast, you'll find plenty of alternatives, including refreshingly crisp margaritas and energizing aqua frescas, all great antidotes to the fiery spice of Mexican cuisine.
El Suenito's atmosphere is colorful, adorned with piñatas, and boasting ample space. Their efficient pager and self-service system enhances the dining experience.
Despite the crowd, the service was on point. A slight peak-hour wait is a small price for an exceptional meal and vibrant setting. The only minor detour was the guacamole, which lacked a punch.
Address: 1926 Humboldt St, Bellingham, WA 98225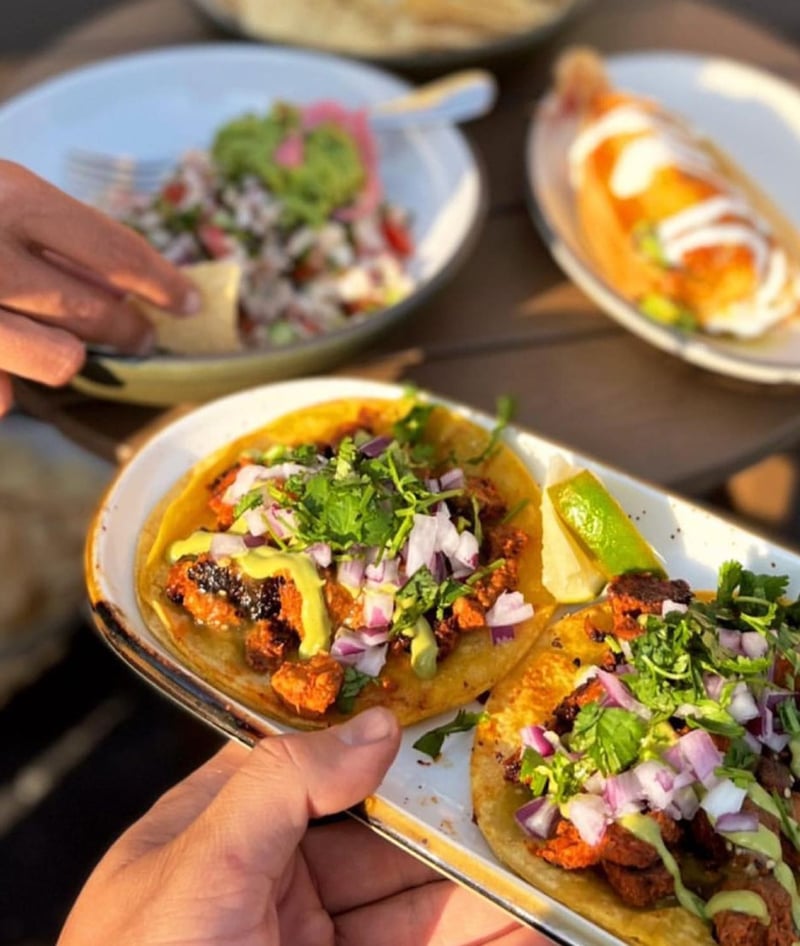 Stones Throw Brewery
Stones Throw Brewery in Bellingham, WA, with its dog-friendly atmosphere and diverse lineup of house-made beers, always provides an exceptional experience. A fan favorite is the homemade ginger ale for those choosing non-alcoholic beverages.
While the brewery doesn't serve food, a regular rotation of visiting food trucks offers an unpredictable and vibrant menu. From bakeries to hot dog stands, each visit brings novel culinary options.
The location in Fairhaven contributes to Stones Throw's charm. Seating choices range from the comforting outdoor fire pit to the serene upstairs patio or cozy indoor retreat - each setting offers a welcoming environment. The tastefully arranged décor amps up the tranquil vibe.
Stones Throw's highlight is its strong community spirit. As the day morphs into the evening, patrons connect over fun activities and live music during 'block parties.'
Address: 1009 Larrabee Ave Bellingham, WA 98225
Stemma Brewing Co.
During a recent trip to the Pacific Northwest, I explored the Bellingham Tap Trail, where I discovered Stemma Brewing Co. They emphasize high-caliber beer. The Ammets IPA and Conditus Lager, a sweet and spicy beer with lemon and cayenne pepper flavors, were noteworthy.
Stemma caters to all, including non-beer drinkers. Their Super Squeeze Seltzer, a fruity, mildly tart drink, even pleased hardcore wine lovers. Furthermore, their innovative "Smoothie Beers" added a singular flare.
What sets Stemma apart isn't just their drink selection but their unique dining arrangement. They partner with local food trucks, rotating dishes daily. This encourages a lively, community ambiance. The Mexican food truck and Sweet As Waffles were memorable food vendors.
The atmosphere inside Stemma was welcoming, with a trendy interior perfect for casual drinks. Outdoor seating was also appealing when the weather allowed. Their pet-friendly policy underlines their community-oriented focus.
Address: 2039 Moore St, Bellingham, WA 98229
Structures Brewing
Structures Brewing continues to grab my attention with its bustling atmosphere and garage-like aesthetic. Large windows and a laid-back vibe make Structures appealing despite a heavy-metal playlist that could interrupt conversation.
The variance and quality of the beer are admirable. Brews like the CAN'T SLEEP COFFEE STOUT and the FUZZ IPA, hinting at a pine-like flavor, were outstanding. The CITY OF SOLACE HAZY IPA, a crowd-favorite, enhanced the beer-drinking experience with its balanced combination of hops and malt. Moreover, including beers from Hill Farmstead, renowned for New England-style beers, indicates Structures' commitment to quality brewing.
The customer service was mixed; some staff seemed unfriendly, but most bartenders were warm and enthusiastic. The beer pull taps, designed to resemble bones, sparked intriguing conversations.
Address: 1420 N State St Bellingham, WA 98225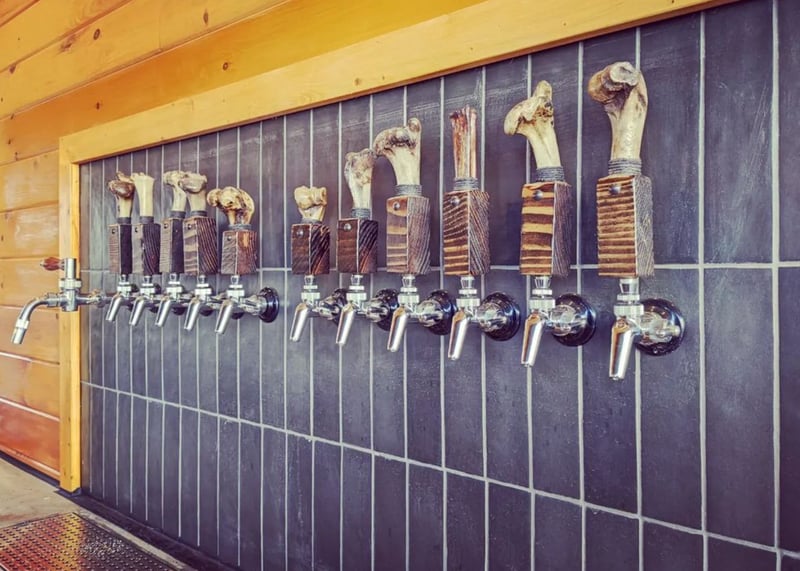 Gruff Brewing
While in Bellingham, WA, beer enthusiasts shouldn't miss Gruff Brewing. The brewery offers much more than traditional ales, including unique drinks like Kiwi Gose, Multiplayer Cold IPA, or Triple IPA. Also on the list is the sweet Honeycrisp Cider for those who prefer other flavors.
Aside from their excellent local brews, Gruff Brewing boasts a charming outdoor area with stunning Bellingham Bay views. With varied seating options, cozy fire pits, and space for pets, it ensures a memorable experience for all guests.
In short, after a day at Mt. Baker, Gruff Brewing is an ideal place to relax. It caters to hardcore beer lovers and casual drinkers, representing Bellingham's vibrant brew culture. And here's a toast to their craft beer and stunning views, with an eye on enhancing customer service.
Address: 104 E Maple St, Bellingham, WA 98225
Kulshan Brewing Co.
The array of craft beers at Kulshan is impressive, with standouts like the tropical "Baby Yoda Juicy IPA" and refreshing "Transporter Nitro." Each beer showcases Kulshan's commitment to diverse, innovative brews. I enjoyed the distinctive tropical notes of the "Baby Yoda Juicy IPA" and the sharp tang of the "Goat Wall Cold IPA."
Kulshan's ambiance contributes to its charm. The spacious taproom, a substantial patio, and diner-style seating create a convivial atmosphere. Their accommodating staff swiftly handled a minor struggle to secure a table for my family, further exhibiting their excellent customer service.
The brewery's trivia nights are another fun feature. These events add a vibrant layer to the lively atmosphere, creating an engaging blend of camaraderie and friendly rivalry.
Address: 2238 James St. Bellingham, WA 98225
Boundary Bay Brewing
When you enter Boundary Bay, a warm and recognizable calm sweeps over you; imagine a leisurely waterfront tavern with a charmingly rustic aura and a vibrant, almost electric atmosphere that beautifully showcases the relaxed spirit of the Pacific Northwest. My favorite spot was the outdoor seating, where you can enjoy a tranquil view of the surrounding neighborhood and peekaboo views of the now-shuttered Georgia Pacific waterfront. An evening spent here, perhaps under the charmed ambiance of live music by talented artists, is hard to beat and speaks volumes about the restaurant's genuine appeal to enthusiastic locals and curious tourists alike.
The food menu at Boundary Bay Brewery hits all the right notes. I was spoilt for choice but finally savored the lamb burger (cooked to perfection) and a deliciously unique salmon pesto sandwich. The chicken enchiladas were slightly underwhelming, according to my daughter, but the rest of the menu, which interestingly included tofu banh mi and an intriguing beer beef stew, more than made up for it. The varied menu at Boundary Bay Brewing is an impressive testament to the flavors they provide, ensuring every palate has something to celebrate.
For beer lovers, Boundary Bay Brewing offers a range of local brews. The 'Whoa There Mr. Tim Hefeweizen' stood out for its refreshing taste, as did the Prosecco.
Address: 1107 Railroad Ave Bellingham, WA 98225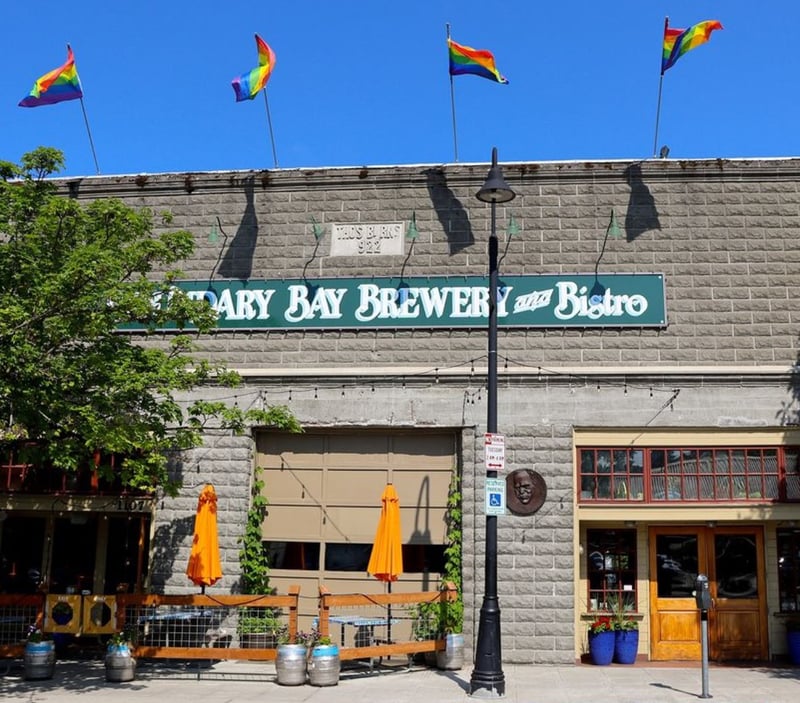 Otherlands Beer
Otherlands Beer stands out for its attention to detail, from its intriguing menu to its diverse beer selection. Their internationally-inspired beer list features standout brews like the Household Gods Beer with a finely balanced finish and the traditional European-influenced Polish Pilsner. The venue also accommodates non-beer drinkers with a generous selection of wine and cider.
Have you ever tried a Beet Ruben? It's a fusion of flavors that's oddly satisfying. The Smashed Potato Hash & Eggs is a colorful, mouthwatering breakfast option, highly praised for its seasoned goodness. The Vegan Shakshuka with Tofu Scramble is a feast for both the eyes and taste buds, although the pickled egg could use a touch more pickling time for those who fancy a more robust tang.
The venue's warmth isn't only due to the beer. The staff's dedication to customer service, the soothing view of Mt. Baker, and playful elements like corn hole games and chalk art all contribute to the overall ambiance.
The two-floor establishment extends its magnetic pull with attractive indoor and outdoor seating options. Whether savoring a Dark Czech Beer, enjoying a game, or appreciating chalk art, the site's beauty enhances the overall experience.
Address: 2121 Humboldt St Bellingham, WA 98225
Twin Sisters Brewing Company & Bellingham Beer Garden
The Twin Sisters Brewing Company & Bellingham Beer Garden in Washington provides a pleasing experience by combining quality beer with diverse food offerings. It's a place where good times and fine brews are symbiotic.
The drink selection at Twin Sisters truly fits its stature as a brewery with an extensive range of beers that captures the 'craft' in craft beer. Alongside beers, they also offer a worthy list of mixed cocktails. Among these, the Spicy Margarita was a pleasant surprise - a harmonious blend of fiery and sweet.
The menu at Twin Sisters caters to various dietary preferences, emphasizing gluten-free items. Their celebrated fish and chips offer a satisfying crunch, while the heavy-loaded Poutine Fries are a meal by themselves. However, not all offerings meet the mark. The Twin Sisters burger was unfortunately not as flavor-packed as its size promised. That being said, these occasional letdowns do not overshadow the overall food quality.
As for the atmosphere, Twin Sisters makes it an inviting, casual, and family-friendly locale. Their options for outdoor seating can come as a respite for parents looking for a chilled afternoon outing with children. However, a conspicuously loud exhaust fan did somewhat mar the otherwise relaxed feel of the place—an aspect that could perhaps use some attention from the management.
While the service at Twin Sisters was a touch inconsistent, with instances of both commendable efforts and minor overlooks, nonetheless, the staff were generally good-natured. They delivered some excellent dessert recommendations, which created an engaging and return-worthy overall experience.
Address: 500 Carolina St, Bellingham, WA 98225
Menace Brewing
Unpretentious and honest, this former autobody shop captures the spirit of craft brewing. Its open layout offers a generous glimpse into its brewing operations. Free-roaming dogs add to the homey, expansive seating area, creating a cozy neighborhood atmosphere with a universal appeal.
Signature brews such as the hoppy Menace Red, the spice-infused Chili Bravo, and the refreshing Denial IPA have helped Menace become a neighborhood favorite. Their dynamic selection ensures a novel experience each visit—you might be savoring a smooth Nitro Stout one day and delighting in a superbly balanced Foreign Extra Stout the next.
Though Menace does not provide a full menu, it collaborates with popular local vendors. 'The Wurst Wagon' is typically stationed outside, and the neighboring 'El Rey' restaurant's offerings are a hit. Non-alcoholic beverages and snacks are also available.
We noticed a few inconveniences, like limited parking and a slightly cold indoor climate. The welcoming atmosphere, community spirit, and remarkable beer make it a must-visit for brewery enthusiasts.
Address: 2529 Meridian St, Bellingham, WA 98225