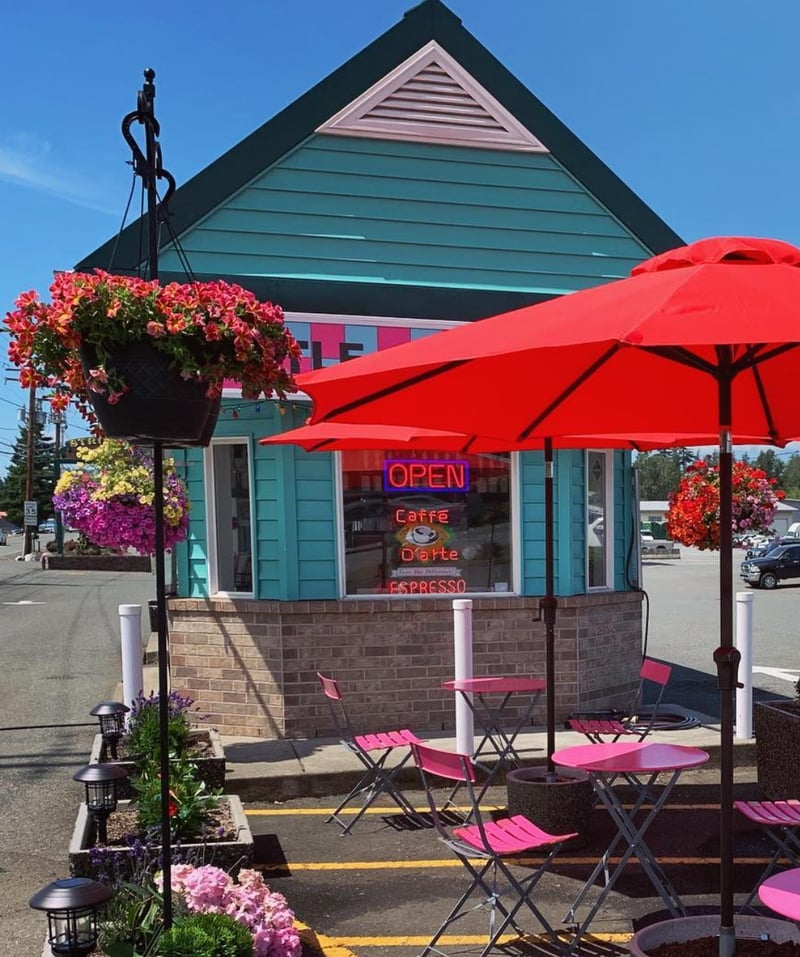 Drive-through coffee culture finds its focal point in Bellingham, Washington... in fact, Bellingham might be the epicenter. This scenic city is remarkable for its outstanding natural charm and deep love for coffee, reflected in the abundance of drive-through coffee stands. They have become integral to the city's relaxed way of life and its vibrant landscape.
This guide covers my favorite stands around town and even a few in outlying communities.
Best Drive-Through Coffee Stands in Bellingham
I Wana Moka (downtown)
Conveniently located in downtown Bellingham, this drive-thru coffee shop also houses a walk-up counter. Navigating the two-lane drive-thru can be taxing during peak hours, but the advantages surpass any brief inconvenience.
I Wana Moka features top-notch espresso, smooth americanos, and creamy caramel lattes. They cater to vegans with a range of milk alternatives paired with locally roasted beans from Fidalgo Bay.
Beyond the beverages, I Wana Moka offers a variety of tasty food options. The breakfast burritos are generously filled with ham and sausage, while bagels are sourced from The Bagelry.
The unexpected Hawaiian decor found in I Wana Moka signifies the distinct spirit of this venue. I highly recommend this unique coffee stopover to anyone in Bellingham.
Address: 319 E Holly St, Bellingham, WA 98225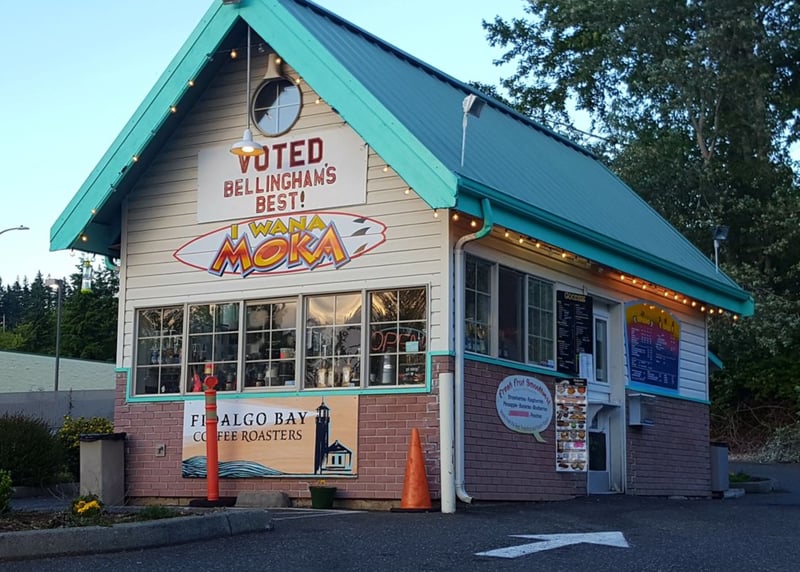 Cool Beans
Whenever I pass through Lakeway en route to downtown Bellingham, I stop at Cool Beans Coffee. The freshly roasted beans behind their standout Americano pack a flavor punch, and an adept barista ensures it seldom disappoints. Larger orders may sometimes miss the mark, but the warmth that accompanies each visit softens any critique.
As a coffee enthusiast balancing a family budget, I relish skipping the costlier alternatives at Starbucks and Woods Coffee. Daily specials and double-stamp Tuesdays make the daily caffeine fix easier on the pocket.
The drive-through service at Cool Beans Coffee is beneficial for time-pressed dads like me. You'll appreciate the fast, efficient service.
The strategic placement of Cool Beans Coffee, within a stone's toss from downtown Bellingham, is another perk. It's a savior on rushed school mornings.
Their food menu also deserves mention. The variety, courtesy of Lynden Dutch Bakery, adds a delicious complexity to their offerings. After all, good coffee gains further luster when served alongside a tasty pastry. Cool Beans meets the trifecta of great coffee, skilled barista, and delicious food with seeming effortlessness.
Address: 320 Lakeway Dr, Bellingham, WA 98225
Zoom Zoom Espresso
Zoom Zoom Espresso, a humble coffee stand in Bellingham, WA, left a lasting impression on me. The iced latte I ordered was potent yet lacked the acidity present in Starbucks' coffee. Their Espresso Shake pleased my non-coffee-drinking spouse, ensuring we'd be return customers.
The food at Zoom Zoom stands out as well. The Neato Burrito, packed with black beans, rice, and sauce, came recommended by a friendly barista and lived up to the recommendation. Their Hockey Puck, a tasty combination of eggs, cheese, sausage, and an English muffin, is a satisfying and conventional breakfast choice.
Despite the vast number of franchise coffee establishments, Zoom Zoom Espresso stands out in Bellingham for its authenticity. Whether you seek an enjoyable iced vanilla latte or a hearty garlic feta dill cream cheese bagel, this coffee stand consistently exceeds expectations. Its hospitable service, inviting environment, and top-notch offerings make a visit worthwhile.
Address: 845 Lincoln St, Bellingham, WA 98229
Brewed Awakening
Brewed Awakening stands out with its potent coffee, Iced Toddy, and other cold brews.
Apart from the impressive strength of its coffee, Brewed Awakening stands out due to its superb customer service. The staff is always amiable and swift, deftly handling the drive-through queue and memorizing my regular order in no time.
Brewed Awakening also provides excellent value for money. The prices, even by Bellingham's standards, are fair. Hand in hand with the coffee, the palatable food adds to the overall appeal. Their massive burrito and bacon-cream cheese Everything Bagel stood out from their extensive breakfast menu. The homemade bagel spreads were the cherry on top.
Distinct from the usual busy local coffee spots, Brewed Awakening exudes a uniquely appealing, community-like vibe. Coupled with their flavorful food, coffee, and top-notch service, it's hard not to find yourself drawn to this place. So, despite occasional hiccups, Brewed Awakening is a must-visit in Bellingham.
Address: 2101 Iowa St, Bellingham, WA 98229
Little Dog Coffee
Little Dog Coffee in Bellingham, Washington, captured my heart with its unparalleled coffee selection, especially the white coffee blend, Dalmatian, and the unique Coconut Activated Charcoal Mocha.
Their menu isn't limited to coffee. Their Bacon Cheddar Chive Breakfast Sandwich rivals respected New York delis, and their generously filled Turkey Sandwich and Bacon, Egg, and Cheddar on a seasonal Rosemary Bagel keep me returning. Their choices are fresh, delicious, and reasonably priced, particularly their Warm Cheese Danish.
Admittedly, there are a few missteps. For instance, the Gingerbread Latte lacked a punch. However, these are eclipsed by the quality of the overall menu.
What makes Little Dog genuinely unique is the engagement of its team, including the owner and his daughter. They value customer feedback, fostering a sense of community.
Address: 2438 E Bakerview Rd, Bellingham, WA 98226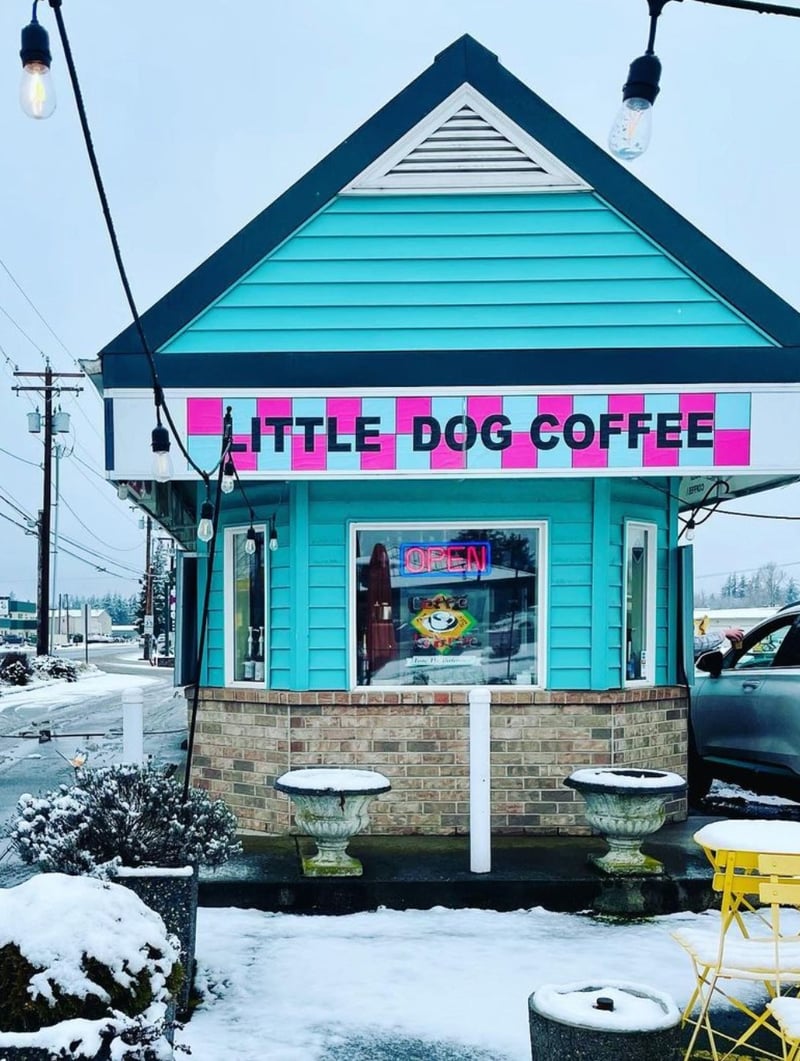 The Bean Stop
Welcome to The Bean Stop, a top-notch coffee spot in Bellingham, Washington. As a coffee enthusiast, I can confirm the quality of their rich Americanos, spiced chai, and custom beverages. This Pacific Northwest gem matches any I've encountered during my years.
Notably, The Bean Stop offers a speedy drive-through service. Despite occasional peak-hour chaos, their fast service and excellent brews make any wait worthwhile.
Their stands, namely at Birchwood and Samish Way, are strategically placed for easy access. Being near various points of interest makes them a favorite among locals, out-of-towners, professionals, and students. Their Northwest location, conveniently opposite Albertsons, is my top pick for a post-grocery run coffee.
The balance of quality and value is a strong suit at The Bean Stop. Finding an excellent brew under $3 is rare amid climbing coffee prices. They also provide a range of bagels, breakfast sandwiches, and branded merchandise at competitive rates.
The baristas at The Bean Stop create an engaging atmosphere. Their interaction is a refreshing break from impersonal service, and offering multiple drink sizes caters to different preferences. However, adding a small size for iced drinks would enhance their selection.
Address: 1115 E Maple St, Bellingham, WA 98225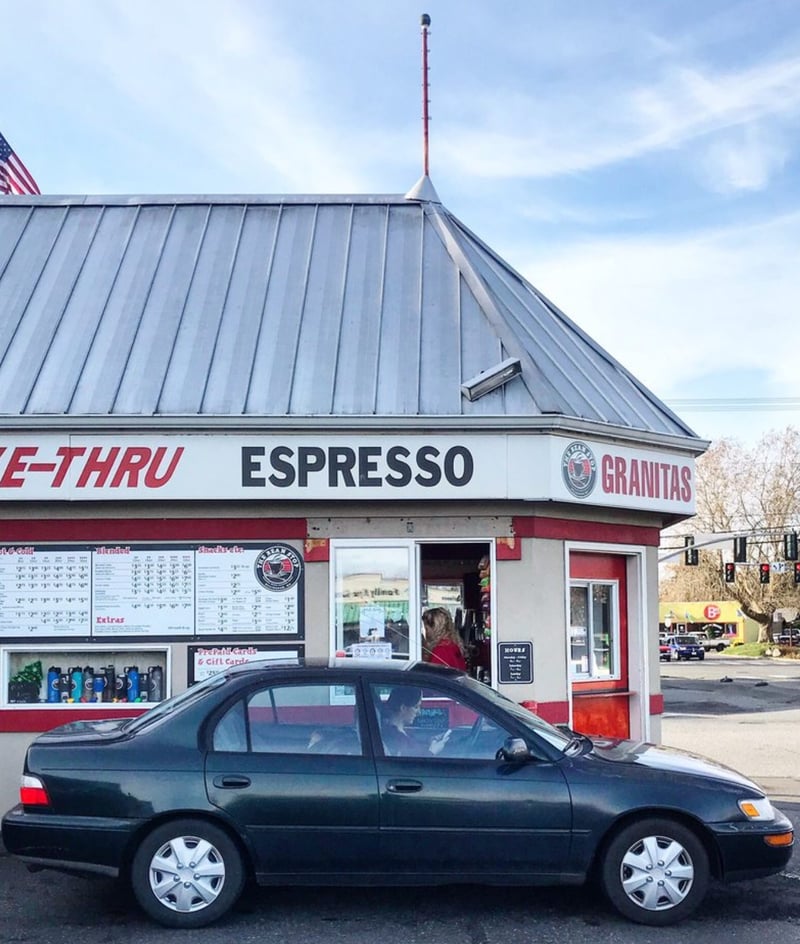 I Wana Moka (southside)
This seemingly unassuming coffee stand near the freeway offers speedy service and quality drinks.
Their noteworthy espresso is known for its smoothness, which came through in the taste. My daughter sampled their Peppermint White Chocolate Latte, which was pleasantly sweet without being too much.
The establishment shines in its service—friendly and efficient baristas streamline the ordering process.
I was particularly taken by the freshly baked Orange Cranberry and Marionberry Scones—just the right sweetness. Their breakfast burritos could benefit from more seasoning, but they suffice for a quick bite. They also offer Bagelry bagels, a local favorite, showing their community engagement.
With its convenient location and fair pricing, I Wana Moka stands strong as South Bellingham's go-to coffee spot. I Wana Moka is a straightforward coffee stand that excels at speedy service and quality.
Address: 3100 Old Fairhaven Pkwy, Bellingham, WA 98225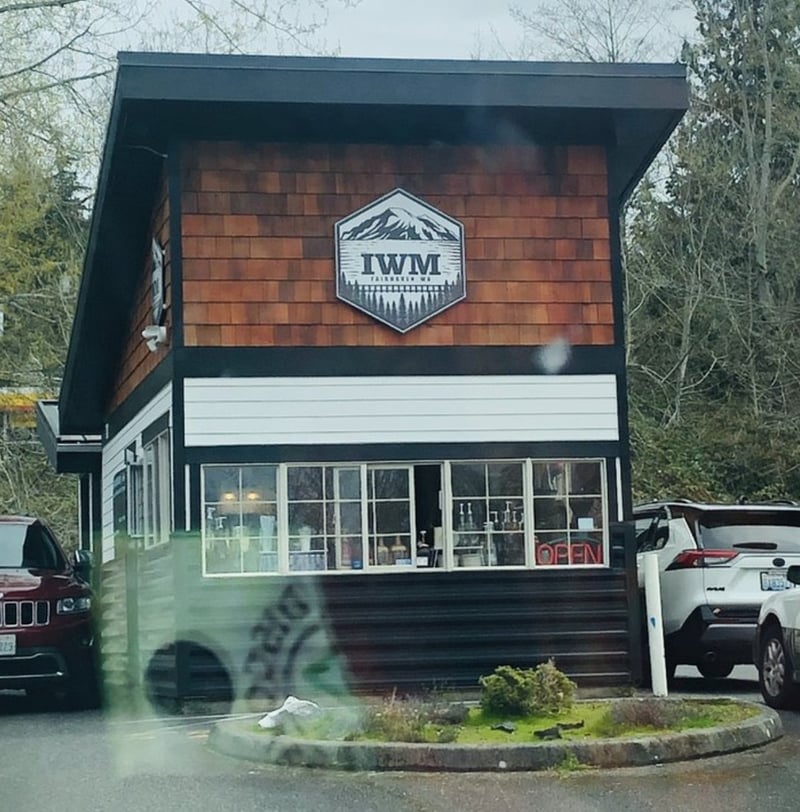 Cruisin Coffee Airport
Cruisin Coffee's strategic location near Bellingham International Airport, operational 24/7, makes it a reliable stop for early commutes or flights. Its closeness to Yorkie's Market adds convenience.
Their unique menu, featuring customizable sandwiches, a varied coffee selection, and soups, appealed to me. The bread and cheese options ranged from sourdough to whole wheat and Pepper Jack to Provolone.
The coffee choices were equally diverse. The Americano was a standout, as was the medium bold blend that pairs well with cream. The espresso shakes with chocolate ice cream, combining caffeine and dessert seamlessly, surprised me. However, be wary of overly sweet options like the iced white mocha.
Although there were occasional lapses in order management and occasional waits, the customer service was satisfactory, and the staff was generally cordial. My overall experience at Cruisin Coffee was positive.
Address: 3906 Bennett Dr, Bellingham, WA 98225
The Lodge Coffee
The staff at The Lodge Coffee are welcoming and efficient. The drive-through service is quick, facilitating a hassle-free experience despite rare instances of impersonal interactions.
I enjoyed their iced caramel macchiato with oat milk—an excellent blend of caramel and espresso. On another visit, my wife declared her vanilla latte a new favorite. Their pink Valentine's drink, made with strawberries and an apple pie chai, intrigued me with its unique flavors.
My teenagers approved of their open-faced pesto chicken bagel. I was partial to the keto breakfast sandwich, a healthy choice with great taste. Notably, though, the breakfast burrito is only served on Tuesdays.
In terms of cost, most of their drinks were reasonably priced, barring their smoothies. I indulged in their popular Mocha and one of their healthy bowls without stretching my budget.
With consistency in service and food availability, Lodge Coffee is a reliable spot to grab a cup of coffee.
Address: 3601 Consolidation Ave, Bellingham, WA 98225
Mugshots Espresso
My first visit to Mugshots Espresso, a drive-through coffee stand just north of Bellingham in Ferndale, Washington, was a delightful experience. As I eventually learned, the individual who took my order was a relative of the owner. This refreshing family link conferred a sense of authenticity upon the establishment. The staff maintained an admirable balance of efficiency, friendliness, and personal attention, bestowing an atmosphere of homeliness seldom experienced in standardized, large-scale coffee chains.
Their signature beverages left nothing wanting, from the decadent white chocolate macadamia to the caramel hazelnut latte and even the unique 'Aloha' coffee. Besides traditional blends, the daring peanut brittle latte caught my interest; it brought a unique flavor and intensity distinctly different from the usual offerings at mainstream coffee chains.
Mugshots Espresso offers excellent coffee at affordable prices, miles ahead of competitors like Starbucks. I suggest a pitstop at this family-run coffee stand for its rich flavors, efficient service, and the option of drive-through or walk-up windows. It's worth a detour off I-5.
Address: 5750 Vista Dr Ferndale, WA 98248