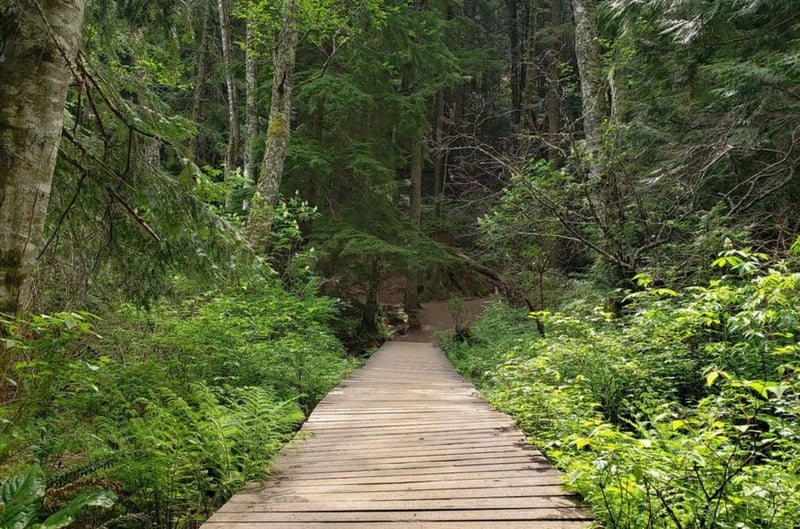 Known for its "Subdued Excitement," Bellingham takes pride in its well-maintained parks that cater to a broad spectrum of interests. From outdoorsy types and playground-seeking children to hikers and nature seekers, many facilities are waiting to be discovered. These parks serve as a testament to the city's unwavering dedication to preserving its natural charm amid urban expansion.
This guide navigates you through the unique attributes of Bellingham's parks. Highlights include Boulevard Park's stunning sunset views, Whatcom Falls Park's peaceful trails, and excellent playgrounds throughout the city. Whether you're a local or a visitor, Bellingham's parks provide a harmonious blend of tranquillity, entertainment, and exploration at the city's core.
Fun Parks in Bellingham
Boulevard Park
Originally from the East Coast, I have grown to love the charming Boulevard Park on Bellingham Bay. The park's natural beauty, punctuated by bay vistas and distant Canadian mountains, is awe-inspiring. Its tranquil sunsets, inviting beach, and excellent Woods Café make it peaceful and tranquil.
Boulevard Park is characterized by stunning waterfront boardwalks, such as the Taylor Dock Boardwalk by the water and the South Bay Trail connecting Bellingham and Fairhaven. Offering ample room for walkers, joggers, and pushchairs, these boardwalks allow visitors to enjoy the refreshing sea air while experiencing calming seaside rhythms.
Many recreational activities await visitors, including sailing, swimming, and picnicking. Additionally, local cafés provide opportunities for savoring hot beverages while observing a range of outdoor sports and activities.
Kids love this park, too. My children enjoy the Pirate Ship Playground. The sandy beach area adds to the fun, setting a perfect stage for sandcastle building and pebble throwing.
No visit to Boulevard Park is complete without a stop at Woods Coffee Shop. Offering both indoor seating and an outdoor walk-up window, it meets everyone's needs. The service might be a bit slow during peak times, but the quality service makes up for the wait. Round off a day at the park with a meal at Boomer's Drive Inn or Cresswell Boggs.
Address: South State St. and Bayview Dr, Bellingham, WA 98225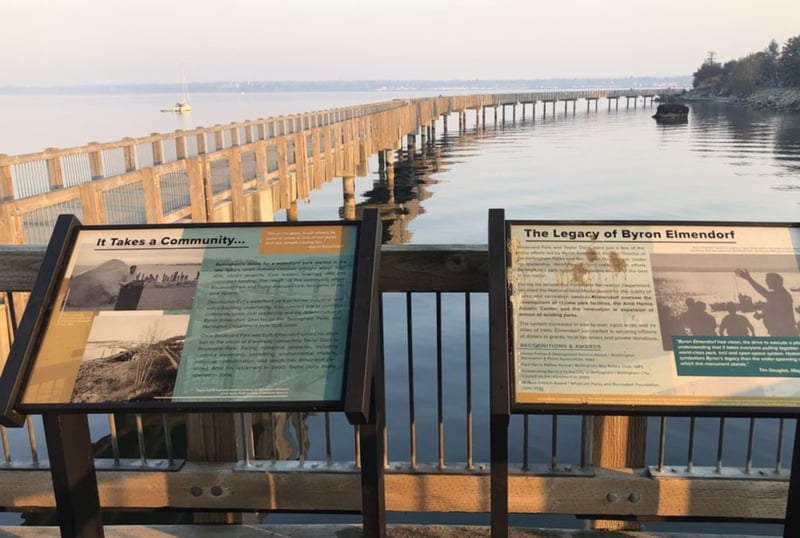 Fairhaven Park
Fairhaven Park's extensive children's area, boasting a jungle gym and water features, was an instant hit with my kids.
Fairhaven Park is more than just a children's playground. Its amenities include a well-appointed pavilion with sinks and bathrooms - necessary for any family excursion. This area can be rented for private gatherings, making it perfect for BBQs, picnics, or birthdays. The layout allows adults to unwind while keeping an eye on their playing children.
The park offers a range of activities beyond those for families with kids. Amid the green fields and rolling hills, winding trails invite casual walkers and hikers. Fitness enthusiasts can use the tennis courts, while those seeking tranquility can lounge on the grass or set up hammocks, taking in the aura of the Pacific Northwest.
Fairhaven Park's thoughtful facilities include around 50 parking spaces – a must-have. Moreover, the park seems to have no parking time limit - starkly contrasting the metered parking in city centers. Not far from the entrance lies the Interurban Trail entrance, a tempting prospect for dedicated walkers and bikers.
Hardcore hiking enthusiasts may feel the park's trails are lacking. Superior hiking alternatives are available within five miles of the park. However, for comfortable outdoor enthusiasts like me, Fairhaven Park is indeed a hidden gem in downtown Fairhaven.
Address: 2222-2298 Chuckanut Dr N Bellingham, WA 98229
Larrabee State Park
Just 14 miles from Bellingham, Larrabee State Park extends over 2600 acres, featuring pine-forested cliffs, rocky beaches, and views of Samish Bay and San Juan islands. From tranquil meadows to rugged coastlines, the park offers diverse landscapes that invite exploration.
My kids were thrilled about hiking the Fragrance Lake Trail. This 5.5-mile loop leads through a lush forest to the glacier-formed Fragrance Lake. Observing juvenile bald eagles along the way was a highlight, and despite the mildly demanding nature of the hike, the beautiful lake view was rewarding.
We went on to explore the park's rocky beaches. As the tide receded, a series of tide pools appeared, delighting my kids. The slippery surface, a consideration for visitors with young children or mobility concerns, wasn't a deterrent from discovering various marine life forms that inhabit the pools.
We ended the day with a beach-side picnic, enjoying sandwiches as the sun set over the San Juan Islands. Our day at Larrabee State Park was wonderfully memorable. If you are in Bellingham, WA, I recommend visiting Larrabee State Park. Pack snacks and comfy shoes, and you're in for a rewarding, natural adventure.
Address: 245 Chuckanut Dr, Bellingham, WA 98229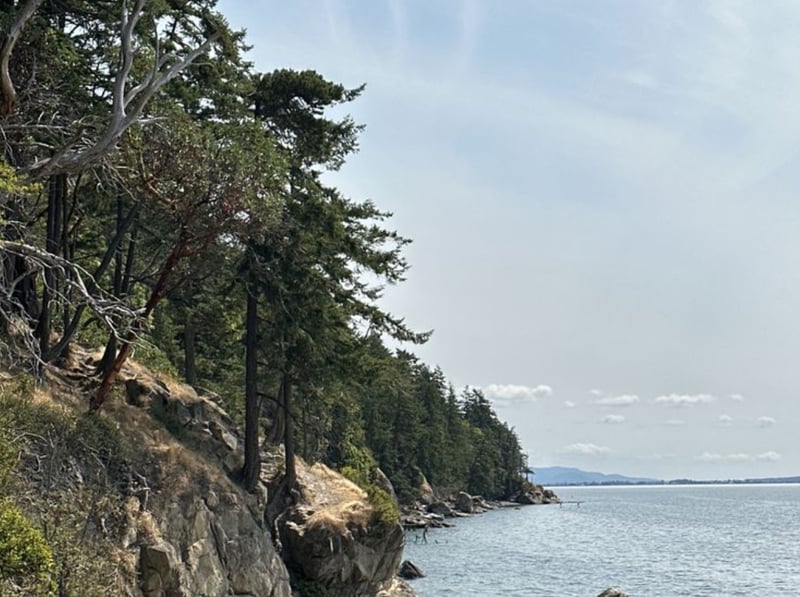 Waypoint Park
Bellingham's Waypoint Park harmonizes coastal tranquility and metropolitan verve. Located within walking distance of downtown, it's an easy park destination.
Uniquely, Waypoint Park is nestled just steps from bustling downtown Bellingham but retains its feel as a getaway from the hubbub. Adding a playground and parking facilities showcases the city's effort to complement natural allure and urban facilities.
During the day, picnic tables invite leisure under the sunshine. At night, illumined paths add whimsical charm.
Despite my affection for Waypoint Park, it can occasionally witness disruptions due to nearby construction.
Address: 1145 Granary Ave Bellingham, WA 98225
Maritime Heritage Park
Maritime Heritage Park, located at the mouth of Whatcom Creek on the historic site of Bellingham's first mill, brims with activity, including, on occasion, the 'Music at Maritime' concert series. Local musicians filled the atmosphere with their vibrant performances, perfectly complementing the festive mood of the park. My children thoroughly enjoyed watching circus performers, and the face painting and Henna tattooing stalls drew incessant crowds.
However, Maritime Heritage Park has its challenges. A visible homeless population raises concerns about safety and cleanliness, especially after dark. Unpleasant encounters felt somewhat alarming. The park has an unfortunate reputation as a hub for homelessness and sporadic drug abuse.
But every challenge presents an opportunity for change. The Bellingham community is actively restoring the park's secure and enjoyable environment through numerous initiatives. Local organizations are thoughtfully infusing fun and safety into the park, reimagining it as a social hotspot. Despite the present issues, the park holds promise and is poised to remain an integral part of Bellingham's social and cultural framework.
Address: 500 W Holly St, Bellingham, WA 98225
Lake Samish Park
South Bellingham houses a gem in Lake Samish Park. Though it is somewhat secluded, its natural charm and ease of access make it a must-visit recreational local.
Lake Samish Park offers a multitude of recreational facilities for families. Visitors can dive into the park's cool waters, paddle the sparkling lake, or hike trails with stunning views. Plus, the park is dotted with sunlit and shaded picnic spots, perfect for family gatherings.
The park's features are designed for visitor comfort. Amenities such as changing rooms and bathrooms are easy to access after a day of water activities. The Lodge is available for rent, ideal for extending your stay. And despite the crowd, there are always ample picnic tables.
Address: 673 N Lake Samish Dr., Bellingham, WA 98229
Arroyo Park
Arroyo Park boasts various sports and hiking trails, specifically the Interurban Trail, known for its ease of access and rewarding vistas, such as the breathtaking sunsets at Raptor Ridge. With the added excitement of geocaching, the trail ensures a stimulating weekend jaunt.
The park also captivates nature enthusiasts. A remarkable sight is watching salmon swimming upstream to spawn, accompanied by the ambient sound of water. After sunset, a community of porcupines surfaces at Raptor Ridge during our visit, adding an enchanting dimension to the park.
We encountered a few issues, such as unattended pet waste and reports of a car break-in at the Old Samish parking lot. Notwithstanding these issues, Arroyo has all the qualities to serve as an ideal haven from city life. Arroyo Park remains a worthwhile destination in Bellingham with its attractive trails, rich biodiversity, and tranquil appeal.
Address: 1700 Old Samish Rd, Bellingham, WA 98229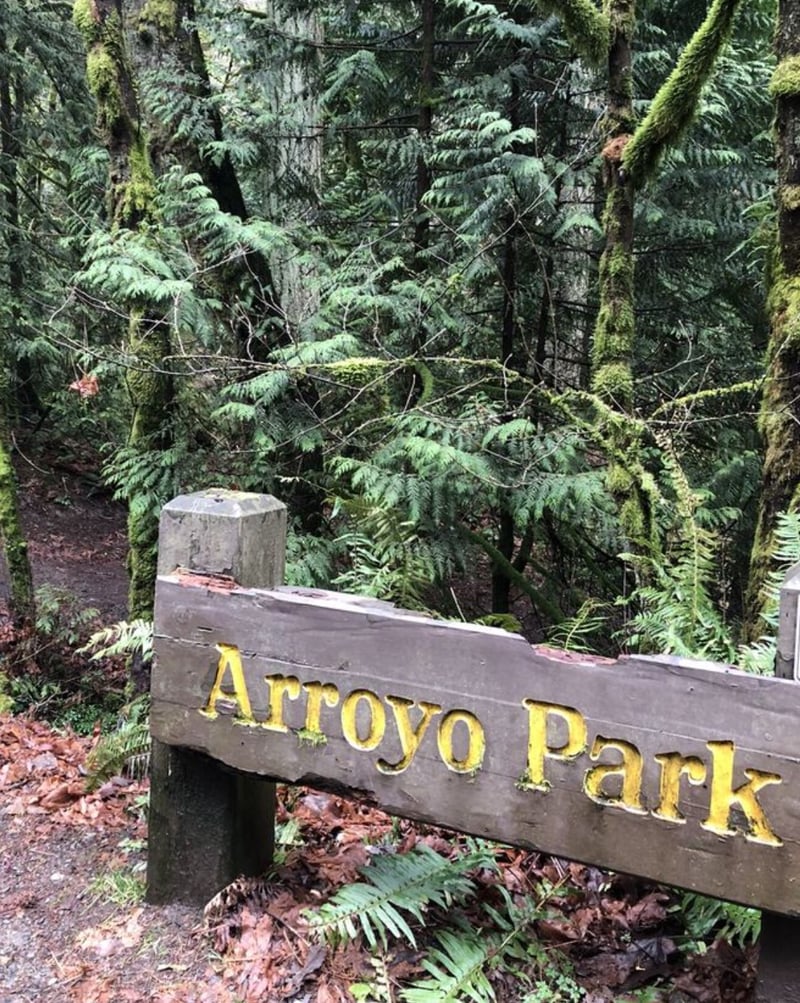 Zuanich Point
Zuanich Point Park, humming with marina life, is quite a surprise for visitors. The delightful combination of ocean vistas, mountains, scenic boats, and luxury yachts offers a charming spectacle - like when a sailboat gracefully enters the Port of Bellingham Marina at sunset.
Under clear skies, the park buzzes with life: families flying kites, playful dogs, and ambling couples create a heartfelt community vibe. My Labrador embraced the open spaces, and dog-friendly features like clean-up stations ensured a pleasant visit.
Apart from its picturesque setting, Zuanich Point Park bursts with outdoor activities. The wide cycling paths and quiet reading spots were particularly appealing. The park's varied recreation options make it a gateway to nature.
The Boathouse, a popular event venue against the backdrop of the charming Bellwether Hotel, is also noteworthy. Meanwhile, public festivities like the 4th of July celebrations transfigure the park into a lively community gathering.
Address: 2600 Harbor Lp, Bellingham, WA 98225
Squalicum Creek Park
Squalicum Creek Park shines with its immense dog-friendly area. It offers a divided, fenced-in dog park catering to large and small dogs. Covered seating in the large dog area keeps pet owners dry during playtime. The park's cleanliness, upheld by pet owners, enhances the overall experience.
Squalicum Creek Park doubles as a sports complex, with an open field bearing two community baseball diamonds and assorted ball fields and courts.
The sounds of happy children pervade the park, driven by its expansive playground. My children were magnetized by its forest theme, including slides, swings, a unique tree fort, and an occasionally operational zip line.
Address: 1001 Squalicum Way, Bellingham, WA 98225
Little Squalicum Park
A trip to Little Squalicum Park in Bellingham, Washington, offers relaxation and rejuvenation as I witness its continuous transformation. The city's revitalization project builds on the park's charming elements, visible along trails lined with towering trees and sweeping beach views.
The park's premier feature is its vast beach, a natural stage for stunning sunsets. Its abundant log seating and open spaces continue to capture my interest, housing a bustling activity or peaceful solitude against a vibrant natural backdrop.
Characteristically, the park doubles as a haven for dogs. A testament to Bellingham's commitment to cleanliness and pet-friendliness, large off-leash areas and 'doggy bag stations' dot the park. While cleanliness is a shared responsibility, this initiative is commendable.
The park's trail system navigates through towering trees, offering a stimulating experience for humans and dogs across seasons. Even though occasional 'doggy bag' pick-ups during walks might be necessary, breath-taking sunsets, the stream's gentle flow, elated dogs, and Bellingham's cleanliness make every visit worth it.
Address: 640 Marine Dr., Bellingham, WA 98225
Big Rock Garden
I found a peaceful retreat within city limits at the Big Rock Garden in the Silver Beach neighborhood. My daily exposure to urban hustle directs me towards calm places like this.
Nestled within a quiet residential area, Big Rock Garden seamlessly fuses nature with modern sculpture. The landscaping artistically incorporates sculptures among lush foliage under cooling tree canopies. It wonderfully blends the tranquility of a Japanese Garden with a European open-air exhibition's vibrancy.
Pathways guide you through displays of fine art and nature alike. These include a cheeky Adam and Eve photo spot and the poignant Korean Children's War Memorial Pagoda. For nature lovers, the garden offers wildlife viewing opportunities. As a city dweller, spotting deer among the greenery is a treat.
Nearby, Lake Whatcom augments the garden's peaceful aura. For the fitness-minded, the Klipsun Trail provides an opportunity for serene workouts.
In a time when peace is a commodity, Big Rock Garden provides a sanctuary. It's about appreciating the journey, not just reaching the destination. Big Rock Garden is a gem whether you're a writer seeking inspiration, a parent exposing your children to nature, or a refuge-seeker from city life.
Address: 2600 Sylvan St, Bellingham, WA 98226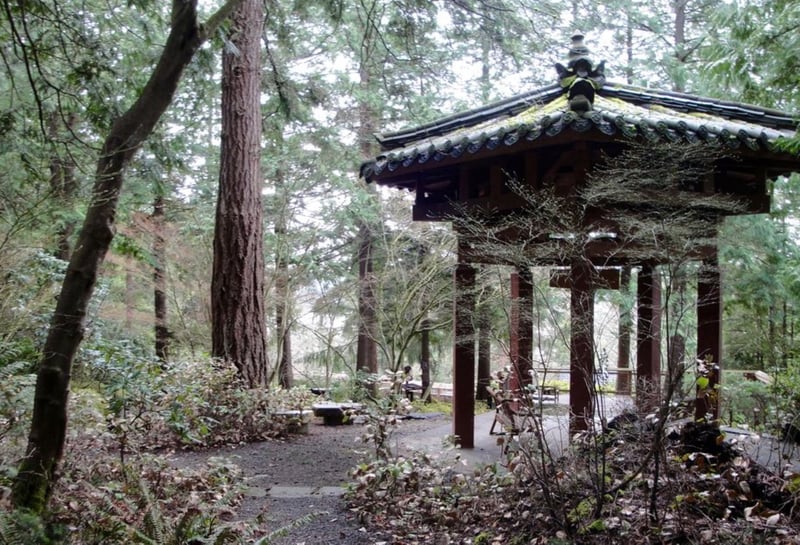 Bloedel Donovan Park
Bloedel Donovan Park, located beside Lake Whatcom, is an easily accessible attraction.
A snack shack provided tasty treats, the paddle boating was fun even with a slight wind, and the on-site bathrooms, though not pristine, were a handy convenience. The large assortment of recreational activities is an allure.
The park capitalized on the picturesque Lake Whatcom, offering ample swimming, paddle boating, and beachside activities. My children delighted in the sandy patches, playground climbing structure, and broad spaces for beach games and picnics, creating a family-friendly environment.
Bloedel Donovan Park also featured various sports courts, party pavilions, and gyms.
Venturing further, we found a variety of activities at Lake Whatcom and Whatcom Falls Park trail system, perfect for swimming, sailing, kayaking, and a distinct cycling experience.
Address: 2114 Electric Ave Bellingham, WA 98229
Whatcom Falls Park
Whatcom Falls Park presents a tranquil retreat veiled by lush greenery. From where I park my car in the park's southeast section, I'm enveloped by the serenity of verdant maples and leafy trails.
The stone bridge, one of the park's highlights, arches over a waterfall, providing a picturesque frame for the cascade below. The waterfall's changing seasons affect its flow, either cascading leisurely or crashing dramatically into the pool underneath.
The park offers a variety of trails, from the flat Alabama Trail, perfect for a relaxed walk, to the extended Waterline and Railroad Trails that intersect the park. Each track has a unique allure, like the Waterline Trail's stunning fall display of maples and ferns.
Some of the park's facilities include public restrooms, a playground, basketball courts, and a mountain bike path. Replete with areas where dogs can roam freely, a small fishing pond also exists, though I can't attest to any fish presence.
Occasional views of nearby residences maintain the park's appeal. Whether snow-filled winters or leaf-strewn autumns, Whatcom Falls Park, a short drive from downtown Bellingham, offers a serene escape from urban clamor, enchanting every visitor.
Address: 1401 Electric Ave Bellingham, WA 98229
Elizabeth Park
Located within walking distance of downtown and Elizabeth Station, Elizabeth Park offers a delightful mix of recreational facilities and natural splendor. The vibrant playground, tennis courts, and tall, deciduous trees—cater to varied interests.
But it's not just amenities that make this park noteworthy. As Bellingham's oldest park, it's a historical treasure linking the city's past to its present. Strolling through, visitors experience a piece of Bellingham's heritage, recounting countless community gatherings over the decades.
Despite its historical roots, the park feels modern, combining old-world charm with contemporary recreational needs. However, the crown jewel of Elizabeth Park is its breathtaking natural beauty, emphasized by towering trees that not only create a gorgeous backdrop but functionally support the beloved tree swings.
Yes, it does get busy during peak hours, but that's a trifling inconvenience, given its charm. Balancing history, recreation, and natural beauty in a prime downtown location, it's a compelling attraction in Bellingham. Personally, every visit reaffirms its worth, promising enrichment and invigoration. Take my word for it—a trip to Elizabeth Park is undoubtedly an experience to savor.
Address: 2205 Elizabeth St. Bellingham, WA 98225
Lake Padden
My family, dog included, recently visited Lake Padden in Bellingham. We thoroughly enjoyed the well-maintained, 2.6-mile trail around the lake. Adorned with lush flora and panoramic lake views, it made our hike peaceful.
Lake Padden accommodates pets, offering a leash-free zone where dogs can roam and swim.
Beyond trails, Lake Padden buzzes with activities - paddle boarding, kayaking, and fishing, to name a few. Zones for sunbathing and relaxation are also available.
My kids enjoyed the tennis and basketball courts, whereas I, an avid golfer, relished the course nestled amongst the trees.
Lake Padden, accessible via Highway 5 or Samish Way, is a pet-friendly, activity-filled park offering a tranquil setting. Adventure-seekers may like to know that the Galbraith Mountain trail opens at Lake Padden, a notable plus for mountain bikers.
Address: 4882 Samish Way Bellingham, WA 98229